Homemade playdough – If ever there was a quintessential DIY this is it! Parents and children have been happily cooking up this stuff at home for decades. Today Kaley is sharing her favorite play dough recipe using another kid classic: Jell-O (because it just wouldn't be an MPMK post without some sort of twist).
You're going to love this recipe. Kaley promises it comes out silky smooth and I could practically smell the fruity scents wafting from my computer as I read her post.


Psst…
Don't forget to also get your free printable of the recipe to use while buying supplies or cooking up a batch with the kids.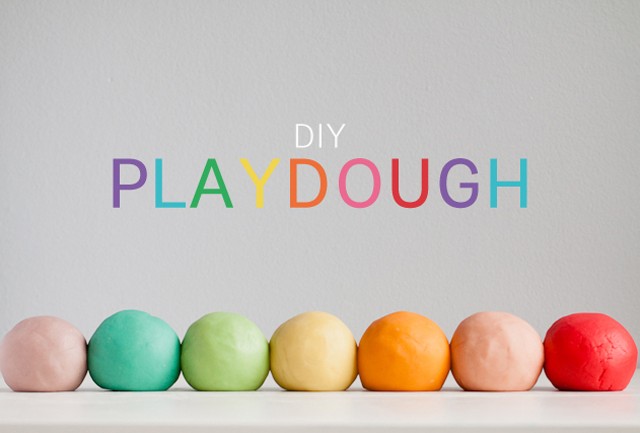 What kid doesn't love play dough? Squishy, cool, bright, and so fun to play with. Even better, it helps develop fine motor skills and imagination (check out lots more on
the benefits of play dough here
). Instead of going out and buying commercial Play Doh, try making it at home!
It's super easy, inexpensive, and a perfect project for the kids to help with. We love making our own play dough, and after trying a handful of different recipes we finally found a winner. This play dough comes out in beautiful, soft shades, smells delicious, and feels the closest to store bought Play Doh of all the recipes we've tried.
You will need:
white flour – 1 cup
warm water – 1 cup
salt – 2 tbsp
cream of tartar – 2 tbsp
cooking oil – 2 tbsp
Jello – 1 3oz pack
Even though it makes for a longer process and a lot more clean up, let the little ones do the measuring and mixing. They learn so much from helping in the kitchen, and it's really fun for them. Keep mixing until most of the lumps are gone.
Cook over medium heat, stirring continuously until it thickens into a ball of dough. This step does take a little while. Just keep stirring, you'll know it's ready when won't be able to stir anymore.
Once it has finished cooking, place the dough onto a
silpat mat
or floured cutting board and wait for it to cool.
Once it is cool (at least 20-30 minutes) let the little ones knead it, adding in flour until it is no longer sticky (about 1/2 cup). At this point, you can add in extra food coloring to make the colors more vibrant, or even add glitter. I like to keep things simple, so this is how it looks with just the Jello.
This recipe makes a lot of play dough. You could easily half the recipe, and there would still be plenty to play with.
Now let their little imaginations run wild. My little one will literally spend hours playing with her play dough. I love seeing what games she comes up with, and what tools she picks out to use with it. We don't have special play dough tools, I let her rummage through the kitchen and use whatever plastic container or other child safe object she finds.
When you are finished playing, store in the refrigerator in an airtight container. It will keep for at least a few weeks in the refrigerator, with daily use. If at any time it starts to be a little sticky, just add more flour.
P.S. Need a few more ideas for keeping your toddler, preschooler, or kindergartner busy? Here are 10 of my all-time favorite picks.
(18 months – 8 years)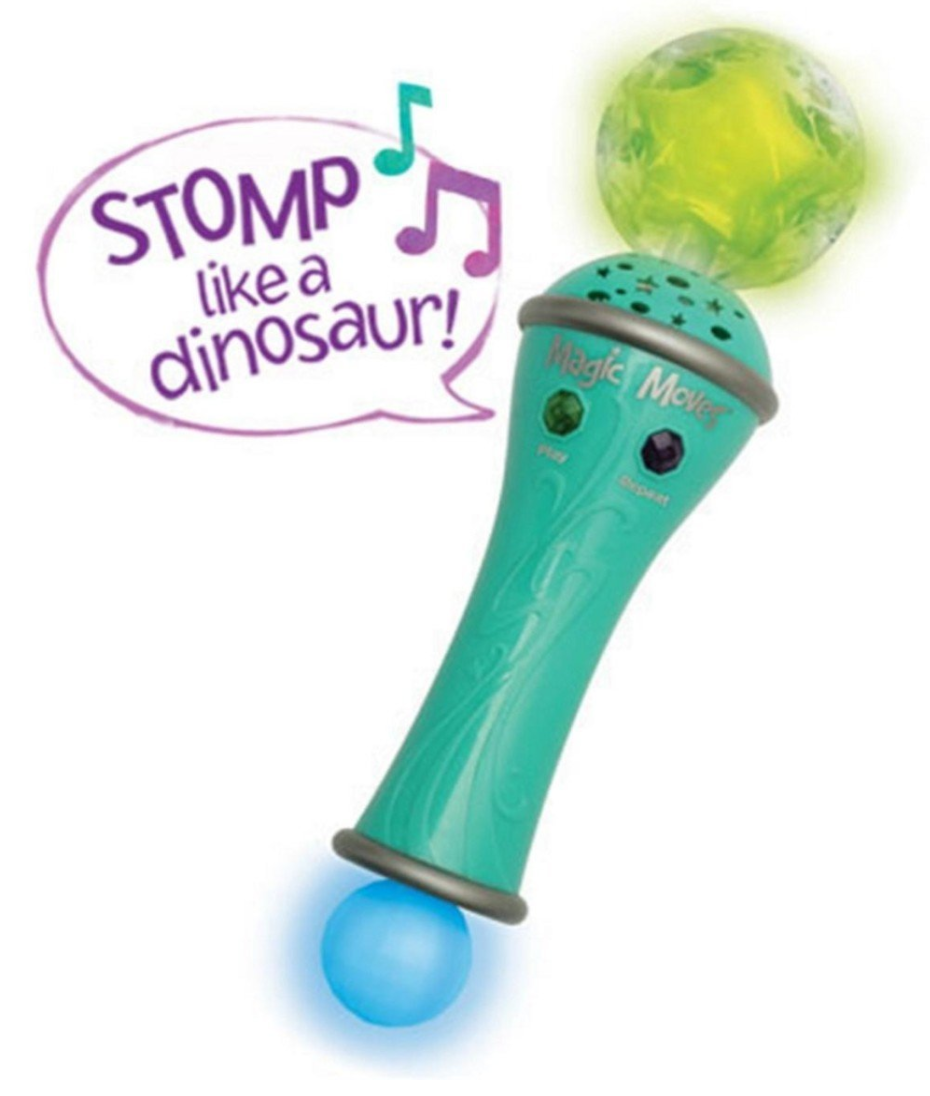 Normally I'm not big on electronic toys with lots of sounds and lights, but when said toy can help my kids get rid of all their pent-up energy inside on a stormy day, it becomes my new best friend.
This inexpensive magical wand uses 90 silly commands (sway, creep, stomp like a dinosaur, leap) and 26 songs, along with a light show to get kids moving.
This is one of those rare toys that's great for siblings of different ages to play with together (my kids have loved it at various ages ranging from 18-months-old to 7-years old).
It will keep the bigger kids interested (who doesn't like having the mic and being the star of the show?) while developing listening skills in the younger set along with enriching their vocabulary and ability to follow directions.
Note: If animals aren't your kids' thing, there's now also this gym version.
(3 – 8 years)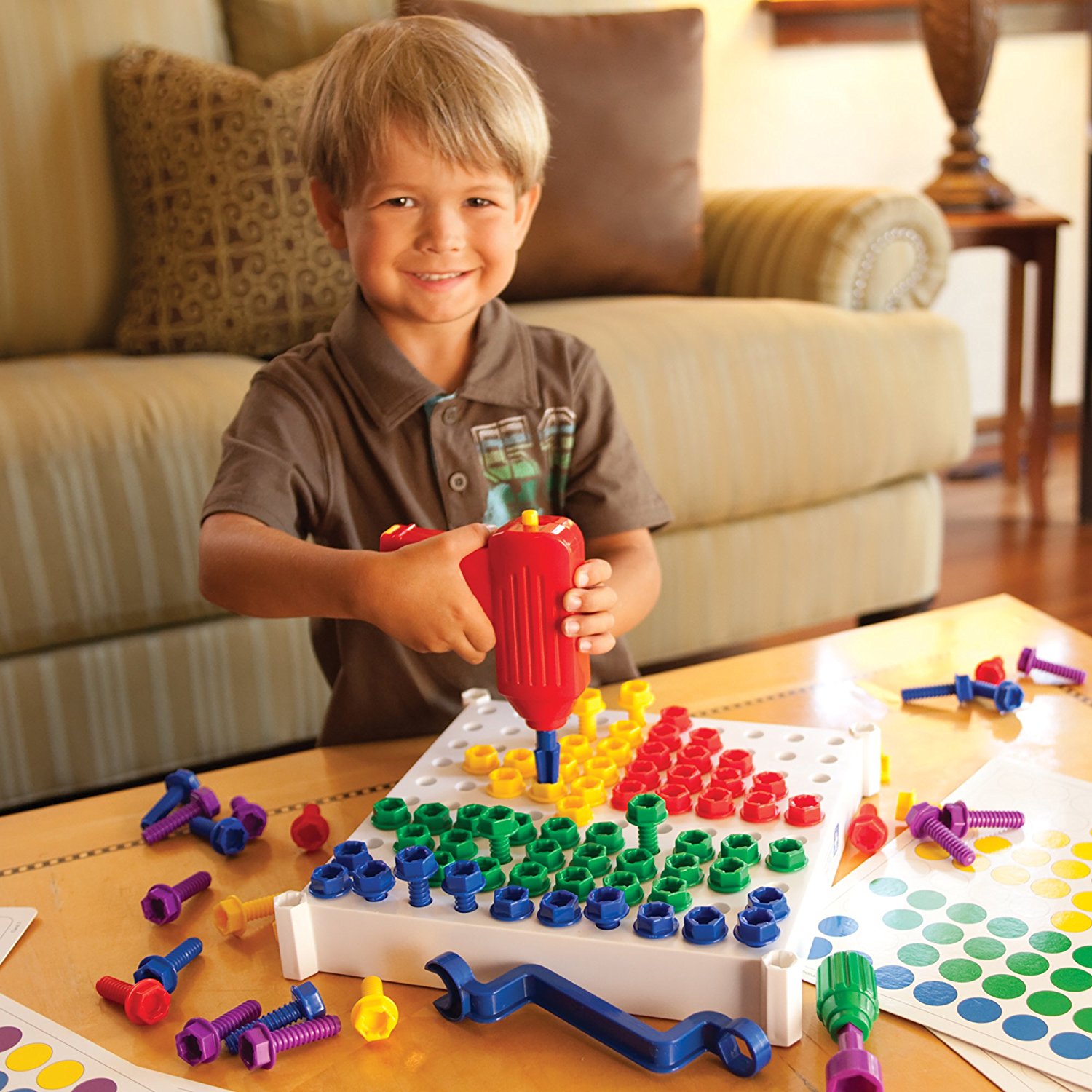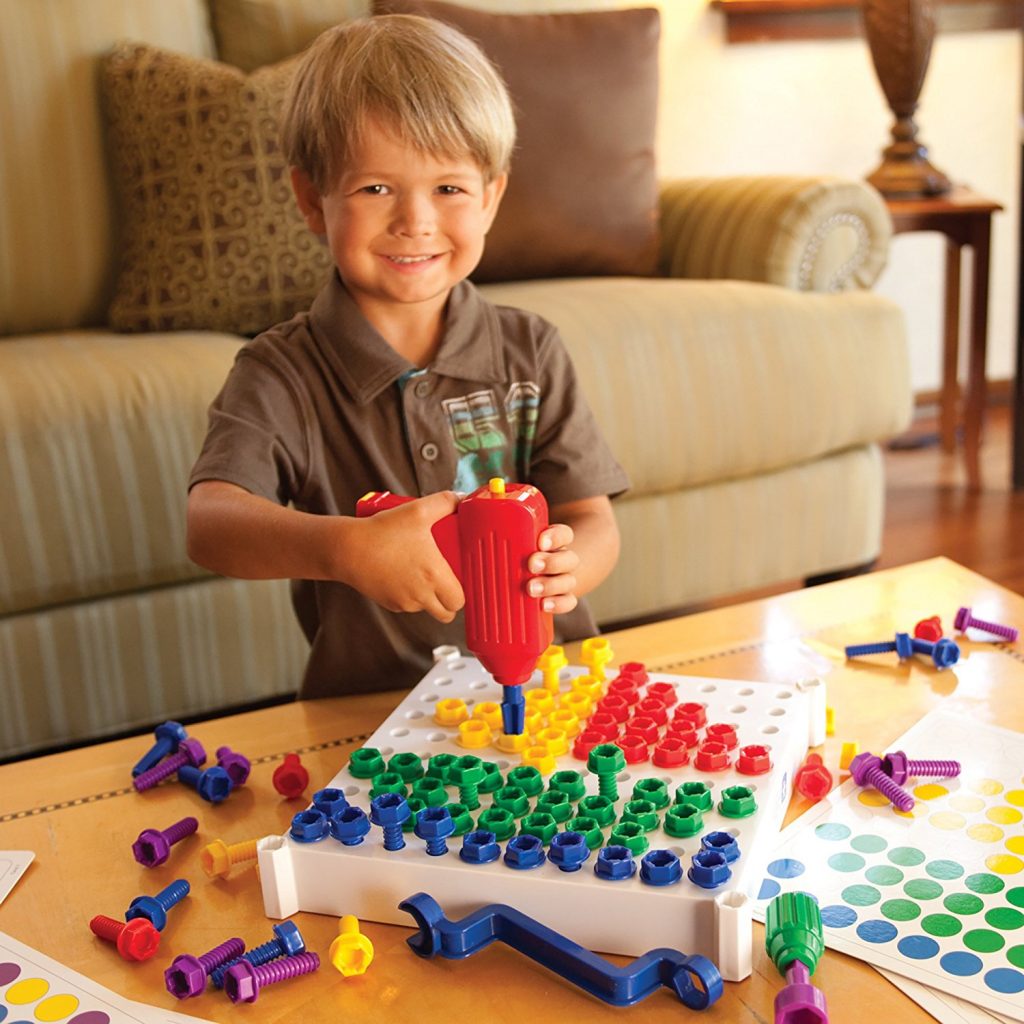 I particularly like how this particular toy combines fine motor skills with pattern recognition AND adds a great dramatic play element. We got it for our son when he was 4 and he played with it quite a bit until his little old sister took it over.
Our 1 1/2-year-old is started to getting in on the fun sorting and manipulating the pieces with his hands and was off and drilling around the time he turned 2. Now this is one of the first toys he goes to, again and again, when given a choice.
The popularity of this toy has also led to some cool variations, including the Design & Drill Flower Power Station and, my favorite, the Design & Drill BrightWorks– which is like if the Design & Drill had a baby with the classic Lite Brite from my childhood (in other words, the pieces light up and it's totally awesome).
Basically, players take turns blindly traversing the game mat barefoot and trying not to step on the soft and squishy poop.
Like I said, hilarious fun for kids of all ages… and don't forget to check out the Unicorn poop version too!
(1 – 10 years)
This deceptively simple toy is so much more than it appears. Parents and teachers rave about the hours and hours their kids spend shooting things through this heavy duty tunnel.
This is a great toy to get kids hypothesizing about, "what will happen when I… (put something heavier in, tilt it higher, put more than one thing in it, etc…)
When my friend first introduced me to the Tot Tube, I really liked the idea but wondered if it was worth the money- couldn't we essentially do the same thing with a cardboard wrapping paper tube?).
What I like about this, though, is that it's a lot more durable than a cardboard tube, it's wider shape accommodates bigger sized cars and balls, it can break apart for easy storage or you can attach more than one for a super long tunnel, and the kids can see through it- making it so much more engaging. Read the reviews on this one and I think you'll be sold.
(ages 2-12)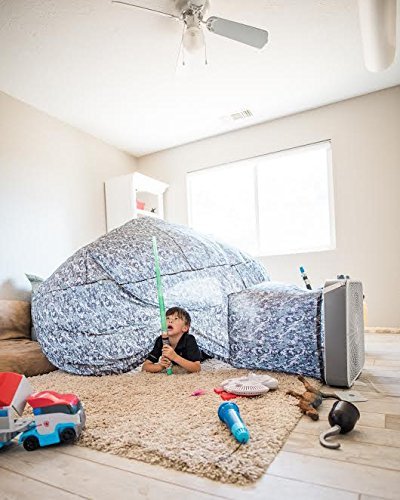 This is AMAZING for rainy day play.
Such an easy way for kids to set up a fort- set up (and clean up!) is so simple… like 30 seconds easy. Check out this video to see it in action.
My friend got one of these for her kids last year and she reports that they spend hours inside playing together and on their own. This one is going under our tree this year for sure!
(18 months – 3 years)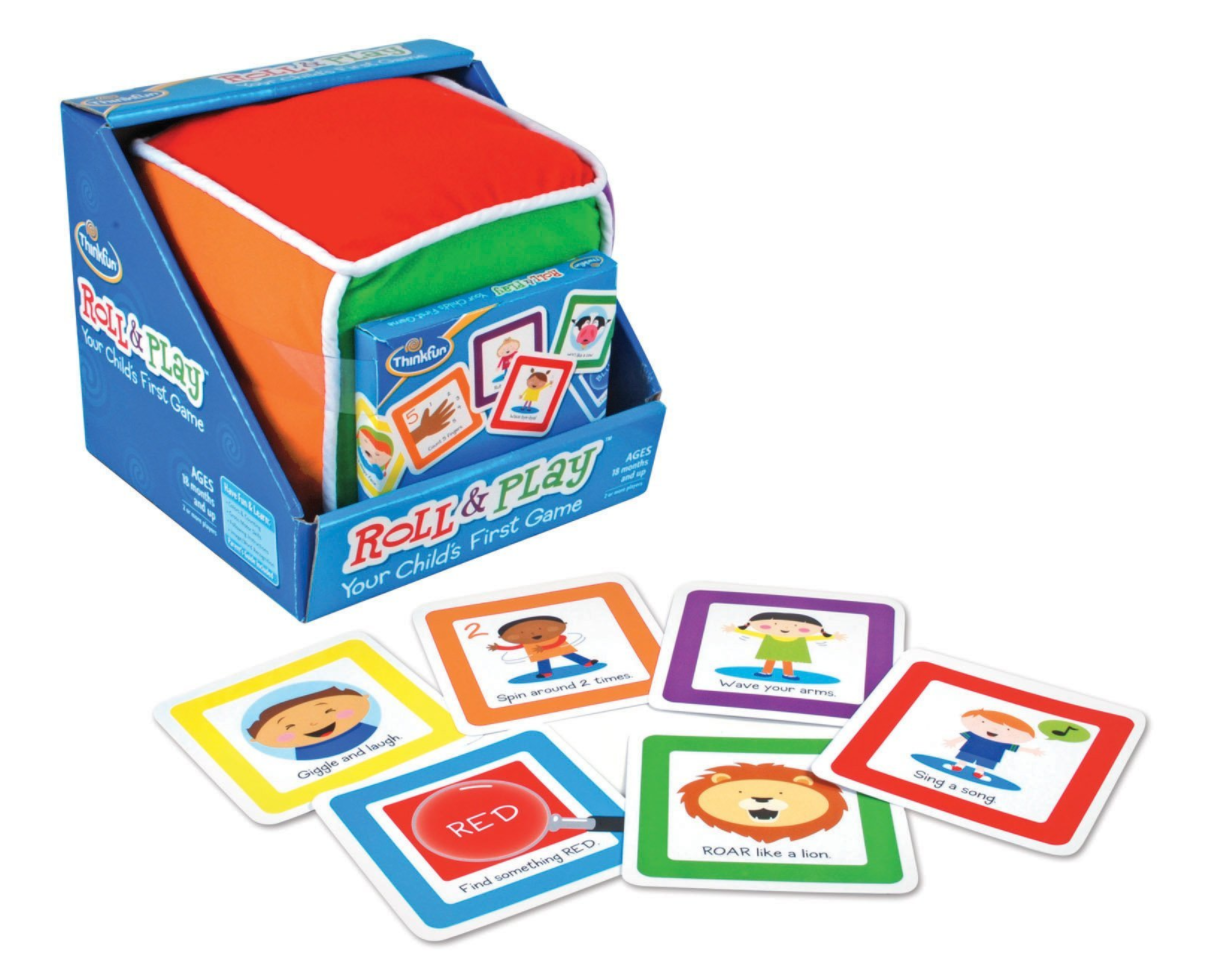 This is the first board game ever made specifically with young toddlers in mind. Toss the big plush cube and identify which colored side faces up. Choose a matching color card and perform the simple activity shown, such as "Make a happy face", "Moo like a cow" or "Find something blue".
Designed for parent and child to play together, Roll & Play strengthens bonds and builds confidence while encouraging creativity, active play and gross motor skills.
This seems like a good solution if you're looking for a family game night selection that can incorporate even your youngest kiddos.
(ages 2 – 6)

This was the total sleeper hit of Christmas for my preschool-aged son last year!
I'll be honest, when my son went crazy for this thing in the store, I thought it was kinda a plastic piece of junk but NO!
Endless dramatic play options keep him and his friends (and even older siblings) busy for so long. The scoop's magnetic & the cash register reads the recipe cards and gives step by step instructions.
There are even lots of voice prompts, including counting, and a coin slot… I'm telling you, this gets pulled out EVERY. SINGLE. PLAYDATE.
(2 – 10 years)
I discovered Magna-tiles when my oldest son was 3-years-old via his preschool and they were the big present under the tree for the kids that Christmas. They're definitely more of an investment but have been COMPLETELY WORTH IT.
Teachers absolutely rave about these blocks and the play possibilities are endless. Because they join together using magnets, kids can create elaborate structures (often taller than they are) without becoming frustrated by crashes.
They're also great for use with other toys. They can be used along with blocks and LEGOs to make elaborate structures, with marbles and cars to make tunnels, bridges, and marble runs, or even with dolls to create dollhouses.
All of my kids, ages 2 to 8, still play with them multiple days a week. Currently, my 6-year-old loves making elaborate pet stores with ramps and rooms for each of her Disney Princess Palace Pets while my 2-year-old always asks for these first to take to build in his room during "Quiet Time"
We splurged for the 100 piece set and got hours of rainy day fun with these- the higher price was completely worth it.
Note: For an extra $10, these magnetic train bases take the play possibilities to a whole new level and make a great stocking stuffer.
(1 – 10 years)
I've been talking about the social and emotional learning benefits of dolls for boys for years in our Best Dolls for Girls and Boys Gift Guide, so I was super pumped about the release of this line of dolls designed specifically to meet those needs while staying in-tuned with boy culture.
Created by a therapist and mom, after her son came home from preschool one day and announced that 'boys aren't supposed to cry'. Frustrated by many of the messages boys were (and weren't) receiving and inspired by the way play influences child development, Wider created Wonder Crew to promote social and emotional learning, build confidence and imagination, and empower boys to see themselves as caring, creative and strong people.
I'm totally on board and will definitely be getting both the superhero doll and the extra construction outfit for my son! I also love how each set comes with props for the child to wear too, so fun!
(3 – 8 years)
The entire line of single player puzzle games from SmartGames gets such stellar reviews that it was hard not to recommend all of them!
The bold colors of these two 3-D wooden castle puzzles especially caught my eye. I bought it for my daughter a couple of years ago and it was an absolute winner, now her little brother is a preschooler and he loves it equally as much.
Assemble the wooden blocks and towers to match the challenges included in the booklet. With simple challenges for inexperienced builders to complex puzzles that will challenge skilled architects, these puzzles serve to develop logical thinking skills and spatial reasoning abilities.
Like I said, hilarious fun for kids of all ages… and don't forget to check out the Unicorn poop version too!
(ages 4 – 10)
Kids LOVE making forts and, I gotta say, I'm a big fan of anything that will buy me a solid hour or two of busy time.
What I'm not the biggest fan of? The beating my couch cushions take when my kids get into fort-building mode.
That's reason enough alone to love the Fortboard kits but there are quite a few other reasons too.
First is all the super cool kinds of forts you can build. After Fortboard sent us two boxes to review, my kids started with the instructions for making a house on their website company's website. Next up was the submarine.
After a little trial and error, they pretty quickly got the hang of it and, let me tell you, they were pleased as punch about their new fort– which they insisted stay up for a week. That was fine by me as it resulted in TONS of cooperative dramatic play.
Next up was the submarine and the castle, both of which were equally successful. By then, even my 3-year-old was able to build stuff with these on his own. His current favorite is to make cubes, which he calls "bombs" and use them to knock down stacks of even more cubes Angry Birds style.
Fast forward a few months and they're now building their own master creations like that 6-wheeler semi-truck pictured up top. It's become a thrilling game to challenge each other to see what they can build next.
The second thing to really love is the ingenious ways these boards can connect in different ways to create all sorts of angles, and even curves.
The secret is the connector arm that can be moved to join the boards in different ways (and teach your kids about angles in the process).
It's so innovative, in fact, that it's won multiple awards and even a Microsoft Small Business Contest.
The final thing I love about Fortboards is how compact they are when it's time to put them away. Unlike with their competitors' sets, there are no awkward polls to store (and no polls for kids to hit their siblings with). Everything tucks into a box and neatly stores under a bed or in a closet when playtime is done.
Like other fort sets, this one is spendy but if your kid is a builder it's worth the investment, especially if you're looking for something great for play dates or for siblings to play with together.
Read the reviews on this one and I think you'll be sold.
*Post contains affiliate links.
✕
Jell-O Playdough - Softest recipe ever!
Sign up for our newsletter and get the recipe in a handy PDF to print and take to the store or use in the kitchen while whipping up a batch with your kids!
The following two tabs change content below.