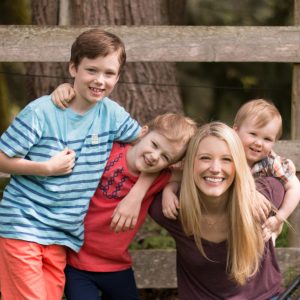 W

ho We Are

Hi there, I'm Stephanie, momma to three young children and the founder and managing editor of Modern Parents Messy Kids (MPMK for short).  Here my team and I provide inspiration to thousands of parents on living well.

Our motto, "mindful living, effortless style" translates to us helping you find the best tools to simplify and connect with your kids; including top-rated products, kid-friendly recipes, parenting tips and organizational hacks.
W

hat We Do

At MPMK, we're all about being in the moment and doing our best to live the good life – whilst always allowing room for imperfection.

To give you a better sense of us, below are 10 things you will (and will not) find here.
J

oin Us!

Sound like your kind of people?  Great, welcome to the club.  We typically post around three times a week.

Plus, sign up to for our newsletter and we'll send you something you can actually use in your daily mom life every week.

First thing you'll get? A YouTube link demonstrating the secret hand shake. Not really – we respect you and your email and will never send anything spammy.
M

eet the Team

I'm very fortunate to have these lovely ladies helping to make the well-rounded stomping grounds that are MPMK.  Here's an introduction.
Kristin is a former teacher turned children's photographer in southern California. Visit her website to read all about her adventures in photography, cooking, and her love of style.
Janssen is a former librarian and avid reader who is always maxing out her library card. She now stays at home with her two-year-old daughter (with another girl on the way) and blogs about books for readers of all ages, her favorite recipes, and parenting adventures at Everyday Reading.
Jessica is a writer, editor, redhead and mom of four (none of them redheads), Jessica is eight years deep into the insane, sleep-deprived world of work-from-home mamas. Even when she has to hide in the bathroom to take a call from a client, she wouldn't change a thing.
Kaley is a photographer who spends her days starting lots of projects and finishing few of them. She lives in Austria with her awesomely creative daughters and her amazingly understanding husband.
I

n the Press

MPMK has been honored to be featured by the following sites and publications:

See here for our privacy policy.
Jell-O Playdough - Softest recipe ever!
Sign up for our newsletter and get the recipe in a handy PDF to print and take to the store or use in the kitchen while whipping up a batch with your kids!