Every once in a while my team and I put together a resource that I am especially proud of– this simple round up is definitely one of those times.

As straight-forward sounding as this list is, Kaley has really done an incredible job of rounding up 30 recipes that are as healthy as they are varied and (most-importantly) uber kid-friendly.

Reading through Kaley's list I got so excited to try each and every one, and not only for my 1 1/2 year old, but for my 5-year-old and 7-year-old too!

I think you're going to want to bookmark this one and share it with your friends– ASAP.

Psst two quick things…
#1 – Want a free reminder list of the meals?
Get the printable of this list to put on your fridge!
#2 – Christmas is coming, see our SUPER POPULAR toy gift guide (visited by hundreds of thousands of parents):
Hint: Great picks for 1-year-olds on this list too!

Let me start by saying that 95% of the time, my baby eats what the rest of the family is eating. It has been this way since she was about 9 months old.
Unless we are eating something that we haven't introduced to her yet (i.e. shellfish) or something super spicy (i.e. Thai curry), we all eat the same thing. We will just cut everything up nice and small for her, and on her plate, it goes.
I have found that this is the easiest and quickest way to ensure that baby's palate matches that of the rest of the family, and it discourages picky eating. Plus it makes my life a lot easier, since I am only preparing one meal for everyone.
However, if we are eating something that she can't eat, or she is eating earlier than the rest of the family, I will usually turn to number one, below, which is a muffin tin meal.
You basically fill each little cup of the muffin tin with a different food cut into little pieces. Think cut up fruits and veggies, tiny crackers, plain pasta, cubes of cheese, etc. I love this because it is so easy to throw together random things from the fridge, and my baby loves it because she likes all the choices.
My six year old still asks for muffin tin meals all the time, so this is something that you can keep in your back pocket for those nights that you need to get the kids fed, fast!
Below you will find my top 30 dinner ideas for a one year old. Many can be made ahead, frozen, and then used in muffin meals too.
They all also work equally well for lunches and snacks. And these recipes aren't just for babies. Your whole family will love most things on this list!
Last Note: I always add cut up fruits and veggies to whatever I serve baby, and try to stick with what is organic and in season. But I like to keep frozen peas and a few other basics on hand for those times when I couldn't get to the store.
*Post contains affiliate link
More from MPMK
Best Toys for Babies & Young Toddlers
30 Breakfast Ideas for a 1-Year-Old
P.S. Remember that famous gift guide for 2-year-olds I mentioned earlier? Here's a sneak peek of our top 10 picks from that list…

THE BIGGEST "WOW!" TOYS FOR 2-YEAR-OLDS

Educational Insights Magic Moves Talking Electronic Wand
(18 months – 8 years)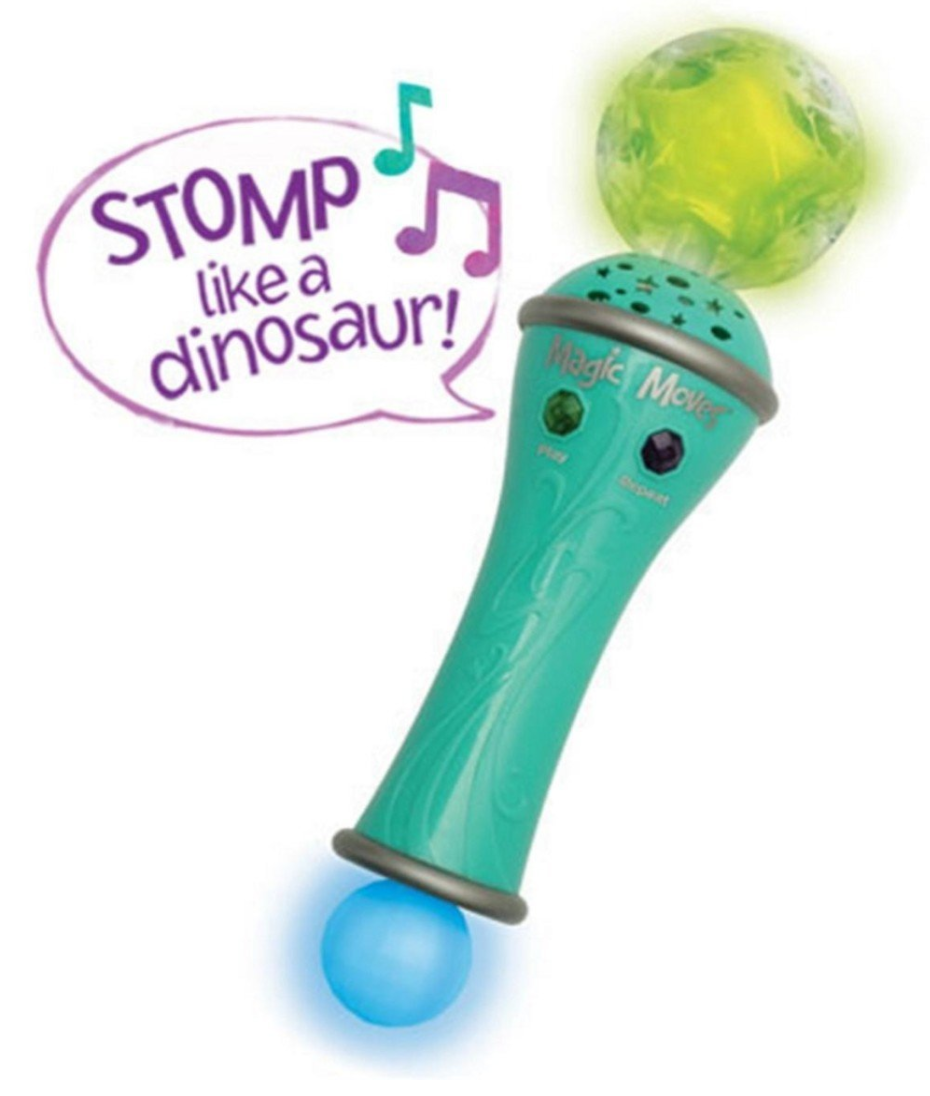 Normally I'm not big on electronic toys with lots of sounds and lights, but when said toy can help my kids get rid of all their pent-up energy inside on a stormy day, it becomes my new best friend.
This inexpensive magical wand uses 90 silly commands (sway, creep, stomp like a dinosaur, leap) and 26 songs, along with a light show to get kids moving.
This is one of those rare toys that's great for siblings of different ages to play with together (my kids have loved it at various ages ranging from 18-months-old to 7-years old).
It will keep the bigger kids interested (who doesn't like having the mic and being the star of the show?) while developing listening skills in the younger set along with enriching their vocabulary and ability to follow directions.
Note: If animals aren't your kids' thing, there's now also this gym version.
(1 – 10 years)
This deceptively simple toy is so much more than it appears. Parents and teachers rave about the hours and hours their kids spend shooting things through this heavy duty tunnel.
This is a great toy to get kids hypothesizing about, "what will happen when I… (put something heavier in, tilt it higher, put more than one thing in it, etc…)
When my friend first introduced me to the Tot Tube, I really liked the idea but wondered if it was worth the money- couldn't we essentially do the same thing with a cardboard wrapping paper tube?).
What I like about this, though, is that it's a lot more durable than a cardboard tube, it's wider shape accommodates bigger sized cars and balls, it can break apart for easy storage or you can attach more than one for a super long tunnel, and the kids can see through it- making it so much more engaging. Read the reviews on this one and I think you'll be sold.
Read the reviews on this one and I think you'll be sold.
(ages 2 – 6)

This was the total sleeper hit of Christmas for my preschool-aged son last year!
I'll be honest, when my son went crazy for this thing in the store, I thought it was kinda a plastic piece of junk but NO!
Endless dramatic play options keep him and his friends (and even older siblings) busy for so long. The scoop's magnetic & the cash register reads the recipe cards and gives step by step instructions.
There are even lots of voice prompts, including counting, and a coin slot… I'm telling you, this gets pulled out EVERY. SINGLE. PLAYDATE.
(ages 2-12)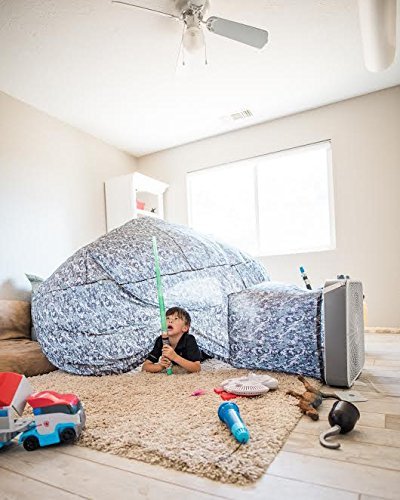 This is AMAZING for rainy day play.
Such an easy way for kids to set up a fort- set up (and clean up!) is so simple… like 30 seconds easy. Check out this video to see it in action.
My friend got one of these for her kids last year and she reports that they spend hours inside playing together and on their own. This one is going under our tree this year for sure!
 (18 months – 3 years)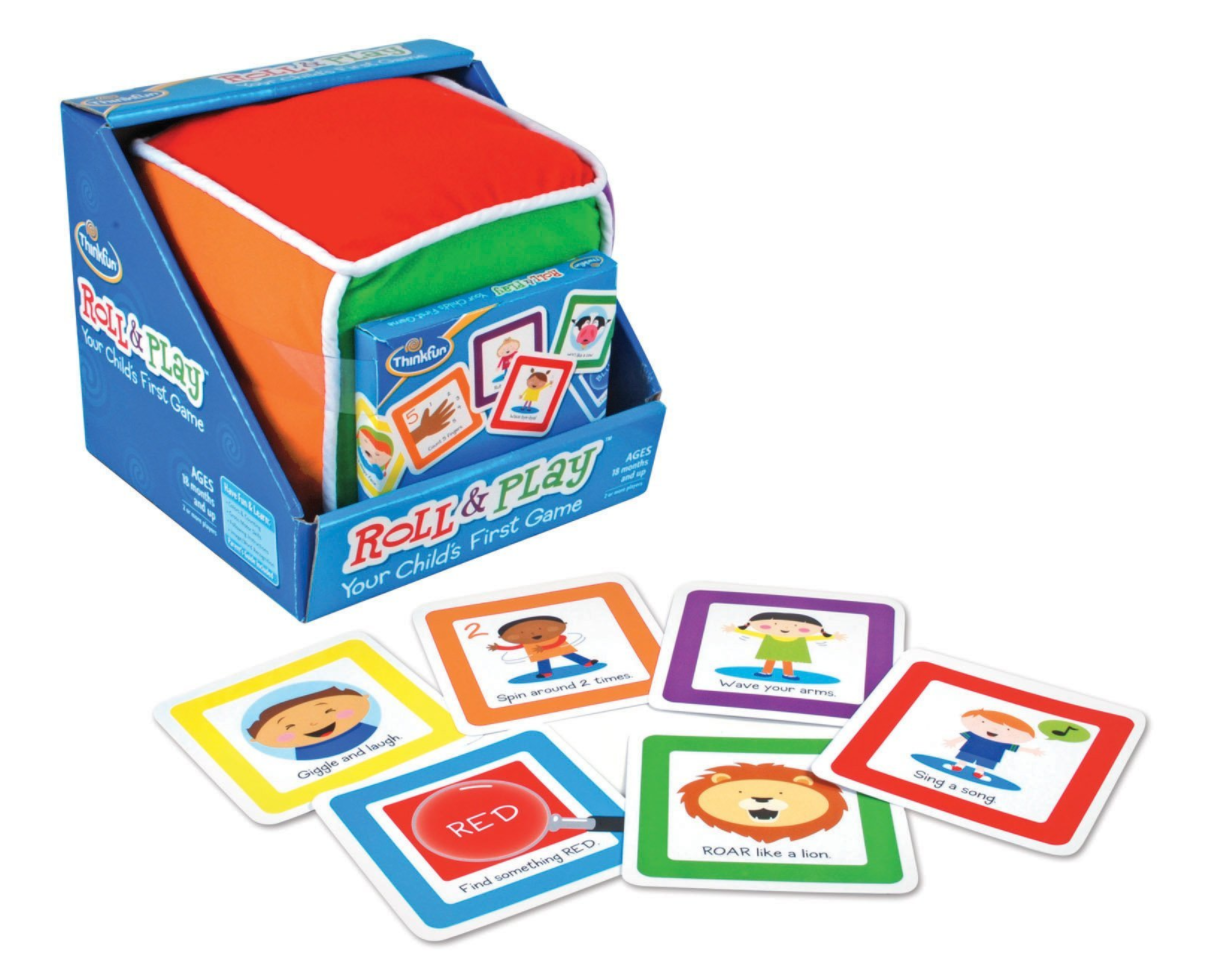 This is the first board game ever made specifically with young toddlers in mind. Toss the big plush cube and identify which colored side faces up. Choose a matching color card and perform the simple activity shown, such as "Make a happy face", "Moo like a cow" or "Find something blue".
Designed for parent and child to play together, Roll & Play strengthens bonds and builds confidence while encouraging creativity, active play and gross motor skills.
This seems like a good solution if you're looking for a family game night selection that can incorporate even your youngest kiddos.
(non-mouthing kids – 5 years)
The first thing to say about this toy is, of course, not to leave a child alone with it if they still put things in their mouth. Once you're out of that stage, though, this is a truly AWESOME way to keep young kids occupied for a really long time. (One of the few so well suited to the preschool set.)
Moms figured out long ago that letting kids sort things in a muffin tin is a great quiet time activity. This play set expands on that idea by adding in multicolored mini muffins, dice, and cards that can be placed inside the muffin tin for sorting and math purposes.
There are also some interestingly shaped tweezers for fine motor work. All in all this one has A LOT of play-ability.
Educational Insights Design & Drill Activity Center 
(3 – 8 years)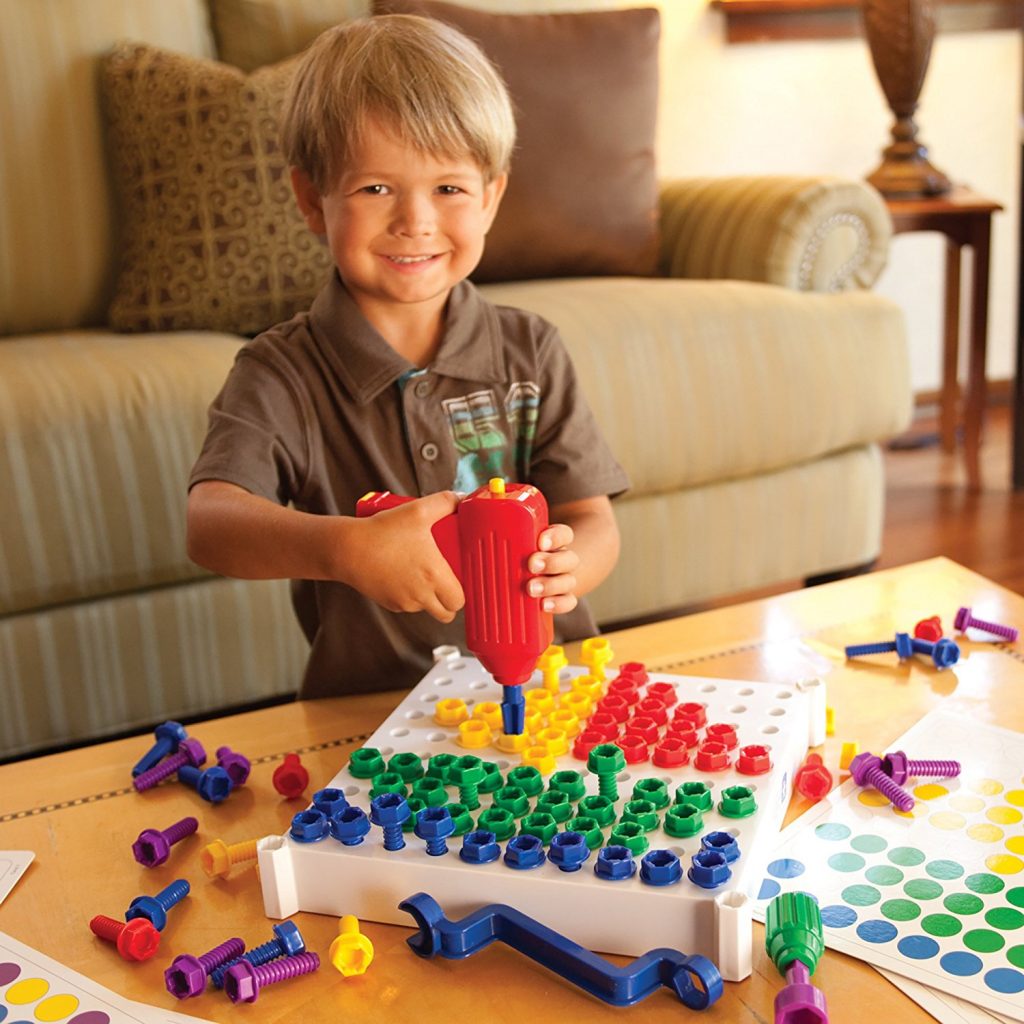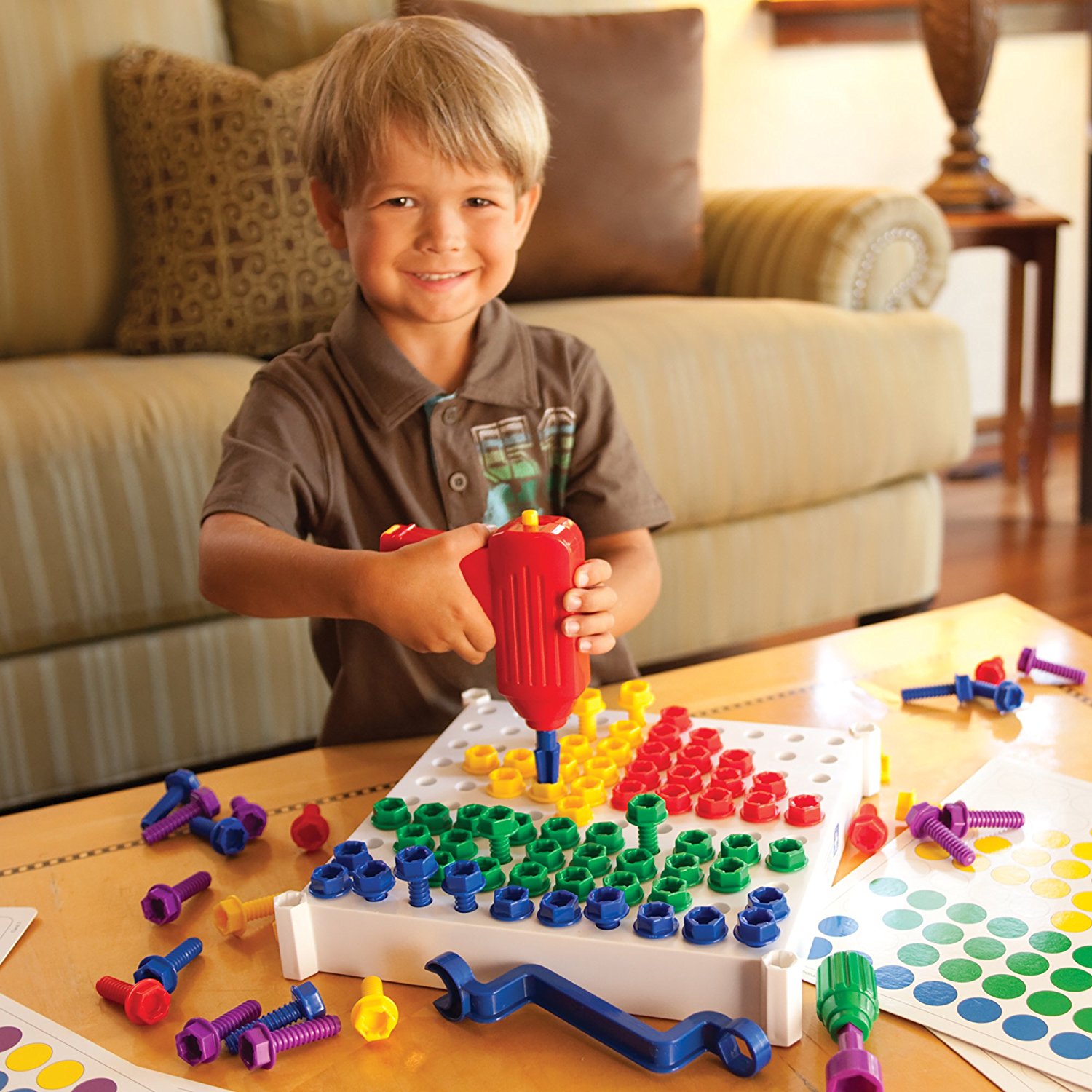 I particularly like how this particular toy combines fine motor skills with pattern recognition AND adds a great dramatic play element. We got it for our son when he was 4 and he played with it quite a bit until his little old sister took it over.
Our 1 1/2-year-old is started to getting in on the fun sorting and manipulating the pieces with his hands and was off and drilling around the time he turned 2. Now this is one of the first toys he goes to, again and again, when given a choice.
The popularity of this toy has also led to some cool variations, including the Design & Drill Flower Power Station, the Design & Drill Power Play Race Car and, my favorite, the Design & Drill BrightWorks– which is like if the Design & Drill had a baby with the classic Lite Brite from my childhood (in other words, the pieces light up and it's totally awesome).
(2 – 10 years)
I discovered Magna-tiles when my oldest son was 3-years-old via his preschool and they were the big present under the tree for the kids that Christmas. They're definitely more of an investment but have been COMPLETELY WORTH IT.
Teachers absolutely rave about these blocks and the play possibilities are endless. Because they join together using magnets, kids can create elaborate structures (often taller than they are) without becoming frustrated by crashes.
They're also great for use with other toys. They can be used along with blocks and LEGOs to make elaborate structures, with marbles and cars to make tunnels, bridges, and marble runs, or even with dolls to create dollhouses.
All of my kids, ages 2 to 8, still play with them multiple days a week. Currently, my 6-year-old loves making elaborate pet stores with ramps and rooms for each of her Disney Princess Palace Pets while my 2-year-old always asks for these first to take to build in his room during "Quiet Time"
We splurged for the 100 piece set and got hours of rainy day fun with these- the higher price was completely worth it.
Note: For an extra $10, these magnetic train bases take the play possibilities to a whole new level and make a great stocking stuffer.
(18 mos – 6 years)
I've been talking about the social and emotional learning benefits of dolls for boys for years in our Best Gifts for Dramatic Play Gift Guide, so I was super pumped about the release of this line of dolls designed specifically to meet those needs while staying in-tuned with boy culture!
Created by a therapist and mom, after her son came home from preschool one day and announced that 'boys aren't supposed to cry'. Frustrated by many of the messages boys were (and weren't) receiving and inspired by the way play influences child development, Wider created Wonder Crew to promote social and emotional learning, build confidence and imagination, and empower boys to see themselves as caring, creative and strong people. 
I'm totally on board and will definitely be getting both the superhero doll and the extra construction outfit for my son! I also love how each set comes with props for the child to wear too, so fun!
(walking – 6 years)
One of the most surprising things about having toddlers and preschoolers is seeing how much they absolutely LOVE to clean! We've had
We've had a broom and dust pan set for years and it's always been super popular. The kids really enjoy breaking it out to help with clean up when the opportunity arises or just using it to play pretend. Every toddler we know has this set and totally adores it and around 18-months-old our son started completely freaking out if he can't find it.
This year, though, I'm thinking of upgrading and totally eyeing this Melissa & Doug Cleaning Bundle- it comes with so much amazing stuff!!
You can also buy The Spray, Squirt, and Squeegee Set at a very reasonable price.
Not only will my toddler be able to sweep, mop, and dust to his heart's content- he will also get to spray, wipe, scrub, and even squeegee. Do you KNOW how much toddlers love, love, love to spray and wipe down windows, cabinets and anything else they can get their hands on?
The Toy List Already Trusted by 7,000,000 Parents
Sick of spending your money on toys your kids play with for 5 minutes and then abandon to clutter up your house?
Check out the toy list you won't find anywhere else- full of high-quality, engaging toys worth your $$$!
The following two tabs change content below.