Love your gift guides everything so far we have bought using them has been a winner!!

-MPMK Reader, Marnie
These are awesome! I've waited to make Christmas lists until they came out- and now I"ve shared with all my friends. The past two years I've used them and the gifts are ALWAYS a hit!

-MPMK Reader, Ellen
Welcome to the famous MPMK Gift Guides and congrats on finding the most comprehensive and easy-to-use kids' gift guide on the internet!
My guides are a labor of love and shopped by tens of thousands of parents year after year! (If you're not familiar with our famous lists, learn all about them here)…
New!

Sign up to be notified when we spot the best sales on these toys or when we decided to give some away!

Just click this blue button to get facebook messenger alerts.

Babies and young toddlers can be especially tough to shop for – it's not like we can just ask them what they want. Plus, kids develop differently and at different rates at this age.

Your best bet is to go for the tried-and-true toys that aim to build hand-eye coordination and fine and gross motor skills in an engaging but not over-stimulating way. Music is always good too!
Once again this year, I'm heading up each list with my favorites from all the picks…
HOT DEALS!
$34.99

Now $25.00

(9 months – 2 years)
Similar to the Learn & Groove table, this also can be played with first on the floor and then grows with baby. The added advantage to this one is that it turns into a walker when your child is ready.
My son latched on to this thing when he was ready to start walking around the house but not ready to do it on his own and he's LOVED it for months and months.
It's a nice multi-use toy for a great price and a real must-have.

15 TOP DEVELOPMENTAL TOYS FOR 0 – 18 MONTHS

$4.76 (9 months – 3 years)
This quintessential first book for babies is uber popular, and with good reason. It's a sturdy board book with a lightly padded cover that's easy for baby to hold (and, let's be honest, mouth) and it's full of bold, beautiful pictures.
Words are grouped together into categories making this a great tool for vocabulary building and shared reading time between mom/dad and baby (who pediatricians now recommend reading to at least 15 minutes a day from birth!)
A really nice present for a friend that just had a baby is this book bundled with the books Numbers Colors Shapes and the book First 100 Animals.
$6.90 (6 months – 4 years)
Balls are excellent for open-ended play and motor development for babies and younger toddlers – truly, every child should have a set.
The varying textures, colors, and sizes of the balls in this pack make them extra great for sensory engagement and they're BPA-free so you don't have to worry when your baby inevitably starts mouthing on them.
$34.99 (9 months – 3 years)
This was the hottest new baby toy of the year last year and it's not too hard to see why. The happy look and bright colors of this little guy will be enticing to any young child and his light up tricks, songs, phrases and dance moves are sure to get them moving and giggling too.
It's not just for toddlers either. My big kids love the freeze dance function. (I love that it helps them burn off some energy.)
From the manufacturer, "A press of BeatBo's tummy or any of the buttons on his feet activates fun songs, learning content and dance moves. This futuristic friend even allows mommy or baby to record a phrase, and he'll remix it into his favorite song! His three modes – Dance 'n Move, Learning & Games, and Customized Sing-Along – "grow" with baby to make him a fun, entertaining companion for years to come! And all the while, he's introducing baby to letters, colors, counting, music, cause & effect and more."
One reviewer wrote, "A very versatile toy for a broad range of age groups. You could put it in front of a baby that has the ability to sit up on his/her own and they could clap and wiggle around to the songs. The flashing lights on the belly are very intriguing as well… For my 30-month old daughter it is very educational.
It teaches colors, the alphabet, and the freeze dance song is a great energy burner and a great tool to teach them that freeze means stop and they have to wait for the next cue.
I will certainly buy this for all of my friends' kids. It was especially helpful when I was trying to make dinner and Hallie wanted to be held and was under my feet, she picked up Little Guy and worked up a sweat dancing. I LOVE it!"
$23.99 (9 months – 2 years) 
This was one of the very first toys my youngest son started to really engage with. At around 10 months it started by simply placing the balls in the holes and pushing on them (over and over again), at 12 months he was delighting in using the hammer to whack at both the balls and the removable xylophone and it was still one of his favorite toys at 18 months.
This is a really nice, dual-function wooden toy (both a pounding toy and a xylophone) at a reasonable price. I would highly recommend it if you're looking for a baby gift!
$14.92 (15 mos – 2 1/2 years)
I still remember my son receiving his first set of award-winning Megabloks for his 1st birthday. It took him a little while to figure out (kids typically grasp block building somewhere between 12 and 18 months), but once he did he started building like a mad man and never looked back!
All my mom friends and I love Mega Bloks for our youngest kiddos, even more than the classic LEGO duplos.
The locking mechanism is just a little bit easier for beginners to put together and pull apart. Plus the colors are beautiful and the zippered bag is very handy.
starting at $11.99 (6 months – 2 years)
These Lamaze toys were all the rage in the mommy and baby class I attended with my first son and it didn't take us long to figure out why. They're oversized, plush, and have lots of fun stuff for baby to pull and chew on. Plus they're durable – all of ours lasted through all three kids.
Along with Freddy the Firefly, our favorites were the moose and inchworm (which also plays music).
$29.99 (9 months – 2 years)
Similar to the Learn & Groove table, this also can be played with first on the floor and then grows with baby. The added advantage to this one is that it turns into a walker when your child is ready.
My son latched on to this thing when he was ready to start walking around the house but not ready to do it on his own and he's LOVED it for months and months.
It's a nice multi-use toy for a great price and a real must-have.
$120.00 (12 mos – 6 years)
I know what you're thinking – a one-year-old is too little to enjoy a big dramatic play toy like this. Once upon a time, I would have agreed with you – but then my baby boy starting pulling up and I got to see first hand how much he LOVES opening and shutting the doors, turning the knobs, taking the sink in and out and putting food in and out of all the compartments.
Plus, I know he has years of enjoying it still ahead of him. The ideal time to buy this toy is around 18 months so your child gets the maximum amount of years out of it.
In case you are wondering, we bought this for our oldest kids when they were 1 and 3 and couldn't be happier with it six years later.
I really like the look of the thing and I think the vibrant red is nicely gender neutral. Despite a small footprint, this kitchen still has all the amenities a kid could want and both my kids enjoy regularly playing at it simultaneously.
(Side note: people sometimes ask if kids will get too big for this smaller kitchen – mine are 95% percentile in height and haven't had an issue). If you're looking for a big wow gift from Santa, this could very well be it!
Based on how much my 2-year-old (and all my other kids) love the play kitchen, I was so excited when I found the line of Hape Playfully Delicious kitchen tools!
Toddlers absolutely love mimicking what they see adults doing in the kitchen and these toys do such a great job of allowing them to do that. The toaster is my favorite but the bottom two are close runners up:
$24.99 

(9 months – 4 years) 
We got this dog as a hand-me-down from friends whose kids had outgrown him. The puppy's a cuddly and engaging first friend and our 1 1/2-year-old is quite taken with him. He has two modes – learning and musical and identifies body parts, colors and sings lots of fun songs when various body parts are pushed.
All three of our kids have loved him and we whole-heartedly agree with one reviewer who wrote, "For $20, he is very interactive and elaborate…. he counts, names body parts and colors, has funny sayings, and sings many songs (ENTIRE songs). He's funnier, more educational (and cuter) than "Tickle-Me-Elmo"–minus the annoying voice."
Also, the one for sale is a newer version. New features include Smart Stages technology-learning that changes as baby gets older with 3 levels of age-appropriate play. Also available in the "Sis" version too… I left the link to the original puppy up top so you can see all the amazing reviews he's gotten over the years.
$11.99 (1 – 3 years)
This is one of the few plastic, noisy toys that all three of my kids truly loved when they were tots.
It seems all young kids love dropping things into slots and taking them out again, so that part was a guaranteed hit, but my littles also took to the songs and prompts encouraging counting along, comparing big and small and (new to this model) discovering mommy and baby animals.
This is another one with a huge amount of positive reviews on Amazon. In fact, it has over 400 reviews andan average 5-star rating!
$49.98 (walking – 7 years)
We have owned a basic water table for years and still get so much use out of it! My toddler plays with it so much that we gated off a portion of our deck, that also has doors into our living room, so that he can freely walk in and out to play with all day long.
To my surprise, even after years of pouring, dunking, sailing, etc. my 5 and 7-year-olds still found themselves drawn to the water table too.
It's such an excellent toy for getting your kids playing outdoors and we use it in all types of weather. It's actually great fun to put on our rain gear and go play with it on the deck while it's raining (plus there's pretty minimal clean up for playing outside in the rain because they stay out of the mud).
I highly, highly recommend this one and so do the multitude of positive reviews. Just look how next level cool it is!
Toys I recommend playing with while at the water table (aside from basic cups, bowls, and measuring cups), include these water bugs and net, this set of cups and a ball, and these squirting toys.
$29.95 (18 mos – 6 years)
I've been talking about the social and emotional learning benefits of dolls for boys for years in our Best Gifts for Dramatic Play Gift Guide, so I was super pumped about the release of this line of dolls designed specifically to meet those needs while staying in-tuned with boy culture!
Created by a therapist and mom, after her son came home from preschool one day and announced that 'boys aren't supposed to cry'.
Frustrated by many of the messages boys were (and weren't) receiving and inspired by the way play influences child development, Wider created Wonder Crew to promote social and emotional learning, build confidence and imagination, and empower boys to see themselves as caring, creative and strong people. 
I'm totally on board and will definitely be getting both the superhero doll and the extra construction outfit for my son! I also love how each set comes with props for the child to wear too, so fun!
$19.99 (12 months – 5 years)
$21.99 (1 – 9 years)
Around the time they start walking all kids, girls and boys, ABSOLUTELY LOVE pushing around toy strollers. When my daughter was a toddler, she liked her dolls, but wasn't obsessed like some other little girls we knew.
Yet she has always adored piling them into her stroller and taking them for a stroll around the house over, and over, and over again. Then her stroller was straight-up commandeered by her 18-month-old brother who also couldn't get enough of pushing it around all day.
I promise you, if you a buy a toy stroller for your child, it will be one of the most-used toys you've ever purchased. Oh, and if you have a girl that does happen to be doll-obsessed, this 3-in-1 pram is a really fun and versatile option too!
Logic follows that if one baby to take care of is good, then twins is even better. And the facial expressions on these two are my favorite, so realistic!
Very similar to the Melissa & Doug Brianna Doll, these twins have soft bodies that allow for laying or sitting and hard arms and legs that easily wipe clean. Plus, there's two of them! (Basically for the price of one.)
They are also some of the most life-like dolls I've seen. These two are now on the top of my birthday gift list for the 1-year-old to 3-year-olds in my life.
$39.99 (15 months – 3 years)
This lightweight, foldable, and sit-on version of the scooter lets even new walkers in on the fun. Young kids get to start out sitting on this scooter that can be used both indoors and outdoors.
The biggest pro to me, beside the good price, is how incredibly easy this thing is to transport to the park, a friend's house for a playdate, or anywhere else.
$21.24 (15 mos – 5 years)
This toy is great for taking dramatic play outdoors and, honestly, it's totally worth getting just for the adorable pictures you'll get of the kids following around Dad (or Mom) while they mow the lawn.
Seriously, this toy is a real winner – it has lots of parts to interact with (pull cord, vrooming engine, push throttle, turning key and more) but doesn't require batteries. It will ignite the kids' imagination and get them moving at the same time.

MY 7 GO-TO GIFTS FOR THE BABY WHO HAS EVERYTHING

It's come to my attention that a lot of you have found your way to this list while looking for the perfect gift for a special baby in your life.
This can sometimes be tricky as you don't want to duplicate anything they already have. Here are my favorite, less ubiquitous, baby toys on our list:
#1 Babybug Board Book Magazine Subscription $24.95/12 months  (6 mos – 3 years) 
Babybug, is a unique board book style magazine full of the highest-quality content available from the world's best children's writers and artists.
The subscription series progresses to enchanting stories, poems, and activities with Ladybug (3 – 6 years) and Spider (6 – 9 years) and fiction and classic literature as well as nonfiction stories on culture, history, science, and the arts for preteens in Cricket (9-14 years), which means your child may very well become a loyal subscriber for over a decade.
#2 Rainbow Sound Blocks $30.44 (9 months – 4 years)
If you've ever been on pinterest looking for kid activities, then you know that sensory play is all the rage these days. This is more than just a fad, early education experts have known for years the importance of sensory play – this is how babies first learn to explore their world!
These blocks are great because they engage so many of the young toddlers senses through stacking, layering colors, shaking to listen for sounds and more. My 6 year old loves holding them in front of the babies eyes in different combinations to create new colors for him to see the world in. These durable and beautiful wooden toys make a lovely gift any parents would be happy to receive.
#3 Soap Soax $14.99 (0 – 3 years)
These adorable stuffed animals are antimicrobial and made of terry cloth so they're the perfect bath time friend and sponge. You simply place your soap of choice inside the stuffed animal, then dunk it in the tub and squeeze for soapy, bubbly fun.
This is the perfect gift for the baby who has everything as well as any little one that's developed a fear of bath time. I first saw these on shark tank and was super impressed by the creator, who came up with the idea through his work with young kids who had been removed from dangerous home environments.
#4 Melissa & Doug Deluxe Bug Jug Fill & Spill Soft Baby Toy $18.65 (6 months – 3 years)
It's truly mystifying how endlessly entertaining putting things in and taking them out again is to babies. On top of that, these bugs provide lots of opportunities for sensory exploration. They're multi-textured and rattle, jingle, squeak and crinkle in little hands. All those textures and grip-able legs help develop fine motor skills and hand-eye coordination, plus the self-storing set is great for travel.
#5 Hohner 4 Piece Baby Band $18.99 (3 months – 5 years) 
I used to list just the hand bells from this company in this guide. Our toddler group class had them and they were always a big hit whenever they were pulled out – easy and fun for baby to use and great to play with while singing together. Then I saw this musical kit for baby and fell in love.
Going beyond the hand bell, this kit contains three additional instruments that baby can easily grasp and shake. Even before baby is old enough to hold these toys on her own, she will delight in watching and listing to others shake them. Older brothers and sisters also really enjoy getting in on the action too so it's not a bonding activity for everyone!
#6 Lamaze Cloth Books $11.79 (0-2 years)
Baby's love soft books because in the beginning all they do is mouth them. These books (there are 7 to chose from), with their bold and beautiful illustrations and built-in peek-a-boo games are a parent favorite and provides a great multi-textural sensory experience.
Two or three of them packaged together is one of my go-to gifts for parents who have just welcomed a new baby.
#7 Constellation Night Light, Lady Bug $29.99 (baby – 9 years) 
This guy literally shoots stars onto the walls and ceilings of your little one's room while she falls asleep (it automatically turns off after 45 minutes). We picked him up for C on his pediatrician's recommendation.  We were having trouble with him night wandering and she suggested setting up a routine where he wakes up, turns this on, and goes back to bed (as opposed to a routine where he wakes up and roams around the house).
It worked instantly and there's something so magical to C about falling asleep under the stars. This would be a great gift for a child of any age and it now comes in some other really sweet animals if you're not into turtles like a lamb, pig, fox and ladybug.
Read on for 40+ of my favorite developmental toys for babies & young toddlers, including:
Floor Toys
Riding & Walking toys
Music Toys
Toys for Developing Fine-Motor Control, Gross-Motor Control, Concentration and Hand-Eye Coordination
Special Note: In an effort to help you out as much as possible this year, I've included both prices and age recommendations for each item.  Please take the age ranges as just that – recommendations – you know you're child best after all!  
Also, this time of year prices can fluctuate quite dramatically.  So if you see something a little outside of your price range, it might not be a bad idea to click over and check it out anyway – you may get lucky and catch a sale.
Ready for the big list? Here we go…

BABIES 0 – 1 YEAR

Ages 0 – 3 Months
A Pair and A Spare- 3-of-a-kind blankies $35.62 (0 – 2 years)
This is so incredibly smart!! My oldest son and daughter both have lovies just like these (part animal, part blanky) that they sleep with every night. What I wouldn't give to have had three of each from the get-go! You might think three is over-kill but let me assure you- it's not.
We have two of each (one the kids have and one we keep as a spare) of their lovies and have somehow still found ourselves in a position of frantically searching for one at bedtime. It's such a great idea to have multiples of your kids' cherished lovies so you're always prepared if one gets lost, thrown up on, or just starts to smell funky (it can be really hard to find the time to wash and dry these things between nap and bedtime).
Baby Banana Bendable Training Toothbrush $7.43 or $12.70 for the 2 pack (6 -18 months) 
These unimposing little bananas may seem a little plain Jane at first glance, but they are truly the best teething toy out there (2,000+ positive reviews on Amazon back me up on this one).
I have to say I'm a little ashamed it took me until baby #3 to discover these – from using them to practice his grasp to chomping down on them to relieve teething pain, my little man loves them. Get the two pack as you'll want one for home and one for the diaper bag for sure.
Sophie the Giraffe Teether $19.95 (0 – 2 years)
If ever there was a quintessential baby toy of our generation, this is it. Almost every baby I know has, and loves, Sophie. She's a wonderfully oversized and happy teether – super easy for baby to grasp and munch on. This toy has more awards and rave reviews than I can even mention.
Floor & Crib Mirror $11.78 (0 – 18 months) 
My son was NOT a fan of tummy time, my daughter was pretty neutral on it, but they would both play longer on their tummies when they had a fun floor mirror like this one to look at themselves.
Fisher-Price Discover 'n Grow Kick and Play Piano Gym $37.99 (0 – 2 years)
If you want to go for the premium model play gym, this is it. Along with the standard baby gym hanging toys and mirrors, this one also has a super cool kick piano that baby starts out playing with his feet when she's small, and then graduates to sitting up and playing as she gets big. I'm loving the multiple ways to use this, and I'm not alone – this gym has over 1,000 reviews on Amazon and averages 4.5 stars out of 5.
Ages 3 – 6 Months
Ty Beanie Boos starts at $5.99 (6 months – 10 years)
All three kids in my house (my 7 year old son, 5 year old girl, 18 month old son) COMPLETELY ADORE Beanie Boos. It started with my daughter getting her pink leopard on a trip and proceeding to sleep with her every night of her life thereafter.
Then my baby boy kept trying to steal the leopard so I decided to see if he'd actually sleep with one of his own (all previous attempts to get him to keep a "lovie" with him in the crib had utterly failed). Now has to have "Woof Woof" in the crib with him every night.
Not to be left out, my oldest son has been asking for his very own beanie boo for his upcoming birthday for months. I really can't think of a better endorsement for a toy than every kid in the house wanting one. The size and price make them ideal stocking stuffers too.
Ages 6 – 9 Months
Melissa & Doug Deluxe Bug Jug Fill & Spill Soft Baby Toy $18.43 (6 months – 3 years)
It's truly mystifying how endlessly entertaining putting things in and taking them out again is to babies. On top of that, these bugs provide lots of opportunities for sensory exploration. They're multi-textured and rattle, jingle, squeak and crinkle in little hands.
All those textures and grip-able legs help develop fine motor skills and hand-eye coordination, plus the self-storing set is great for travel.
Learn & Groove Musical Table $39.99 (6 months – 6 years)
This toy has lots of ways for baby to interact and I love that the legs allow babies to play while seated but later transition to a table they can use standing.  This was a favorite of both of my kids once they started pulling up and at 7 months, baby M was already playing on it while standing with assistance or while sitting on his own on the floor.
Baby Einstein Take Along Tunes $6.69 (6 months – 2 years)
You know those lovely early months when many babies scream just about the ENTIRE time they're in the car? This musical toy that's easy to hold and has button big enough for baby to push on his own was the only thing that ever got my kids to stop – it was worth its weight in gold I tell ya. It was also great for getting my babies' attention in times of non-stress.
Fisher-Price Laugh & Learn Puppies Remote $7.11 (6 months – 3 years) 
This looks like it serves a similar function as the Take Along Tunes and also gets great reviews. With this one, baby can learn about numbers, opposites, colors, greetings and first words. Buy one of each and keep one in mom's car and the other in dad's just to mix it up.  You won't be sorry.
Ages 9 – 12 Months
Kidoozie Little Tuffies Trucks $16.95 (9 months – 4 years)
We bought these trucks several years ago for our very first (of many) sensory bins and couldn't have been happier. They're the perfect thing for shoveling, scooping, dumping, mixing, and driving over all sorts of sensory materials from sand to colored rice and the price can't be beat. We've loved these trucks so much that they've been worn out and we will be buying a new set for our young toddler as soon as we make him a bean box.
Fisher-Price Rainforest Jumperoo $66.06 (babies able to hold their head up – walking)
With my son, we had both a jumper that hung in a doorway and a big hand-me-down toy he stood/sat in. He wasn't a huge fan of either. With my daughter we replaced both with a jumperoo just like this and loved it (the one we actually got was recalled so I'm not recommending that one although we had no problems with it). It allowed her to bounce, spin, or just hang out and play with the toys as she pleased. A good multi-use toy is always a keeper in my book.
Tobbles $24.95 (9 months – 2 years)
These weighted spheres prove that babies can be builders too.  They're fun to stack, tilt, spin, and wobble and they'll bring a whole new type of building to baby's play.
International Playthings Flash Beat Drum $29.95 (9 months – 2 years)
My kids were fascinated with this drum from an early age.  They were captivated by the multiple ways to play – you can bang on it like a drum, or roll it back and forth to watch the colors and sounds change.  There are settings to play music and silly sounds as well.
Munchkin Mozart Magic Cube $18.99 (9 months – 3 years) 
We received this as a hand-me-down and both the kids and I were pretty impressed by what it could do.  It's essentially an orchestra in a cube. Press the sides representing different musical instruments (harp, french horn, piano, flute and violin) and hear 8 of Mozart's masterpieces played by any combination of instruments you prefer.
Babies and young toddlers enjoy experimenting with adding in and taking away the different instruments and, of course, each side also lights up along with the music.
Go Car $10.85 (9 months – 2 years)
Easily pushable and graspable = the ideal first car for baby.  I especially like all the fun colors it comes in.
Radio Flyer 4-in-1 Trike $89.97 (9 months – 5 years)
I always wanted one of (probably because I see them EVERYWHERE at the park and on the playground) and used the back surgery I had last summer as an excuse to finally get one. This made it possible for me to walk as I was supposed to during my recovery while safely keeping my toddler in place (he was super over the stroller). It was definitely the right choice, he absolutely loves it!  
The clever 4-in-1 design easily converts from a stroller to a steering trike, learning-to-ride-trike, and finally a classic trike. That means you have something fun for your little one to ride around in from the time they need to be pushed until they are ready to pedal all by themselves. The height adjustable handle and seat along with the removable canopy and tray allows for a lot of flexibility. Baby #3 may be the perfect excuse to finally pick one of these up for our family!


YOUNG TODDLERS

Ages 12 – 18 Months
Tot Tube Playset – Toy Car and Ball Tunnel Ramp Race Track $19.95 (18 months – 10 years)
This deceptively simple toy is so much more than it appears. Parents and teachers rave about how the hours and hours their kids spend shooting things through this heavy duty tunnel. This is a great toy to get kids hypothesizing about, "what will happen when I… (put something heaver in, tilt it higher, put more than one thing in it, etc…)
When my friend first introduced me to the tot tube, I really liked the idea but wondered if it was worth the money (couldn't we essentially do the same thing with a cardboard wrapping paper tube?).
What I like about this, though, is that it's a lot more durable than a cardboard tube, it's wider shape accommodates bigger sized cars and balls, it can break apart for easy storage or you can attach more than one for a super long tunnel, and the kids can see through it- making it so much more engaging. Read the reviews on this one and I think you'll be sold.
Fisher-Price Little People Lil' Movers Airplane $21.60 (1 – 3 years) 
Like the entire line of Little Peoples Movers, the stocky size of this airplane is perfect for little hands still developing their fine-motor skills. This plane, which lights up and plays multiple sounds gets tons of rave reviews from parents for it's durability as well as how many ways there are to play.
Complete with a pilot, two passengers, a piece of luggage, a door that opens, six windows, including the pilot's windshield, a handle over the cut-out top, and working wheels (which make the pilot and passengers go up and down as if encountering turbulence).
Push down on the pilot in her seat for flashing lights, a tune, flight attendant commentary, and swooshing airplane sounds. Bonus: big kids still love playing with the people from this sets long after they've outgrown the airplane.
Playskool Busy Gears $28.55 (1 – 3 years) (We have the less expensive Monkey Version $21.19)
At first I was put off by the look of this toy when my son received it for his first birthday- it seemed like a lot of plastic and lights and not a lot to actually do. But it is now one of his favorites, allowing him lots of opportunities to stack, push buttons, learn about cause and effect and even get a very basic introduction to mechanics. (I like that he can play with it with the lights and music on or off too).
One similarly pleased reviewer wrote, "My son received this toy for his first birthday! I will be purchasing it as gifts for all my friends!! He LOVES pushing the button and listening the the music. I was wondering if he would be able to figure out the gears, but he has caught on very quickly and loves to take the gears off and put them back on. He also enjoys stacking the gears up and watching them go around! I like that it has a handle so he can carry it around with him. It keeps him involved for up to 20 minutes at a time!
Green Toys Dump Truck $17.99 (1 months – 4 years) – Little girls and boys alike are drawn to things that go vroom. This Green Toy truck is truly green in every sense of the word.  Made in the USA from 100% milk jugs, it is free of BPA, PVC, and phthalates.  I also love that it has moving parts and is a bigger size – easy for young toddlers to manipulate.
Fisher-Price Laugh and Learn Smart Stages Tea Set $11.81 (1 – 4 years)
Toddlers and preschoolers naturally love anything that allows them to pour water over and over again. Add in a level of pretend play with the "tea time" experience plus voice prompts, sounds and songs teaching about numbers, shapes, opposites, manners, greetings and more – and you've got a winning toy guaranteed to provide hours of fun.
With over 800 reviews averaging 4.5 out of 5 stars on the original version, parents agree.
No Spill Big Bubble Bucket $14.00 (1 – 4 years)
Kids dig bubbles, almost universally.  This bucket is great because it prevents messes and the wands are easier for little hands to hold on their own. You'll have to help kids younger than 2 or 3 blow bubbles but this is a great set for getting older siblings involved in helping to entertain baby.
Haul and Ride Truck $37.99 (1 – 3 years)
This has been arguably the best toy our family has ever owned. My oldest son got it for his 1st birthday and for three years he played with it almost daily until the steering wheel finally snapped off. Both he and my daughter loved to ride it, fill it up with stuff, tow with it, pull it, and push it all over the house.
When our youngest son turned 1 his grandparents got a new truck for him. Guess what – he loves it just as much and his siblings love pushing him around on it. The design makes it nice and sturdy for the little ones and also offers flexibility in that they can ride, push like a walker, or fill and dump the truck bed over and over.
Geometric Stacker  $16.99 (15 months – 4 years)
I find the young toddler age range of 18-24 months particularly hard to shop for.  But this Melissa & Doug stacker is always a good fit. Kids this age are just compelled to stack… over and over and over.
Band in a Box $17.78 (15 mos – 3 years )
This is a really wonderful collection of easily manipulated instruments and a great introduction to playing music. Both my bigger kids loved our set when they were younger and our youngest boy is really started to enjoy the tambourine and maracas at 12 months, and still plays with them all the time at 18 months. Every young toddler needs something that makes fun sounds when you shake it!

Ages 18 – 24 Months
Little Tikes Cozy Shopping Cart $34.99 (18 mos – 5 years)
Another option, I absolutely love because it's like 3 toys in 1, is this shopping cart/cozi coupe. Kids not only get to push their dolls around, but also fill up a shopping cart and get in and drive away. So many awesome play possibilities at such a great price!
LeapFrog My Own Leaptop $21.79 (18 mos – 4 years)
Generally I'm not big on electronic toys for this age set. However, my 18 month old really, really loves this toy laptop (which he got as a hand-me-down from his siblings). He totally delights in toting around with him all over the house, using the handy handle, then opening it and pushing the buttons to hear music to dance too.
I like that it's building fine motor skills but still not overly stimulating for an electronic toy and serves as a nice way to introduce letters, letter sounds, animals, songs, and more. Plus it's a toy that will grow with him and provide new challenges as he gets older. (My 5 year old daughter still likes the dramatic play options of sending pretend emails and working on a pretend blog.) Overall this is a great toy for the price.
Little Tikes First Slide $34.99 (18 months – 4 years)
A few years ago when we had a 20 month old and a brand new baby, we bought an indoor slide and put it in the upstairs landing between the kids' bedrooms and it was one of the best things we ever did! A sturdy plastic slide used inside can be a life-saver when the weather is bad and the kiddos are restless.
This particular slide – highly rated for durability and usability for kiddos young and old – also serves double duty outside as an excellent safe place for toddlers to play while their big siblings scale taller play equipment.
Rock, Roll 'n Ride Trike $41.09 (18 months – 5 years)
Tricycles are an excellent way to introduce little ones to the concept of bike riding.  This one is extra special because it comes with a detachable piece that not only allows parents to push the trike, but also turns it into a riding horse (how cool is that?!).
Learning Resources Primary Science Mix and Measure Set $18.74 (18 months – 6 years)
This set includes a scale, bowl, 3 self-standing spoons and 6 unique cup designs to help children visualize quantities as well as activity cards to guide children in making mystery goo, puffy paint, slime and more.
Because it allows those not quite ready to experiment to get in on the fun too, it's a great toy for siblings of different ages as older kids can partake in real concocting while their younger counterparts pour to their heart's contentment.  This is a fabulous toy perfect for playing with at the sink, in the tub, or at the water table.
Shape Sorting Cube $14.65 (18 months – 4 years)
Shape sorters are great for fine motor development. This one has lots of play opportunities so kids don't quickly conquer the task and become bored. Plus its wood, not plastic, which is always a nice bonus.
ALEX® Toys – Early Learning Button Art $13.27 (no longer mouthing toys – 3 years)
As I said, finding engaging toys that build fine motor skills and concentration skills for this age group is HARD. They aren't interested in the baby toys anymore but a lot of the more advanced toys are still too hard. This pegboard set seems to be specially designed for the curious two-year-old.
The pieces are the right size for them to easily manipulate and the colorful puzzles are interesting enough to keep their attention but not so hard that they become frustrating. This one gets great reviews from parents of two-year-olds looking for that elusive perfect toy.
Quercetti Geokid Daisy Maxi $19.95 (18 months – 3 years)
Another toy that's exactly in the 2-year-old's wheelhouse, (but will also extend to a little younger and a little older age groups), this is the introduction to stacking, sorting and building fun. The oversized pegs that join the blocks together are perfect for young toddlers and ensure less frustration when building. This is one of my go-to gifts for two year olds.
*Post contains affiliate links.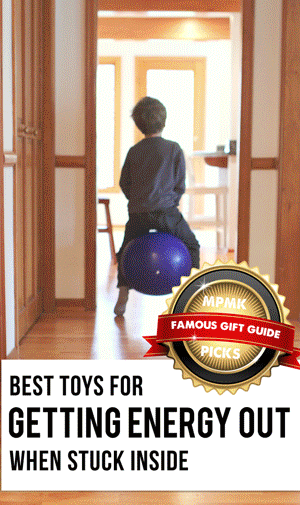 Still want more ideas? Don't forget to check out all 15 of the MPMK Gift Guides, organized by your child's age:
For the hottest toys of the year see:
Plus, the rest of our guides organized by interest:
Tens of thousands of parents use these lists every Christmas to find the perfect gift!
If you like these recommendations, I encourage you to pin or bookmark them for later when you're ready to start shopping.
I would also love it if you forwarded the list to your parenting friends or shared it on facebook – trust me, your friends will thank you for the help and you get to be the cool mom (or dad) with all the best resources. It's a win-win.
Also, don't forget for even more recommendations and alerts when we spot our gift guide items on sale: