Image Credit: ©clappstar | Smiling Up – text added| CC by 2.0
I am such a fan of your website and emails! Thanks for working so hard, especially at Christmas shopping time! Grandparents have scored major points after I forwarded them your lists.

-MPMK Reader, Lauren

These are awesome! I've waited to make Christmas lists until they came out- and now I"ve shared with all my friends. The past two years I've used them and the gifts are ALWAYS a hit!

-MPMK Reader, Ellen
Welcome to the famous MPMK Gift Guides and congrats on finding the most comprehensive and easy-to-use toy gift guide on the internet – already viewed over 7,000,000 times!
Shopped by tens of thousands of parents year after year! (If you're not familiar with our famous lists, learn all about them here)…
New!

Sign up to be notified when we spot the best sales on these toys or when we decided to give some away!

Just click this blue button to get facebook messenger alerts.

As always, instead of focusing on the latest and greatest "it" toy, we're highlighting the most engaging, entertaining (and even educational) toys for each age group. These are the gifts that have the highest bang for your buck and are going to keep on giving as kids return to them again and again for hours of continuous play.

Happy shopping (and don't forget to bookmark this list for the next time you're invited to a birthday party).

THE COOLEST TOYS FOR 5- TO 6-YEAR-OLDS

$14.99 (5+ years)
When my kindergartner came home from school one day asking me to teach him to play chess, I had mixed feelings. On the one hand, I was excited because, despite spending a lot of our time together on sports-related activities, I have great memories of playing chess with my dadgrowing up.
On the other hand, I was afraid he was a little young for it and might get frustrated and give up on the game altogether. Enter "No Stress Chess".
This genius game uses cards to teach young kids how to play in stages. The cards tell you which piece to move, so even children (and adults) who have never played the game can jump right in. The moves for each piece are on the cards as well as on the game board and the first stage makes the game about chance, not skill – you simply draw a card and do what it says, perfect for learning how the pieces work.
Once that is mastered, you can draw 3 cards at a time and decide which one you want to go with to introduce some strategy to the game. Finally, when you're ready to play chess for real, just get rid of the cards and flip the board over to a traditional chess board.
$49.99 (3 – 9 years)
If you've got a singer in the house and you're thinking of getting an MP3 player or a karaoke player for under the tree, this is a great one to consider. We got one for our daughter last Christmas and it has been the best thing ever. 
Anytime she has a friend over, they always immediately disappear into her room and start singing away. And she also spends plenty of time using it all on her own.
It has all kinds of handy features including being able to connect to all of your devices via a jack or USB and playing CDs so you can play kids' karaoke CDs. 
There are also two microphones and music doesn't have to be on for them to work. One reviewer said her boys love to use them to pretend to put on a podcast. Last but not least, the player has an AC adaptor so you won't spend a ton on batteries.
$19.99 (ages 3-12)
Along with Chow Crown and Flick' Chicken, Don't Step In It is one of my top picks this year for games guaranteed to supply family fun for all ages.
No matter how distasteful we may find it as adults, poop-themed toys and games are huge right now. The good news in this game is you can spend your turn wearing a blindfold and not looking at the fake poo!
Basically, players take turns blindly traversing the game mat barefoot and trying not to step on the soft and squishy poop. 
Like I said, hilarious fun for kids of all ages… and don't forget to check out the Unicorn poop version too!
$11.29 (4 – 7 years)
When my son was in kindergarten, he really started getting into math and began asking for story problems at night before bed, so imagine my excitement when I saw this book, which contains just that! From the publisher, "Inside this book, families will find fun, mischief-making math problems to tackle—math that isn't just kid-friendly, but actually kid-appealing.
With over 100 math riddles on topics from jalapeños and submarines to roller coasters and flamingos, this book bursts with math that looks nothing like school. And with three different levels of challenge (wee ones, little kids, and big kids), there's something for everyone."
This is a great way to change up story time at night and encourage math skills in kids that are excited about the subject as well as those who need some help getting excited.
Psst – We're now on the second and third books in the series.
$14.99 (4 – 9 years)
You heard it here first, the Pomsie is the Fingerling of Christmas 2018. So if you've got a kiddo that was a fan last year, get ready to start hearing some requests for these cuddly weirdos.
Just like Fingerlings, the Pomsies express emotions, but in an even more elaborate manor. Not only do they make over 50 different sounds, they also react to touch and have eyes that can light up to convey how they feel.
Last but not least, they're soft and pliable so that kids can wrap them around their hand, backpack, bedpost, or whatever they want.
Generally all things Hatchimal, Fingerling and the like are NOT my favorite but I can't deny that they are basically catnip to girls under age 10. And I can give major points to this one for being small and not one that will add a lot of clutter to the house!
$25.99 (3 – 6  years)
This is such a popular toy and it's no mystery why. Kids absolutely love playing school, especially when they have awesome props like this, and parents love how it fosters a love of learning. We bought it for my 4- and 6-year-olds last Christmas and they play with it ALL THE TIME.
From the manufacturer, "Part of the Pretend & Play line that fosters healthy early childhood development by helping kids interpret and imitate the world around them.
The 149-piece set includes tri-fold board, grade book, stickers, hall passes, dry erase board, hand pointer, crayons, double-sided calendar, double-sided map, and more." From a reviewer, "I gave this to my 6-year-old last Christmas and it has been one of the most-played-with gifts ever. She is now 7 and she still pulls this out and plays with it all the time. She loves to play school with her younger brother. This set is perfect for 5-8 year olds. Highly recommend!"
$14.99 (3 – 10 years)
The key to a good indoor toy is it's ability to wear a child out without requiring a lot of space to do so. This soft pogo jumper is an Amazon #1 Best Seller because it does just that.
It will keep the kids happy (and get them good and tired) and you won't have to worry too much about them knocking over your stuff (or each other).
$19.99 (ages 3 – adult)
I'm always on the hunt for a great game for family game night, or our Christmas Eve tradition of playing a crazy game with the family. The key components I'm on the hunt for are that the game is easy to learn, highly entertaining and suitable for kids (and adults!) of all ages.
This one totally checks all the boxes. Essentially frisbee golf with rubber chickens, players toss the target to get started, then take turns flicking' their chicken at the target. Sounds easy enough, but these funky chickens bounce and roll, so hitting the target will test your chicken flicking' skills!
My hope is that this might even be something my older elementary grade son will enjoy doing with his friends at playdates- you know, instead of ALWAYS defaulting to Xbox.
$19.95 (5+ years)
One of the best-sellers ever amongst all 350 toys on our gift guides. My son got this strategic domino and scrabble-like game for his 5th birthday and, since then, has asked to play it during our one-on-one time over and over.
Although we altered the rules and points system a bit to adjust for his age, this Parents' Choice Gold Award and Mensa National Competition winner is still fantastic for working on shape and color recognition as well as pattern perception and spatial and critical thinking skills.
Not long after we brought the game home, my 4-year-old daughter got in on the fun too. I can tell this is one that our family is sure to be playing for years to come.
(ages 3 – 14)

$19.99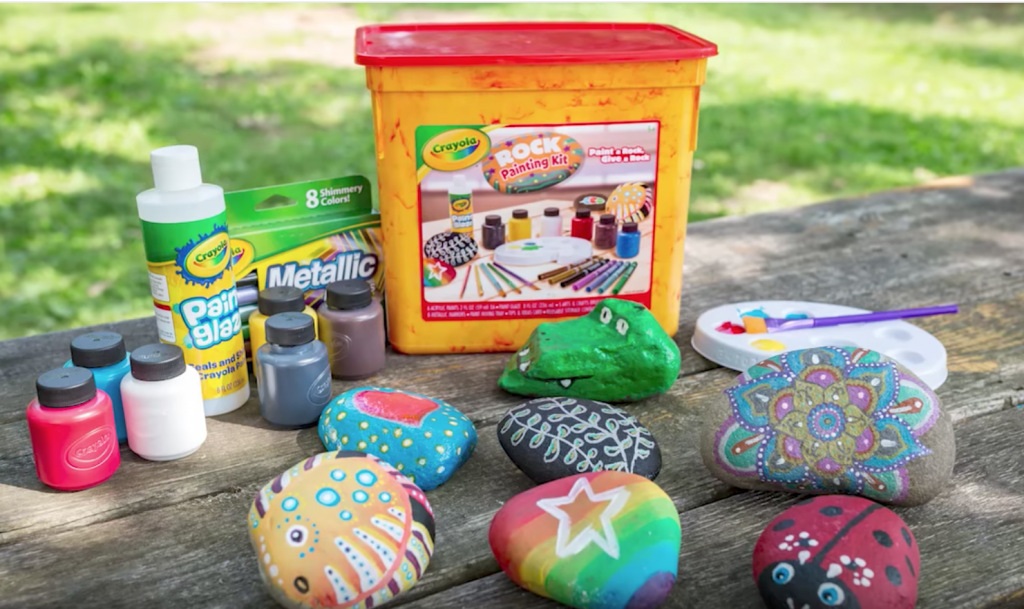 At first glance, this rock painting kit may not look like much, but don't let the unassuming presentation fool you. This toy is gonna be a BIG WINNER in your house. Here's why…
First, with clubs like "Seattle Rocks" or "Richmond Rocks" (insert your town's name) popping up all over the country, rock painting is all the rage with the kindergarten and elementary school set these days. (And, of course, preschoolers will love it too with a little help from mom or dad.)
These fun clubs encourage families to decorate their own rocks at home, hide them somewhere in town and then join a facebook group to leave hints about where you left your rock and also to get hints on where to find other rocks around town.
This is a family activity that has so many beneficial elements for your kids. They get to flex their investigative skills in your community while being creative, social, giving and adventurous. Plus, they spend time with the family (and maybe even learn a little about using the internet safely with you).
Ok, so clearly I'm into the rock clubs- but even if you're not, your kids will still love painting rocks for their own homes or just for sharing with friends. And if they're gonna do it, THIS is the kit to get.
The biggest thing about this kit is that it comes with a tub to keep everything in!!! This is major! The one thing I do not dig about rock painting is the potential for half-painted rocks, paint and brushes scattered all over the house. This will keep it all contained!
It also comes with a lot of things other kits don't, like 8 very cool shimmering metallic markers, a paint mixing tray, and finishing glaze. Of course, it also comes with acrylic paints in white, black, brown and the primary colors.
At first, I thought that didn't seem like enough colors but then I watched the video above and realized the idea is to use the primary colors to mix your own secondary colors. Another learning element great for preschoolers and kindergartners!
starting at $9.38 (5+ years)
This is the rare toy that truly is like no other I've ever seen.
Imagine if three of the all-time most loved toys in history- Hot Wheels, Pokeman Cards and Transformers- had a baby… you'd have Mecards.
You really have to watch the video to understand the magic of how this works… but basically kids "battle" by each rolling their cars over a facedown card.
What happens next is some crazy cool "magic". The car not only turns itself into an action figure, it also picks up and displays the magnetic card to show who has won the battle.
Both my son and daughter have gone through big Pokeman card stages, mostly so they could battle, and I just know that my son is gonna flip out when he sees this.
In fact, every year when I start working on these guides I vow that I will not buy anything for the kids yet… Nevertheless, 4 of these Mecard sets are on the way to our house as we speak.
Each vehicle comes with 3 cards and I'm thinking a good starter pack for would be 4 vehicles (which will come with 12 cards). To see the true magic of these cards, you have to check out the video above- you will be sold!
The last thing I really like about this set is that the cards make it really easy to tailor the game to the age of the player– you can keep it super simple for preschool and kindergartners and much more complex for elementary aged kids.
$22.99 (5+ years)
$45.99 (8 – 15 years)
This clever kit is the all-time-best-seller on our gift guides and another multi-award-winner that takes advantage of kids' natural interest in building toys (like LEGOs) to teach the principles of electricity.
The components aren't intimidating, snap together simply, and can be used to create a bunch of cool projects. The standard set comes with 60+ pieces to create over 300 different electronic projects. The pieces include snap wires, slide switches, an alarm circuit, a music integrated circuit, and a speaker and are numbered and color-coded to make identifying them easy.
The latest and hottest iterations include:
Snap Circuits Lights – This colorful lights edition puts on quite a show and is another favorite around our house.Just connect any MP3 player and be amazed as your music creates a mesmerizing light display.No two songs will ever produce the same light show. Includes pre-punched patterns for motor, strobe light, and color-changing LED, lighted and glow-in-the-dark fans, strobe integrated circuit, color organ controlled by MP3 player, voice, or finger. Builds over 175 experiments.
Snap Circuits 3D Illumination – Allows kids to go beyond the flat surface to build circuits horizontally, vertically and even upside down. The 3D setup means you can actually build a house and there's even a projector that projects things onto the wall.
Snap Circuits Arcade – Lets kids actually build – and play! – mini arcade games. There's also an incredibly cool fan that can be programmed to project any word or phrase onto it with lights.
The components in Snap Circuits combine to create working circuit boards just like the ones found inside televisions, radios, and other electronic devices. (Note: there is a conversion set that turns Snap Circuits Jr into this bigger set when your kids are ready to move up.)
The HUGE popularity of these sets means there are now lots of options to choose from, check out this video for the run down:
For bigger kids, you'll definitely want to check out the reduced priced Snap Circuits Student Electronics Training Program down this year from $199.99 to $127.45 as well as the Alternative Green Energy Kit.
$18.99 (3 – 12 years)
This 150 piece art set gets great marks for everything from its special looking case that keeps all the components snapped in place to the quality of the art supplies inside.
If your child is getting serious about art, this gift will show them you are proud of their burgeoning skills and it's sure to thrill.
My son and daughter seem so much more motivated to create since they received their own art case- and I've been pleasantly surprised that the attractive case has them always picking up their art supplies and taking care of them with pride.
$29.99 (ages 1 – 8 years)
This is #1 on my list for my daughter this Christmas, and if you've got a kid who loved Fingerlings last Christmas, this one should be a slam dunk for you too.
In fact I got mine on pre-order because like it's predecessor, I can see this being one that is hard to find come December.
What's so great about the HUGS, is that they take the cool interactivity of the original Fingerlings (burps, toots, laughs and more) and makes them soft and cuddly!
$15.98 (ages 2 – 12 years)
LEGO tape is one of the coolest things to happen to LEGO in a long time. This bendy, adhesive stuff allows kids to expand their LEGO universes onto the walls and ceilings and opens up endless possibilities for play. The tape is re-positionable, washable, extremely flexible and easy for little fingers to cut and arrange.
I love this particular pack because it comes with 4 rolls in different colors. Perfect for a present for one child or break it up and put a roll in each kid's stocking. And I really appreciate that the rolls are eco-friendly and made from CE and FDA certified Food-Grade silicone.
I just gifted a roll to my son for his 9th birthday and he has had so much fun coming up with new ways to use it. This one gets two big thumbs up from our family.
(ages 4 – 10) starting at $61.99
Kids LOVE making forts and, I gotta say, I'm a big fan of anything that will buy me a solid hour or two of busy time.
What I'm not the biggest fan of? The beating my couch cushions take when my kids get into fort-building mode.
That's reason enough alone to love the Fortboard kits but there are quite a few other reasons too.
First is all the super cool kinds of forts you can build. After Fortboard sent us two boxes to review, my kids started with the instructions for making a house on their website company's website. Next up was the submarine.
After a little trial and error, they pretty quickly got the hang of it and, let me tell you, they were pleased as punch about their new fort– which they insisted stay up for a week. That was fine by me as it resulted in TONS of cooperative dramatic play.
Next up was the submarine and the castle, both of which were equally successful. By then, even my 3-year-old was able to build stuff with these on his own. His current favorite is to make cubes, which he calls "bombs" and use them to knock down stacks of even more cubes Angry Birds style.
Fast forward a few months and they're now building their own master creations like that 6-wheeler semi-truck pictured up top. It's become a thrilling game to challenge each other to see what they can build next.
The second thing to really love is the ingenious ways these boards can connect in different ways to create all sorts of angles, and even curves.
The secret is the connector arm that can be moved to join the boards in different ways (and teach your kids about angles in the process).
It's so innovative, in fact, that it's won multiple awards and even a Microsoft Small Business Contest.
The final thing I love about Fortboards is how compact they are when it's time to put them away. Unlike with their competitors' sets, there are no awkward polls to store (and no polls for kids to hit their siblings with). Everything tucks into a box and neatly stores under a bed or in a closet when playtime is done.
Like other fort sets, this one is spendy but if your kid is a builder it's worth the investment, especially if you're looking for something great for play dates or for siblings to play with together.
The standard set comes with 60+ pieces to create over 300 different electronic projects. The pieces include snap wires, slide switches, an alarm circuit, a music integrated circuit, and a speaker and are numbered and color-coded to make identifying them easy. These components combine to create working circuit boards just like the ones found inside televisions, radios, and other electronic devices. (Note: there is a conversion set that turns Snap Circuits Jr into this bigger set when your kids are ready to move up.)
$14.88 (2 – 12 years)
This super fun game has been a huge hit ever since it debuted. We got ours for my son's 8th birthday and had the best time playing with it.
The premise couldn't be more simple; spin a number, put your face in the holder, crank the number of times that you spun and see if you get a "pie face".
Because kids love getting dirty and silly, this one is always a winner. Everyone from my 2-year-old son to the grandparents was rolling on the ground laughing.
(3+ years)
$19.00 (6+ years)
My kids both got to play with this at science camp this summer, during their study of physics, and fell in love. They both, my son especially, get a little hyper in the afternoon and I knew we'd all love having this around for them to stomp to their hearts content in the backyard. Lucky for us, we got one for C's 6th birthday and I was absolutely right.
The concept is simple, stomp (or jump) on the launch pad to send a foam tipped rocket up to 200 ft in the air. I like that both sets come with 4 rockets so the kids get to launch multiple times before running around to pick them all up and do it all over again.
Obviously the glow-in-the dark aspect of the Jr. Glow Kit is pretty cool. Siblings will love going together, and not having to take turns, and hosting friendly competitions with the Dueling Double Stomp Rocket Kit. In summary, these simple battery-free toys are multi-award winners and get great reviews. Plus they're cheap – gotta love that!
(ages 2 – 14)

$47.99
If you're a parent, you are likely familiar with the mermaid fabric trend. Kids absolutely cannot get enough of playing with and "drawing" on this magic fabric. (To be honest, either can I – each night when I lay with my 3-year-old, I just can't stop myself from petting this pillow. It's so, so relaxing.)
As such, these pillows from Mermaid Pillow Co. have become my new #1 suggestion for gifts from grandparents.
Why? Because grandparents like to buy things that have a big "Wow!" effect, they often don't mind spending a little extra on their grandchildren for something that's high quality, and if left unchecked grandparents can often misguidedly gift monstrous plastic toys that you would never normally allow into your home!
Mermaid Pillow Co. sent one of these pillows for each of my kiddos to review (I chose the "Sharks Think" for my 8-year-old son, the "Fairies Fly" for my 7-year-old daughter, and the "Dinosuars Discover" for my 3-year-old son.)
There are a couple of things I love about these particular pillows. First, the affirming messages are really cool – just the kind of encouraging note we try to hit in our parenting – and it was nice that there were so many to chose from! I was able to find one that perfectly suited each of my kids' personalities and interests.
(I also love the message of this one.)
Second, I was very pleasantly surprised with how soft the front of the pillows were. You can never really tell when ordering from a website, but these are extremely well made and super soft. They came beautifully packaged and seemed like something I would have bought from a boutique.
Last, but not least, is the mermaid fabric! Every bit as addictive as you might think, this stuff can be played with for hours. It's fun to draw designs in, to write on with your finger, and also acts as a really nice tool for relaxing at bedtime or calming down from a tantrum. I highly recommend!
$119.99 (2 – 10 years)
I discovered Magna-tiles when my oldest son was 3-years-old via his preschool and they were the big present under the tree for the kids that Christmas. They're definitely more of an investment but have been COMPLETELY WORTH IT.
Teachers absolutely rave about these blocks and the play possibilities are endless. Because they join together using magnets, kids can create elaborate structures (often taller than they are) without becoming frustrated by crashes.
They're also great for use with other toys. They can be used along with blocks and LEGOs to make elaborate structures, with marbles and cars to make tunnels, bridges, and marble runs, or even with dolls to create dollhouses.
All of my kids, ages 2 to 8, still play with them multiple days a week. Currently, my 6-year-old loves making elaborate pet stores with ramps and rooms for each of her Disney Princess Palace Pets while my 2-year-old always asks for these first to take to build in his room during "Quiet Time"
We splurged for the 100 piece set and got hours of rainy day fun with these- the higher price was completely worth it.
Note: For an extra $10, these magnetic train bases take the play possibilities to a whole new level and make a great stocking stuffer.
starting at $11.99 (4 – 10 years)
Speaking of dolls that send the right message to our girls, I'm loving the new line of DC Super Hero Girls. Not only do they have a very fun look, they also send a great message of empowerment.
I also really appreciate the articulating limbs so kids (both girls and boys!) can use them for acting out all sorts of superhero moves. You can buy the larger 12″ dolls individually or go in for the 6″ versions in a three pack or six pack.
$15.79 (5+ years)
Billed by many as "the runaway toy of the year" a few years back, this award-winning loom is the most exciting thing to happen to kid jewelry since the advent of the friendship bracelet.
Using a special loom and the multitude of colorful twistz bandz that come in this kit along with a myriad of video tutorials available on YouTube, kids will spend hours happily creating with this fun kit.
My daughter has been playing with her kit for years now. This is easily one of the biggest "bang for your buck" toys we've ever bought.
$54.99 (3 – 8 years)
Check out the stellar reviews on this one and you'll be sold.  It's a cool space-age car that's powered solely by wiggling the steering wheel.  This multi-award winning toy is one that will be enjoyed by kids of all ages for many years. Enough said.
starting at $17.95 (5 – 12 years)
These award-winning kits allow your children to author, illustrate, and publish their very own book hard cover book. My daughter and I have been making books together at home for a while now so I'm excited to surprise her with this kit allowing her to make a professionally printed book.
I also love the comic book making kit for kids who need a little encouragement in the areas of reading and writing. From the manufacturer, "Lulu Jr. allows children to become published authors, encouraging creativity, strengthening literacy and building self-esteem. Your child writes and illustrates their own original story that will be printed as a full-color, hardcover, professionally printed book.
You choose whether to mail your completed book pages to them in the included prepaid envelope, or you and your child can create the book online. The final product showcases your child as the published author on the book's back cover using our 'About the Author' feature. With Lulu Jr.'s award-winning book-making kits, IlluStory Junior, My Comic Book and My Awesome Book, children can realize their potential as an author and artist. With 800,000 kits sold and over 15 industry awards, Lulu Jr. is the ideal destination for young authors. "… For younger kids, also check out the low-tech Create Your Own 3 Bitty Books kit that allows them to make three of their own mini-board books for only $10.
starting at $11.24, (age varies by kit)
This is another series of kits, much like the LEGO City collection with the difference being that each kit can be used to create 3 totally different things.  My son thinks this is especially awesome and I did a lot of research to find the perfect set for his 6th birthday.
We settled on the LEGO Creator 31011 Aviation Adventure and we were not disappointed! The photos don't do justice to the sheer size of this thing! That and the number of pieces involved in the build truly make this the next level in LEGO builds. Plus it actually has moving parts (pull back the landing gear to make the propellers move, slide the cockpit windshield back and up to insert and remove the two pilots, etc.). My son has been playing with it non-stop for weeks and he still hasn't even gotten to the boat and helicopter he can build with this set. This toy has already given us hours and hours of fun and promises to give lots more – a great investment in my eyes.
Hot Wheels DIY Track Creator Kit
(18 months with parents help – 12 years)
This is a very unique item on these gift guides in that I'm recommending you buy a couple of simple sets (listed below) and package them together to make one really awesome gift.
I totally get that some of the Hot Wheels sets out there are super fun for kids (our favorites are still featured below).
However, one of the things I really love about hot wheels is the idea of the kids going crazy with them, building all kinds of unique and interesting tracks down the stairs, under the table, and etc. So if you're considering a big Hot Wheels gift for your kiddo, I really encourage you to think about putting together this suggested DIY gift instead of buying one expensive track setup.
I promise, it will buy you so many more hours of engagement than a bells-and-whistles set that really only does one thing. This kit was my son's big present for his 7th birthday , minus the cars as we had plenty of those. Of course, you can add or subtract from it to make the perfect sized gift for your space/budget too.
Here's what I'd put in mine if starting from scratch:
A decent set of small hot wheels are a must for us. They're great for playing with the toy garage also listed here or for using with blocks, up-cycled paper towel rolls, and even painter's tape tracks in all kinds of innovative open-ended play. Of course, when playing with these with young toddlers, be on the lookout for any loose parts that may be a choking hazard. We've never had a problem but it's worth noting.
Allows to design, create and customize their very own track challenge using a variety of stunts, track layout options and key track essentials that all work together. This set includes 35+ customizable pieces, including 6 pieces of orange track, 16+ bricks, 2 curves, a launcher, multiple connectors, and a Hot Wheels vehicle

One reviewer wrote, "Bought for 6 year old grandson and he loves it. Well made, flexible pieces so it can stay together and remove easily. He added it to other pieces and things around to make ramps. Keeps him busy a long time."
To really expand the possibilities, I would also highly recommend throwing in one or two of these straight track sets. 18 track connectors, including an assortment of 9-inch tracks, 12-inch tracks and track connectors to make up to 15 feet of straight track.

YOUR CHILD'S 1st TABLET

One of the things parents are looking for most from this list is information on the best first tablet for their child. When to actually get our kids tablets, and which one to get, is something we wrestled with and researched A LOT. So I've done my best to tell you what we went with and why.
As a side note, we decided to very slowly start to let our kids have access to limited tablet time at the ages of 5 and 6. Your decision around timing and ages may be very different. As always, you know your child best!
$129.99 (5+ Years)
Let me just start by saying that we have been super impressed and happy with our decision to go with the Fire tablets
for our kids. However,
I find the multitude of options that Amazon offers to be very confusing!
So I'm going to start with what we love about the Fire and then I'm going to tell you exactly which one, and which accessories, I recommend and why.
1) State-of-the-Art Parental Controls
By far, my favorite feature of the Fire- and the ultimate reason that I feel it is superior to other tablets for kids – is the state-of-the art parental control features. The flexibility of these features is unparalleled in my mind and I so, so appreciate that I can set the different profiles for each of my kids and forget them so that the tablet can be the bad guy in terms of telling the kids that they can't do something or that it's time to shut it off. Along with setting which hours during the day the Fire will turn on for each child (e.g. 8:00 am to 5:00 pm each day), I can also set specific time limits for each kind of activity- i.e. 20 minutes on apps, 30 minutes reading books, and 0 minutes for TV/movies each day. I can also set up educational goals, such as reading for 40 minutes each day, that have to be achieved before other things like apps can be accessed.
2) Amazon FreeTime Unlimited
The second thing that really sold me on the Fire is Amazon FreeTime Unlimited … As a parent who is already a little apprehensive about tablet time for my young kids, I am extremely picky about what apps they're engaging with while they're using them. Amazon FreeTime Unlimited is an all-in-one subscription for kids that offers unlimited access to thousands of kid-friendly books, movies, TV shows, educational apps, and games and, for the most part, I've been really impressed with them. It's a very easy way to get my kids new content that I feel I can trust. Plus, there's a new kid-safe camera app that allows them to take pictures and edit them by adding stickers, drawings, and more. Parents can view photos and videos taken by their children in a separate photo gallery, and have the option to auto-save to Amazon Cloud Drive. Finally, while in the FreeTime app, kids are unable to access the internet, social media, or email and are also unable to make purchases on their own.
3) – Open Platform
The third and final thing that the Fire has going for it is that it's a true tablet and, thus, an open-system. That means that unlike other kids' tablet, I have full control over the apps that are loaded onto my kids tablets. If there's a FreeTime Unlimited app that I don't want them to have, I can easily delete it. Conversely, if there's an app that I do want them to be able to use, like Minecraft or an awesome new educational app I saw on pinterest, I can download it to the device without a problem.
*Post contains affiliate links.
Still want more ideas? Don't forget to check out all 15 of the MPMK Gift Guides, organized by your child's age:
For the hottest toys of the year see:
Plus, the rest of our guides organized by interest:
Tens of thousands of parents use these lists every Christmas to find the perfect gift!
If you like these recommendations, I encourage you to pin or bookmark them for later when you're ready to start shopping.
I would also love it if you forwarded the list to your parenting friends or shared it on facebook – trust me, your friends will thank you for the help and you get to be the cool mom (or dad) with all the best resources. It's a win-win.
Also, don't forget for even more recommendations and alerts when we spot our gift guide items on sale: