This could be one of the most useful pages you've come across on the internet in a long while!
Once your kids are a certain age, you find yourself spending a good number of your weekends at other kids' birthday parties… and that can get expensive!
Wouldn't it be great to have on hand a list of toys that the birthday boy or girl will truly love AND will cost you less than $20 a pop?
…Here you go!
Also, I do my best throughout the year to keep our readers up-to-date on any sales I see on our gift guide items. To be in the loop, be sure to:
Best Gifts New This Year
Don't Step In It (ages 3-12)
Along with Chow Crown and Flick' Chicken, Don't Step In It is one of my top picks this year for games guaranteed to supply family fun for all ages.
No matter how distasteful we may find it as adults, poop-themed toys and games are huge right now. The good news in this game is you can spend your turn wearing a blindfold and not looking at the fake poo!
Basically, players take turns blindly traversing the game mat barefoot and trying not to step on the soft and squishy poop. 
Like I said, hilarious fun for kids of all ages… and don't forget to check out the Unicorn poop version too!
Mecards (5+ years)
This is the rare toy that truly is like no other I've ever seen.
Imagine if three of the all-time most loved toys in history- Hot Wheels, Pokeman Cards and Transformers- had a baby… you'd have Mecards.
You really have to watch the video to understand the magic of how this works… but basically kids "battle" by each rolling their cars over a facedown card.
What happens next is some crazy cool "magic". The car not only turns itself into an action figure, it also picks up and displays the magnetic card to show who has won the battle.
Both my son and daughter have gone through big Pokeman card stages, mostly so they could battle, and I just know that my son is gonna flip out when he sees this.
In fact, every year when I start working on these guides I vow that I will not buy anything for the kids yet… Nevertheless, 4 of these Mecard sets are on the way to our house as we speak.
Each vehicle comes with 3 cards and I'm thinking a good starter pack for would be 4 vehicles (which will come with 12 cards). To see the true magic of these cards, you have to check out the video above- you will be sold!
The last thing I really like about this set is that the cards make it really easy to tailor the game to the age of the player– you can keep it super simple for preschool and kindergartners and much more complex for elementary aged kids.
Best Gifts for Babies Under $20
First 100 Words (9 months – 3 years)
This quintessential first book for babies is uber popular, and with good reason. It's a sturdy board book with a lightly padded cover that's easy for baby to hold (and, let's be honest, mouth) and it's full of bold, beautiful pictures. Words are grouped together into categories making this a great tool for vocabulary building and shared reading time between mom/dad and baby (who pediatricians now recommend reading to at least 15 minutes a day from birth!)
A really nice present for a friend that just had a baby!
Lamaze Take Along Toys (6 months – 2 years)
These lamaze toys were all the rage in the mommy and baby class I attended with my first son and it didn't take us long to figure out why. They're oversized, plush, and have lots of fun stuff for baby to pull and chew on. Plus they're durable – all of ours lasted through all three kids. Along with Freddy the Firefly, our favorites were the moose and inchworm (which also plays music).
Baby Einstein Take Along Tunes (6 months – 2 years)
You know those lovely early months when many babies scream just about the ENTIRE time they're in the car? This musical toy that's easy to hold and has button big enough for baby to push on his own was the only thing that ever got my kids to stop – it was worth it's weight in gold I tell ya. It was also great for getting my babies' attention in times of non-stress.
Infantino Textured Multi Ball Set (6 months – 4 years)
Balls are excellent for open-ended play and motor development for babies and younger toddlers – truly, every child should have a set. The varying textures, colors, and sizes of the balls in this pack make them extra great for sensory engagement.
Hohner 4 Piece Baby Band (3 months – 5 years)
I used to list just the hand bells from this company in this guide. Our toddler group class had them and they were always a big hit whenever they were pulled out – easy and fun for baby to use and great to play with while singing together. Then I saw this musical kit for baby and fell in love.
Going beyond the hand bell, this kit contains three additional instruments that baby can easily grasp and shake. Even before baby is old enough to hold these toys on her own, she will delight in watching and listing to others shake them. Older brothers and sisters also really enjoy getting in on the action too so it's not a bonding activity for everyone!
Ty Beanie Boos (6 months – 10 years)
All three kids in my house (my 7 year old son, 5 year old girl, 18 month old son) COMPLETELY ADORE Beanie Boos. It started with my daughter getting her pink leopard on a trip and proceeding to sleep with her every night of her life thereafter. Then my baby boy kept trying to steal the leopard so I decided to see if he'd actually sleep with one of his own (all previous attempts to get him to keep a "lovie" with him in the crib had utterly failed).
Now has to have "Woof Woof" in the crib with him every night. Not to be left out, my oldest son has been asking for his very own beanie boo for his upcoming birthday for months. I really can't think of a better endorsement for a toy than every kid in the house wanting one. The size and price make them ideal stocking stuffers too.
Best Gifts for 2-Year-Olds Under $20
Mega Bloks First Builders Big Building Bag, 80-Piece (Classic)  (15 mos – 2 1/2 years)
I still remember my son receiving his first set of award-winning Megabloks for his first birthday. It took him a little while to figure out (kids typically grasp block building somewhere between 12 and 18 months), but once he did he started building like a mad man and never looked back!
All my mom friends and I love Mega Bloks for our youngest kiddos, even more than the classic LEGO duplos. The locking mechanism is just a little bit easier for beginners to put together and pull apart. Plus the colors are beautiful and the zippered bag is very handy.
Melissa & Doug Spray, Squirt and Squeegee Set  (walking – 6 years)
One of the most surprising things about having toddlers and preschoolers is seeing how much they absolutely LOVE to clean! We've had a broom and dust pan set for years. The kids really enjoy breaking it out to help with clean up when the opportunity arises or just using it to play pretend. Every toddler we know has this set and totally adores it and our 18 month old completely freaks out when he can't find it.
This year, though, I'm totally eyeing this set- it comes with so much amazing stuff!!
With this set my toddler will get to spray, wipe, scrub, and even squeegee. Do you KNOW how much toddlers love, love, love to spray and wipe down windows, cabinets and anything else they can get their hands on?
This one is a sure slam dunk for any toddler on your list- guaranteed!
Tot Tube Playset – Toy Car and Ball Tunnel Ramp Race Track  (1 – 10 years)
This deceptively simple toy is so much more than it appears. Parents and teachers rave about how the hours and hours their kids spend shooting things through this heavy duty tunnel. This is a great toy to get kids hypothesizing about, "what will happen when I… (put something heaver in, tilt it higher, put more than one thing in it, etc…) When my friend first introduced me to the tot tube, I really liked the idea but wondered if it was worth the money (couldn't we essentially do the same thing with a cardboard wrapping paper tube?).
What I like about this, though, is that it's a lot more durable than a cardboard tube, it's wider shape accommodates bigger sized cars and balls, it can break apart for easy storage or you can attach more than one for a super long tunnel, and the kids can see through it- making it so much more engaging. Read the reviews on this one and I think you'll be sold.
Sesame Street Elmo On the Go Letters  (2 – 4 years)
This suitcase full of big letters is the perfect on-the-go toy and such a fun way for preschoolers to learn their ABCs by snapping each letters into place. The toy grows with kids too, as they enter preschool kids can use the letters to spell out simple words in the bottom window. Also, underneath each letter is a cute image of a word that starts with that letter.
When play is done, fold up the Elmo carrying case, and take the alphabet on the go! This straight forward toy is a big hit with parent and kids alike plus the Elmo face on the front of the case is sure to put a smile on the face of any toddler.
Fisher-Price Laugh and Learn Learning Piggy Bank (1 – 3 years)
This is one of the few plastic, noisy toys that all three of my kids truly loved when they were tots.
It seems all young kids love dropping things into slots and taking them out again, so that part was a guaranteed hit, but my littles also took to the songs and prompts encouraging counting along, comparing big and small and (new to this model) discovering mommy and baby animals. This is another one with a huge amount of positive reviews on Amazon.
Kidoozie Little Tuffies Trucks (9 months – 4 years)
We bought these trucks several years ago for our very first (of many) sensory bins and couldn't have been happier. They're the perfect thing for shoveling, scooping, dumping, mixing, and driving over all sorts of sensory materials from sand to colored rice and the price can't be beat. We've loved these trucks so much that they've been worn out and we will be buying a new set for our young toddler as soon as we make him a bean box.
Band in a Box (12 months – 3 years)
This is a really wonderful collection of easily manipulated instruments and a great introduction to playing music. Both my bigger kids loved our set when they were younger and our youngest boy is really started to enjoy the tambourine and maracas at 12 months, and still plays with them all the time at 18 months. Every young toddler needs something that makes fun sounds when you shake it!
Mommy & Me My First Doll Stroller (walking – 5 years)
Around the time they start walking all kids, girls and boys, ABSOLUTELY LOVE pushing around toy strollers. When my daughter was a toddler, she liked her dolls, but wasn't obsessed like some other little girls we knew. Yet she has always adored piling them into her stroller and taking them for a stroll around the house over, and over, and over again. Recently, her stroller has been straight-up commandeered by her 18 month old brother who also can't get enough of pushing it around all day.
I promise you, if you a buy a toy stroller for your child, it will be one of the most-used toys you've ever purchased. Oh, and if you have a girl that does happen to be doll-obsessed, this 3-in-1 pram is a really fun and versatile option too! For a baby to go in the stroller, I really love these super well-priced and highly reviewed twins!
LeapFrog My Own Leaptop (18 mos – 4 years)
Generally I'm not big on electronic toys for this age set. However, my 18 month old really, really loves this toy laptop (which he got as a hand-me-down from his siblings). He totally delights in toting around with him all over the house, using the handy handle, then opening it and pushing the buttons to hear music to dance too.
I like that it's building fine motor skills but still not overly stimulating for an electronic toy and serves as a nice way to introduce letters, letter sounds, animals, songs, and more. Plus it's a toy that will grow with him and provide new challenges as he gets older. (My 5 year old daughter still likes the dramatic play options of sending pretend emails and working on a pretend blog.) Overall this is a great toy for the price.
Best Gifts for Preschoolers Under $20
Pillow Buddy (all ages)
These oversized cuddly character pillows ranging in size from 11 to 26 inches are the PERFECT gift for any kid that has a favorite movie, show, etc.
There are so many options to choose from; Star Wars, Frozen, Super Heros, Toy Story, Minions, The Good Dinosaur, Hello Kitty… The list goes on and on!
Melissa & Doug Reusable Sticker Books (3 – 10 years)
My parents gave the kids a couple of these reusable sticker books a few years ago for Christmas and they've been a consistent stand-by for us every since. Each of the books contain a series of background pages and hundreds of various sticker clings that can be positioned over and over on them.
There are tons of book themes to choose from too. They are surprisingly useful on long car rides (despite their large size) and we always grab them when heading to someone's house who doesn't have younger children and, therefore, is without toys to entertain younger children.
Melissa & Doug Solar System Floor Puzzle (3+ years)
and World Map Floor Puzzle (4+ years)
Large floor puzzles are great to introduce around ages 3 or 4. We have all three of these and our kids have loved them from preschool through 2nd grade and counting. It amazes me what they can construct completely on their own!
Robot Claw (3+ years)
I picked this up on impulse while birthday shopping for my son a few years ago. So glad I did – it was a HUGE hit. Kids ALWAYS love it and it seems like a natural gateway toy to wanting to explore robotics.
Melissa & Doug Dress Up Sets (2– 6 years)
A big box full of dress up clothes was the kids' big present a few Christmases ago. I filled it with lots of random items (shoes, jewelry, masks, hats, boas, etc) as well as a few complete outfits. For that, Melissa & Doug's selection has always been my favorite. Go for their Delux Role Play Costume Bundle or check out their chef, Fire Chief, and pirate outfits as well as this very cool, non-M&D, astronaut getup.
Battat Take Apart Sets (3+ years)
I'm kind of in awe of these Take-A-Part kits (there's an airplane, crane, 4×4 and roadster available). They combine my son's two absolute favorite activities: building and playing with things that go vroom. Plus kids put together their sets using a working power drill with 3 different bits. The reviews on this one are stellar and I'm totally sold!
Backyard Safari Field Scope/Insecto-Scope (4 – 12 years)
This scope's large, easy-to-handle design is perfect for little hands. Kids can trap whatever they want under it, then use the light and knob for 6x magnification. It's just the thing for encouraging scientific observation as well as getting outside to play.
Melissa & Doug Cutting Food (3 – 6 years)
Regardless of whether you go in for a play kitchen, grocery cart, cash register, none or all of the above – you're gonna need some food to cook and/or buy during dramatic play. We got this cutting food from Melissa & Doug before we ever got our play kitchen and it was an excellent toy all on it's own, both for dramatic play and for building fine motor skills. Our kids have been playing with these pieces for years and still found them very enticing on their own up to age 3 or so (after that they were good props for kitchen play).
Green Toys Tea Set (2 – 7 years)
Whether playing with mommy or a favorite doll, tea time is always a fun way to pass some time. We've had this set for over a year and it still looks like new (despite lots of use in the playroom, bath tub and even sand box). Plus I love that Green Toys are 100% recycled, made from milk jugs, are FDA approved to eat and drink from, and do not contain BPA, phthalates, or lead paint. What more could you ask for?
Melissa & Doug Brianna Doll (1 – 7 years)
There's a lot to like about this basic doll. At 12″, she's a good size for hauling around. Her soft body allows for laying or sitting and her hard arms and legs easily wipe clean. She has lots of shiny hair to play with and her eyes open and close. Plus, her open mouth allows her to suck on either her thumb or pacifier. Last but not least, her price can't be beat!
Hot Wheels 20 Car Gift Pack (2+ years)
A decent set of small hot wheels are a must for us. They're great for playing with the toy garages or for using with blocks, up-cycled paper towel rolls, and even painter's tape tracks for all kind of innovative an open-ended play.
We also LOVE this kind of race ramp for rainy or sick days. It's still both my 2-year-old and my 8-year-old's favorite Hot Wheels toy. They never get tired of seeing who will win and it's so quick to set up and put away. (I was also pleasantly surprised that our version lasted it us a several years already and I like how it folds down flat for easy storage).
Best Gifts for Kindergartners Under $20
Snap Circuits Jr (5+ years)
This clever kit is the all-time-best-seller on our gift guides and another multi-award-winner that takes advantage of kids' natural interest in building toys (like LEGOs) to teach the principles of electricity. It does wobble a little bit back and forth over the $20 mark but it's so worth it! The components aren't intimidating, snap together simply, and can be used to create a bunch of cool projects. The standard set comes with 60+ pieces to create over 300 different electronic projects.
The pieces include snap wires, slide switches, an alarm circuit, a music integrated circuit, and a speaker and are numbered and color-coded to make identifying them easy. These components combine to create working circuit boards just like the ones found inside televisions, radios, and other electronic devices. (Note: there is a conversion set that turns Snap Circuits Jr into this bigger set when your kids are ready to move up.)
LEGO tape is one of the coolest things to happen to LEGO in a long time. This bendy, adhesive stuff allows kids to expand their LEGO universes onto the walls and ceilings and opens up endless possibilities for play. The tape is re-positionable, washable, extremely flexible and easy for little fingers to cut and arrange.
I love this particular pack because it comes with 4 rolls in different colors. Perfect for a present for one child or break it up and put a roll in each kid's stocking. And I really appreciate that the rolls are eco-friendly and made from CE and FDA certified Food-Grade silicone.
I just gifted a roll to my son for his 9th birthday and he has had so much fun coming up with new ways to use it. This one gets two big thumbs up from our family.
Beados Shopkins Sweet Spreee Design Station (5 – 12 years)
If you've got an art lover, a Shopkins lover, or both, this gift is guaranteed to be a hit. And, bonus, your kids will spend long periods of time absorbed in concentration while completing projects (a parent's dream, right?!). The process is very straightforward, kids choose a template of their favorite Shopkins, meticulously add the beads, spray with water, and then dry in the drying station.
They're a lot like perler beads except I love that I don't have to break out the iron, and of course my daughter loves the Shopkins templates. This one is also great for multiple kids using together during playdates. I'm stocking up for the next time we have kids over and for the next couple of birthday parties we're invited to!
This super fun game has been a huge hit ever since it debuted. We got ours last month for my son's 8th birthday and had the best time playing with it. Everyone from my 2-year-old son to the grandparents was rolling on the ground laughing.
The premise couldn't be more simple; spin a number, put your face in the holder, crank the number of times that you spun and see if you get a "pie face". Because kids love getting dirty and silly, this one is always a winner.
Crayola Inspiration Art Case (3 – 12 years)
This 150 piece art set gets great marks for everything from it's special looking case that keeps all the components snapped in place to the quality of the art supplies inside. If your child is getting serious about art, this gift will show them you are proud of their burgeoning skills and it's sure to thrill.
My son and daughter seem so much more motivated to create since they received their own art case- and I've been pleasantly surprised that the attractive case has them always picking up their art supplies and taking care of them with pride.
DK First Reference Series (4 – 12 years)
This is an amazing series of books full of interesting facts and close up pictures that kids will find fascinating. There's one for virtually any topic your child is interested; animals, atlases, space and more. Get the First Human Body Encyclopedia to use all on its own or as a companion to the squishy human body kit above.
Lil Lockitz (5 – 12 years)
My 6-year-old daughter loves, loves making rainbow looms for her friends and trading them with her friends. So, I've been looking around to see if there were any other jewelry-making kits that would equally capture her interest. I think Lil Lockitz is definitely it.
Last month my husband purchased this rubber band refill set and she absolutely loved the charms that came with it… The Lil Lockitz sets are all about charms. The sets supply kids with gems, backgrounds and charms to fill and personalize each locket. Kids love the ability to customize the locket to fit their personality and if boys aren't into the necklaces, there are bracelets and keychains to be made too.
Plus they're large and easy to manipulate. And, like any good toy, there are a million different themed sets available. This Christmas I'm leaning towards starting my daughter off with the Best Friend Party Pack, which comes with a photo puncher to use your own photos in the lockets.
Yoga Pretzels (3+ years)
This is another card set I've had my eye on. Again the illustrations looked beautiful and I like how there's a story element to go along with each of the poses. Plus the set got great reviews on Amazon. When I pulled the trigger and finally got them for Christmas, I wasn't sorry.
Both my preschool and elementary aged kids return to these cards again and again and it's a great activity for them all to do together, especially because some of the poses require two people. Their current favorite way to use them is to put them in a big circle on the floor, play music, and do whatever pose they land on when the music stops.
I also LOVE the company's newest offering…
Kidoozie Foam Pogo Jumper (3 – 10 years)
The key to a good indoor toy is it's ability to wear a child out without requiring a lot of space to do so. This soft pogo jumper is an Amazon #1 Best Seller because it does just that. It will keep the kids happy (and get them good and tired) and you won't have to worry too much about them knocking over your stuff (or each other).
Crystal Mining Kit (6 – 8 years)
A wonderful option for introducing your child to geology is this fun excavating kit. My daughter has been so into crystals and "discovering treasure" for the past year that I could see her truly loving this. From the manufacturer, "Excavate 8 natural crystals embedded in a plaster block.
Carefully dig them out just like a real excavation and add them to your rock collection. Kit includes plaster block with crystals, a specially designed digging tool, brush, magnifying glass, display case with cover and base card, pouch bag, detailed instructions and fun facts."
Discover with Dr. Cool Kits (6 – 12 years)
If geology, paleontology, and archeology are really your child's thing, then also check out these award-winning kits. The hands-on sets come complete with real geodes, gemstones, etc. as well activity books that invite kids to partake in hours of exploratory play. I especially like the Dinosaur Dig Kit and the Real Bug Digging Kit.
Qwirkle (5+ years)
One of the best-sellers ever amongst all 350 toys on our gift guides. My son got this strategic domino and scrabble-like game for his 5th birthday and asks to play it during our one-on-one time or as a family several times a week.
Although we've altered the rules and points system a bit to adjust for his age, this Parents' Choice Gold Award and Mensa National Competition winner is still fantastic for working on shape and color recognition as well as pattern perception and spatial and critical thinking skills. Recently my 4-year-old daughter has been getting in on the fun and I can tell this is one that our family is sure to be playing for years to come.
No Stress Chess (5+ years)
When my kindergartner came home from school one day asking me to teach him to play chess, I had mixed feelings. On the one hand I was excited because, despite spending a lot of our time together on sports-related activities, I have great memories of playing chess with my dad growing up. On the other hand, I was afraid he was a little young for it and might get frustrated and give up on the game all together. Enter "No Stress Chess". This genius game uses cards to teach young kids how to play in stages. The cards tell you which piece to move, so even children (and adults) who have never played the game can jump right in.
The moves for each piece are on the cards as well as on the game board and the first stage makes the game about chance, not skill – you simply draw a card and do what it says, perfect for learning how the pieces work. Once that is mastered, you can draw 3 cards at a time and decide which one you want to go with to introduce some strategy to the game. Finally, when you're ready to play chess for real, just get rid of the cards and flip the board over to a traditional chess board.
Barbie Careers Line of Dolls (5 – 10 years)
I'll admit it, I'm not a huge Barbie fan… but that doesn't mean my daughter doesn't love her. So when looking for Barbie dolls for her, I try to compromise by at least going for the lines that I see as having the most play value and setting the best example.
The careers line is one that fits the bill. Instead of putting the emphasis on clothes, it focuses on various occupations and sets up girls to focus on those things in their play.
Also, the props that come with some of the sets are pretty cool and you really can't beat the price – perfect as a birthday party gift or for a deluxe stocking stuffer!
DC Super Hero Girls Collection (5 – 10 years)
Speaking of dolls that send the right message to our girls, I'm loving the new line of DC Super Hero Girls. Not only do they have a very fun look, they also send a great message of empowerment. I also really appreciate the articulating limbs so kids (both girls and boys!) can use them for acting out all sorts of super hero moves. You can buy the larger 12″ dolls individually or go in for the 6″ versions in a three pack or six pack.
LEGO Creator 3-in-1 Kits (age varies by kit)
This is another series of kits, much like the LEGO City collection with the difference being that each kit can be used to create 3 totally different things. My son thinks this is especially awesome and I did a lot of research to find the perfect set for his 6th birthday. We settled on the LEGO Creator 31011 Aviation Adventure and we were not disappointed! The photos don't do justice to the sheer size of this thing! That and the number of pieces involved in the build truly make this the next level in LEGO builds. Plus, it actually has moving parts (pull back the landing gear to make the propellers move, slide the cockpit windshield back and up to insert and remove the two pilots, etc.).
My son has been playing with it non-stop for weeks and he still hasn't even gotten to the boat and helicopter he can build with this set. This toy has already given us hours and hours of fun and promises to give lots more – a great investment in my eyes.
Twistz Bandz Rainbow Loom (5+ years)
Billed by many as "the runaway toy of the year" a few years back, this award winning loom is the most exciting thing to happen to kid jewelry since the advent of the friendship bracelet. Using a special loom and the multitude of colorful twistz bandz that come in this kit along with a myriad of video tutorials available on YouTube, kids will spend hours happily creating with this fun kit.
Bedtime Math: A Fun Excuse to Stay Up Late (4 – 7 years)
When my son was in kindergarten, he really started getting into math and began asking for story problems at night before bed, so imagine my excitement when I saw this book, which contains just that! From the publisher, "Inside this book, families will find fun, mischief-making math problems to tackle—math that isn't just kid-friendly, but actually kid-appealing.
With over 100 math riddles on topics from jalapeños and submarines to roller coasters and flamingos, this book bursts with math that looks nothing like school. And with three different levels of challenge (wee ones, little kids, and big kids), there's something for everyone." This is a great way to change up story time at night and encourage math skills in kids that are excited about the subject as well as those who need some help getting excited. We're now onto the second and third books in the series.
Best Gifts for Elementary Aged Kids Under $20
Watch Ya' Mouth (Reading age and up)
Last year the big hit for family game night was Pie Face (also now available in Pie Face Showdown version for this Christmas), this year it's Watch Ya' Mouth. This game has a similar amount of silly fun that will have every kid (ages 7 to 70) eager to play. Originated in viral videos and launched on Kickstarter the game has teams of players, hampered by cheek retractors like those used at the dentist, attempt to read and interpret/speak out phrases.
One reviewer wrote, "Not only does it make you look funny but it makes you talk funny. Each player wears a mouth piece and picks a card. The other players have to guess what your trying to say. Most the time we laughed so hard we couldn't even finish reading the cards before the timer ran out. This is a great game for all ages. I recommend it to everyone."
Klutz LEGO Chain Reactions Craft Kit (7 – 15 years)
The first thing I thought when I saw this book was that it was a combo of two of my son's favorite things: LEGOs and the game Mouse Trap. I talk a lot in this gift guide about the value of open-ended toys and I think this book could really get a kid's mind spinning in regards to what new contraptions they can invent… From the manufacturer, "LEGO Chain Reactions is packed full of ideas, instructions, and inspiration for 10 LEGO machines that spin, swing, pivot, roll, lift, and drop.
Each machine alone is awesome, but put them together and you get incredible chain reactions. Then, combine the machines in any order you like to create your own chain reactions. Our team of experts worked with educators and 11-year-olds to invent the machines, then wrote a book that teaches the skills (and some of the physics behind the fun) kids need to create their own amazing chain reaction machines."
The kit comes with 78 page book, 33 LEGO elements, 6 LEGO balls, 6 feet of string, 8 paper ramps, 2 paper pop-up signs, 1 paper funnel ramp, 1 paper flag, 1 paper bucket, 1 platform and the makers assure that you don't need to worry that you won't have the right bricks as they made sure you'll need only the most common bricks, and that there are plenty of substitutes… And while we're on the topic of LEGO build books, The LEGO Ideas Book and LEGO Play Book are also well worth looking into.
Exploding Kittens Card Game (reading age and up)
Have you heard of this Uber popular game yet?! This hilarious card game made Kickstarter history by becoming it's most backed project ever. Kids and adults alike cannot get enough of the bizarro premise of a kitty-powered version of Russian Roulette.
To play, players draw cards until someone draws an Exploding Kitten, at which point they explode, they are dead, and they are out of the game – unless that player has a Defuse card, which can defuse the Kitten using things like laser pointers, belly rubs, and catnip sandwiches. All of the other cards in the deck are used to move, mitigate, or avoid the Exploding Kittens. Check it out, you've gotta see it to understand… and then your whole family will be hooked!
Bounce-Off (7+ years)
This active game is one that will truly appeal to players spanning a range of ages. Kind of a version of beer pong for kids (stay with me here, we're not straying from family-friendly – I promise), it's simple for everyone to understand and play and doesn't take long to turn into an exciting game of fierce collaboration or hearty competition.
One reviewer wrote, "We took advantage of picking this one up for our boys ages 8, 9 and 11… The first day they opened this and started playing, there was nothing but laughter and enjoyment for more than two hours for all three who sat down to play. They all got along (often a problem in competitive board games) and despite the fact that they didn't bother to keep score, they really liked it… without parental supervision or interaction, they played peacefully and contently for a long time. And they had no problems going back to the game either… Not sure how educational it is, but it works on hand-eye coordination and I'd say it's one of the better team-building games that we own."
Mind-Blowing Science Kit (6 – 8 years)
Performing some basic science experiments at home is a great way to inject a little learning into your quality time with the kids. This set gets good reviews from parents and comes with step-by-step instructions for each experiment. There's also a detailed science guide that provides adults with "mind blowing science secrets" that help to answer questions about what's happening in each experiment.
The Everything Kids' Science Experiments Book: Boil Ice, Float Water, Measure Gravity-Challenge the World Around You!  (8+ years or younger with parent)
This is kind of like Mr. Wizard in a book. Written by a high school science and math teacher, this guide will help school-aged kids explore scientific topics with themed chapters broken down into accessible experiments of varying difficulty levels. It's always a big hit and the price couldn't be better!
Spot it! (5 years – adult) also there's a new travel version, Spot it! On the Road
An award-winning game that centers around visual perception and speed. The goal is to be the first to identify a match on a pair of cards and to call out out the name of the figure in common. This is the type of game that quickly becomes addictive and will cause lots of laughs and (hopefully) friendly competition. Also check out the newer Disney Frozen – Alphabet and Disney Planes – Alphabet versions.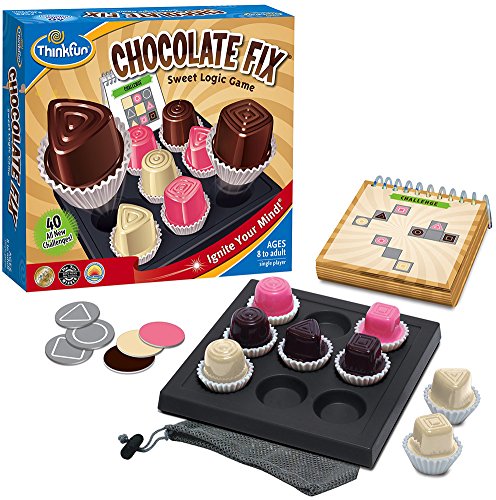 Chocolate Fix (7+ years)
Similar to Soduku but made much for fun with the addition of yummy looking chocolate pieces, this single player logic game challenges players (or teams of players) to figure out where to place all of the chocolates on the board according to visual cues.
The game gets amazingly high reviews and I love that the chocolate pieces are extremely enticing to both boys and girls. It was one of the first single-player logic games, other than Castle Logix, to really grab the attention of my daughter and keep it.
Ed Emberely Drawing & Art Books (6+ years)
These books are just so cool for kids that have a passion for art because they can use them to teach themselves how to draw all the things they want to. We started with the thumbprint book, which is great for younger kids, and recently added the animal and vehicle drawing books for my son's birthday as well as Picture Pie, which incorporates cutting and pasting shapes to make things step by step instead of just drawing.
Still want more ideas? Don't forget to check out all 15 of the MPMK Gift Guides, organized by your child's age:
For the hottest toys of the year see:
Plus, the rest of our guides organized by interest:
Tens of thousands of parents use these lists every Christmas to find the perfect gift!
no
Need help feeding your toddler?
Sign up for our newsletter to get a handy stick-it-your-fridge list of our favorite meals for toddlers and a link to all of the recipes!