$49, Now $31.90
I absolutely love the ballerina cut of this sweatshirt and at this price, I just wish there were more colors to buy it in!
LATE ADDITION: I just tried on this Caslon tie knot sweat shirt in the store and I love it so much guys! It looks equally great with yoga pants and skinny jeans alike!
$60, Now $36.98
I bought this at last year's sale and wear it several times a week in the spring, summer and fall. It's the perfect light weight layer and so incredibly soft.
$25, Now $12.90
I recently read that french women view their undergarments as part of their outfits and prefer colored bras. When I brought it up at a moms get-together recently, they all agreed that nude bras are the worst.
Ever since I've been embracing tank tops with pretty peek-a-boo bralettes and this is the athletic version. The straps on the back of this one are so pretty underneath sporty muscle tees and tank tops.
$28, Now $19.90
And this is the perfect tank to go with that strappy sports bra.
$80, Now $60.90
This is a great price on Nike and a great piece for layering with yoga pants and tees.
$35, Now $26.90
If the exposed sports bra isn't your thing, a classic logo tee also looks great with leggings. Also check out the Adidas Originals Trefoil Logo Relaxed Fit Tank  ($30, Now $21.90).
$88, Now $58.90
Alo is a luxury brand that is normally too rich for my blood – except for during the Nordstrom sale. And, if you haven't figured it out by now, I absolutely love a stylish sweatshirt. This one is just a little edgy and the black would look great with yoga pants or jeans.
$25, $29.90
I've seen several fashion bloggers share this one and, I have to say, the photos on the Nordstrom site just don't do it justice. There's just a little elastic in the hem to keep it hugging the booty and it looks super cute tucked in. Also, I like that it's long enough to allow you to wear yoga pants without having to worry about modesty (if you know what I mean).
$120, Now $89.90
I've been on the search for cute white running shoes and I just love these.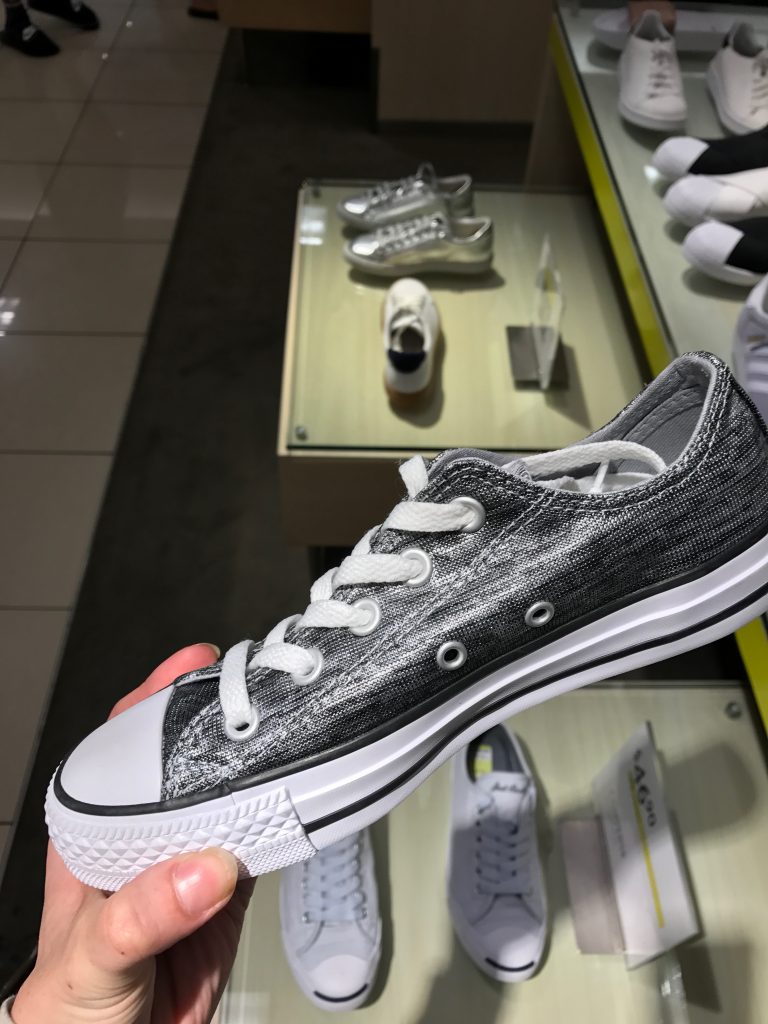 $59.95, Now $39.90
The knit upper and cushy footbed in these Chucks makes them extra comfy for running after the kids every day.
The only complaint people have had about the converse knit shoe is that it's more metallic/shiny than they expected… For a true knit look, definitely check out these Vans instead!
#11 Reebok French Terry Pants
$65, Now $42.90
These gym coach pants are just the best! Sadly, I'm not the only one who thinks so and they're all sold out. As of now, though, the matching jacket is still available and 33% off!
$54, Now $35.90
So I said before that I'm not a fan of high waist leggings, but I've heard SO MANY people raving about how much the Zella version sucks them in (in all the right places) that I'm giving them another shot.
$52, Now $33.90
I also said before that Zella leggings are the only yoga pants or leggings I wear and that is still true. They are nice and thick and incredibly durable. They're also incredibly slimming.
$50, Now $37.90
When yoga pants start to feel a little tired a cute pair of joggers are my favorite way to shake up my athleisure wear routine. These are every bit as soft as the hoodie that pairs with them.
More Late Additions:
I also tried these on at the store today and wanted to share my thoughts…
Treasure & Bond Gathered Pleat Front Tee
$49, Now $29,90
Love this shirt providing a longer length and some interest while wearing yoga pants. Comes in lots of great colors too. (See the next pic for grey.)
$59, Now $38.90
This is my favorite length of Zella pant and the first time I've ventured into any pairs with mesh. Those are no longer available online, but I still highly recommend this cut! The link above is to a patterned legging in this cut, for a more basic black with mesh, also check out these high waist moto ankle leggings.
I was surprised how much I loved these once I had them on and I just couldn't walk out of the store without them.
$79.95, Now $59.90
My preference is to stick to mostly blacks, greys and white when it comes to the clothes and add pops of color with shoes (that way I can use the pieces as really versatile basics).
These purple Adidas are even cuter in person and are guaranteed to get you lots of compliments!
*Post contains affiliate links.
More from MPMK
Anniversary Sale: Dressing Room Pics!
25 Pieces: The Ultimate Minimalist Mom Wardrobe
Back-to-School Deals at the Nordstrom Sale You Don't Want to Miss Out On
Get Your Free Printable
Subscribe to our newsletter today and get our free printable... No More, "Mom, I'm Bored!"