Somehow things feel better when you are able to choose them.
In our house, vegetables can be a hard sell.
They go down a little easier, though, when you can have more of your favorites and less of the ones you don't like.
Maybe you didn't think you liked tomatoes, but when they're mixed with all the bacon, they're not so bad!
Making a cobb salad bar is super easy.
Gather different size bowls and a cutting board and get to work. This is the kind of thing kids can help with. So enlist them with age-appropriate jobs.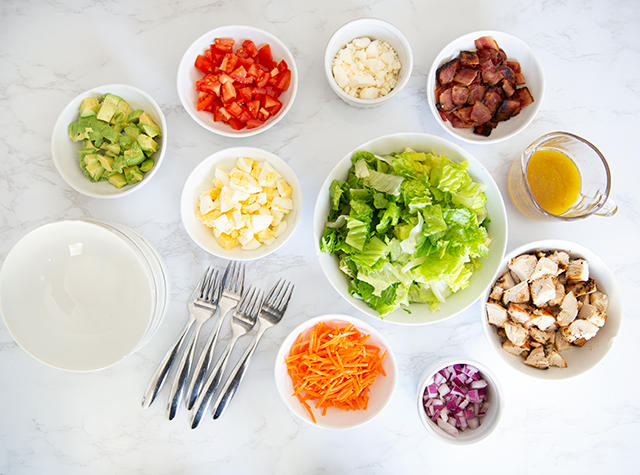 Our favorite items for the cobb salad bar are:
Romaine Lettuce
Tomatoes
Shredded carrots
Avocado
Red onion
Hard boiled eggs
Bacon
Blue cheese or feta cheese
Grilled chicken
You can use a pre-made dressing or whisk together olive oil and vinegar with some salt and pepper.
Lay out the bowls and forks and your job is done!
The Toy List Already Trusted by 7,000,000 Parents
Sick of spending your money on toys your kids play with for 5 minutes and then abandon to clutter up your house?
Check out the toy list you won't find anywhere else- full of high-quality, engaging toys worth spending your money on!
The following two tabs change content below.
Kristin is a former teacher turned children's photographer in southern California. Visit her website to read all about her adventures in photography, cooking, and her love of style.