Chickpeas are such a great way to sneak fiber into your diet (don't miss our 10 easy lunch ideas using chickpeas too!)… When it comes to snacks are you a salty person or sweet?  (I'm both – why choose, right?)  Either way, Natalie's got something for you today.  
In her continued quest to live sugar-light, she's had to get creative with her snacks.  Today she's got a total of four variations, some salty and some sweet, of her new favorite: roasted chickpeas.  The garlic parmesan are calling my name, or maybe the honey cinnamon.  Hmm… 
If you've been following my move to a sugar-light lifestyle, (more on that
here
,
here
and
here
) you'll understand why I've been looking for some healthy snack foods. I can handle making main dishes that are free of sugar, but snacks are a different story. It's just too easy to grab something unhealthy when I'm looking for a snack (granola bars, I'm talking to you!).
In our house, we need snacks that are easy to prepare, easy to grab-and-go and appealing to the kids (a little protein doesn't hurt either). I've been doing a lot of fruit and nut mixes, yogurt, peanut butter and the like but I'm getting a little bored.
That's why I'm loving these roasted chickpeas. They've gotten me out of a snacking rut. You can experiment with lots of different flavors to suit your mood, all while knowing that you're getting some good protein and fiber to keep you going.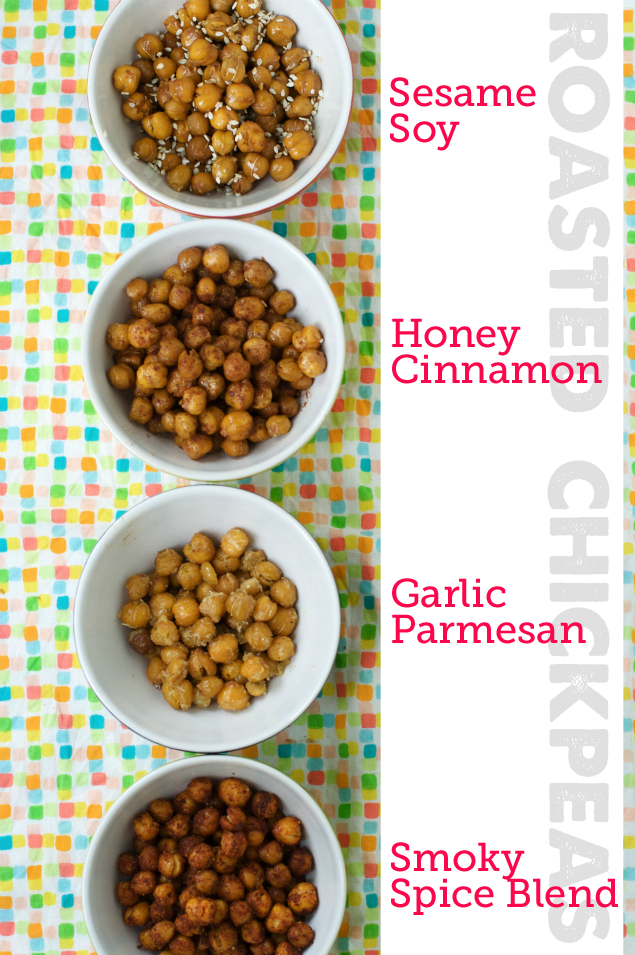 I've provided you with a simple master recipe for roasting and four flavor ideas to get you started. The first three are kid-friendly. The last (smoky spice blend) might be too much for some of your little ones. No worries, you can really put any topping on these babies. If you're out of ideas, think about your favorite snack mix or popcorn flavors to get some inspiration. You'll be surprised how quickly they disappear!
Roasted Chickpeas (Master Recipe)
2 cans chickpeas (garbanzo beans) or about 4 cups cooked chickpeas from dried beans

2 tablespoons olive oil

seasonings of your choice (see below for suggestions)
Preheat oven to 375 degrees. 

Prepare the beans for roasting by draining and rinsing them, then letting them dry on a towel until most of the excess moisture is absorbed. Spread on a baking sheet lined with parchment paper or a silicone baking mat. Roast the chickpeas in the oven for 45-60 minutes or until the beans are crunchy throughout (just test one- if they are still mostly soft on the inside and there's no crunch, keep baking).

Immediately (while beans are still hot), toss with olive oil and seasonings. Serve hot or at room temperature. They are best the first day, but can be kept in an airtight container for up to 4 days.
Seasoning Suggestions (add more or less if you like, these are just guidelines)
Sesame Soy- 1 teaspoon sesame oil, 1 teaspoon garlic powder, 1/2 teaspoon sea salt, 1 tablespoon sesame seeds

Honey Cinnamon- 1 teaspoon cinnamon, a pinch nutmeg, 1/4 teaspoon sea salt, 2 tablespoons honey (you can throw these back in the oven for 10-15 minutes to carmelize if you like)

Garlic Parmesan- 1/4 cup grated parmesan cheese, 1 teaspoon garlic powder or 2 cloves fresh minced garlic, 1/4 teaspoon fresh cracked pepper, 1/2 teaspoon sea salt

Smoky Spice Blend- 1/2 teaspoon ancho chile powder, 1/2 teaspoon smoked paprika, 1/2 teaspoon garlic powder, 1/2 teaspoon cumin, 1/4 teaspoon fresh cracked pepper, 1/2 teaspoon sea salt, pinch cayenne (optional)
The following two tabs change content below.