Have you been able to slow down in between the frenzy of Halloween and Thanksgiving that's around the corner?  In talking about our next Happy Family Habit, Kristin and I were noticing things on social media like 30 Days of Thanks and throw-back photos thanking parents and friends.  We love how these things shift the focus off our busy schedules and onto the people and things we have to be thankful for.
As parents, we try to instill that into our kids.  Writing thank you cards and teaching manners help our children pause and verbalize a grateful heart. Why? Because we want our kids to be good people of course.  But it's also important because a sense of gratitude has been proven to be one of the biggest determinants of happiness and, more than anything else, aren't we all striving to raise happy adults?
While this out-pouring of thanks is wonderful, let us challenge you to think about directing some of it towards your children.
Have you ever read How Full is Your Bucket?  It was written almost 10 years ago, but it explains how even the briefest interactions (please, thank you) profoundly affect our relationships, health and even the longevity of life.  So, if the idea of letting others know you're thankful is 'filling up their bucket,' we should be constantly filling up our child's bucket!
These are the training years.  As we train our kids to show an outward expression of thanks to others, let's model it to them as well.
It sounds obvious, of course, but the truth is that while most of us make an effort to be polite and express our thanks to the friends and even strangers we come in contact with every day – our family can get overlooked in our rush.  It can be so easy to truncate, "Honey, can you please set the table?…Thank You" into "Set the table".
Taking the extra time to thank your children regularly not only boosts their sense of self-worth, it also sends the message that gratitude is important (even more than insisting they write 50 Thank You notes).
Here are a few examples of the types of phrases you can use throughout your day to model and express thankfulness for your kids:
"Thank you for helping me pick up those toys."
"I love the way you are such a good friend to Anna."
"I know you didn't get an A on your spelling test, but I'm so proud of you for trying your very best!"
And don't forget to acknowledge when your kids perform a chore without being asked as well as when they do it despite clearly not wanting to.
When you are feeling affirmed, it's easy to share that with others.  It's a cycle that will just keep going and make the world a better place!
Question of the Day
Are there regular times during the day, or phrases you consistently use to show gratitude towards your kids?
P.S. If you're really looking to have the holidays in the bag this year, we've got two ways to help. First get the holiday shopping out of the way with all 10 of our 2013 Gift Guides here…
Second, check out our new eBook, Hands-On Holidays, packed with low-prep and low-stress ideas for make memories crafting, cooking, reading and adventuring with the kids!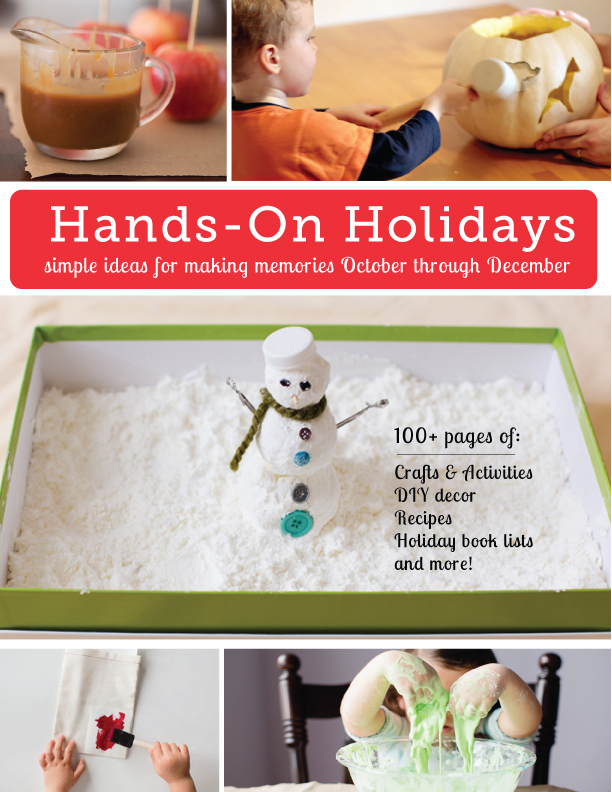 *Post contains affiliate links.
Get Your Free Printable
Subscribe to our newsletter today and get our free printable... No More, "Mom, I'm Bored!"
The following two tabs change content below.
Kristin is a former teacher turned children's photographer in southern California. Visit her website to read all about her adventures in photography, cooking, and her love of style.