Kaley's here today sharing a cheerful and modern DIY Advent calendar – the perfect home for our 24 Family Advent Activities.
A kid's art activity that is easy enough for all ages, cute enough to use as holiday decor, durable enough to last year after year, and doubles as a fun Advent calendar? Yes please!
I have been wanting to try freezer paper stencils forever, and I thought Advent bags would be the perfect time to try it out. These cute little bags can be used in a million different ways, and are really fun to make. They do take a bit of prep time, but once the kids start painting them, you will be amazed at how fast they are finished. And even more amazed at how great they look when they are finished.
You will need:
24 drawstring muslin bags (plus a few extras for mistakes) – you can make them or simply buy premade muslin bags
plastic coated freezer paper – usually found next to the aluminum foil
numbers 1-24 to trace
small pointed scissors or an exacto knife
a pen or pencil
craft paint in whatever color you like
fabric medium – can be found at any craft or fabric store
a small foam pant brush (not shown)
an iron (not shown)
a piece of cardboard (not shown)
Instructions:
1. In a word document, type out numbers 1-24 in your favorite font. I was inspired by the iconic Stendig Calendar, so I used Helvetica. Keep in the mind the size of your bag when you choose a font size. Print them on normal paper and cut them apart. Cut a piece of freezer paper about twice the size of your number. Place the freezer paper (plastic side down) on top of your number and trace with a pen or pencil.
2. Using an exacto knife or small pointed scissors, cut out each number. Be sure to save the little shapes that are inside of numbers 0, 4, 6, 8, 9, as you will need these to finish your stencils. You can set aside the actual numbers, as you won't be using them for this project. (But you may want to use them for something else!) If you are using an exacto knife, place a piece of cardboard beneath the freezer paper to protect your table or counter.
3. Position your freezer paper stencil on your muslin bag. Iron your stencil onto the bag using high heat / no steam. After the main stencil is ironed on, add any insides needed and iron those on as well. Make sure to iron all of the edges well so that you end up with crisp lines.
4. Cut a piece of freezer paper about as big as your bag and insert into your bag, plastic side up, to prevent excess fabric paint from seeping through the bag onto the other side.
Once you have completed steps 1 through 4 for each of your 24 bags, it is time to let the kids have some fun.
5. Mix together 2 parts craft paint and 1 part fabric medium in a small container. (old baby food jars work perfect) Using a foam paint brush, apply the paint in a tapping motion until the entire stencil is filled in. You don't need to worry about your "enthusiastic" little painters, because it is pretty hard to mess this up. (If your kids are really little, or really messy painters, you may want your stencil to be the same size as the bag so that they don't paint right off of the stencil.)
6. Let the paint dry overnight.
7. When the paint is completely dry, remove the piece of freezer paper from inside your bag, and gently peel off your stencil Don't forget the little insides of your numbers.
8. You will be left with perfect little numbers on your bag! Follow the instructions on your fabric medium for setting the paint. This is important if little (sometimes grubby) hands will be touching these year after year. You are going to want to wash them sooner or later.
Now it is time to decide what to put in your advent bags. They can be filled with little gifts, treats, advent activities, or anything else you can think of. We put ornaments in our bags, and each day my little one gets to put another ornament on the Christmas tree.
I like that it is no stress (which is key since we have quite a few advent calendars going on at our house) and no cost – we use ornaments that we have in our collection, and it only takes a few minutes. But it is the excitement of opening a little bag each day and seeing our tree fill up as the days go by that makes it so fun!
Depending on space at your house, you can either hang your advent bags up along the mantel or on a wall, or you can put all of your filled bags into a nice bucket or basket. Since we have ornaments in our bags, I like to keep them in a basket right next to the Christmas tree.
This is also a great month-long learning experience. My little girl is working on number recognition for those pesky double digit numbers, so it is a great exercise for her to look through all of the bags, reading each of the numbers and looking for the correct bag. It also helps with sequencing and is a great intro for talking about days of the month.
Have fun, and happy advent-ing!
P.S. If you're really looking to have the holidays in the bag this year, get the holiday shopping out of the way with all 10 of our 2015 Gift Guides here.
Second, check out our new eBook, Hands-On Holidays, packed with low-prep and low-stress ideas for make memories crafting, cooking, reading and adventuring with the kids!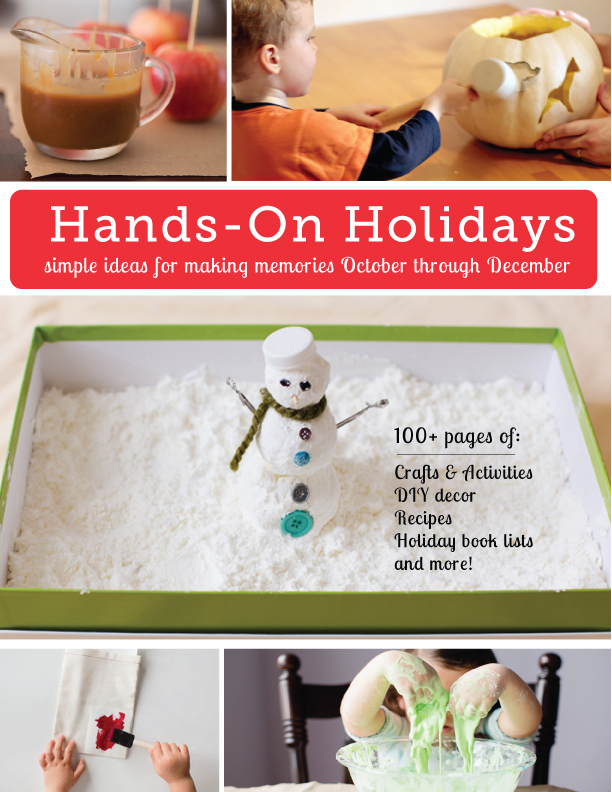 Get Your Free Printable
Subscribe to our newsletter today and get our free printable... No More, "Mom, I'm Bored!"
The following two tabs change content below.