Valentine's Day is just a few weeks away and the candy that comes with it has already started to find it's way into our home. While I have no objection to a bit of chocolate and a few conversation hearts, I'd prefer to celebrate the holiday with a few healthier treats — and that's where strawberries come in!
With their natural heart shape and pretty red color, strawberries are a perfect choice for Valentine's day snacks. My kids love their  sweet flavor and since they're packed with fiber and vitamin C I feel great about giving them any of these fun and tasty treats.
1) Strawberry Heart Fruit Kebabs
These simple fruit kebabs are pretty to look at and fun to eat.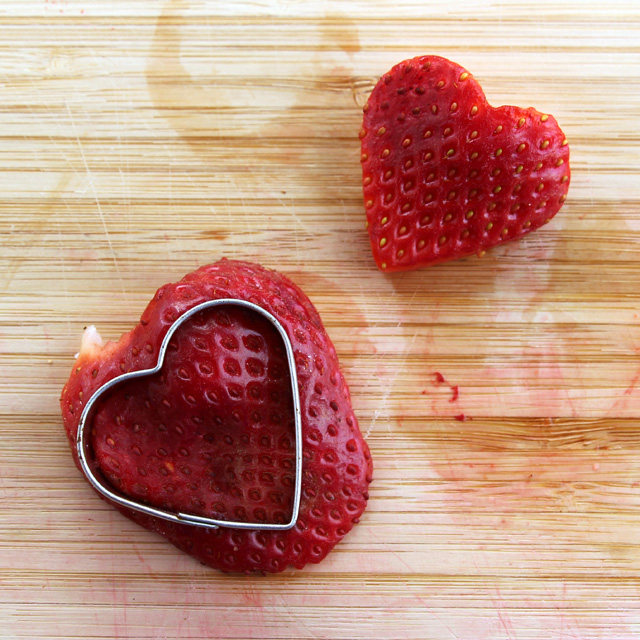 Hull a few large strawberries and cut them in half from top to bottom.  Place the berry halves cut-side down on a cutting board and push a small heart-shaped cutter (we like the one from this Valentine's Day kit of mini-cookie cutters) straight down through them to make perfect little hearts.
Thread the berry hearts onto a skewer, alternating with grapes, blueberries, Mandarin orange wedges or other small pieces of fruit.
Quick Strawberry Applesauce
If applesauce is popular at your house, I guarantee that this fresh-tasting strawberry applesauce will be a runaway hit.
For each serving of applesauce, finely chop three or four medium strawberries. Place them in a bowl and then microwave for 30 seconds to release some of their juices.
Add about 1/3 cup of unsweetened applesauce to the strawberries.  You can measure if you like, but you're probably fine just adding a couple big dollops of sauce to the bowl.
Stir the strawberries and applesauce together until they're completely combined and the applesauce is a beautiful pink color!
Divide the sauce among small bowls and serve.
Strawberry-Cream Cheese Heart Sandwiches
Strawberry cream cheese is a grocery store staple, but it can be high in sugar. This home-made version of the spread comes together quickly  and bursts with strawberry flavor.
To make strawberry cream cheese, combine 4 oz. of 1/3 less fat cream cheese, 5 or 6 chopped strawberries, and one teaspoon of brown sugar. Combine the ingredients by squishing them together with a fork until the mixture is fairly smooth and an even pink color.
Cut two heart shapes from a piece of whole wheat bread with a 2 inch heart cutter. Cut another heart from the center of one of the bread pieces with a smaller cutter. Spread a layer of the cream cheese on the solid heart and top with the second piece so some of the pretty, pink cream cheese peeks through.
This recipe will make several small sandwiches. If you don't use it all immediately, it stores well sealed in an air-tight container for a couple days in the refrigerator.
If mixing up a batch of strawberry cream cheese feels like too much work, you can create a similarly flavored sandwich by spreading reduced fat cream cheese on a piece of bread and topping it with sliced strawberries and a sprinkle of cinnamon.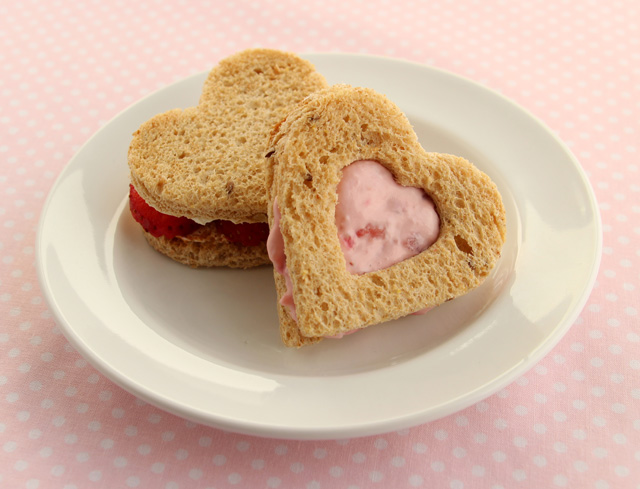 Serve the sandwiches as an afternoon snack, or tuck them in a lunch box for a Valentine's surprise.
*Post contains affiliate links.
More from MPMK
2 Ingredient Valentine's Day Treat: Mini Cherry Pies
What to Eat for Breakfast When It's Too Cold for Smoothies
✕
Get Your Free Printable
Subscribe to our newsletter today and get our free printable... No More, "Mom, I'm Bored!"
The following two tabs change content below.
Wendy Copley writes about cooking, crafts, parenting and her obsession with lunch boxes at Wendolonia.com. Her first book, Everyday Bento: 50 Cute and Yummy Lunches to Go will be published in February 2014. She lives in the San Francisco Bay Area with her husband and two young sons.