I'm gonna go out on a limb and guess that the Nordstrom Anniversary Sale isn't the first place you think of for shopping for Christmas gifts – being that it starts in July and all.
But it's a well-kept secret is that it's a major money saver to shop the sale for Christmas gifts – there are so many great finds for everyone on your list!
To help you find the best stuff fast (cause I know you need fast), I've rounded up all my favorite ideas below. Grab a few before the sale ends on August 6th – you'll thank yourself come November.
For Her
$35, Now $23
A good eye mask is such a handy thing to have – you just never know when you'll need to catch some ZZZs somewhere it's not dark (or when someone sharing your bed insists on watching Jimmy Fallon). For that reason alone, an eye mask is already a thoughtful gift, and one not many people have bought for themselves.
But this one goes way above and beyond because it's carefully embedded with copper, a well-known essential mineral with skin-enhancing properties. This technology is clinically proven to help reduce the appearance of wrinkles for smoother, younger-looking skin in as little as four weeks.
At this price, I'm seriously considering buying one for every woman in my family (and myself) for Christmas!
$68, Now $44.90
Love the versatility of this classic looking necklace – sparkly on days you need it and understated on days you don't.
Also, the packaging it comes in is really beautiful with a lovely message – would be such a thoughtful gift!
$68, Now $44.90
This is such a timeless, elegant piece. Available in gold, silver, and white gold there's an option to suit any style.
And speaking of Kate Spade, if you've always wanted one of her gorgeous watches, this one is an absolute steal at under $150!
$26, Now $16.90
I'm mildly obsessed with earrings that are unique but don't quite cross the line to edgy – they're such an effortless way to add interest to an outfit. Reviewers love this pair by Madewell, reporting that they are light weight and a nice go between from studs to larger dangling earrings. These are the earrings you give to your uber cool friend or sister-in-law.
If studs are more your thing, though, I also really love these Edwardian Ear Crawlers by Nadri.
$45, Now $29.90
I was gifted a blanket scarf last winter and it quickly became my new favorite thing. So sleek and stylish but also so handy for staying warm and cozy anywhere you are. Love the colors of this plaid one.
$25, Now $15.90
Such fun stocking stuffers. Is there anything better than a quality no-show sock that's cute enough to be seen in once the shoes are off?
See also these super warm wool versions.
$58, Now $38.90
This is a fabulous price on these luxurious pajamas… because you deserve a gift too, right? I never spend money on nice PJs, which is totally dumb considering how much of my life I spend in them.
For more casual options, check out this chemise and this shorts set – both also on sale!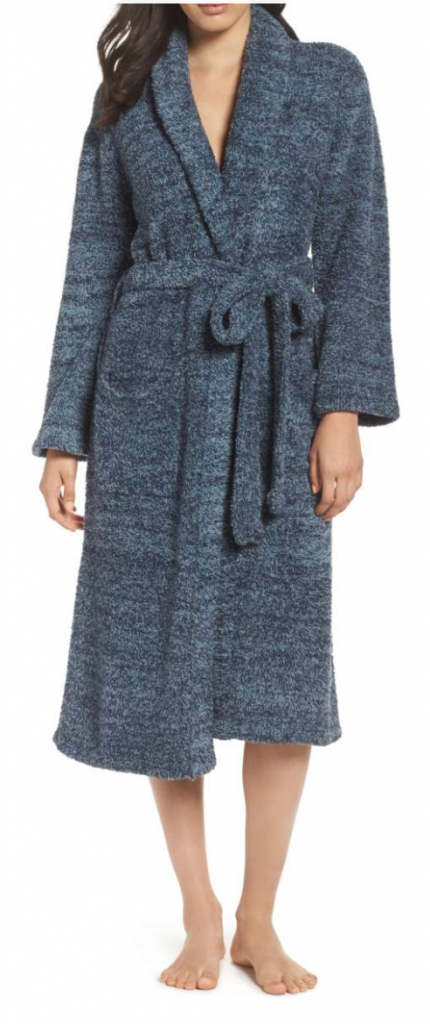 $99, Now $73.90
I've seen so many bloggers raving about this ultra comfy robe! Just like with PJs, I never thought to invest in a higher end robe until last Christmas. I asked for this Ugg Double Knit Robe from my hubby and it's one of the best presents I've ever received.
A cozy robe is absolutely the best for drinking early morning coffee, snuggling in bed with the kids at night and pretty much everything in between.
And for something lighter weight, this satin kimono comes in several super pretty prints.
$119.95, Now $79.90
Speaking of Ugg, if there's anyone on your list you can spoil with these Ugg slippers, don't miss this chance. These things are a cult favorite once winter hits and this is a fabulous price.
$75, Now $50
I love two packs of gift items because you can split them up and gift them to two people for SUCH a great deal! If you've got friends who are trying to be more health conscious, these super high-quality glass water bottles are a steal.
Cute and convenient to tote, each features a small opening for no-spill sipping, a no-leak seal and a size that fits most cup holders. Free of phthalates and BPA, they're safe for you and the place you live, too and the cool silicon covers protect them from breaking.
You could also easily give the black one to your hubby and the pink one to your mom, mother-in-law, sister, etc.
For Him
$199, Now $133
I know, I know men are not notorious lovers of skin care gifts. This one is the exception that makes the rule, though. First of all, it just looks rad. Plus, it's a GQ grooming award winner.
And you know what men do get excited about? Anything that massages their head in any shape or form. SERIOUSLY. This enhanced T-sonic anti-aging facial cleansing device is like a mini masseuse for their face. Plus, with two times the power in a newly optimized design, this device provides an even more effective cleanse to prep their skin for the smoothest shave ever.
Also, guys love pretty much all the electronic gadgets they can get their hands on. Full stop.
$199, Now $129.90
Is it just me, or has the messenger bag become one of the best ways for this generation's men to express their style and individuality. This Ted Baker edition is so striking.
Tough technical construction defines a vintage-inspired messenger bag featuring rugged faux leather trim for exceptional appeal. I'm sold.
$46, Now $29.90
If there's a guy you know that doesn't have a multi-do-everything-you-could-possibly-think-of-and-more-tool, buy this for him! You will be a total hero.
Guys absolutely love these gadgets that appeal to both the little boy in them that loves toys and their protector side that wants to be ready for anything. Reviewers report this is a very well made with some significant heft.
This monogrammed version also makes a great groomsman gift if you happen to be wedding planning too. And if your man is more into hot sauce than fixing stuff the Grill Master BBQ Multi-Tool is on sale too.
$51, Now $38
This is one of those presents that the receiver won't fully appreciate until the first time he tries it, and then he'll be totally hooked (which is why the 3-pack is so great). The hydrating formula will leave his entire body feeling smooth, clean and refreshed, while its richly lathering formula effectively exfoliates dead skin cells with pumice, jojoba meal and crushed olive seed to scrub away dirt and rough patches.
Also, it will leave him smelling of cedarwood and oakmoss, so really it's a present for you too (wink, wink).
For the Home
$40, Now $25.90
These stemless wine glasses are such show-stoppers! I already have plenty of wine glasses and I'm still finding them so very hard to resist. These would be the perfect housewarming gift.
And there are these gorgeous matching champagne flutes that would also be perfect for gifting. Like I said above, I love to give things that people don't often think to buy for themselves but love having when they need them.
A lovely set of champagne flutes are so great to have around when moments for celebration hit.
$119, Now $78.90
The rest of the items on this list are gorgeous pieces for hosting get-togethers, which makes them the perfect gifts for couples.
This monogrammed wood wine trough would make a truly special wedding, housewarming, or Christmas gift.
$80, Now $52.90
This set of serving boards would be so fun for parties! Pile one with a variety of cheese and crackers, one with fruits like grapes and dates, and one with an assortment of chocolates and, boom, you're the hostess-with-the-mostess.
Plus, you don't have to figure out where to store them (which can be such a pain) since it comes with a holder that will look great on any counter.
$52, Now $33.90
If three serving boards feels like too much, this slate version is sure to be a big hit. Monogrammed and it comes with chalk for labeling your cheeses – what's not to love?
$55, Now $35.90
Because anytime you find Le Creuset on sale you buy it, and when you find it for thirty-five bucks, you buy three because there will always be someone to gift it to in the near future!
*Post contains affiliate links.
More from MPMK
Nordstrom Anniversary Sale: Photos from the Dressing Room
The Ultimate Minimalist Mom Capsule Wardrobe
Back-to-School Deals at the #NSale You Don't Want to Miss
#NSale Workout Wear (aka the Pieces I Plan to Live In)
Get Your Free Printable
Subscribe to our newsletter today and get our free printable... No More, "Mom, I'm Bored!"