Winter has its own appeal – the chance of snow, the hibernation – but I don't know a single soul (save for my ski-crazy nephews) that longs for it to stick around after a few months.  
Once we get a hint of spring, people are all in.  I bought primroses that then got covered in a few inches of snow, I'm eyeing my daffodil shoots daily, and I'm even getting an itch to start planning my garden…all signs that spring is near!
We have a few wonderful picture books we like to mark spring with each year and have added some new ones to our stack of favorites this year.
The list runs the gamut of spring themes: gardening, coming out of hibernation, Easter and bunnies, and more.
Our top-of-the-list favorite.  We can read this multiple times a day all season and still find new details in the pictures.  It's a wonderful story of a boy who works to make his community more beautiful by tending to a garden that eventually spreads across the entire town.
Such a great book to put words to those feelings of 'is winter ever, truly going to be over?' The illustrations are beautiful and the simple story is accessible to all ages.
This is another one of the favorites we come back to each year.  Not only is the story sweet and the imagery beautiful, but it's such a precious story of loving your grandfather that many kids, as well as parents, can relate to.  This book makes me well up at least half the times I read it to my boys.
Another in the Click, Clack family by Doreen Cronin and Betsy Lewin.  For some reason, my kids never tire of these books.  My middle son is at the perfect reading level to read this on his own, which he's so proud of!  As usual, this is a funny book with a lot of humor meant just for the parents, in this case, a baby who will NOT go to sleep…sounds familiar.
A fairly new title and I love everything about it.  It's non-fiction and gives both a poetic rhyme and a factual bit about several types of birds and their unique nests.
One of many wake-up-from-hibernation themed books, but I think this one is my favorite.  Bear's friend, Mole, is set upon waking him for the beautiful spring and goes about it in a very thoughtful manner.  There is a lot of wonderful language in this book making is especially appealing to young elementary-aged kids.
A Nest Is Noisy by Dianna Hutts Aston and Sylvia Long
One among many of their wonderful titles.  It's my choice for this spring because I love the abundance of information about birds and their various nests as well as the amazing vocabulary strewn throughout.
New this year and oh my, it's a treasure!  A sweet story about a bear who wants to be a bunny and a family who isn't willing to accept that initially is such a great jumping off point for many, many good conversations with our kids.  It's a silly book that my kids were giggling at, but also provided meaningful lessons – such a great combination!

This is another one we come back to year after year. Fletcher books are some of my boys' favorites and this one is just as sweet and fun as the others.

This is such a beautiful book.  I think reading it will help get my kids in the gardening mood as it explores the whole process from spring garden clean-up to fall harvest from both the above and below ground perspectives. The illustrations in this book are so detailed and beautiful!

My final spring book and quite possibly my new favorite.  It's written as a series of letters from Lydia to her family after she has to leave home to go live with her uncle.  While there, she takes it upon herself to bring her new neighborhood to life in the form of a garden.  The little details in each picture are fascinating and the story itself is so very touching.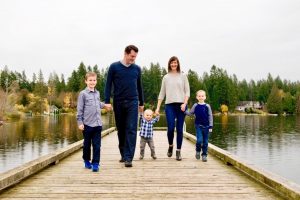 Teresa Ward is stay-at-home mom and former elementary teacher ho is currently ignoring her singing baby in his crib because she isn't ready for him to be awake!
More from MPMK
Getting Ready for Spring: Make a Family Game Basket
Get Your Free Printable
Subscribe to our newsletter today and get our free printable... No More, "Mom, I'm Bored!"