Before I became a school librarian, my reading life was definitely girl-centric.
But once I was working with an equal amount of boys and girls on a daily basis, ranging from tiny kindergarteners to too-cool fifth graders, I learned a few things about boys and the books they love.
I quickly became proficient in all sorts of authors and titles I'd never heard of before, and I discovered which ones I could always count on to be a big hit.
There is nothing quite as thrilling as the kid who didn't want to check out a book at all coming back bursting to tell you in detail all about the novel you helped him choose.
If you're looking for a great book to hand to the boy in your life, whether it's your son, your nephew, your neighbor's kid or your student, try one of these seven.

by Jon Scieszka, illustrated by Lane Smith
I love this series because each book is pretty short and has a bunch of illustrations, but the story is a little higher-level and perfect for readers who might be struggling a little.
This series, about a trio of time-traveling boys, is funny, fast-paced, and might slip in a little historical knowledge too.
by Deborah Howe and James Howe 
I'd never heard of Bunnicula until my first day on the job when multiple children, on their first trip back to the school library, asked where they were on the shelves.
Now I understand the appeal – a dog and a cat's quiet life is disrupted when their family brings home a bunny. And it appears that bunny might be a vampire.
by Jarrett J. Krosoczka
If traditional chapter books aren't doing it for your boy, give graphic novels a spin instead. This has been one of the most successful one because it marries so many popular things – the familiar backdrop of school, crazy situations, clever inventions, and good guy v. bad guy showdowns.
If you're just dipping your toe into the world of graphic novels, this series is a great place to start, and can really be a great way to engage reluctant readers.
by Louis Sachar
If you have a son who loves goofy and wacky, this is the book for you. Nobody is weirder than Wayside School, plus each chapter pretty much stands alone, so it makes a great read-aloud or something to pick up and put down if your child isn't up for an entire book.

by Sophia Kelly
One thing I learned quickly was that many boys gravitate toward non-fiction, and this series about Greek mythology was a huge hit.
You could dip in and out, quiz all your classmates about cool things, and laugh over the funny illustrations. I got the first one as a freebie at a conference and it was so popular I bought the whole series for my library the next week.
by Gordon Korman
During the last ten minutes of library time with my fourth and fifth graders, I'd read aloud to them from a new chapter book each week. This was the pick for the very first week and after that, it never once went back on the shelf – it was the most popular chapter book in the entire library for the full year.
When Griffin gets conned out of a super valuable baseball card, he puts together a crew of friends to help him steal it back. And they'll need all their combined skills to deal with a scary guard dog, a hi-tech security system, and the fact that they're all eleven.

by Jonathan Stroud
For the serious fantasy lovers, this book is hard to beat. Nathaniel is a magician's apprentice but when his master humiliates him publicly, Nathanial teaches himself to summon a powerful djinni, Bartimaeus, and make him steal the Amulet of Samarkand.
Of course, it's one thing to summon a djinni. It's another to control him when Bartimaeus turns out to have some plans of his own, plus not a lot of interest in being controlled by an apprentice. Bonus, the audio version is INCREDIBLE, so if you have a reluctant reader try out this one on a road-trip or let them listen at night before bed.
And speaking of kids and reading, don't forget to grab our FREE Kids' Reading Scavenger Hunt…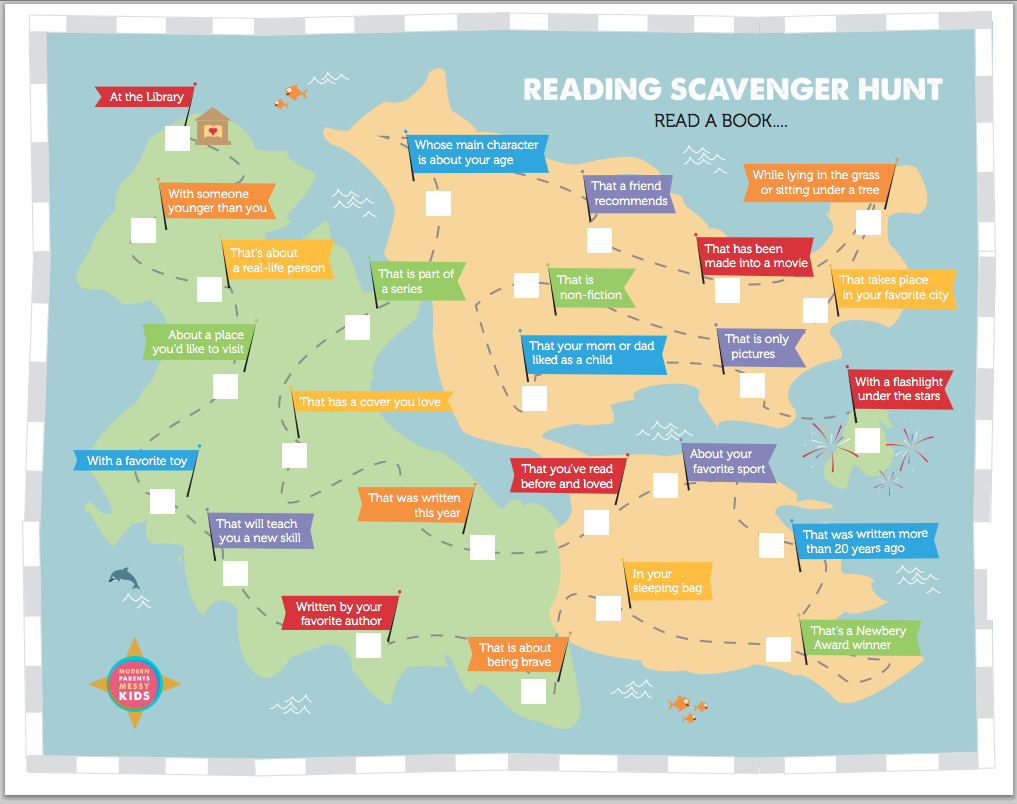 It's a free printable scavenger hunt that's sure to pique your child's curiosity and love for reading!
FREE Kids' Reading Scavenger Hunt Printable
*Post contains affiliate links.
The following two tabs change content below.
Janssen is a former librarian and avid reader who is always maxing out her library card. She now stays at home with her three young daughters (with another girl on the way) and blogs about books for readers of all ages, her favorite recipes, and parenting adventures at Everyday Reading.