I am such a fan of your website and emails! Thanks for working so hard, especially at Christmas shopping time! Grandparents have scored major points after I forwarded them your lists.

-MPMK Reader, Lauren
These are awesome! I've waited to make Christmas lists until they came out- and now I"ve shared with all my friends. The past two years I've used them and the gifts are ALWAYS a hit!

-MPMK Reader, Ellen
Welcome to the famous MPMK Gift Guides and congrats on finding the most comprehensive and easy-to-use toy gift guide on the internet – already viewed over 7,000,000 times!
Shopped by tens of thousands of parents year after year! (If you're not familiar with our famous lists, learn all about them here)…
New!

Sign up to be notified when we spot the best sales on these toys or when we decided to give some away!

Just click this blue button to get facebook messenger alerts.

Now on to ALL of the most exciting gifts you can give an elementary-school-aged child…

$99.99 (6+ years)
There are so many STEM toys on the market now that they can all kind of blend together. This Harry Potter Coding Kit from Kano, though, is a definite stand-out.
I love how it uses the magic of Harry Potter and the step-by-step building of a physical wand to encourage kids to learn coding.
This super innovative kit allows kids to build a wand that responds to their movements and then learn to code with 70+ step-by-step creative challenges. They can make feathers fly, goblets multiply, fire flow, pumpkins grow, and more.
My daughter is a huge HP fan and I could see her absolutely eating this toy up. And, of course, any toy that sneakily teaches coding skills while the kids are having fun is a big, big plus for me.
The tagline for this unique set says it all; Build a Wand. Learn to Code. Make Magic.
$19.99 (ages 5 – adult)
A gloriously smart combo of Connect 4 and the ultra popular Bounce-Off… this game of strategy and luck is equal parts exciting and goofy fun.
Talk about the perfect rainy day activity and just the thing to pull out for family game night. This one's ideal for a range of ages and interests, it's sure to be at the top of lots of kids' Christmas lists this year and will lead to hours of good ol' fashion family fun.
$14.99 (4 – 9 years)
You heard it here first, the Pomsie is the Fingerling of Christmas 2018. So if you've got a kiddo that was a fan last year, get ready to start hearing some requests for these cuddly weirdos.
Just like Fingerlings, the Pomsies express emotions, but in an even more elaborate manor. Not only do they make over 50 different sounds, they also react to touch and have eyes that can light up to convey how they feel.
Last but not least, they're soft and pliable so that kids can wrap them around their hand, backpack, bedpost, or whatever they want.
Generally all things Hatchimal, Fingerling and the like are NOT my favorite but I can't deny that they are basically catnip to girls under age 10. And I can give major points to this one for being small and not one that will add a lot of clutter to the house!
$19.99 (ages 3 – adult)
I'm always on the hunt for a great game for family game night, or our Christmas Eve tradition of playing a crazy game with the family. The key components I'm on the hunt for are that the game is easy to learn, highly entertaining and suitable for kids (and adults!) of all ages.
This one totally checks all the boxes. Essentially frisbee golf with rubber chickens, players toss the target to get started, then take turns flicking' their chicken at the target. Sounds easy enough, but these funky chickens bounce and roll, so hitting the target will test your chicken flicking' skills!
My hope is that this might even be something my older elementary grade son will enjoy doing with his friends at playdates- you know, instead of ALWAYS defaulting to Xbox.
starting at $9.38 (5+ years)
This is the rare toy that truly is like no other I've ever seen.
Imagine if three of the all-time most loved toys in history- Hot Wheels, Pokeman Cards and Transformers- had a baby… you'd have Mecards.
You really have to watch the video to understand the magic of how this works… but basically kids "battle" by each rolling their cars over a facedown card.
What happens next is some crazy cool "magic". The car not only turns itself into an action figure, it also picks up and displays the magnetic card to show who has won the battle.
Both my son and daughter have gone through big Pokeman card stages, mostly so they could battle, and I just know that my son is gonna flip out when he sees this.
In fact, every year when I start working on these guides I vow that I will not buy anything for the kids yet… Nevertheless, 4 of these Mecard sets are on the way to our house as we speak.
Each vehicle comes with 3 cards and I'm thinking a good starter pack for would be 4 vehicles (which will come with 12 cards). To see the true magic of these cards, you have to check out the video above- you will be sold!
The last thing I really like about this set is that the cards make it really easy to tailor the game to the age of the player– you can keep it super simple for preschool and kindergartners and much more complex for elementary aged kids.
$39.99 (ages 8+)
Plenty of Thinkfun games have been huge hits both on these gift guides and in my own house, including both No Stress Chess and Laser Maze.
So this new game, which is essentially a combo of the two, was kinda a no-brainer and it was no big surprise to see how much my kids loved it.
A strategy game (chess) using lasers? Yeah, they can't get enough.
$19.99 (ages 2 – 12 years)
LEGO tape is one of the coolest things to happen to LEGO in a long time. This bendy, adhesive stuff allows kids to expand their LEGO universes onto the walls and ceilings and opens up endless possibilities for play. The tape is repositionable, washable, extremely flexible and easy for little fingers to cut and arrange.
I love this particular pack because it comes with 4 rolls in different colors. Perfect for a present for one child or break it up and put a roll in each kid's stocking. And I really appreciate that the rolls are eco-friendly and made from CE and FDA certified Food-Grade silicone.
I just gifted a roll to my son for his 9th birthday and he has had so much fun coming up with new ways to use it. This one gets two big thumbs up from our family.
(Ages 7 – 12) $159.99

This is the toy we've all been waiting for LEGO to make! Robotics and coding have become so incredibly huge in toys, in fact, that I'm really surprised it took this long.
I can (and will) tell you a lot more about this astounding kit but I HIGHLY RECOMMEND you watch the short video below on this 837 piece set – you will be sold!
It demonstrates a lot of what your kids can build and do, including a super cool robot, a working LEGO 3D printer, a very cool working electric guitar and more!
Until now, if you wanted to parlay your kids' love of all things LEGO into an interest in programming, your only real option was the very expensive LEGO Mindstorm kits, which are also geared more towards older LEGO builders.
At a cost of $200 less than the Mindstorm kits, the new LEGO Boost kit still has everything you need to get your kids building, programming and coding and – frankly – I think the builds are more fun and approachable, especially to kids who aren't hardcore coders.
Like all building and programming toys, this one works with a free app that you download on your tablet or phone and what I really love is that the kit builds not one, but five different models. The above video showed the robot.
Here is the working 3D printer.
And here is the guitar… This toy does SO MUCH, I predict hours and hours of educational play with this one!
$49.99

Now $29.96

(ages 7 – 14)
I am ALWAYS on the lookout for a quality cooperative game for Family Game night. So when my nanny showed up one day with this Harry Potter cooperative game, I got super excited.
If you don't know, a cooperative game is one in which all of the players work together to overcome an obstacle or achieve a goal instead of competing against one another. It is the PERFECT thing for family game night since kids can often have trouble losing to siblings or even their parents. This truly gives everyone the opportunity to have fun and celebrate or commiserate together.
And then there's the Harry Potter element, which my kids are totally obsessed with right now. In this dice and card game everyone gets to play as their favorite character to master powerful Spells, recruit Allies, and uncover magical Items. There are 7 different successive adventures, each growing in difficulty.
Families can take as long as they like working to conquer each one and I could see the play extending for weeks and months (there's also this monster expansion pack when you're ready too).
The manufacturers' suggest ages 11 and up for this game but both my 7- and 9-year-olds love playing with their nanny. This is another big contender for appearing under our tree this year.
$49.99 (3 – 9 years)
If you've got a singer in the house and you're thinking of getting an MP3 player or a karaoke player for under the tree, this is a great one to consider. We got one for our daughter last Christmas and it has been the best thing ever. 
Anytime she has a friend over, they always immediately disappear into her room and start singing away. And she also spends plenty of time using it all on her own.
It has all kinds of handy features including being able to connect to all of your devices via a jack or USB and playing CDs so you can play kids' karaoke CDs. 
There are also two microphones and music doesn't have to be on for them to work. One reviewer said her boys love to use them to pretend to put on a podcast. Last but not least, the player has an AC adaptor so you won't spend a ton on batteries.
$149.99
If your kids like hot wheels, they are going to lose their minds over this next generation high-tech racing toy. Players use smartphones to steer the cars on the extra large track which can be constructed into 8 different "battlefields".
That's all great, but here's what's ridiculously cool… The A.I. cars actually race on their own, meaning your kids can race against them and don't need a friend to play with!
If this doesn't get your kids excited about tech, nothing will… You can also upgrade later on with track extensions, new cars and the new supertrucks.
From the manufacturer, "Open the box and build your battle track. The Anki OVERDRIVE app automatically handles everything else, from getting you connected, to teaching you gameplay, so you can start playing immediately. It's effortless by design… Duel friends or artificially intelligent opponents. 25+ different A.I. personalities know your every move and make split-second tactical decisions based on their environment and objectives.
The more you play, the more upgrades and items you gain, and the better you fight back… These aren't just cars. They're robots programmed for battle. Control them with your smart device and take down opponents with an array of weapons, from plasma cannons to flamethrowers. It's pulse-pounding play, made possible through state-of-the-art tech and it's an experience unlike anything else."
(ages 2 – 14) 

$47.99
If you're a parent, you are likely familiar with the mermaid fabric trend. Kids absolutely cannot get enough of playing with and "drawing" on this magic fabric.(To be honest, either can I – each night when I lay with my 3-year-old, I just can't stop myself from petting this pillow. It's so, so relaxing.)
As such, these pillows from Mermaid Pillow Co. have become my new #1 suggestion for gifts from grandparents.
Why? Because grandparents like to buy things that have a big "Wow!" effect, they often don't mind spending a little extra on their grandchildren for something that's high quality, and if left unchecked grandparents can often misguidedly gift monstrous plastic toys that you would never normally allow into your home!
Mermaid Pillow Co. sent one of these pillows for each of my kiddos to review (I chose the "Sharks Think" for my 8-year-old son, the "Fairies Fly" for my 7-year-old daughter, and the "Dinosuars Discover" for my 3-year-old son.)
There are a couple of things I love about these particular pillows. First, the affirming messages are really cool – just the kind of encouraging note we try to hit in our parenting – and it was nice that there were so many to chose from! I was able to find one that perfectly suited each of my kids' personalities and interests.
(I also love the message of this one.)
Second, I was very pleasantly surprised with how soft the front of the pillows were. You can never really tell when ordering from a website, but these are extremely well made and super soft. They came beautifully packaged and seemed like something I would have bought from a boutique.
Last, but not least, is the mermaid fabric! Every bit as addictive as you might think, this stuff can be played with for hours. It's fun to draw designs in, to write on with your finger, and also acts as a really nice tool for relaxing at bedtime or calming down from a tantrum. I highly recommend!
$19.99 (reading age and up)
Have you heard of this Uber popular game yet?! This hilarious card game made Kickstarter history by becoming it's most backed project ever. Kids and adults alike cannot get enough of the bizarro premise of a kitty-powered version of Russian Roulette.
To play, players draw cards until someone draws an Exploding Kitten, at which point they explode, they are dead, and they are out of the game – unless that player has a Defuse card, which can defuse the Kitten using things like laser pointers, belly rubs, and catnip sandwiches.
All of the other cards in the deck are used to move, mitigate, or avoid the Exploding Kittens. Check it out, you've gotta see it to understand… and then your whole family will be hooked!
$21.99 (ages 3 – 8)
A few years ago tutorials for making your own electric play dough were popping up all over Pinterest. I would excitedly click on them with the intention of whipping up a batch for my kiddos, quickly get defeated by ingredients I didn't know how to get, and give up.
This kit is the answer to my prayers. I'm so excited about the possibilities for teaching the kids about circuits in such a fun new way!
It's got so much that kids love, i.e. play dough and and things that light up, and the vibrant instruction booklet includes step-by-step instructions for 15 clay circuit building projects.
This one is a multi-award winner and sure to be a big crowd pleaser!
$18.65 (7 – 12 years)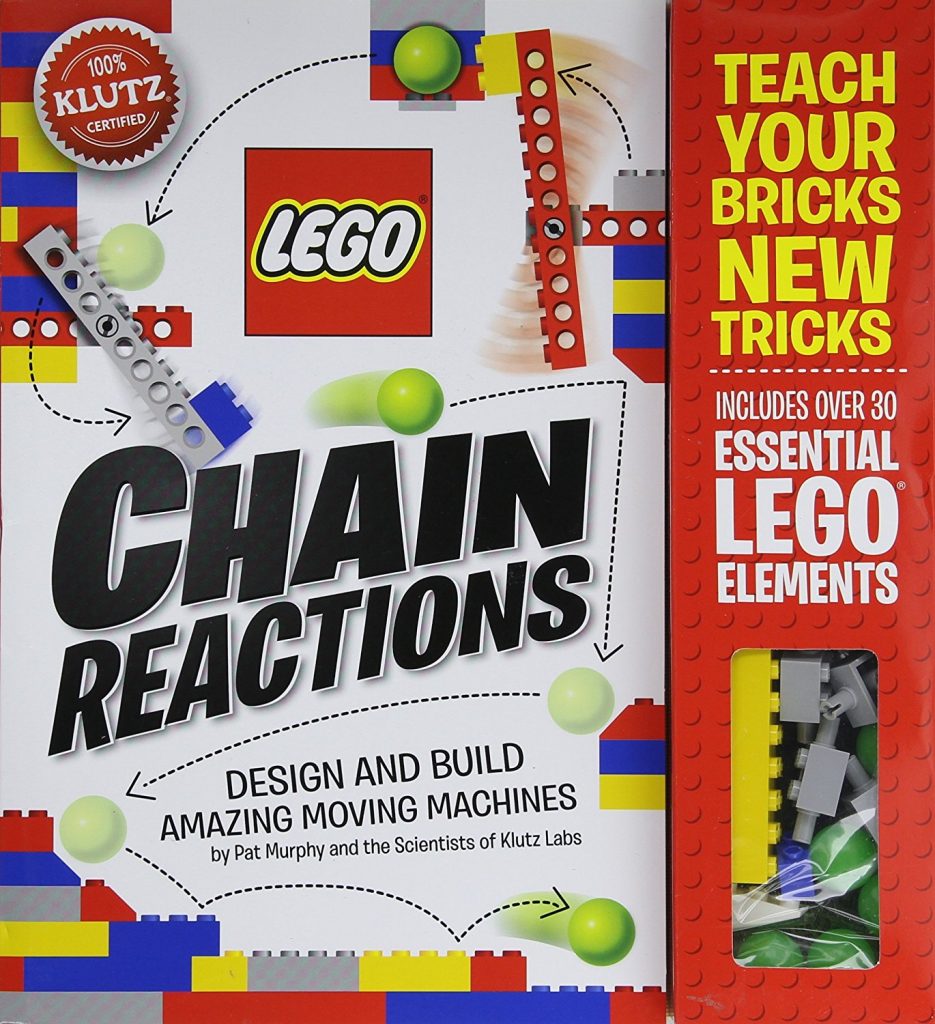 The first thing I thought when I saw this book was that it was a combo of two of my son's favorite things: LEGOs and the game Mouse Trap.
I talk a lot in this gift guide about the value of open-ended toys and I think this book could really get a kid's mind spinning in regards to what new contraptions they can invent…
From the manufacturer, "LEGO Chain Reactions is packed full of ideas, instructions, and inspiration for 10 LEGO machines that spin, swing, pivot, roll, lift, and drop.
Each machine alone is awesome, but put them together and you get incredible chain reactions. Then, combine the machines in any order you like to create your own chain reactions. Our team of experts worked with educators and 11-year-olds to invent the machines, then wrote a book that teaches the skills (and some of the physics behind the fun) kids need to create their own amazing chain reaction machines."
The kit comes with 78 page book, 33 LEGO elements, 6 LEGO balls, 6 feet of string, 8 paper ramps, 2 paper pop-up signs, 1 paper funnel ramp, 1 paper flag, 1 paper bucket, 1 platform and the makers assure that you don't need to worry that you won't have the right bricks as they made sure you'll need only the most common bricks, and that there are plenty of substitutes.
And while we're on the topic of LEGO build books, The LEGO Ideas Book and LEGO Play Book are also well worth looking into.
$39.99 (ages 3 – 12)
If two of your son's favorite things, Nerf and Hotwheels, had a baby it would be the Nerf Nitro line. Already, a huge hit, these nerf guns that shoot foam cars instead of foam darts are certain to be one of the most popular gifts of the season.
Along with the cars and gun, sets also come with ramps, hoops and obstacles for the cars to jump over, through, and around. Plus, the cars work perfectly with Hotwheels tracks so they are a fantastic addition to sets like this one.
I particularly love that this one comes with two car-launching guns because it makes it the perfect toy for play dates. This is something I'm always looking for now that my son is an older elementary school student and often has friends come home with him on the bus. Anything that they can happily play with in his room while I entertain the younger siblings is a big win.
$119.99 (ages 6 – 14 years)
Yep- that's right- the 2017 version.
While this isn't the newest Kano "make your own computer" kit, it's still a REALLY good one and, bonus, now you can get it at a pretty great price!
There are lots of toys out there to help kids learn the basics of coding- but this isn't a toy, it's an honest-to-God actual computer that kids can not only build themselves but also learn to teach themselves to code! The creator of the Kano says the kit was inspired by his 6-year-old cousin who wanted to build his own computer, but didn't want "anyone to teach him." It also had to be as simple and fun "as Lego"… so that's exactly what he made.
Kids open the box and pull out the bits, button and board. They follow the story page-by-page, just like Lego, all the while looking inside to see how it all works.According to the manufacturer, "Simple, fun and for everyone. No technical wizardry required."
But that's just the beginning. What I'm most excited about isn't the building, it's the coding.
Again, the kids are 100% in the driver seat. They learn on their own through play (the BEST way to learn).  Through step-by-step challenges, kids can learn to code art, games, music, and even hack Minecraft.
Kano introduces kids to basic programming languages. Through fun challenges that use simple code blocks, typed code and Linux commands. Other programs include Python, great for web development, Javascript for creating websites, games and apps and Terminal commands to control computers faster.
One reviewer wrote:
I am a systems engineer by trade and have been building computers/servers for 20 years…. The whole idea behind Kano is for your child to be a part of the process, and feel like they can do it all. The packaging is very well laid out, and they have a great little book that tells you how to put it all together, while explaining in terms that a young child can understand, what all this stuff does.

Once it's built and powered up, it doesn't just dump you into a dashboard and expect you to read and figure things out. It comes up with a Matrix inspired shell and asks you a few questions. This is how it starts. Without even knowing that they are doing it, your kids are telling the computer what to do.

The apps are very well written. Lot's of helpers along the way so that your child doesn't get frustrated and lose interest. My son loved the code quest app, and is more proficient on the shell than a lot of sysadmins I know! They regularly update the apps, and there's always new stuff in Kano World.
If you're serious about giving your kiddo a leg up in our Tech-obsessed world, check out the video and you'll be as sold as I am.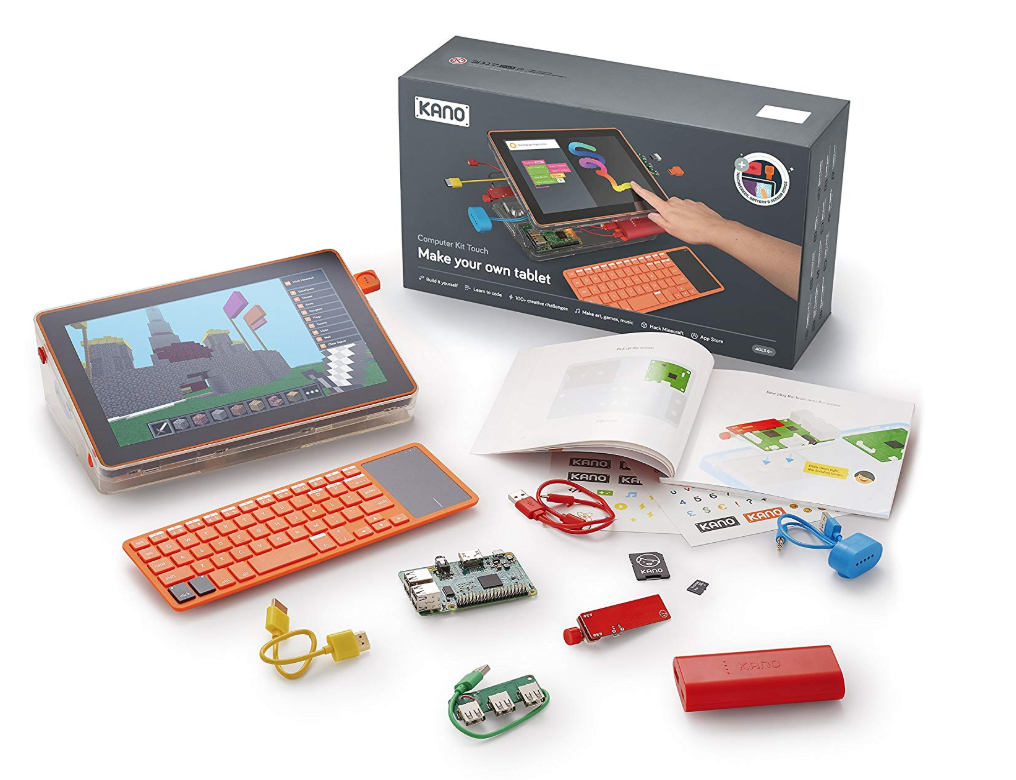 And if you're ready to go all in on Kano, you'll definitely want to check out their kit for making your own touchscreen computer– brand new this Christmas!
$63.99 (ages 5 – 12 years)
My son got this set for his 9th birthday and I am so incredibly impressed (and so is everyone else according to the 1000+ stellar reviews). There is something so great about having a set of play guns you can hand over to boys and, unlike usual nerf guns, not have to worry about them knocking something over or hurting anyone with the darts.
And with these particular lazer guns, I love that there's not a lot of equipment like vests, etc. to keep track of- all you need to play are the guns. The motion and sound effects are very cool; lights, sounds and vibrations when shooting and when hit and the drop down re-load is a nice touch.  
They also have a lot of really nice features like the option to play solo or on two teams and the option to combine lots of sets together so everyone can get in on the fun. Plus, you can change the settings on each gun to determine if the player gets out after being hit 10 times or 25 times. This is great because you can give younger players a handicap and allow them to get hit more often before they're "out".
We actually brought them to my son's birthday party with 15 boys and they got played with even more than the xBox and Wii (which is really saying something). Even my 7-year-old daughter and 3-year-old son were clamoring for a turn… I'm seriously thinking about buying another set for Christmas!
(ages 7 – adult) $179.99
There are all the other robots on the market… and then there is Cozmo.
I have never seen anything like him and, trust me, you haven't either. He's basically a real-life Wall-E that you can bring home to the kids.
He has the things you want in this kind of toy; i.e. a very cool and continually growing programming platform and a free app that's iOS and Android device compatible so kids can learn to code. But he also has SO MUCH more.
Thanks to artificial intelligence, Cozmo can express hundreds of emotions (his face is just like Eva's from the movie Wall-E). From curious to clever, persistent to playful, he has personality x 10.
He also has facial recognition that allows him to get to know your name, face, and quirks. And best of all, he continues to evolve the more you hang out with him.
He's not just a novelty toy though (I already mentioned he can help your kids learn to code and program) he'll also play games with you.
In fact, Cozmo is a game-playing machine. Literally. Whether lifting his Power Cubes or challenging you to games like Quick Tap and Keepaway, he's always up for action. And in Explorer Mode, Cozmo lets you guide him through his environment to see what he sees — day or night. Cozmo's skills and games are constantly updating, so the fun never runs out.
If you're even thinking about a robot for the kids this Christmas, this is the one to get- you won't be sorry!
$19.99 (ages 4 – 14 years)
My son received this kit for his 9th birthday and it blew me away how excited about it he was. Why??? Because the football comes with 13 route plays embossed directly onto it.
For junior football enthusiasts that dream of being the star quarterback, this is HUGE. My son is so excited about having his buddies over and using the ball to easily and quickly call plays in the huddle.
I'm excited about a toy that encourages him to stay active and gives me an instant go-to activity whenever he has friends over. (He's already excitedly planning his first backyard flag football party.)  
The set comes with 10 durable stitched 3 flag belts designed to maximize side and tail flag exposure plus a kid-sized football featuring short distance and longer distance plays as well as the exclusive Spacelace® system making it easier to grip and throw.
It's quickly gone to the top of my list of birthday toys to buy for every boy I know.
$15.99 (5+ years)
When my kindergartner came home from school one day asking me to teach him to play chess, I had mixed feelings. On the one hand, I was excited because, despite spending a lot of our time together on sports-related activities, I have great memories of playing chess with my dad growing up.
On the other hand, I was afraid he was a little young for it and might get frustrated and give up on the game altogether. Enter "No Stress Chess".
This genius game uses cards to teach young kids how to play in stages. The cards tell you which piece to move, so even children (and adults) who have never played the game can jump right in. The moves for each piece are on the cards as well as on the game board and the first stage makes the game about chance, not skill – you simply draw a card and do what it says, perfect for learning how the pieces work.
Once that is mastered, you can draw 3 cards at a time and decide which one you want to go with to introduce some strategy to the game. Finally, when you're ready to play chess for real, just get rid of the cards and flip the board over to a traditional chess board.
$124.99 (8 – 14 years)
These friendly little robots have been one of the hottest programming toys out there for elementary age kids for the last few years, so I couldn't say no when I was offered a pair to review last year.
My favorite part is how hands-on they are – this is your child learning coding with real-life robots, not glued to a screen. I've been thrilled with how they've excited both my 8-year-old son and my 6-year-old daughter about robotics and programming.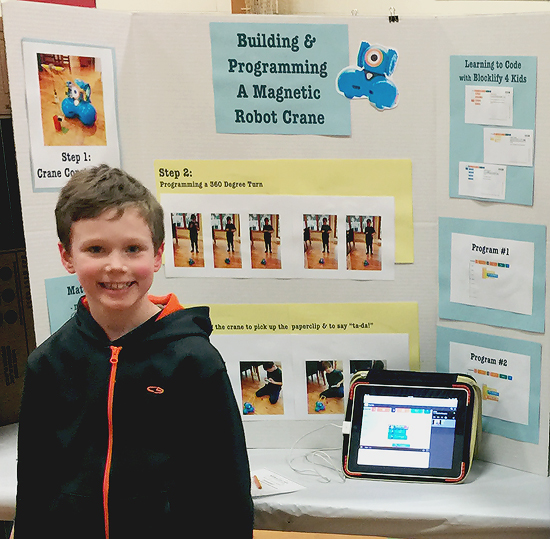 Last year my son even centered his science fair project around Dash by using this cool accessory piece that lets you build LEGO blocks right onto the robot.
The fun and approachable look and sound of these real-life robots for kids (again think Wall-E) makes them appealing to both boys and girls of various ages. Programmable by a multitude of free apps you can download on your apple or android tablets or smart phones, these guys can be made to respond to your voice, navigate objects to complete an obstacle course, dance, sing and a lot more.
Probably the best part is that unlike most coding and programming toys, you don't have to spend a ton of time learning how to use them in order to help your kids. Dash and Dot's programming apps feature built-in challenge tutorials that teach kids how to program on their own from the very beginning of each program.
I had my doubts about how hands-off this would really be but I had the phone for all of 30 seconds before my 2nd grader was clamoring to take over… and then I never got it back.
I also love that the apps ladder up in skill level with the child and that different Dash and Dot apps serve different interests. My 8-year-old son is all about the Wonder App, which looks and plays a lot like a video game on the screen but takes it into the real world where, in order to complete various "Scroll Quests", he has to program Dash or Dot to do things in real life in our living room.
My kindergarten daughter is still a little young for that but that didn't stop her from engaging with these robots through the apps "Path" and "Go" which let her use the phone like a remote to drive them, program them to light up in all sorts of different colors, and program them to say anything she could think of by using her own voice.
She was even able to figure out how to write a program to make Dash take multi-step actions; go forward, say something she programmed, go in a circle, turn purple, go backwards and then stop.
I see Dash as a toy that will grow with us for many years.
$24.99 (6 – 9 years)
I remember a friend of mine sending me a link to this toy when it first appeared on KickStarter. Since then, it's been great to see the massive success of this engineering toy built with girls in mind and my daughter has become a HUGE fan.
This year she even requested a GoldieBlox birthday party. Each of the girls got one of these mini Goldieblox builds and we put the zipline action figure on top of the cake.
If you don't know, GoldieBlox is a series of interactive books and construction toys starring Goldie, a curious girl with a love of engineering. Goldie's stories leverage girls' advanced verbal skills to help develop and build self-confidence in their spatial skills – so smart!
My daughter has tried out lots of the sets and the zip line is definitely her favorite (SO fun to watch her fly from the second to the first floor in our house) but she also gives really high marks to this dunk tank set, which she's built and played with in many different ways.
If you want to encourage STEM skills in a girl in your life I highly recommend Goldie Blox!
$14.99 (ages 7 – 12)
I've wanted to add a stop-motion kit to the gift guides for a while now but just couldn't find one I was totally sold on. I think it's such a great way to get kids creating and using technology in a much deeper way than they typically do.
Plus, there's a lot to love about this simple Stikbot kit! First, of course, is the price. This could easily become one of our go-to birthday party gifts and could also work as with a Christmas gift or a stocking stuffer (would also be a really fun White Elephant Christmas Party present).
Second, you can tell the creators of the kit have really thought hard about what will get kids excited about stop motion as well as what might frustrate them.
The figures come with suction cups on the hands and feet so that kids can more easily make the small position changes necessary to get a good stop-motion video. And the free stop-motion app that's included has a couple of really cool features like multiple green screen backgrounds and sound effects. Finally, I like that it's set up to be used with a smart phone and even comes with a tripod for doing so.
And, if your kid really gets into it, there are lots of add-on animals, accessories and other figures you can add in (at a price perfect for kids saving up their own allowance money to buy). This one is going on the Christmas list for my 9-year-old for sure!
Psst – if you have a LEGO fan in the house, definitely also check out this LEGO Make Your Own Movie Kit.
With the massive resurgence of Star Wars, I just couldn't leave it off the list- but which toy to choose? Here are a few favorites:
starting at $6.29 (6+ years)
These books are just so cool for kids that have a passion for art because they can use them to teach themselves how to draw all the things they want to.
We started with the thumbprint book, which is great for younger kids, and recently added the animal and vehicle drawing books for my son's birthday as well as Picture Pie, which incorporates cutting and pasting shapes to make things step by step instead of just drawing.
starting at $32.00 (age varies by kit) 
One of the things that impressed me most about The LEGO Movie was the emphasis on open-ended creativity through the "master builder" concept. So I was delighted to find that the "Master Builder Academy" series lives up to it's name by offering kits that provide multiple builds but also amazing prompts to help kids create on their own.
These extra special kits come with deluxe instruction manuals that teach technique as well as specific projects. I'm especially eyeing the LEGO Master Builder Academy Level 4 – Invention Designer kit which, while expensive, includes three 84-page Designer Handbooks teaching 6 LEGO Master Builder techniques.
One reviewer wrote, "Once I opened this kit I realized how special this set is. This kit comes with 3 very nicely printed books (on high-quality stock paper) with detailed instructions and techniques for building different creations. I also learned that in addition to the 11 different items you can build, you can also unlock/download 22 ADDITIONAL instructions (from LegoMBA.com) to build even more items including vehicles and architectural structures!
That was a huge, pleasant surprise for me! What other set can give you 33 different builds in a single box???" In addition to the special manuals, each of these kits also comes with an access code to members-only online LEGO Master Builder Academy content (mentioned above), featuring additional tips and building instructions, special videos and technique demonstrations, skill tests and fun activities, and a gallery for kids to show off their own custom creations.
*Post contains affiliate links.
Still want more ideas? Don't forget to check out all 15 of the MPMK Gift Guides, organized by your child's age:
For the hottest toys of the year see:
Plus, the rest of our guides organized by interest:
Tens of thousands of parents use these lists every Christmas to find the perfect gift!
If you like these recommendations, I encourage you to pin or bookmark them for later when you're ready to start shopping.
I would also love it if you forwarded the list to your parenting friends or shared it on facebook – trust me, your friends will thank you for the help and you get to be the cool mom (or dad) with all the best resources. It's a win-win.
Also, don't forget for even more recommendations and alerts when we spot our gift guide items on sale: