This could be one of the most useful pages you've come across on the internet for Christmas and the rest of the year in a long while!
Once your kids are a certain age, you find yourself spending a good number of your weekends at other kids' birthday parties… and that can get expensive!
Wouldn't it be great to have on hand a list of toys that the birthday boy or girl will truly love AND will cost you less than $20 a pop?

Best Gifts for Babies Under $20

$4.99 (9 months – 3 years)
This quintessential first book for babies is uber popular, and with good reason. It's a sturdy board book with a lightly padded cover that's easy for baby to hold (and, let's be honest, mouth) and it's full of bold, beautiful pictures.
Words are grouped together into categories making this a great tool for vocabulary building and shared reading time between mom/dad and baby (who pediatricians now recommend reading to at least 15 minutes a day from birth!)
A really nice present for a friend that just had a baby is this book bundled with the books Numbers Colors Shapes and the book First 100 Animals.
starting at $11.99 (6 months – 2 years)
These Lamaze toys were all the rage in the mommy and baby class I attended with my first son and it didn't take us long to figure out why. They're oversized, plush, and have lots of fun stuff for baby to pull and chew on. Plus they're durable – all of ours lasted through all three kids.
Along with Freddy the Firefly, our favorites were the moose and inchworm (which also plays music).
$8.99
(6 months – 2 years)
You know those lovely early months when many babies scream just about the ENTIRE time they're in the car?
This musical toy that's easy to hold and has button big enough for baby to push on his own was the only thing that ever got my kids to stop – it was worth its weight in gold I tell ya. It was also great for getting my babies' attention in times of non-stress.
$9.99 (6 months – 4 years)
Balls are excellent for open-ended play and motor development for babies and younger toddlers – truly, every child should have a set.
The varying textures, colors, and sizes of the balls in this pack make them extra great for sensory engagement and they're BPA-free so you don't have to worry when your baby inevitably starts mouthing on them.
$19.99 (3 months – 5 years)
I used to list just the hand bells from this company in this guide. Our toddler group class had them and they were always a big hit whenever they were pulled out – easy and fun for baby to use and great to play with while singing together. Then I saw this musical kit for baby and fell in love.
Going beyond the hand bell, this kit contains three additional instruments that baby can easily grasp and shake. Even before baby is old enough to hold these toys on her own, she will delight in watching and listing to others shake them. Older brothers and sisters also really enjoy getting in on the action too so it's not a bonding activity for everyone!
starts at $5.99 (6 months – 10 years)
All three kids in my house (my 7 year old son, 5 year old girl, 18 month old son) COMPLETELY ADORE Beanie Boos. It started with my daughter getting her pink leopard on a trip and proceeding to sleep with her every night of her life thereafter.
Then my baby boy kept trying to steal the leopard so I decided to see if he'd actually sleep with one of his own (all previous attempts to get him to keep a "lovie" with him in the crib had utterly failed).
Now has to have "Woof Woof" in the crib with him every night. Not to be left out, my oldest son has been asking for his very own beanie boo for his upcoming birthday for months. I really can't think of a better endorsement for a toy than every kid in the house wanting one. The size and price make them ideal stocking stuffers too.

Best Gifts for 2-Year-Olds Under $20

$19.99 (18 months – 3 years)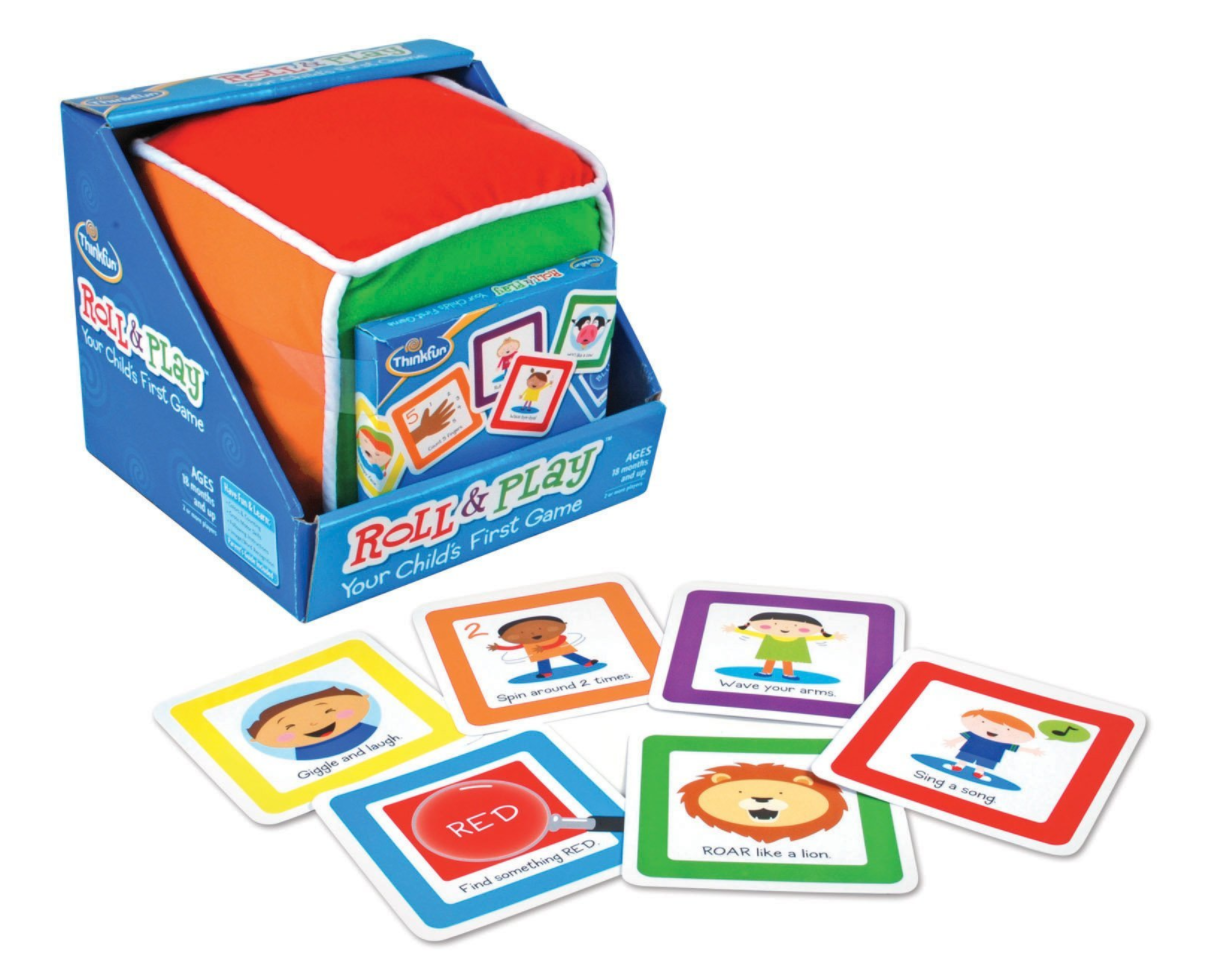 This is the first board game ever made specifically with young toddlers in mind. Toss the big plush cube and identify which colored side faces up. Choose a matching color card and perform the simple activity shown, such as "Make a happy face", "Moo like a cow" or "Find something blue".
Designed for parent and child to play together, Roll & Play strengthens bonds and builds confidence while encouraging creativity, active play and gross motor skills.
This seems like a good solution if you're looking for a family game night selection that can incorporate even your youngest kiddos.
$14.99 (1 – 3 years)
This is one of the few plastic, noisy toys that all three of my kids truly loved when they were tots.
It seems all young kids love dropping things into slots and taking them out again, so that part was a guaranteed hit, but my littles also took to the songs and prompts encouraging counting along, comparing big and small and (new to this model) discovering mommy and baby animals.
This is another one with a huge amount of positive reviews on Amazon. In fact, it has over 400 reviews and an average 5-star rating!
$19.99 (walking – 6 years)
One of the most surprising things about having toddlers and preschoolers is seeing how much they absolutely LOVE to clean! We've had a broom and dust pan set for years. The kids really enjoy breaking it out to help with clean up when the opportunity arises or just using it to play pretend. Every toddler we know has this set and totally adores it and our 18-month-old completely freaks out when he can't find it.
This year, though, I'm totally eyeing this set- it comes with so much amazing stuff!!
With this set my toddler will get to spray, wipe, scrub, and even squeegee. Do you KNOW how much toddlers love, love, love to spray and wipe down windows, cabinets and anything else they can get their hands on?
This one is a sure slam dunk for any toddler on your list- guaranteed!
$19.95 (1 – 10 years)
This deceptively simple toy is so much more than it appears. Parents and teachers rave about the hours and hours their kids spend shooting things through this heavy duty tunnel.
This is a great toy to get kids hypothesizing about, "what will happen when I… (put something heavier in, tilt it higher, put more than one thing in it, etc…)
When my friend first introduced me to the Tot Tube, I really liked the idea but wondered if it was worth the money- couldn't we essentially do the same thing with a cardboard wrapping paper tube?).
What I like about this, though, is that it's a lot more durable than a cardboard tube, it's wider shape accommodates bigger sized cars and balls, it can break apart for easy storage or you can attach more than one for a super long tunnel, and the kids can see through it- making it so much more engaging. Read the reviews on this one and I think you'll be sold.
Read the reviews on this one and I think you'll be sold.
$14.99 (15 mos – 2 1/2 years)
I still remember my son receiving his first set of award-winning Megabloks for his 1st birthday. It took him a little while to figure out (kids typically grasp block building somewhere between 12 and 18 months), but once he did he started building like a mad man and never looked back!
All my mom friends and I love Mega Bloks for our youngest kiddos, even more than the classic LEGO duplos.
The locking mechanism is just a little bit easier for beginners to put together and pull apart. Plus the colors are beautiful and the zippered bag is very handy.
$19.99 (12 months – 5 years)
Around the time they start walking all kids, girls and boys, ABSOLUTELY LOVE pushing around toy strollers. When my daughter was a toddler, she liked her dolls, but wasn't obsessed like some other little girls we knew.
Yet she has always adored piling them into her stroller and taking them for a stroll around the house over, and over, and over again. Then her stroller was straight-up commandeered by her 18-month-old brother who also couldn't get enough of pushing it around all day.
I promise you, if you a buy a toy stroller for your child, it will be one of the most-used toys you've ever purchased. 
$12.99 (9 months – 4 years)
We bought these trucks several years ago for our very first (of many) sensory bins and couldn't have been happier. They're the perfect thing for shoveling, scooping, dumping, mixing, and driving over all sorts of sensory materials from sand to colored rice and the price can't be beat.
We've loved these trucks so much that they've been worn out and we will be buying a new set for our young toddler as soon as we make him a bean box.

Best Gifts for Preschoolers Under $20

$15.99 (18 months – 8 years)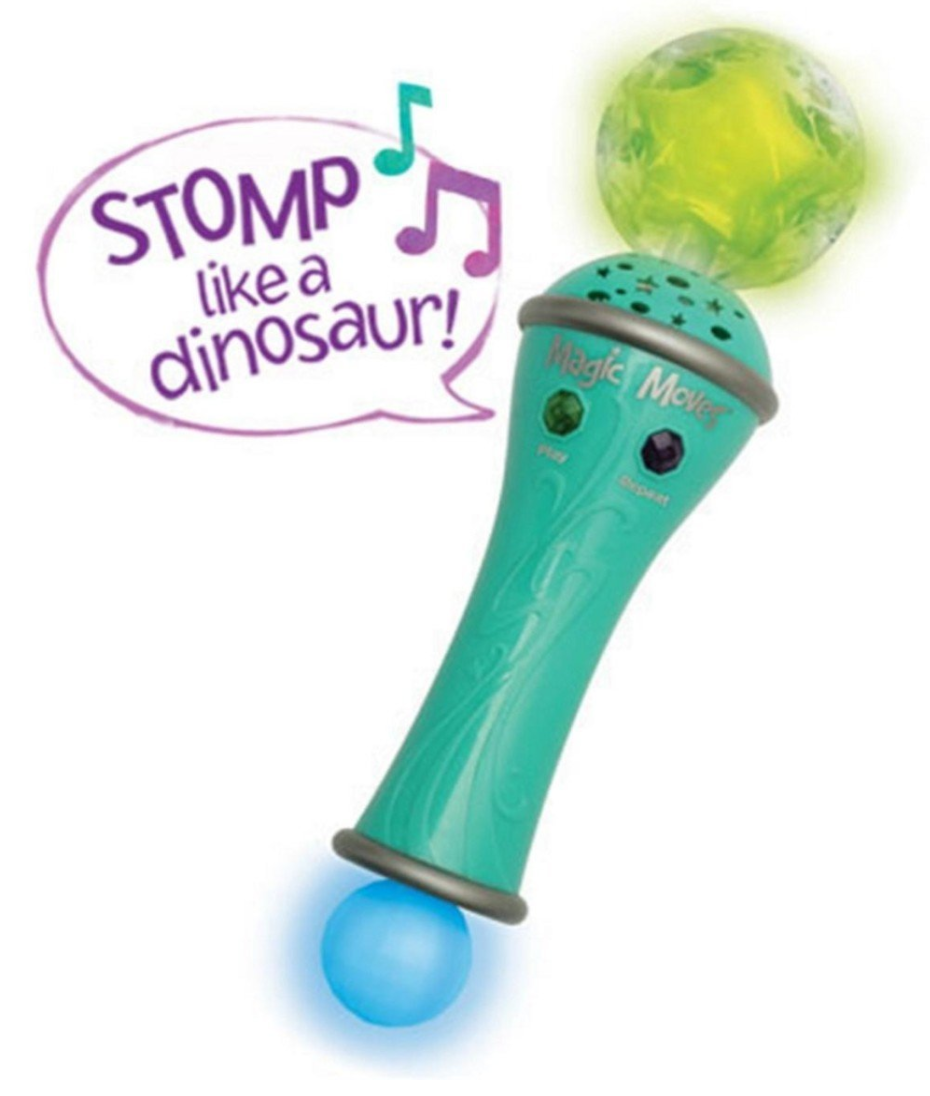 Normally I'm not big on electronic toys with lots of sounds and lights, but when said toy can help my kids get rid of all their pent-up energy inside on a stormy day, it becomes my new best friend.
This inexpensive magical wand uses 90 silly commands (sway, creep, stomp like a dinosaur, leap) and 26 songs, along with a light show to get kids moving.
This is one of those rare toys that's great for siblings of different ages to play with together (my kids have loved it at various ages ranging from 18-months-old to 7-years old).
It will keep the bigger kids interested (who doesn't like having the mic and being the star of the show?) while developing listening skills in the younger set along with enriching their vocabulary and ability to follow directions.
Note: If animals aren't your kids' thing, there's now also this gym version.
$19.99 (3 – 10 years)
It never fails to make me laugh that my boys are into TMNT- such a blast from the past! So, these fun over-sized action figures were a winner from the start, but once a couple where sent me to review, I saw where they really shine.
They do so much more than just a regular bobble head!
Their heads move, eyes open and close, and mouths even move as they talk! They love telling jokes, one-liners, laughing, belching, farting and giving Cowabunga high fives (of course they do). Plus, sensors in their head, chest, arm and hand activate movement and sound and they even recognize if they are holding their weapons.
This is the only thing going in my kindergartner's stocking this year and I think he's gonna be psyched.
(3+ years)
$19.99 (6+ years)
My kids both got to play with this at science camp this summer, during their study of physics, and fell in love. They both, my son especially, get a little hyper in the afternoon and I knew we'd all love having this around for them to stomp to their hearts content in the backyard. Lucky for us, we got one for C's 6th birthday and I was absolutely right.
The concept is simple, stomp (or jump) on the launch pad to send a foam tipped rocket up to 200 ft in the air. I like that both sets come with 4 rockets so the kids get to launch multiple times before running around to pick them all up and do it all over again.
Obviously the glow-in-the dark aspect of the Jr. Glow Kit is pretty cool. Siblings will love going together, and not having to take turns, and hosting friendly competitions with the Dueling Double Stomp Rocket Kit. In summary, these simple battery-free toys are multi-award winners and get great reviews. Plus they're cheap – gotta love that!
$12.99 (2 – 12 years)
This super fun game has been a huge hit ever since it debuted. We got ours for my son's 8th birthday and had the best time playing with it.
Everyone from my 2-year-old son to the grandparents was rolling on the ground laughing.
The premise couldn't be more simple; spin a number, put your face in the holder, crank the number of times that you spun and see if you get a "pie face". Because kids love getting dirty and silly, this one is always a winner.
$12.99 (3+ years) 
$12.99 (5+ years)
$12.99 (4+ years)
Large floor puzzles are great to introduce around ages 3 or 4. We have all three of these and our kids have loved them from preschool through 2nd grade and counting.  It amazes me that they can construct the entire map of the US completely on their own!
It amazes me that they can construct the entire map of the US completely on their own!
$19.99 (3 – 6 years)
Regardless of whether you go for a play kitchen, grocery cart, cash register or all of the above – you're gonna need some food to cook and/or buy.
We got this cutting food from Melissa & Doug before we ever got the kitchen and it was an excellent toy all on it's own, both for dramatic play and for building fine motor skills.
Our kids have been playing with these pieces for years and still found them very enticing on their own up to age 3 or so (after that they were good props for kitchen play).
Starting at $4.99 (3 – 10 years)
My parents gave the kids a couple of these reusable sticker books a few years ago for Christmas and they've been a consistent standby for us ever since.  Each of the books contains a series of background pages and hundreds of various sticker clings that can be positioned over and over on them.  There are tons of book themes to choose from too.
They are surprisingly useful on long car rides (despite their large size) and we always grab them when heading to someone's house who doesn't have younger children and, therefore, is without toys to entertain younger children.
$11.99 (3+ years)
I picked this up on impulse while birthday shopping for my son a few years ago. So glad I did – it was a HUGE hit. Kids ALWAYS love it and it seems like a natural gateway toy to wanting to explore robotics.
$15.50 and up (3+ years)
I'm kind of in awe of these Take-A-Part kits (there's an airplane, crane, 4×4 and roadster available). They combine my son's two absolute favorite activities: building and playing with things that go vroom. Plus kids put together their sets using a working power drill with 3 different bits. The reviews on this one are stellar and I'm totally sold!
$13.99 (4 – 12 years)
This scope's large, easy-to-handle design is perfect for little hands. Kids can trap whatever they want under it, then use the light and knob for 6x magnification. It's just the thing for encouraging scientific observation as well as getting outside to play.

Best Gifts for Kindergartners Under $20

$11.99 (4 – 7 years)
When my son was in kindergarten, he really started getting into math and began asking for story problems at night before bed, so imagine my excitement when I saw this book, which contains just that! From the publisher, "Inside this book, families will find fun, mischief-making math problems to tackle—math that isn't just kid-friendly, but actually kid-appealing.
With over 100 math riddles on topics from jalapeños and submarines to roller coasters and flamingos, this book bursts with math that looks nothing like school. And with three different levels of challenge (wee ones, little kids, and big kids), there's something for everyone."
This is a great way to change up story time at night and encourage math skills in kids that are excited about the subject as well as those who need some help getting excited.
Psst – We're now on the second and third books in the series.
$8.99 (4 – 9 years)
Toys that reveal a surprise have been all the rage for years now and this latest iteration is sure to delight. The first surprise comes when the Skyrocket Blume Doll is first unpackaged.
You child just adds water and watches the doll literally grow out of it's pot to show off one of several funky and cool hairstyles.
But the reveals don't stop there.
Along with the doll, there are also over 10 other surprises including a mini friend, secret playset, sticker sheet, and fashion accessories. The outfits and hairstyles can be mixed and matched to extend the fun.
Last, but not least, the flower pots double as a playhouse, a lot like those of Polly Pocket from when we were kids.
The low price of this one makes it ideal for birthday party gifts and as a stocking stuffer this year.
$15.99 (3 – 9 years)
When we were first sent this game to review, I thought it would be my kindergartener who would be most excited. That day, though, my 9-year-old daughter had a friend over and they got their hands on it first.
They played with it for a lot longer than I thought they would, and there were plenty of laughs. At the end of the playdate both my daughter and her friend wanted to make sure that I would report in these guides that the game was "a big hit".
This game isn't complicated; the gist being a combination of memory and charades. It's perfect for building visual perception and reasoning skills in preschoolers.
The game pieces also allow for lots of modifications that the whole family can enjoy-our current favorite is to use the head and tail cards as prompts for charades. 
If you've got kids of various ages in the family, this is one of those rare games that everyone will have fun playing together during game night.
With my youngest now 5-years-old and my oldest nearly 11-years-old (plus a 9-year-old in-between, family game night is our go-to way to all spend time together. That being said, not all games are created equal. It's actually the diamond in the rough game that is easy enough for even my youngest to learn to play but also keeps my oldest laughing and engaged.
Once I saw the fun, furry cover of this card game, I had high hopes that Camping with Sasquatch might fit the bill… and it did!
Everyone in my family loves this game. It's easy to learn, quick to play, and lots of fun (spoiler: there's roaring involved). It's also nice and portable, meaning we've played it at home and, yes, even brought it along while camping.
(Ages 4 – 12) Starting at $14.99
These adorable finger-sized animatronic monkeys are the "It Toy" of the year. In fact, it's the end of September as I'm releasing my gift guides and they're already completely selling out everywhere.
If you get the chance to buy one- do it!! (Even if you end up getting something else for your kids, you will be able to make bank on eBay come December.)
So what's all the hype about?
These pets react to sound, to motion, and to touch. They love to hang onto your kids' fingers, backpacks, other toys and pretty much everything else.
With over 40 animations, kids can rock them to sleep, blow them kisses (and have them blown back), make them sing, and much more.
Like a lot of the hot toys out this year, they're also incredibly life-like. They blink their eyes, turn their heads, swing by their tails, fart, and more. Plus, if you can get them at retail price – they're cheap!!
And if the Toy Gods are really smiling down on you and you can find them, I also suggest both the Fingerlings Playset…
And the Fingerlings Jungle Gym for even more extended play time fun (as well as a handy place to store the little guys so they don't get lost).
Another way to go are these 40 Piece Money Stix sets that seem to have been quickly produced by an industrious 3rd party company.
I am really digging that with this playset version kids get to engineer their own setups for their fingerlings, plus it's not another bulky toy to have to store somewhere.
(Ages 5 – 12) Starting at $9.95
If there is one thing that elementary aged kids just can't get enough of, it's collectibles. From Shopkins and Funko to Pokeman, small things that they can hoard like crazy are basically catnip to kids this age.
And since toy manufacturers aren't dopes, there are a few brand new collectibles that are sure to fly off the shelves this year (seriously- buy one or two for each of the special kids in your life now while you can still get them and they're not stupid expensive).
All the rage this year are the already uber-popular L.O.L. dolls. Let me just start by saying that every year when I start researching for the gift guides I tell myself I cannot start buying for my own kids until at least October… and every year I fail because I see something that I know they will love and I know will be hard to get later.
This year, this was the thing I couldn't resist buying in September for my daughter.
Note: Because these things are so popular this year, there are a lot of imitations. When you buy, be sure the company is "L.O.L. Surprise" and that it is shipped and fulfilled by Amazon.
These little balls of joy have all the miniature cuteness that's required in a collectible for girls this age, plus a couple of really cool features.
The wrapping is part of the toy itself. It's got 7 layers that need to be peeled off and each layer contains a new surprise. (I'm seriously considering stocking up on these just to keep around for future plane rides – talk about a glorious time killer!) The 

7 layers of surprises include: (1) Secret Message Sticker, (2) Collectible Sticker Sheet, (3) Water Bottle Charm, (4) Shoes, (5) Outfit, (6) Accessory, (7) L.O.L. Surprise tots doll

The ball itself acts as a playhouse and storage case for the doll (Yay! for having somewhere to store the tiny pieces!!)
The doll itself is also a surprise in how it reacts to water. The many change color, drink, spit, tinkle, or cry.
$14.99
First up are CollEGGtibles.
Seizing on that love of all things mini that I wrote about above, the Hatchimal people made a whole variety of mini eggs.
Open these guys by rubbing the hearts until they change color and they crack. Works a little differently but the excitement is the same and the lower price point sure is nice! These will make great stocking stuffers and kids will love this nursery playset once they collect several collEGGtibles.
starting at $9.99 (4 – 10 years)
Speaking of dolls that send the right message to our girls, I'm loving the new line of DC Super Hero Girls. Not only do they have a very fun look, they also send a great message of empowerment.
I also really appreciate the articulating limbs so kids (both girls and boys!) can use them for acting out all sorts of superhero moves. You can buy the larger 12″ dolls individually or go in for the 6″ versions in a three pack or six pack.
starting at $14.99 (4 – 12 years)
I'm so impressed with this line of LEGO-like building sets for girls. First of all, it's American Girl brand, so that's guaranteed to attract a lot of girls, even those who don't gravitate towards building. Second, each set has a lot to it for girls to not only build, but also use as props during imaginary play- something girls are known to love to engage in.
There are a large variety of sets to chose from. I'm loving the Horse Stables Construction Set as well as Saige's Art Studio and at $2 – $4 a piece, the American Girl figurines make great add-ons to any of the sets or stocking stuffers!
$17.99 (5+ years)
Billed by many as "the runaway toy of the year" a few years back, this award-winning loom is the most exciting thing to happen to kid jewelry since the advent of the friendship bracelet.
Using a special loom and the multitude of colorful twistz bandz that come in this kit along with a myriad of video tutorials available on YouTube, kids will spend hours happily creating with this fun kit.
My daughter has been playing with her kit for years now. This is easily one of the biggest "bang for your buck" toys we've ever bought.
$14.99 (3 – 10 years)
The key to a good indoor toy is it's ability to wear a child out without requiring a lot of space to do so. This soft pogo jumper is an Amazon #1 Best Seller because it does just that.
It will keep the kids happy (and get them good and tired) and you won't have to worry too much about them knocking over your stuff (or each other).
starting at $16.99 (4 – 12 years)
This is an amazing series of books full of interesting facts and close-up pictures that kids will find fascinating. There's one for virtually any topic your child is interested; animals, atlases, space and more.
Get the First Human Body Encyclopedia to use all on its own or as a companion to the squishy human body kit above.
$14.99 (3+ years)
This is another card set I've had my eye on. Again the illustrations looked beautiful and I like how there's a story element to go along with each of the poses. Plus the set got great reviews on Amazon. When I pulled the trigger and finally got them for Christmas, I wasn't sorry.
Both my preschool and elementary aged kids return to these cards again and again and it's a great activity for them all to do together, especially because some of the poses require two people. Their current favorite way to use them is to put them in a big circle on the floor, play music, and do whatever pose they land on when the music stops.
$14.99 (6 – 8 years)
A wonderful option for introducing your child to geology is this fun excavating kit. My daughter has been so into crystals and "discovering treasure" for the past year that I could see her truly loving this.
From the manufacturer, "Excavate 8 natural crystals embedded in a plaster block. Carefully dig them out just like a real excavation and add them to your rock collection. Kit includes plaster block with crystals, a specially designed digging tool, brush, magnifying glass, display case with cover and base card, pouch bag, detailed instructions and fun facts."
starting at $14.99 (6 – 12 years)
If geology, paleontology, and archeology are really your child's thing, then also check out these award-winning kits. The hands-on sets come complete with real geodes, gemstones, etc. as well activity books that invite kids to partake in hours of exploratory play. I especially like the Dinosaur Dig Kit and the Real Bug Digging Kit.
starting at $19.99 (5 – 12 years)
These award-winning kits allow your children to author, illustrate, and publish their very own book hard cover book. My daughter and I have been making books together at home for a while now so I'm excited to surprise her with this kit allowing her to make a professionally printed book.
I also love the comic book making kit for kids who need a little encouragement in the areas of reading and writing. From the manufacturer, "Lulu Jr. allows children to become published authors, encouraging creativity, strengthening literacy and building self-esteem. Your child writes and illustrates their own original story that will be printed as a full-color, hardcover, professionally printed book.
You choose whether to mail your completed book pages to them in the included prepaid envelope, or you and your child can create the book online. The final product showcases your child as the published author on the book's back cover using our 'About the Author' feature.
With Lulu Jr.'s award-winning book-making kits, IlluStory Junior, My Comic Book and My Awesome Book, children can realize their potential as an author and artist. With 800,000 kits sold and over 15 industry awards, Lulu Jr. is the ideal destination for young authors."
For younger kids, also check out the low-tech Create Your Own 3 Bitty Books kit that allows them to make three of their own mini-board books for only $10.
starting at $12.99 (age varies by kit)
This is another series of kits, much like the LEGO City collection with the difference being that each kit can be used to create 3 totally different things. My son thinks this is especially awesome and I did a lot of research to find the perfect set for his 6th birthday.
We settled on the LEGO Creator 31011 Aviation Adventure and we were not disappointed! The photos don't do justice to the sheer size of this thing! That and the number of pieces involved in the build truly make this the next level in LEGO builds. Plus, it actually has moving parts (pull back the landing gear to make the propellers move, slide the cockpit windshield back and up to insert and remove the two pilots, etc.).
My son has been playing with it non-stop for weeks and he still hasn't even gotten to the boat and helicopter he can build with this set. This toy has already given us hours and hours of fun and promises to give lots more – a great investment in my eyes.

Best Gifts for Elementary Aged Kids Under $20

$17.99 (5+ years)
When my kindergartner came home from school one day asking me to teach him to play chess, I had mixed feelings. On the one hand, I was excited because, despite spending a lot of our time together on sports-related activities, I have great memories of playing chess with my dad growing up.
On the other hand, I was afraid he was a little young for it and might get frustrated and give up on the game altogether. Enter "No Stress Chess".
This genius game uses cards to teach young kids how to play in stages. The cards tell you which piece to move, so even children (and adults) who have never played the game can jump right in. The moves for each piece are on the cards as well as on the game board and the first stage makes the game about chance, not skill – you simply draw a card and do what it says, perfect for learning how the pieces work.
Once that is mastered, you can draw 3 cards at a time and decide which one you want to go with to introduce some strategy to the game. Finally, when you're ready to play chess for real, just get rid of the cards and flip the board over to a traditional chess board.
$19.99 (reading age and up)
Have you heard of this Uber popular game yet?! This hilarious card game made Kickstarter history by becoming it's most backed project ever. Kids and adults alike cannot get enough of the bizarro premise of a kitty-powered version of Russian Roulette.
To play, players draw cards until someone draws an Exploding Kitten, at which point they explode, they are dead, and they are out of the game – unless that player has a Defuse card, which can defuse the Kitten using things like laser pointers, belly rubs, and catnip sandwiches.
All of the other cards in the deck are used to move, mitigate, or avoid the Exploding Kittens. Check it out, you've gotta see it to understand… and then your whole family will be hooked!
$9.99 (5+ years)
Invented by 6-year-old Miranda Evarts, this fantasy card game helps develop memory, strategy, and elementary arithmetic skills. Plus, many parents report it often leads to a lot of dramatic play fun once the game is over.
I also appreciate the gender neutrality of this game, with queens, kings, knights and more, reviewers rave that both their sons and daughters ask to play again and again.
Plus, the game doesn't drag on too long (always a plus) with average play time being around 15 minutes.
$19.99 (ages 5 – adult)
A gloriously smart combo of Connect 4 and the ultra popular Bounce-Off… this game of strategy and luck is equal parts exciting and goofy fun.
Talk about the perfect rainy day activity and just the thing to pull out for family game night. This one's ideal for a range of ages and interests, it's sure to be at the top of lots of kids' Christmas lists this year and will lead to hours of good ol' fashion family fun.
$18.65 (7 – 12 years)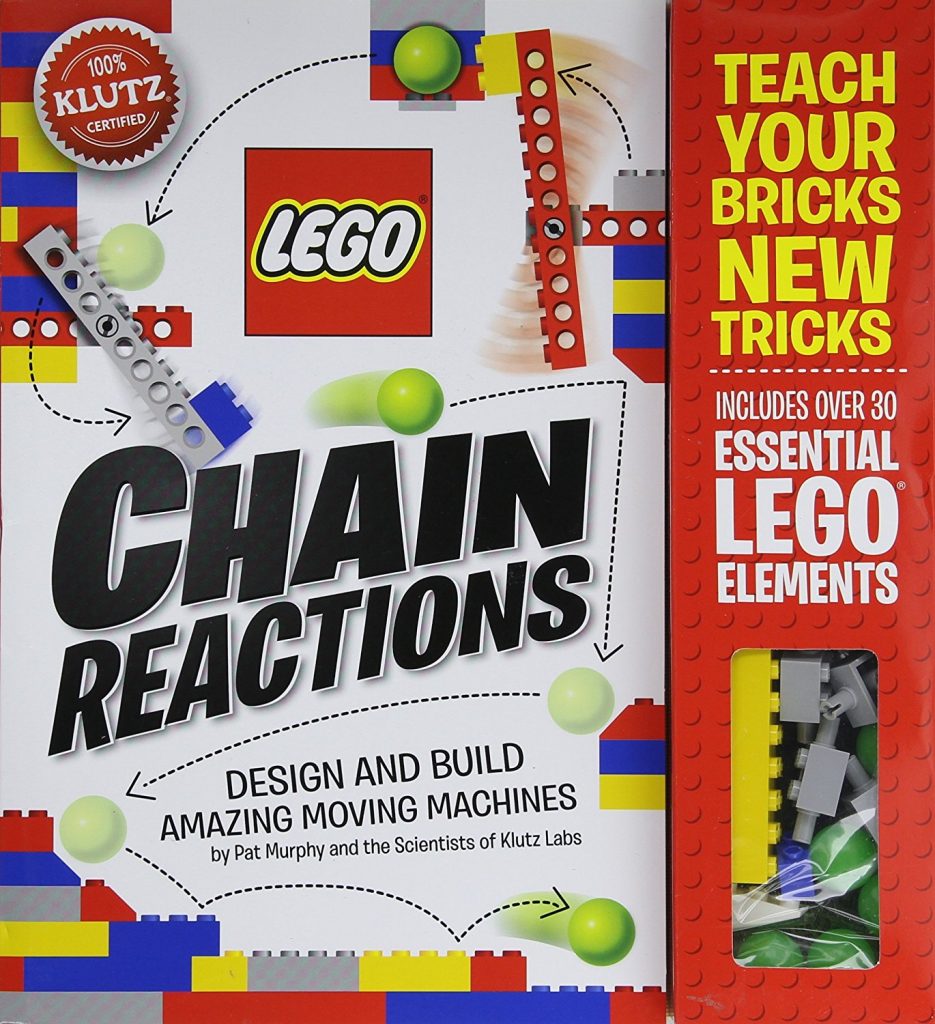 The first thing I thought when I saw this book was that it was a combo of two of my son's favorite things: LEGOs and the game Mouse Trap.
I talk a lot in this gift guide about the value of open-ended toys and I think this book could really get a kid's mind spinning in regards to what new contraptions they can invent…
From the manufacturer, "LEGO Chain Reactions is packed full of ideas, instructions, and inspiration for 10 LEGO machines that spin, swing, pivot, roll, lift, and drop.
Each machine alone is awesome, but put them together and you get incredible chain reactions. Then, combine the machines in any order you like to create your ownchain reactions. Our team of experts worked with educators and 11-year-olds to invent the machines, then wrote a book that teaches the skills (and some of the physics behind the fun) kids need to create their own amazing chain reaction machines."
The kit comes with 78 page book, 33 LEGO elements, 6 LEGO balls, 6 feet of string, 8 paper ramps, 2 paper pop-up signs, 1 paper funnel ramp, 1 paper flag, 1 paper bucket, 1 platform and the makers assure that you don't need to worry that you won't have the right bricks as they made sure you'll need only the most common bricks, and that there are plenty of substitutes.
And while we're on the topic of LEGO build books, The LEGO Ideas Book and LEGO Play Book are also well worth looking into.
starting at $9.38 (5+ years)
This is the rare toy that truly is like no other I've ever seen.
Imagine if three of the all-time most loved toys in history- Hot Wheels, Pokeman Cards and Transformers- had a baby… you'd have Mecards.
You really have to watch the video to understand the magic of how this works… but basically kids "battle" by each rolling their cars over a facedown card.
What happens next is some crazy cool "magic". The car not only turns itself into an action figure, it also picks up and displays the magnetic card to show who has won the battle.
Both my son and daughter have gone through big Pokeman card stages, mostly so they could battle, and I just know that my son is gonna flip out when he sees this.
In fact, every year when I start working on these guides I vow that I will not buy anything for the kids yet… Nevertheless, 4 of these Mecard sets are on the way to our house as we speak.
Each vehicle comes with 3 cards and I'm thinking a good starter pack for would be 4 vehicles (which will come with 12 cards). To see the true magic of these cards, you have to check out the video above- you will be sold!
The last thing I really like about this set is that the cards make it really easy to tailor the game to the age of the player– you can keep it super simple for preschool and kindergartners and much more complex for elementary aged kids.
$19.99 (5 years – adult)
Also there's a new travel version, Spot it! On the Road
An award-winning game that centers around visual perception and speed. The goal is to be the first to identify a match on a pair of cards and to call out out the name of the figure in common.
This is the type of game that quickly becomes addictive and will cause lots of laughs and (hopefully) friendly competition. Also check out the newer Disney Frozen – Alphabet and Disney Planes – Alphabet versions.
$19.99 (ages 3 – adult)
I'm always on the hunt for a great game for family game night, or our Christmas Eve tradition of playing a crazy game with the family. The key components I'm on the hunt for are that the game is easy to learn, highly entertaining and suitable for kids (and adults!) of all ages.
This one totally checks all the boxes. Essentially frisbee golf with rubber chickens, players toss the target to get started, then take turns flicking' their chicken at the target. Sounds easy enough, but these funky chickens bounce and roll, so hitting the target will test your chicken flicking' skills!
My hope is that this might even be something my older elementary grade son will enjoy doing with his friends at playdates- you know, instead of ALWAYS defaulting to Xbox.
$15.99 (6+ years)
This is basically the classic "Who am I" game with fun headbands that kids will get a kick out of. Kids will flex their deductive reasoning skills with the game's simple question-and-answer premise. By making connections and coming up with questions that will lead to answers, kids will also practice creative critical thinking skills.
starting at $6.99 (6+ years)
These books are just so cool for kids that have a passion for art because they can use them to teach themselves how to draw all the things they want to.
We started with the thumbprint book, which is great for younger kids, and recently added the animal and vehicle drawing books for my son's birthday as well as Picture Pie, which incorporates cutting and pasting shapes to make things step by step instead of just drawing.
*Post contains affiliate links.
Still want more ideas? Don't forget to check out all 15 of the MPMK Gift Guides, organized by your child's age:
For the hottest toys of the year see:
Plus, the rest of our guides organized by interest:
*Post contains affiliate links.