We're taking a little break from Project Organize Your ENTIRE Life today and highlighting an intriguing winter science decor project (I think I may have invented a new category of project with that one).  Because the whole point of organizing and simplifying is to have more time to connect with the kids, right?  Take it away Jen…
As much as I love January and the fresh beginnings that come with a new year, I'm always a bit sad to watch the Christmas decorations make their way back to storage and to see the holiday crafts I never attempted lay idle on my pin boards.
Continuing in the spirit of Christmas crafting, I figured why not modify some of my favorite ideas so that they can work all winter, or even all year, long? First victim of my craft-hacking? The Borax snowflake.
Seen all over Pinterest, the Borax snowflake is part craft, part science project. Using simple, inexpensive ingredients, you can transform a pipe cleaner into a crystallized snowflake. Group together for some pretty fantastic looking holiday decor, hang individually on the tree for affordable Christmas ornaments, or, if you're like me, make a collection of decorative balls.
This would be a great project to do with the little ones; it's a fun science experiment for them.  Just be sure you take the lead, providing plenty of adult supervision, and not to let the kiddos touch the borax as it's toxic if ingested.
To make, take the simple Borax snowflake recipe, and instead of a snowflake form a ball shape. I made three different sizes using multiple pipe cleaners each. Suspend in your hot water-Borax solution using string and a pen, leave overnight, and wake up to the magic that is crystallized Borax.
I found my best results were when using a pot to hold my solution. I had to use a lot of Borax to maintain the powder to water ratio, but the more space around the suspended ball, the bigger and more mature the crystals grew. And FYI, attempt #1 had me pouring boiling hot water into a glass water picture, only to have it explode on me. Please be careful, and make sure your containers are able to withstand boiling water.
I'm guessing that you could probably make about a dozen decorative balls per box of Borax (depending on size of course), giving you some very affordable filler for vases. Another fun idea is to create a crystal monogram that could be added to a wrapped gift, or displayed at a shower. I also want to try making a bunch of tear drop crystals and hanging them together to create a glistening mobile or chandelier. Perhaps that will have to be my Spring craft-hack.
P.S. If you're really looking to have the holidays in the bag this year, we've got two ways to help. First get the holiday shopping out of the way with all 10 of our 2013 Gift Guides here…
Second, check out our new eBook, Hands-On Holidays, packed with low-prep and low-stress ideas for make memories crafting, cooking, reading and adventuring with the kids!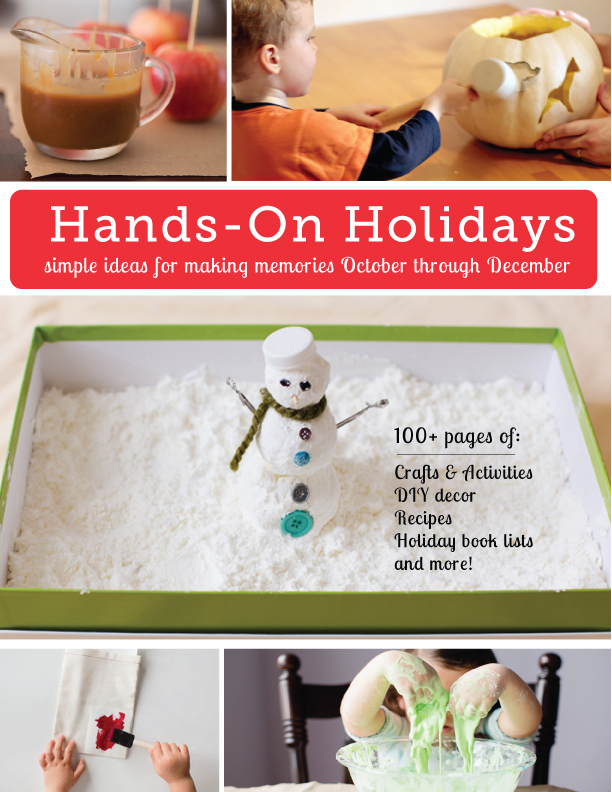 ✕
Get Your Free Printable
Subscribe to our newsletter today and get our free printable... No More, "Mom, I'm Bored!"
The following two tabs change content below.
Jen puts her passion for organizing to work creating functional household labels for the home she shares with her husband and two mini-dachsunds. You can find her sharing her love of home decor and organizing, as well as designing labels, at The Social Home.