Having just survived a move with small children, a lot of my healthy eating habits seem to have flown out the window and I'm in somewhat of a lunch rut.  

What better to pull me out than a delicious new recipe and a glimpse at how someone else tackles getting three squares a day, right?

Here's Jen with the goods…
Sometimes I need to remind myself that organizing isn't just about storing things in pretty jars with labels, or decluttering the front hall closet. Organizing is so much more than that, and encompasses every facet of life. What's the point of having clutter-free junk drawers if you don't have the time to properly organize your meals and prepare your day?
I've had my mornings figured out for awhile now.
I make my smoothie packs that are easy to add water to and blend for a quick and healthy brekky
. Lunch has always been fairly simple as well – oatmeal. I transitioned from packaged instant oatmeal about a year ago and started making my own. Sometimes overnight oats, other times I just bring it dry and add hot water to it and let is sit (think Starbucks perfect oatmeal).
Oatmeal has been a great work lunch for me
(and some wonderful oatmeal options are covered in great detail in
this bookmark-worthy post
). It's easy to prepare, doesn't cause unpleasant breath for the remainder of the day, and doesn't smell offensive to anyone else in the lunch room (salmon leftover eaters – I'm talking bout you!).
But, oatmeal has it's limitations. The version I've made for the last while requires hot water, a bowl and a spoon, so it's not great for on the go. I also feel a little silly eating oatmeal in the lunch room sometimes. So then it occurred to me to try a baked oatmeal – but a super-food packed, protein-powered baked oatmeal in a bar that would be easy to eat, nutritionally loaded and substantial enough to keep me going throughout the day.
After testing out a few variations, I settled on a recipe that is not only delicious, it's customizable and the flavors can switch around when I need a change. Best of all, it's easy to make, and provides lunch for two weeks. Not too shabby. And when I do have kiddos to feed, these will certainly be making their lunch boxes as well. Try whipping up a batch with whatever is in your pantry and freeze for organized, balanced lunches.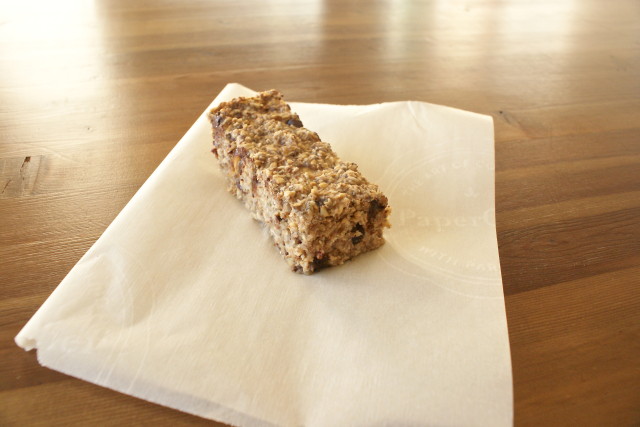 Super Powered Oatmeal Bars
Ingredients
5 medium ripe bananas – mashed
3 cups water or milk
2 tbsp coconut oil (or other oil)
2 tbsp nut butter
1.5 tsp vanilla extract
pinch salt
1/4 cup liquid sweetener (honey, maple syrup, or agave)
1/4 cup chopped dates (or raisins)
3 cups rolled oats
2 cups steel cut oats
1/2 cup ground flax seeds
1/4 cup chia seeds
small handful of each or some of the following: dark chocolate chips, cocoa nibs, pecans, walnuts, hemp seeds, shredded coconut
Directions
Mix all ingredients together in a large bowl.
Transfer mixture into a parchment lined casserole dish and bake at 375 degrees F for 45 minutes.
Let cool, cut into bars, wrap with plastic wrap and freeze.
Get Your Free Printable
Subscribe to our newsletter today and get our free printable... No More, "Mom, I'm Bored!"
The following two tabs change content below.
Jen puts her passion for organizing to work creating functional household labels for the home she shares with her husband and two mini-dachsunds. You can find her sharing her love of home decor and organizing, as well as designing labels, at The Social Home.