Who says Halloween crafts and activities have to be scary?

I absolutely love this slimey, ooey, gooey activity for helping little ones to get in on the festivities. Here's our contributor Kaley with the detials…
It's gooey. It's gummy. It's like glue. It's oobleck!
I have a soft spot for activities that correlate with children's books, and this is one of our favorites. After reading about the green sticky goop that falls from the sky in Dr. Seuss's Bartholomew and the Oobleck, amaze your kids by making real oobleck!
It is one of the simplest activities you can do, and it will keep your kids entertained for hours.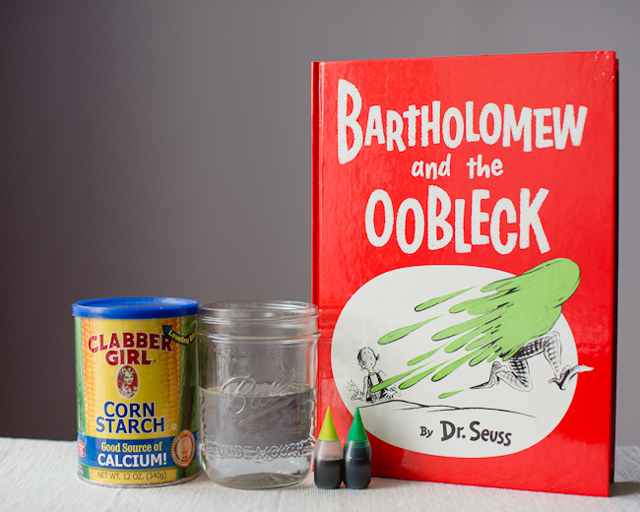 All you need is cornstarch, water, food coloring, and a big bowl.
Dump 3 cups of cornstarch into a big bowl. Add about 8 drops of neon green food coloring, and about 4 drops of regular green food coloring. Mix it all together.
The food coloring will disappear into the cornstarch. Slowly add about a cup and a half of water and let your little ones stir it in. As they stir, the oobleck will start to turn green.
You can also add the food coloring right to the water before pouring it into the bowl, but we like watching it turn green like magic.
It will be very hard to stir in all the water, so get your hands in there and start working it all together. You may have to add a little more cornstarch or a little more water to get the right consistency.
The oobleck should flow when you tip the bowl, but feel solid when you hit it or rub your finger across the surface.
Oobleck is perfect for introducing the concepts of solid vs liquid to small children. Let them explore what actions make the oobleck act as a solid, and what actions make it act as a liquid.
Hit it, squeeze it, pour it, marvel at it's uniqueness. And if the kids won't let you get your hands in the bowl, just wait until they go to bed and then it is yours, all yours.
After a few hours of playing with our neon green oobleck, her hands were a little shriveled. And a little green. It faded within a few hours, and after a bath, they were back to normal.
If you would rather that your kids hands aren't tinted, you could leave out the food coloring and just have white oobleck. But that isn't as much fun. And this blog isn't called Modern Parents Clean Kids.
Oobleck will keep for quite a while. Just cover it, and the next time you want to play with it, add as much water as needed to get it back to the right consistency.
When you are finished with your oobleck, let it dry out and put it into the compost or garbage can instead of trying to wash it down the sink. Because remember what happened in the Kingdom of Didd…
*Post contains affiliate links
✕
Get Your Free Printable
Subscribe to our newsletter today and get our free printable... No More, "Mom, I'm Bored!"
The following two tabs change content below.