Father's Day is less than a week away – everybody ready?  In case not, I thought I'd throw up one of my all-time favorite MPMK Father's Day projects.  It's super cheap inexpensive and easy to make. Plus, what Dad doesn't like a funny gift?
I thought it would be fun to challenge myself to go green this Father's Day and not to spend any money on materials.  So I came up with this fun upcycled craft for Father's Day.  It's a "Dad's Stache" tray.  Get it?  A tray for all his stuff with a picture of mustache on it?  Ok, I know, you get it.  Moving on…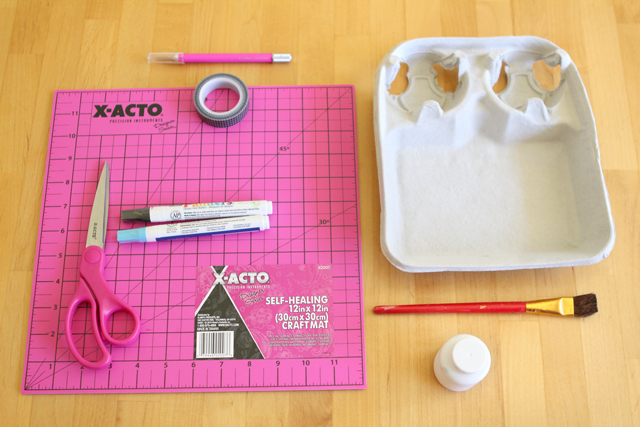 I wasn't quite sure where I was going with this when I started so I gathered some tools, a little paint, and drink tray from a sinfully delicious burger joint the hubby and I like to frequent late at night when the kids are in bed. I've got a whole stash of stuff like this –  toilet paper rolls, empty yogurt cups, mason jars, etc. – for crafting and playing.
I started by using my new scissor to cut off the tray portion.  Then I went around the edges with my X-ACTO craft knife (which is bright pink, how fun is that?)
Then it was time to start making the thing pretty.  I added a layer of white craft paint and while that was drying I tried out a painters markers and added some white stripes to some left over letter stickers I had lying around.
Then I used another painter marker to draw the mustache.
Lastly I added some washi tape all around the edges to finish them off.
That was it.  Now my hubby will have his own place to put all his stuff when he rolls in the door every night.