All it took was one little trip to IKEA and the creativity center that I've been visualizing for months now is finally a reality.  I was pleasantly surprised to find the main components came to a pre-tax total of only $70.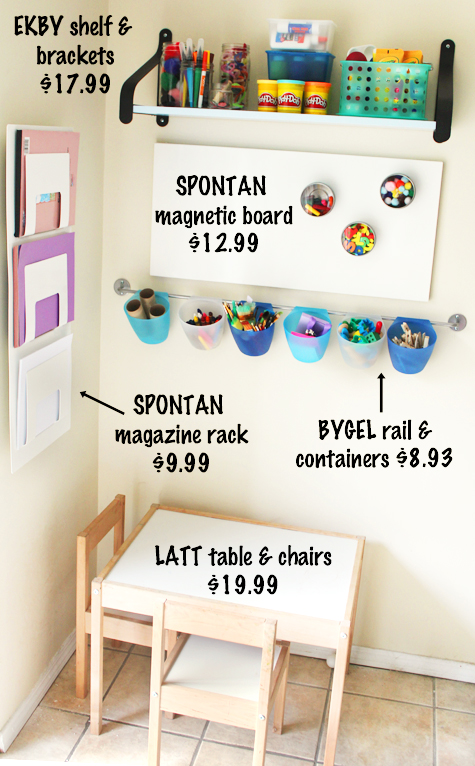 It's been up for two days and so far C has spent over an hour each morning parked here.  The best part is, it's always his idea – all the pretty materials on display seem to beckon to him (just as I hoped they would).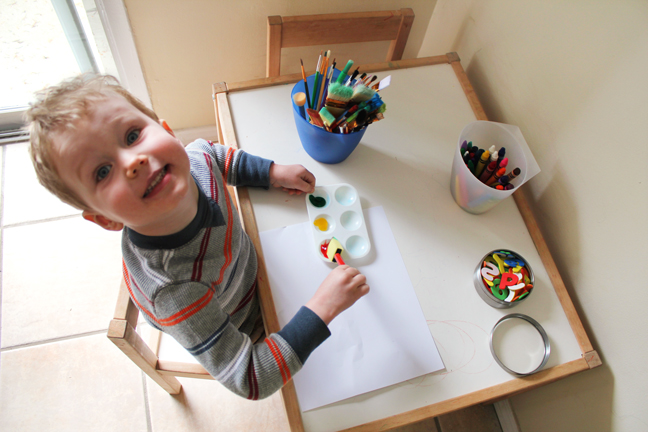 This is C about 3 minutes after first laying eyes on his new set up – think he likes it?  He initially gravitated towards the crayons, letter stickers, and paints.  How could he not with ALL THOSE paint brushes? (A Wal-mart value pack we bought while on vacation for around $5.)
Next he took a small recess from painting and got out the play dough and accompanying tools.
Then the creative juices really got flowing and he perfected a new artistic process in which he first painted a toilet paper roll and then used said roll to apply paint to paper.  After that there was more open-ended crafting utilizing clothespins, pom poms, glue, sticky notes, stamps, and etc.  I think the pipe cleaners were the only materials not used.  I'd love for you to start a creativity center of your very own so click through for a complete break down of the components.
You may be wondering why there's so much empty wall space between the top of the desk and all the supplies.  My goal was for C to be able to see everything and for 10 month old S to be able to reach none of it.  Also, I wanted to be able to use the magnetic board to display C's creations (and to allow them to dry when necessary).  But, again, I didn't want S to be able to get her hands on any of it.
The whole point here is for everything to be visible so that kids will see the supplies and want to use them.  So if you don't have a baby or young toddler in the house then, by all means, put everything at a lower and more accessible height. (If you're wondering, C is 2 1/2 and can reach the light switch at 45″ on his tip toes.  We hung the rail at 43″ and he's able to take the storage containers on and off.)
There are four basic IKEA components to this set up.  We've had our LATT table for about a year now and it's been just about the best twenty bucks we ever spent.  The rest of the items were newly purchased last weekend.  Here's the list:
LATT table & chairs set for $19.99
BYGEL rail for $2.99
6 BYGEL storage containers for $.99/ea.
SPONTAN magazine rack for $9.99
SPONTAN magnetic board for $12.99
EKBY 11″ deep shelf for $7.99
EKBY shelf brackets for $10.00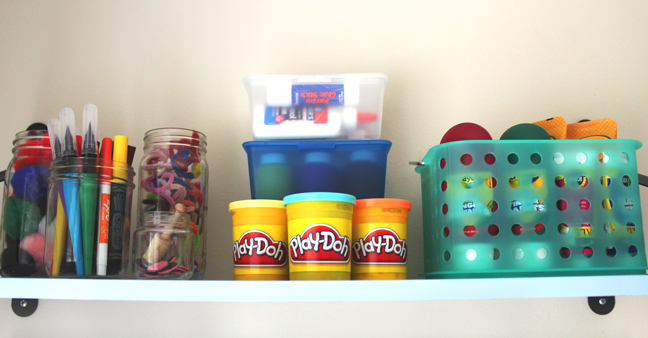 In addition to the larger pieces, I used several small storage containers.  On the shelf I chose mason jars as well as a few small containers that I also picked up at IKEA.  I filled them with things I'd like C to see but have to ask to use (paint, markers, pipe cleaners, glue, stamps, and pom poms).
One of the things C seems to like best is a small baby food jar filled with an alphabet stamp set that I originally bought on etsy.
Since C can reach them, I filled the hanging containers with things he can't get into too much trouble using unattended (crayons, paint brushes, play dough tools, sticky notes, hole punches, clothespins, and toilet paper rolls).  On the display board there's a set of magnetic spice containers from IKEA that are handy for things like broken crayons and stickers.  The curved shelf brackets work well for clothespinning 3D art pieces to and there's paper, drawing pads, and coloring books in the magazine rack mounted on the wall.
It's basically everything a kiddo could ever need to get creative.  Speaking of which, it took me a while to decide if I wanted this to be an art center or a writing center.  In the end, I decided I didn't really have to chose and deemed it a creativity center.  This isn't just semantics – for now it contains letter stamps and stickers along with all the art goodies.  In the future, I have plans to rotate in more writing materials such as ruled paper, envelopes, and magazines for clipping out letters.
So what do you think?  Will you be installing a creativity center of your own anytime soon?
This post is part of MPMK's "Project Organize Your ENTIRE Life".  You can read all about it here, check out all of projects here, and join thousands of POYEL facebook group members here.