One of my favorite parts of putting out our massive collection of gift guides every year is figuring out what the best-sellers of the year are going to be. Once Black Friday passes, I always have a pretty good idea.
In case you're wondering what everyone is buying this year too, here are the top 25 best-sellers from the over 400 toys and games included in the gift guides this year!
Oh and good news – half of them are currently on sale!
In order of most popular…
Educational Insights Magic Moves Talking Electronic Wand $21.99 $15.89  (18 months – 8 years) 
Normally I'm not big on electronic toys with lots of sounds and lights, but when said toy can help my kids get rid of all their pent up energy inside on a stormy day, it becomes my new best friend. This inexpensive magical wand uses 90 silly commands (sway, creep, stomp like a dinosaur, leap) and 26 songs, along with a light show to get kids moving. This is one of those rare toys that's great for siblings of different ages to play together (my 7-year-old, 5-year-old, and 18 month old all love it). It will keep the bigger kids interested (who doesn't like having the mic and being the star of the show?) while developing listening skills in the younger set along with enriching their vocabulary and ability to follow directions.
Snap Circuits Jr. Electronics Discover Kit $34.99 $20.99 (5 – 7 years)
Snap Circuits SC-300 Electronics Discovery Kit $66.99 $43.00 (7 – 13 years)
Snap Circuits Lights Electronics Discovery Kit $79.99 $63.99 (7 – 13 years)
This clever kit is the all-time-best-seller on our gift guides and another multi-award-winner that takes advantage of kids' natural interest in building toys (like LEGOs) to teach the principles of electricity.  The components aren't intimidating, snap together simply, and can be used to create a bunch of cool projects. The standard set comes with 60+ pieces to create over 300 different electronic projects. The pieces include snap wires, slide switches, an alarm circuit, a music integrated circuit, and a speaker and are numbered and color-coded to make identifying them easy. These components combine to create working circuit boards just like the ones found inside televisions, radios, and other electronic devices. (Note: there is a conversion set that turns Snap Circuits Jr into this bigger set when your kids are ready to move up.) For bigger kids, you'll definitely want to check out the reduced priced Snap Circuits Student Electronics Training Program as well as the Alternative Green Energy Kit and Snap Circuits Lights – just connect any MP3 player and be amazed as your music creates a mesmerizing light display. No two songs will ever produce the same light show. Includes prepunched patterns for motor, strobe light, and color-changing LED, lighted and glow-in-the-dark fans, strobe integrated circuit, color organ controlled by MP3 player, voice, or finger. Builds over 175 experiments.
Tot Tube Playset – Toy Car and Ball Tunnel Ramp Race Track $19.95 (1 – 7 years)
This deceptively simple toy is so much more than it appears. Parents and teachers rave about how the hours and hours their kids spend shooting things through this heavy duty tunnel. This is a great toy to get kids hypothesizing about, "what will happen when I… (put something heaver in, tilt it higher, put more than one thing in it, etc…) When my friend first introduced me to the tot tube, I really liked the idea but wondered if it was worth the money (couldn't we essentially do the same thing with a cardboard wrapping paper tube?). What I like about this, though, is that it's a lot more durable than a cardboard tube, it's wider shape accommodates bigger sized cars and balls, it can break apart for easy storage or you can attach more than one for a super long tunnel, and the kids can see through it- making it so much more engaging. Read the reviews on this one and I think you'll be sold.
Bedtime Math: The Truth Comes Out $15.99 $13.91 (4 – 8 years)
When my son was in kindergarten, he really started getting into math and began asking for story problems at night before bed, so imagine my excitement when I saw this book, which contains just that! From the publisher, "Inside this book, families will find fun, mischief-making math problems to tackle—math that isn't just kid-friendly, but actually kid-appealing. With over 100 math riddles on topics from jalapeños and submarines to roller coasters and flamingos, this book bursts with math that looks nothing like school. And with three different levels of challenge (wee ones, little kids, and big kids), there's something for everyone." This is a great way to change up story time at night and encourage math skills in kids that are excited about the subject as well as those who need some help getting excited. Also check out the first and third books in the series.
Kidoozie Foam Pogo Jumper $16.99 $12.95 (3 – 10 years)
The key to a good indoor toy is it's ability to wear a child out without requiring a lot of space to do so. This soft pogo jumper is an Amazon #1 Best Seller because it does just that. It will keep the kids happy (and get them good and tired) and you won't have to worry too much about them knocking over your stuff (or each other).
Qwirkle $24.95 (5+ years)
One of the best-sellers ever amongst all 350 toys on our gift guides. My son got this strategic domino and scrabble-like game for his 5th birthday and asks to play it during our one-on-one time or as a family several times a week.  Although we've altered the rules and points system a bit to adjust for his age, this Parents' Choice Gold Award and Mensa National Competition winner is stillfantastic for working on shape and color recognition as well as pattern perception and spatial and critical thinking skills. Recently my 4 year old daughter has been getting in on the fun and I can tell this is one that our family is sure to be playing for years to come.
Educational Insights Design & Drill Activity Center $39.99 $27.09 (3 – 7 years)
I particularly like how this particular toy combines fine motor skills with pattern recognition AND adds a great dramatic play element. We got it for our son when he was 4 and he played with it quite a bit until his little old sister took it over. Now our 1 1/2 year old is starting to get in on the fun(mostly sorting and manipulating the pieces with his hands for now but I anticipate him picking up the drill pretty soon). The popularity of this toy has also led to some cool variations, including theDesign & Drill Flower Power Station and, my favorite, the Design & Drill BrightWorks– which is like if the Design & Drill had a baby with the classic Lite Brite from my childhood (in other words, the pieces light up and it's totally awesome).
No Stress Chess $17.99 $13.59 (5+ years)
When my kindergartner came home from school one day asking me to teach him to play chess, I had mixed feelings. On the one hand I was excited because, despite spending a lot of our time together on sports-related activities, I have great memories of playing chess with my dad growing up. On the other hand, I was afraid he was a little young for it and might get frustrated and give up on the game all together. Enter "No Stress Chess". This genius game uses cards to teach young kids how to play in stages. The cards tell you which piece to move, so even children (and adults) who have never played the game can jump right in. The moves for each piece are on the cards as well as on the game board and the first stage makes the game about chance, not skill – you simply draw a card and do what it says, perfect for learning how the pieces work. Once that is mastered, you can draw 3 cards at a time and decide which one you want to go with to introduce some strategy to the game. Finally, when you're ready to play chess for real, just get rid of the cards and flip the board over to a traditional chess board.
Klutz LEGO Chain Reactions Craft Kit $26.34 (7 – 15 years)
The first thing I thought when I saw this book was that it was a combo of two of my son's favorite things: LEGOs and the game Mouse Trap. I talk a lot in this gift guide about the value of open-ended toys and I think this book could really get a kid's mind spinning in regards to what new contraptions they can invent… From the manufacturer, "LEGO Chain Reactions is packed full of ideas, instructions, and inspiration for 10 LEGO machines that spin, swing, pivot, roll, lift, and drop. Each machine alone is awesome, but put them together and you get incredible chain reactions. Then, combine the machines in any order you like to create your own chain reactions. Our team of experts worked with educators and 11-year-olds to invent the machines, then wrote a book that teaches the skills (and some of the physics behind the fun) kids need to create their own amazing chain reaction machines." The kit comes with 78 page book, 33 LEGO elements, 6 LEGO balls, 6 feet of string, 8 paper ramps, 2 paper pop-up signs, 1 paper funnel ramp, 1 paper flag, 1 paper bucket, 1 platform and the makers assure that you don't need to worry that you won't have the right bricks as they made sure you'll need only the most common bricks, and that there are plenty of substitutes… And while we're on the topic of LEGO build books, The LEGO Ideas Book and LEGO Play Book are also well worth looking into.
Castle Logix $24.50 (3 – 8 years) and Camelot Jr. $26.50 (4 – 8 years)
The entire line of single player puzzle games from SmartGames gets such stellar reviews that it was hard not to recommend all of them!  The bold colors of these two 3-D wooden castle puzzles especially caught my eye. I bought it for my daughter a couple of years ago and it was an absolute winner. Assemble the wooden blocks and towers to match the challenges included in the booklet.With simple challenges for inexperienced builders to complex puzzles that will challenge skilled architects, these puzzles serve to develop logical thinking skills and spatial reasoning abilities.
Baby Einstein Take Along Tunes $9.99 (6 months – 2 years)
You know those lovely early months when many babies scream just about the ENTIRE time they're in the car? This musical toy that's easy to hold and has button big enough for baby to push on his own was the only thing that ever got my kids to stop – it was worth it's weight in gold I tell ya. It was also great for getting my babies' attention in times of non-stress.
Stomp Rocket Jr. Glow Kit $14.99 $11.59 (3+ years), Dueling Double Stomp Rocket Kit $19.95 (3+ years) and Ultra Stomp Rocket $21.99 (8 – 16 years)
My kids both got to play with this at science camp this summer, during their study of physics, and fell in love. They both, my son especially, get a little hyper in the afternoon and I knew we'd all love having this around for them to stomp to their hearts content in the backyard. Lucky for us, we got one for C's 6th birthday and I was absolutely right. The concept is simple, stomp (or jump) on the launch pad to send a foam tipped rocket up to 200 ft in the air. I like that both sets come with 4 rockets so the kids get to launch multiple times before running around to pick them all up and do it all over again.  Obviously the glow-in-the dark aspect of the Jr. Glow Kit is pretty cool. Siblings will love going together, and not having to take turns, and hosting friendly competitions with the Dueling Double Stomp Rocket Kit. In summary, these simple battery-free toys are multi-award winners and get great reviews. Plus they're cheap – gotta love that!
Robot Turtles $24.99 $24.70
As one of the only products out there with the real ability to get preschoolers and kindergartners interested in programming, this was the new toy/game I was most excited about adding to the gift guide last year! The most backed board game in Kickstarter history, it sneakily teaches preschoolers the fundamentals of programming, from coding to functions, while making silly turtle noises. Takes seconds to learn, minutes to play and provides endless learning opportunities. This game has been featured by NPR, Bloomberg, Make: Magazine, Boing boing, TechCrunch, Reddit, Geekmom, Geekdad and essentially lets kids write programs with playing cards. One reviewer wrote, "There are no winners/losers. (You could make a competition out of it with several kids, seeing who can make the shortest program/have the fewest bugs/etc., but it's not set up that way.) But it does teach kids the basics of how computers think… Once he got the hang of it, we just let our son go nuts with it. He makes up his own boards and then "writes" a program to solve it. Finally, something he can play by himself that doesn't have a ton of annoying noises/beeps/music!"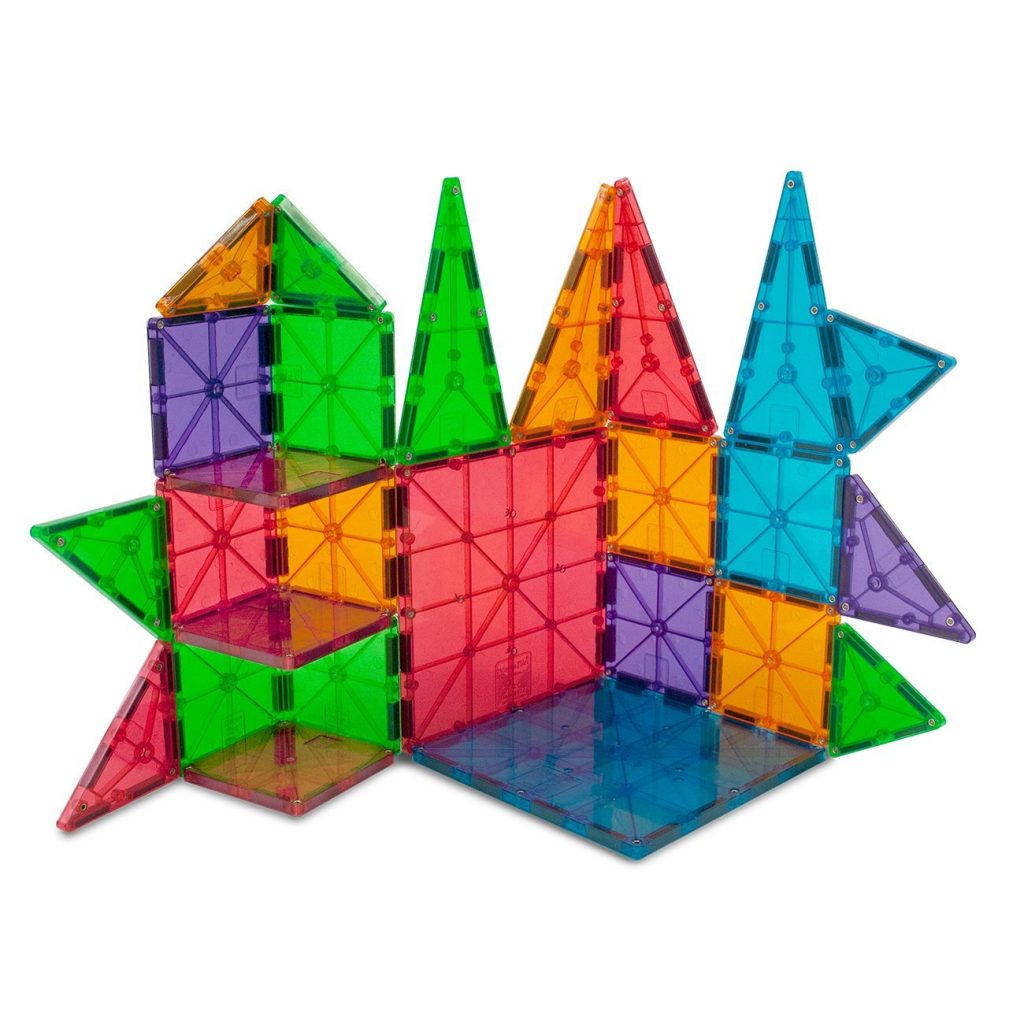 Magna-Tiles $124.95 (2 – 10 years)
I discovered magna-tiles a few years ago and they were the big present under the tree for the kids. They're definitely more of an investment, but have been totally worth it! The kids have played with them multiple days a week for the last two years straight. Teachers absolutely rave about these blocks and the play possibilities are endless. Because they join together using magnets, kids can create elaborate structures (often taller than they are) without becoming frustrated by crashes. They're also great for use with other toys. They can be used along with blocks and LEGOs to make elaborate structures, with marbles and cars to make tunnels, bridges, and marble runs, or even with dolls to create doll houses. (They're lots of fun for creating 3D masterpieces on the fridge too!) We splurged for the 100 piece set and still get hours of rainy day fun with these. If you have the space/budget for a personal light table to use them, the translucent pieces will also look fantastic lit up from underneath.
 Yoga Pretzels $12.08 (2 – 14 years)
This is a beautifully illustrated card set that can be used a myriad of ways. I like how there's a story element to go along with each of the poses too.  The set got such great reviews on Amazon that we bought them for the kids last year and we've pulled them out quite often this year when a case of "bouncing-off-the-walls-itis" hits. One of our favorite things to do with the cards is to lay them on the ground in a circle and walk around them with music playing. When the music stops, each child attempts the pose they've landed on. There are partner and individual poses on the cards to make it even more interesting.
Infantino Textured Multi Ball Set $9.99 (6 months – 4 years)
Balls are excellent for open-ended play and motor development for babies and younger toddlers – truly, every child should have a set. The varying textures, colors, and sizes of the balls in this pack make them extra great for sensory engagement.
The Everything Kids' Science Experiments Book: Boil Ice, Float Water, Measure Gravity-Challenge the World Around You! $6.09 (8+ years)
This is kind of like Mr. Wizard in a book. Written by a high school science and math teacher, this guide will help school-aged kids explore scientific topics with themed chapters broken down into accessible experiments of varying difficulty levels. Fun for them to do on their own or along with you – this one is a great value!
First 100 Words $5.99 $3.42 (9 months – 3 years)
This quintessential first book for babies is uber popular, and with good reason. It's a sturdy board book with a lightly padded cover that's easy for baby to hold (and, let's be honest, mouth) and it's full of bold, beautiful pictures. Words are grouped together into categories making this a great tool for vocabulary building and shared reading time between mom/dad and baby (who pediatricians now recommend reading to at least 15 minutes a day from birth!)
Fisher-Price Bright Beats Dance & Move BeatBo $59.99 (9 months – 3 years)
This is the hottest new baby toy of the year and it's not too hard to see why. The happy look and bright colors of this little guy will be enticing to any young chid and his light up tricks, songs, phrases and dance moves are sure to get them moving and giggling too. There's even a freeze dance function that will help bigger kids burn off some energy. From the manufacturer, "A press of BeatBo's tummy or any of the buttons on his feet activates fun songs, learning content and dance moves. This futuristic friend even allows mommy or baby to record a phrase, and he'll remix it into his favorite song! His three modes – Dance 'n Move, Learning & Games, and Customized Sing-Along – "grow" with baby to make him a fun, entertaining companion for years to come! And all the while, he's introducing baby to letters, colors, counting, music, cause & effect and more." And one reviewer wrote, "A very versatile toy for a broad range of age groups. You could put it in front of a baby that has the ability to sit up on his/her own and they could clap and wiggle around to the songs. The flashing lights on the belly are very intriguing as well… For my 30month old daughter it is very educational. It teaches colors, the alphabet, and the freeze dance song is a great energy burner and a great tool to teach them that freeze means stop and they have to wait for the next cue. I will certainly buy this for all of my friends' kids. It was especially helpful when I was trying to make dinner and Hallie wanted to be held and was under my feet, she picked up Little Guy and worked up a sweat dancing. I LOVE it!"
 Ed Emberely Drawing & Art Books starting at $6.29 (5+ years)
These books are just so cool for kids that have a passion for art because they can use them to teach themselves how to draw all the things they want to.  We started with the thumbprint book, which is great for younger kids, and recently added the animal and vehicle drawing books for my son's 6th birthday as well as Picture Pie, which incorporates built in stencils and cutting and pasting shapes to make things step by step instead of just drawing. Both my 5 year old and 7 year old are crazy for that one right now.
Learning Resources Primary Science Lab Set $29.99 $18.99 (4+ years)
This kit of real science tools is perfectly sized for little hands. It comes with 10 double sided activity cards, beaker, magnifying glass, funnel, eyedropper, flask, tweezers, googles, large 6″ test tube and stand, and 2 small test tubes.  The authenticity of these items will have your little scientists dying to experiment and they'll serve great double duty for dramatic play too.
Bounce-Off $18.98 (7+ years)
This active game is one that will truly appeal to players spanning a range of ages. Kind of a version of beer pong for kids (stay with me here, we're not straying from family-friendly – I promise), it's simple for everyone to understand and play and doesn't take long to turn into an exciting game of fierce collaboration or hearty competition. One reviewer wrote, "We took advantage of picking this one up for our boys ages 8, 9 and 11… The first day they opened this and started playing, there was nothing but laughter and enjoyment for more than two hours for all three who sat down to play. They all got along (often a problem in competitive board games) and despite the fact that they didn't bother to keep score, they really liked it… without parental supervision or interaction, they played peacefully and contently for a long time. And they had no problems going back to the game either… Not sure how educational it is, but it works on hand-eye coordination and I'd say it's one of the better team-building games that we own."
Thinkfun Roll and Play Board Game $19.97 (18 months – 3 years)
This is the first board game made specifically with young toddlers in mind. Toss the big plush cube and identify which colored side faces up. Choose a matching color card and perform the simple activity shown, such as "Make a happy face", "Moo like a cow" or "Find something blue".Designed for parent and child to play together, Roll & Play strengthens bonds and builds confidence while encouraging creativity, active play and gross motor skills. This seems like a great option if you have a preschooler who wants to play a family game with his or her younger sibling too. For another great young-toddler-friendly game, checkout Thinkfun's Hello Sunshine Game $15.20 (18 months – 3 years) as well!
Richard Scary Busy Town $24.99 $19.99 (3 – 8 years)
I have heard great things about this cooperative, non-competitive game from multiple sources but was really convinced when a mom of one of my son's good friends was raving about it. Everything about this game is impressive, from the 6 foot long game board, to the amount of imagination and teamwork required. In fact, the company behind this game, Wonder Forge who also produces another of our favorites, Cat in the Hat, I Can Do That!, has won over 120 prestigious awards by creating good-for-you games that encourage teamwork, healthy competition, and get-up-and-go active play. This is the perfect game for children of multiple ages to play together and for when you hit that stage when kids pout a lot about losing or start to become ultra competitive.
Gravity Maze $29.99 $24.49
Kids absolutely love marble runs (see above), which is why it is so smart that the goal of this single player logic game is to create a working 3D marble run. Thinkfun is going to be sending this one to us this year and I know my 6 year old son, who is unusually drawn to spatial planning activities, is going to be thrilled to receive it. UPDATE: He does love it! From the manufacturer, "This gravity powered logic maze is sure to put your visual perception and reasoning skills to the test. Thecolorful, translucent towers can be arranged in a plethora of visually stimulating structuresbut, for each challenge, you'll have to think carefully to build a path that will successfully carry your marble to its target. 60 challenges, ranging in difficulty, will give you plenty of creative building time while you maneuver the maze in your mind!"
*Post contains affiliate links.
Still want more ideas? Here's all 10 of the MPMK Gift Guides, organized by your child's interest, including:
Plus, our five guides organized by age:
Get Your Free Printable
Subscribe to our newsletter today and get our free printable... No More, "Mom, I'm Bored!"