Last weekend was another crazy holiday weekend around my house and I wrapped it up with an hour or so at Target (naturally). As I passed by the toy aisles I was pleased to notice how far they've come in the last few years as far as the number of high quality and highly engaging toys.
Nevertheless, I still think they have a ways to go, especially when it comes to which toys they promote the most in their mailings and end caps.
So what's my problem, exactly?… So glad you asked.
As a mom of 3 young kids, I have a couple of very specific requirements. To make my cut, toys must:
NOT contain a million little pieces that are guaranteed not only to get promptly lost, but to end up in every nook and cranny of my house. This results in making my kids cranky because it's just no fun to play with said toy without every single one of those pieces. It makes me cranky because- well because the last thing I need is more tiny things to pick up!
Be interesting for more than a week. In order to accomplish this, I've found that- above all– kids need to be able to play with them in more than one way! Even the coolest toy on the planet gets old quick if there's only one thing you can do with it.
NOT be a piece of junk. This one is a no-brainer, but if the toy is going to fall apart then I don't want to spend my money on it. As I said, I've got three kids and when I buy a toy, I expect all three of them to get to play with it once they're old enough.
These things aren't exactly rocket science, but when you really think about it how many of the toys advertised so heavily by Target and other stores meet all three criteria?
That's why my toy lists have become famous for being different… and why they've been highlighted by places like Stanford University and visited by over 7,000,000 parents in the know.
And if you haven't checked them out yet, there's one more thing you should know about my toy lists, they're seriously enormous.
Over the next few weeks I'll be giving you a glimpse at some of my favorite of the lists and today I'm starting with…
Babies and young toddlers can be especially tough to shop for – it's not like we can just ask them what they want.
Plus, kids develop differently and at different rates at this age.
Your best bet is to go for the tried-and-true toys that aim to build hand-eye coordination and fine and gross motor skills in an engaging but not over-stimulating way. Music is always good too!
Amazon – was $39.95,

now $17.79 plus 5% off coupon
(1 – 10 years)
I've been talking about the social and emotional learning benefits of dolls for boys for years in our Best Gifts for Dramatic Play Gift Guide, so I was super pumped about the release of this line of dolls designed specifically to meet those needs while staying in-tuned with boy culture!
Created by a therapist and mom after her son came home from
preschool one day and announced that 'boys aren't supposed to cry'.
Frustrated by many of the messages boys were (and weren't) receiving and inspired by the way play influences child development, Wider created Wonder Crew to promote social and emotional learning, build confidence and imagination, and empower boys to see themselves as caring, creative and strong people.
I'm totally on board and will definitely be getting both the superhero doll and the extra construction outfit for my son! I also love how each set comes with props for the child to wear too, so fun!
Amazon – was $24.95,

now 19.95

(1 – 10 years)
This deceptively simple toy is so much more than it appears. Parents and teachers rave about the hours and hours their kids spend shooting things through this heavy duty tunnel.
This is a great toy to get kids hypothesizing about, "what will happen when I… (put something heavier in, tilt it higher, put more than one thing in it, etc…)
When my friend first introduced me to the Tot Tube, I really liked the idea but wondered if it was worth the money- couldn't we essentially do the same thing with a cardboard wrapping paper tube?).
What I like about this, though, is that it's a lot more durable than a cardboard tube, it's wider shape accommodates bigger sized cars and balls, it can break apart for easy storage or you can attach more than one for a super long tunnel, and the kids can see through it- making it so much more engaging. Read the reviews on this one and I think you'll be sold.
Read the reviews on this one and I think you'll be sold.
$15.99 (18 months – 8 years)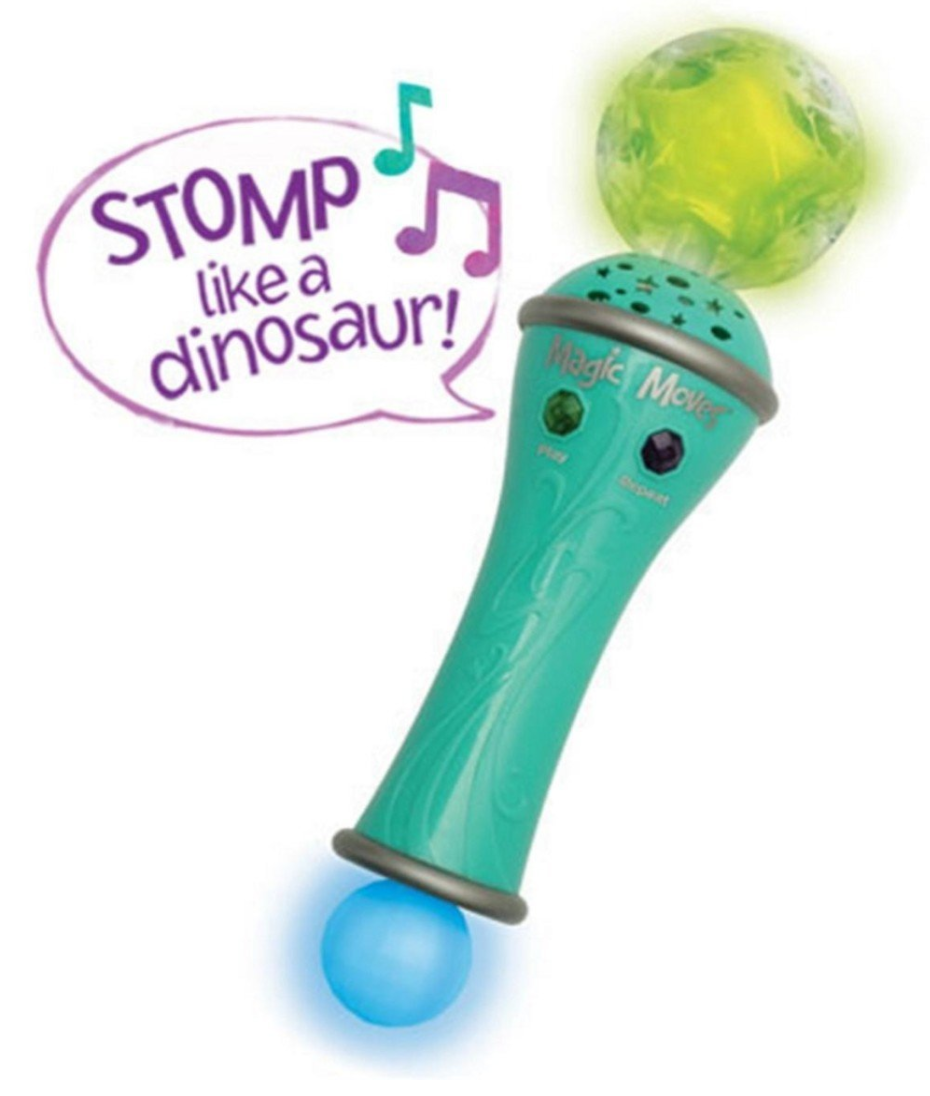 Normally I'm not big on electronic toys with lots of sounds and lights, but when said toy can help my kids get rid of all their pent-up energy inside on a stormy day, it becomes my new best friend.
This inexpensive magical wand uses 90 silly commands (sway, creep, stomp like a dinosaur, leap) and 26 songs, along with a light show to get kids moving.
This is one of those rare toys that's great for siblings of different ages to play with together (my kids have loved it at various ages ranging from 18-months-old to 7-years old).
It will keep the bigger kids interested (who doesn't like having the mic and being the star of the show?) while developing listening skills in the younger set along with enriching their vocabulary and ability to follow directions.
Note: If animals aren't your kids' thing, there's now also this gym version.
(9 months – 3 years)
This quintessential first book for babies is uber popular, and with good reason. It's a sturdy board book with a lightly padded cover that's easy for baby to hold (and, let's be honest, mouth) and it's full of bold, beautiful pictures.
Words are grouped together into categories making this a great tool for vocabulary building and shared reading time between mom/dad and baby (who pediatricians now recommend reading to at least 15 minutes a day from birth!)
A really nice present for a friend that just had a baby is this book bundled with the books Numbers Colors Shapes and the book First 100 Animals.
(6 months – 4 years)
Balls are excellent for open-ended play and motor development for babies and younger toddlers – truly, every child should have a set.
The varying textures, colors, and sizes of the balls in this pack make them extra great for sensory engagement and they're BPA-free so you don't have to worry when your baby inevitably starts mouthing on them. Plus, the price can't be beat.
$14.99 (1 – 3 years)
This is one of the few plastic, noisy toys that all three of my kids truly loved when they were tots.
It seems all young kids love dropping things into slots and taking them out again, so that part was a guaranteed hit, but my littles also took to the songs and prompts encouraging counting along, comparing big and small and (new to this model) discovering mommy and baby animals.
This is another one with a huge amount of positive reviews on Amazon. In fact, it has over 400 reviews and an average 5-star rating!
(9 months – 2 years)

This was one of the very first toys my youngest son started to really engage with. At around 10 months it started by simply placing the balls in the holes and pushing on them (over and over again), at 12 months he was delighting in using the hammer to whack at both the balls and the removable xylophone and it was still one of his favorite toys at 18 months.
This is a really nice, dual-function wooden toy (both a pounding toy and a xylophone) at a reasonable price. I would highly recommend it if you're looking for a baby gift!
(15 mos – 2 1/2 years)
I still remember my son receiving his first set of award-winning Megabloks for his 1st birthday. It took him a little while to figure out (kids typically grasp block building somewhere between 12 and 18 months), but once he did he started building like a mad man and never looked back!
All my mom friends and I love Mega Bloks for our youngest kiddos, even more than the classic LEGO duplos.
The locking mechanism is just a little bit easier for beginners to put together and pull apart. Plus the colors are beautiful and the zippered bag is very handy.
starting at $12.10 (6 months – 2 years)
These Lamaze toys were all the rage in the mommy and baby class I attended with my first son- and it didn't take us long to figure out why. They're oversized, plush, and have lots of fun stuff for baby to pull and chew on.
Plus they're durable – all of ours lasted through all three kids.
Along with Freddy the Firefly, our favorites were the moose and inchworm (which also plays music).
$34.99 (18 months – 4 years)
A few years ago when we had a 20-month-old and a brand new baby, we bought an indoor slide and put it in the upstairs landing between the kids' bedrooms and it was one of the best things we ever did.
A sturdy plastic slide used inside can be a life-saver when the weather is bad and the kiddos are restless.
This particular slide – highly rated for durability and usability for kiddos young and old – also serves double duty outside as an excellent safe place for toddlers to play while their big siblings scale taller play equipment.
Plus you gotta love how it folds away for easy storage when you're not using it!
Amazon – $109.99
(18 months – 5 years)
A Strider Balance Bike has been featured in our gift guides since I started writing them 6 years ago, and it will continue to be for as long as I'm writing them. And this year we're teaming up with them as a sponsor to share my family's experience.
All of my kids have been zooming around on Strider Balance Bikes since they were 2-years-old. When I first discovered them, I told every parent I knew about them.
The design makes the whole process of learning to ride a bike so much more natural. Thanks to the genius idea of taking away the pedals and letting the kids pick up their feet and balance when they're ready.
This is my youngest first trying it out at 18 months with the help of his big brother…
So the idea here is that kids can push around using their feet on the ground and, pretty soon (really soon if they have older siblings they're trying to keep up with), they pick up there feet and start zooming along. They learn how to balance on a bike completely naturally and at their own pace.
I also really love how lightweight they are. My kids could easily pick their bike up and carry it around as soon as they started using it.
It's great that the design of the bike allows them to get started so young, but the biggest benefit, of course, comes when kids transition to a normal bike.
Balance is by far the hardest part of that process but, with the balance bike, kids already have that down. As a result, it took my kids just a few minutes to figure out how to ride a bike with pedals the first time they tried.
If you're looking for a first bike, I couldn't recommend this one more!
Amazon –

On sale $106.86

(12 mos – 6 years)
I know what you're thinking – a one-year-old is too little to enjoy a big dramatic play toy like this. Once upon a time, I would have agreed with you – but then my baby boy starting pulling up and I got to see first hand how much he LOVES opening and shutting the doors, turning the knobs, taking the sink in and out and putting food in and out of all the compartments.
Plus, I know he has years of enjoying it still ahead of him. The ideal time to buy this toy is around 18 months so your child gets the maximum amount of years out of it.
In case you're wondering, we bought this for our oldest kids when they were 1 and 3 and couldn't be happier with it seven years later with my third child, who is 4, still getting plenty of use out of it.
I really like the look of the thing and love thatthe vibrant red is nicely gender neutral. Despite a small footprint, this kitchen still has all the amenities a kid could want and both my kids enjoy regularly playing at it simultaneously.
(Side note: people sometimes ask if kids will get too big for this smaller kitchen – mine are 95% percentile in height and haven't had an issue). If you're looking for a big wow gift from Santa, this could very well be it!
Based on how much my youngest (and all my other kids) love the play kitchen, I was so excited when I found the line of Hape Playfully Delicious kitchen tools!
Toddlers absolutely love mimicking what they see adults doing in the kitchen and these toys do such a great job of allowing them to do that. The toaster is my favorite but the bottom two are close runners up:
$27.49

(9 months – 4 years)
We acquired this dog as a hand-me-down from friends whose kids had outgrown him. The puppy's a cuddly and engaging first friend and our 1 1/2-year-old was quite taken with him. He has two modes – learning and musical- and identifies body parts, colors and sings lots of fun songs when various body parts are pushed.
All three of our kids have loved him and we whole-heartedly agree with one reviewer who wrote, "he is very interactive and elaborate…. he counts, names body parts and colors, has funny sayings, and sings many songs (ENTIRE songs). He's funnier, more educational (and cuter) than "Tickle-Me-Elmo"–minus the annoying voice."
Also, the one for sale is a newer version. New features include Smart Stages technology-learning that changes as baby gets older with 3 levels of age-appropriate play. Also available in the "Sis" version too.
$19.99 (12 months – 5 years)
$24.99 (1 – 9 years)
Around the time they start walking all kids, girls and boys, ABSOLUTELY LOVE pushing around toy strollers. When my daughter was a toddler, she liked her dolls, but wasn't obsessed like some other little girls we knew.
Yet, she has always adored piling them into her stroller and taking them for a stroll around the house over, and over, and over again. Then her stroller was straight-up commandeered by her 18-month-old brother who also couldn't get enough of pushing it around all day.
I promise you, if you a buy a toy stroller for your child, it will be one of the most-used toys you've ever purchased. Oh, and if you have a kid that does happen to be doll-obsessed, this 3-in-1 pram is a really fun and versatile option too!
Logic follows that if one baby to take care of is good, then twins is even better. And the facial expressions on these two are my favorite, so realistic!
Very similar to the Melissa & Doug Brianna Doll, these twins have soft bodies that allow for laying or sitting and hard arms and legs that easily wipe clean. Plus, there's two of them! (Basically for the price of one.)
They are also some of the most life-like dolls I've seen. These two are now on the top of my birthday gift list for the 1-year-old to 3-year-olds in my life.
That's it for our glimpse, but this is only the tip of the iceburg! For the complete list, be sure to check out…
*Email contains affiliate links.
Happy shopping guys and, as always, thanks for your time and support,
Stephanie
P.S. Got kids that are a little older? Don't miss:
Need help feeding your toddler?
Sign up for our newsletter to get a handy stick-it-your-fridge list of our favorite meals for toddlers and a link to all of the recipes!