I've been on the lookout lately for a new activity both the kids would enjoy. S is going through an afternoon crankiness phase (at least I hope it's a phase) and C is always up for something novel to play with. After thinking over my options a bit, my mind turned to the various discovery bottles I've seen popping up on pinterest.
These guys are easy to make and open to lots of interpretation.  I figured if I came up with multiple version, C and S were each bound to like a few of them. I was right – both kiddos equally enjoy taking their turn shaking the heck out of these things.
This isn't exactly a tutorial because there's really nothing to it: choose ingredients, fill the bottle, and hot glue shut to avoid major catastrophe. So instead of a DIY, treat this post as a source of inspiration to get you pondering on what type of bottles your littles would enjoy.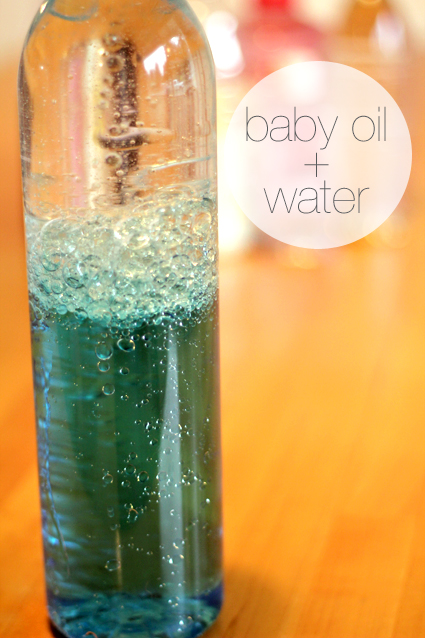 This classic is the mother of all other discovery bottles.  Fill to the very top with one part baby oil and one part water (with a few drops of green and blue food coloring mixed in). Shaking will produce gorgeous clear bubbles immersed in the blue water while holding horizontally and rocking will replicate small ocean waves in a bottle.  Note: baby oil is toxic if ingested, you can substitute other clear cooking oils if you're concerned your child may open the glued lid.
These galvanized hex nuts look pretty and make a fun sound when rattled. The speed of the dropping objects in this bottle also serves as a nice contrast to the slower moving pins in baby oil bottle.

I made this one so C could shake and hunt down various letters but S really likes it too.
The glitter in this one eventually separates out and settles to the bottom. I read
here
that this could be used as a calming tool for kids. Give it to them to shake when they're worked up and ask them if they can watch all the sparkles hit the bottom. I've tried it once with C and had mixed success (he put his tantrum on pause long enough to watch it work and resumed when it was over).  Both kids like the sparkles though.
The bubbles eventually all disappear but all you have to do is shake and the bottle fills up once again. (I added purple food coloring here too.)
This is the only one I didn't hot glue the lid on, it's also a bit random – just some colored peanuts I found in the dollar aisle at Target. S likes to shake it with the lid on and also with the lid off (it's a challenge to get them to actually come out and great fine motor work putting them back in).
Last is a petite version I made especially with S in mind. As I already mentioned, I thought she'd enjoy how the sewing pins fall slowly in the oil (versus the hex nuts falling quickly in the water).  Again, baby oil is toxic so please substitute with cooking oil if you're concerned your child may open the glued lid.

Similar Stuff:
We Tried It! -DIY Edible Finger Paints
We Tried It! – Magic Milk Paint
We Tried It! – Cookie Cutter Pumpkins