One big holiday down, two to go!  Today Janssen is here with a classic Thanksgiving craft that takes me back to my own days spent at the kids table.  This one is simple, inexpensive, and can be used both for craft time and dramatic play afterward!  
This year I think I might get all the supplies ready for the grandmas to make these with the kids while I'm working on Thanksgiving dinner.  They both love bonding with the kids and who doesn't appreciate the ease of not having to think up of a kid-friendly activity?
When I'm making play costumes for holidays, I want them to be inexpensive and easy to make. This project uses one sheet of black poster board to make two pilgrim hats. Considering I bought my poster board at Target for 99 cents, that was a price I could feel pretty comfortable with.
Supplies
Black poster board
Pen
Scissors
Tape
White printer paper
Gold paint
Paintbrush
Instructions
Lay your poster board on the floor and use a dinner plate to trace two circles at the narrow bottom of the poster board.
Cut them out, then cut a circle out of the middle, so you have a two-inch ring (you can make it bigger or smaller depending on your child's head size).
Cut the excess poster board from the circles off so you have a rectangle again, then cut that into two horizontal strips (each piece will make the body of one hat).
Wrap the strip into a cone (wide enough at the bottom to fit the inside of your poster board ring and narrower at the top) and tape shut.
Trim the bottom so it's even, then tape it in place, so the ring is around the bottom edge.
Trim the top so it's straight, too (you'll probably want to cut off about 2-3 inches to keep it from looking like a stovepipe hat, unless it's President's Day, in which case, leave it tall like Lincoln!).
Cut two strips of white printer paper, about 1 1/2 inches wide and tape them around the bottom edge of the hat like a ribbon.
Use the poster board scraps to cut out a square buckle, paint it gold, then tape it in place. You are ready for a Thanksgiving feast!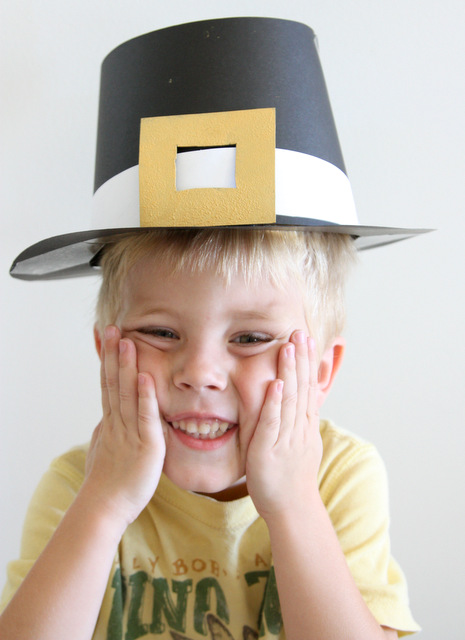 P.S. If you're really looking to have the holidays in the bag this year, we've got two ways to help. First get the holiday shopping out of the way with all 10 of our 2013 Gift Guides here…
Second, check out our new eBook, Hands-On Holidays, packed with low-prep and low-stress ideas for make memories crafting, cooking, reading and adventuring with the kids!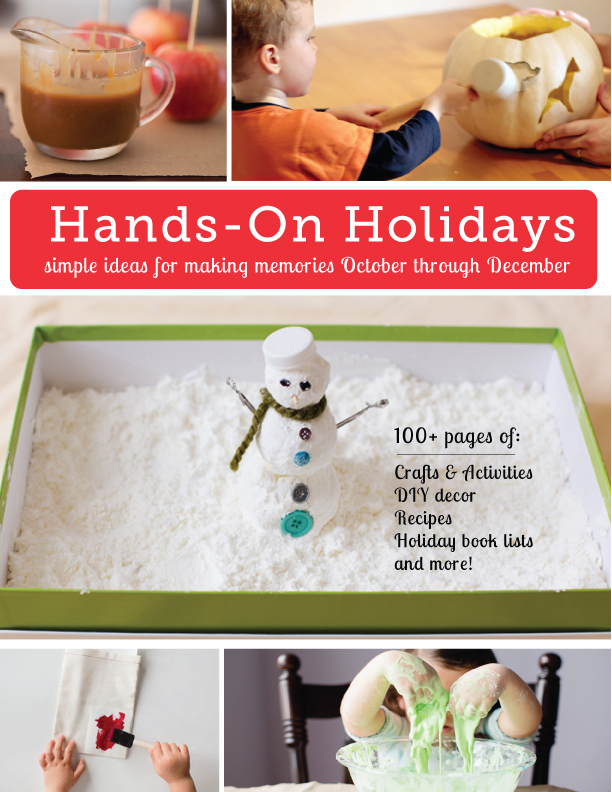 The following two tabs change content below.
Janssen is a former librarian and avid reader who is always maxing out her library card. She now stays at home with her three young daughters (with another girl on the way) and blogs about books for readers of all ages, her favorite recipes, and parenting adventures at Everyday Reading.