Today I'm sharing with you the full post of an organizational DIY I did over at U-Create a while back.  Hopefully it'll get you moving in the right (orderly) direction.  You'll only need five minutes and three simple items: a stack of colorful sticky notes, a marker, and a shadow box.  I got my shadow box from Ikea (it measures 19.5″ square) but, as I'm sure you all know,  they can be found at any local craft store.  
Start by labeling your top row of sticky notes.  I used the headings: Now, This Week, This Month, Whenever, and Someday because I liked how they covered all my bases.  A nice variation would be to make a calendar for weekly activities or meal planning.  (P.S. If you're wondering about the title of this post, the inspiration for the project was a sticky note to-do list I spied on pinterest.  I loved the look but wasn't a fan of how much paper would be wasted by actually using it long term – so I put the sticky notes behind glass and opted to use a dry-erase marker.) 
Next lay out your sticky notes in a grid.  I used the backing that came with the frame as my background but you could also go with some colored poster board.  Also, I just eye-balled it… if the idea of that makes you a little twitchy, feel free to use a ruler for perfect spacing.
Once you have the layout the way you like it, I would recommend using some glue to reinforce everything.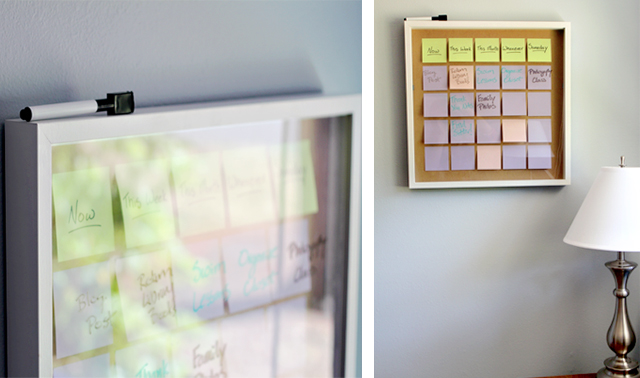 That's it (five minutes was probably an over-estimate).  Just hang it on the wall and feel the weight being lifted off your shoulders as you instantly morph into a more organized, and all-around better, person.  Also, don't forget to store a small dry erase marker on top for easy access.
Get Your Free Printable
Subscribe to our newsletter today and get our free printable... No More, "Mom, I'm Bored!"