Aren't these DIY wooden watercolor Easter eggs fun?! I love their vivid colors so much – the only problem I'm having is deciding whether to make them with the kids or surprise them with a set in their Easter basket.  

I'm out on maternity leave this week and Asia from the absolutely amazing play blog Fun at Home with Kids is here today filling in.  Check out her cheerful Easter DIY below…
I am so excited to have a chance to guest post for Modern Parents Messy Kids!  My name is Asia, I have two kids:  a daughter who is 4 and a son who is nearly 2.  We do a little bit of everything on our blog – art, sensory play, DIY projects, science, and, well, just about anything else that catches our fancy.
Last Christmas I made the kiddos a set of
DIY Rainbow Grimm-Style Wood Blocks
.  We love them so much, I figured it was probably wise to make a set of Easter eggs for some fun Easter-themed play.
 These rainbow wooden eggs are so easy to make that my four year old daughter made every last one herself.
I squirted some
liquid watercolor
into a container, provided her with two eggs and a paintbrush and away she went.
Because
liquid watercolors
provide bright and vibrant colors, but are
completely washable
, they are basically
the most kid-friendly dyeing method ever
!  If you get any slight stain on your hands, it will wash off within 2-3 washes in our experience.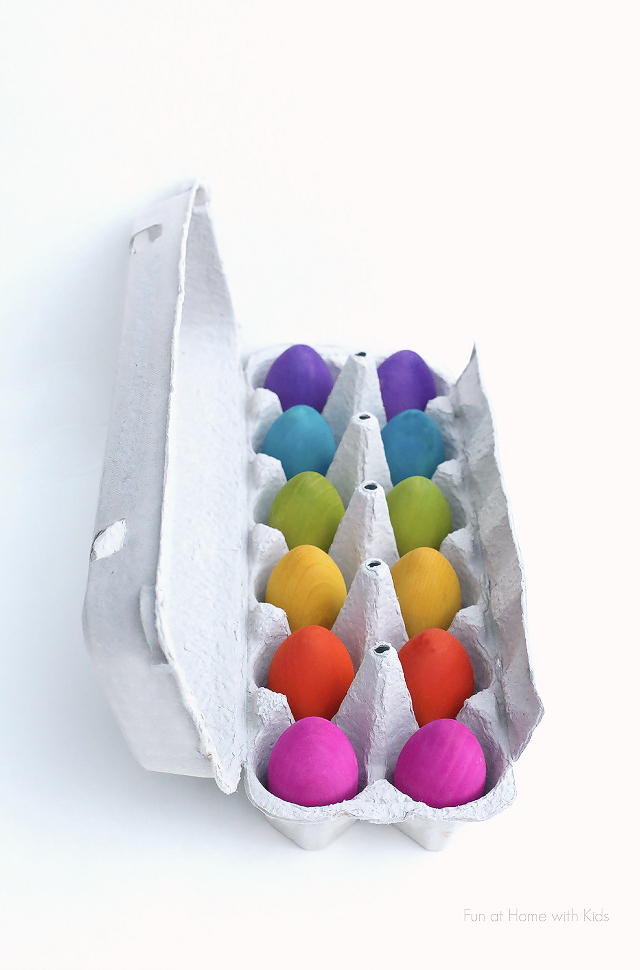 Once the eggs are completely painted, set them on a paper towel to dry overnight.  The next day they are ready for play.  Please note that because liquid watercolors are washable, the color will start to come off if your eggs get wet.We haven't had any trouble with our blocks or eggs because we don't play with them in/near water.  If you would like to protect your colored wood from water, you can always finish them with a
beeswax/mineral oil coat
 to help them resist water.
We've used our eggs in several different ways – if you'd like to see the activities I've put together with them, hop on over to see our post on
Rainbow Wooden Easter Egg Activities
!
For more candy-free Easter ideas, check out:
Easter basket ideas
Decorating
If you'd like to follow along with
Fun at Home with Kids
, you can find us on
Facebook
,
Pinterest
,
Google+
, or
Subscribe by Email
!  Thank you again to Modern Parents Messy Kids for this fabulous opportunity!