Doing laundry can seem like an endless chore, especially in large households with multiple kids. According to the most recent American Time Use Study from the Bureau of Labor Statistics, women spend two hours a week doing laundry.
Here are 9 ways to get the chore done faster so you can spend more time with your family.
#1 – Delegate
Make laundry a shared responsibility. Teach teens how to use the washer and dryer.
Get the free laundry cheat sheet here!
Create a handy cheat sheet with how-to instructions and tape it up near the washer for easy reference.
(Psst – this would look gorgeous in a stylish frame in your laundry room)
Younger kids can help too. Nine-year-olds can sort dirty laundry. By age 6, children can put away their clean clothes. Even 3-year-olds can help match clean socks.
#2 – Streamline the process of transporting clothes
Try the basket method: Assign each family member one laundry basket labeled with his or her name. Have them use their baskets to transport dirty laundry from their bedrooms to the laundry room and to carry clean clothes back.
If you have to do laundry daily to keep up with demand, establish "laundry hours" for your family. Explain that all dirty laundry must be in the laundry room by 8 a.m. and clean laundry may be picked up after 8 p.m. (or whatever hours work best for you).
#3 – Sort laundry into categories
It's easier to do laundry — and you'll get better results — when you presort dirty clothes into whites, darks, and delicates. Use a triple-sorter laundry cart, which usually features three large fabric bags that hang from a sturdy metal frame.
Have family members sort their laundry into the appropriate bag and then stack their empty baskets on top of the dryer, on a shelf, or in a corner of the laundry room.
#4 – Wash full loads, but don't overload
Overloading is one of the most common laundry mistakes. To be effectively cleaned, clothes need room to move around. If you don't want to rewash clothes, don't pack them in the machine.
Shake and drop items loosely into the tub and fill it about three-quarters full. To get your laundry done even faster, consider upgrading to a high-capacity energy-saving washer.  
#5 – Avoid overloading the dryer
When clothes have room to circulate, they will dry faster and have fewer wrinkles. Shake out items before putting them in the dryer.
Loosely fold larger items such as jeans and sheets to help prevent tangling and minimize wrinkling. Clean the dryer lint filter after each load. If your dryer is running hot or taking longer than usual to dry clothes, clean the dryer exhaust vent, hose, and lint filter trap. Or upgrade to a high-capacity dryer to dry multiple laundry loads at the same time.
#6 – Use the timesaving features of your appliances
Use the "less dry" setting on your dryer if you have it, which cuts down on drying time. When you wash lightly soiled clothing, choose the shortest wash setting. (Refer to your washer owner's manual if you're not sure which setting to choose.)
Some newer washer models have a setting that reduces the wash cycle by as much as 40 percent without sacrificing cleanliness. Other noteworthy features include built-in sinks, water jets, scrub boards to pretreat stains right in your washing machine, and steam settings that dislodge stains and sanitize clothing.
#7 – Reduce the volume of laundry
Cleaning experts agree that you don't need to wash bath towels after every single use — once or twice a week is fine. You're also increasing your workload if you're laundering every item of clothing after it's worn — and wearing out your clothes with too frequent washings.
Continue to wash underwear, socks, and athletic wear after each use, but allow shirts, pants, sweaters, and other clothing to air out for a day, then put them back in your closet.
If a shirt or dress needs a pick-me-up in between washes, new dryer models have steam settings to remove wrinkles and quickly refresh clothing you might otherwise have taken to the dry cleaner.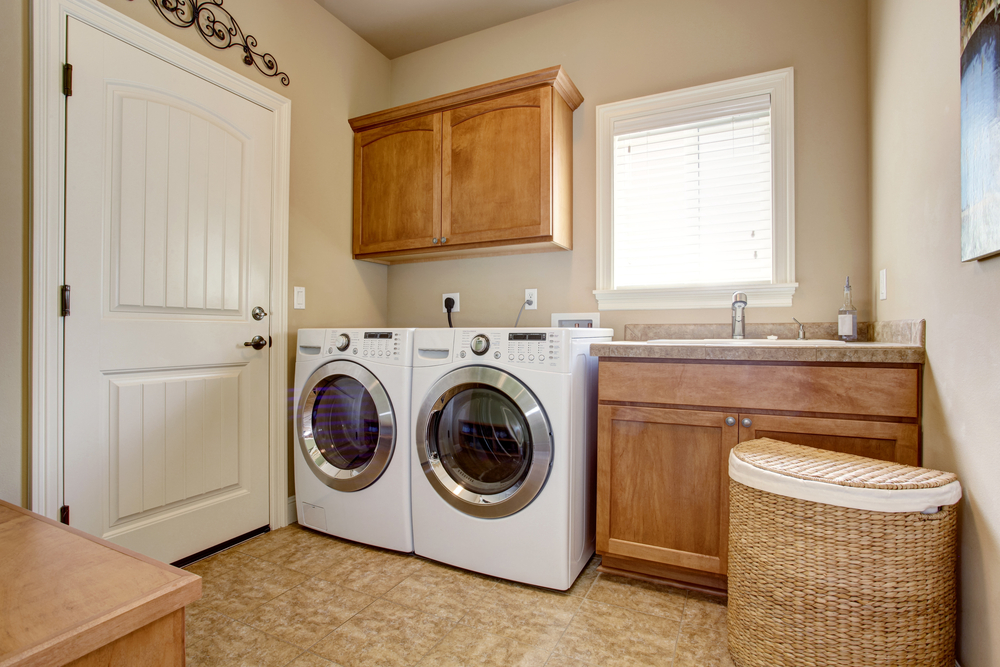 #8 – Keep your laundry room clean and organized
Store laundry detergent, fabric softener, and other laundry aids in a convenient location, such as on a shelf above your washer and dryer or in a narrow rolling cart that fits between your appliances.
Keep the tops of your washer and dryer clean and clutter-free so that you have a place to fold laundry. If space is at a premium, consider a stacking washer and dryer or a unitized system.
#9 – Skip folding your sheets
Stop wasting time folding your sheets — just launder them and put them back on the bed. Skipping this step can free up even more time to spend with your family.
Laundry is a necessary chore, but one that can be streamlined with improvements to your appliances and strategy.
Donna Smallin Kuper writes for The Home Depot on uncluttering, organizing, cleaning, and simplifying life. She supplies easy-to-follow steps on subjects such as organizing your kitchen cabinets and using new washer and dryer features to increase laundry productivity.
*Post contains affiliate links.
Get Your Free Printable
Subscribe to our newsletter today and get our free printable... No More, "Mom, I'm Bored!"