Yesterday, I shared my favorite Advent calendars.  Today, I thought I'd provide some help filling up your calendar of choice.  I've decided to bite the bullet this year and go with an activity Advent.

Psst one quick thing…
Christmas is coming SOON, be sure to check out our SUPER POPULAR toy gift guide (viewed over 7,000,000 times by parents in the know):
Hint: Great picks for kids of all ages and interests on this list!

I'll hedge my bets, though, by including activities that fall all over the preparation level spectrum.  I also fully reserve the right to switch the day's activity when my kids' heads are turned. That way we're sure to have some real memory makers in the mix, but we can also keep it simple if our day is already heading south by 10 AM.
Bake and decorate gingerbread men (because they're so much more manageable than houses).
Make salt dough ornaments.
Go to a Christmas show – The Nutcracker, Zoo Lights, a Christmas toy train exhibit, etc.
Trim the tree.
Eat a simple snowman lunch.
Take each child Christmas shopping for their sibling/parent/grandparent.
Adopt a family for Christmas and go shopping for them.
Help the kids make wrapping paper and wrap their special gifts.
Make colored ice sculptures.
Have a Christmas movie night, some great suggestions.
Get the kids in their PJs and go on a late-night drive to see Christmas lights.
Have a hot cocoa bar night.
Attend a neighborhood tree lighting ceremony.
Make six-sided paper snowflakes.
Make mason jar snow globes.
Make Candy Cane Play Dough.
Visit Santa and get the kids' picture on his lap (hopefully not screaming).
Make a gift for teacher.
Make an easy Christmas centerpiece together.
Bake something for your neighbors (we carry on my Mother-in-Law's tradition of making Madeira wine cake – so good).
Make ice bubbles.
Go Caroling (nursing homes are great venues for this!).
Read The Night Before Christmas (we love this pop up version) and bake cookies for Santa.
P.S. Remember those famous gift guides  I mentioned earlier?
Here's a sneak peek of our top 10 picks from that list for 2-year-olds as well as our top picks for building STEM Skills below (See the full list here for picks for preschoolers, kindergartners, and elementary school kids)…

THE BIGGEST "WOW!" TOYS FOR 2-YEAR-OLDS

(18 months – 8 years)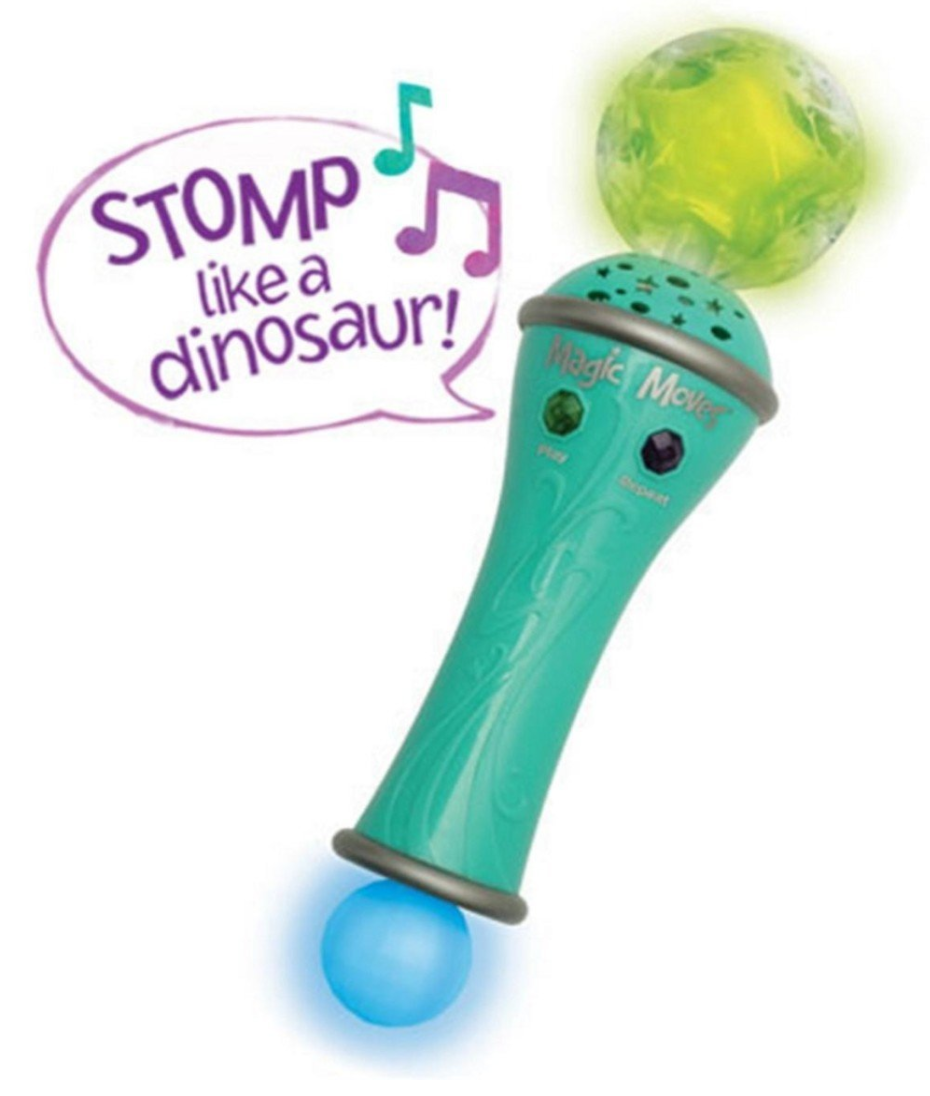 Normally I'm not big on electronic toys with lots of sounds and lights, but when said toy can help my kids get rid of all their pent-up energy inside on a stormy day, it becomes my new best friend.
This inexpensive magical wand uses 90 silly commands (sway, creep, stomp like a dinosaur, leap) and 26 songs, along with a light show to get kids moving.
This is one of those rare toys that's great for siblings of different ages to play with together (my kids have loved it at various ages ranging from 18-months-old to 7-years old).
It will keep the bigger kids interested (who doesn't like having the mic and being the star of the show?) while developing listening skills in the younger set along with enriching their vocabulary and ability to follow directions.
Note: If animals aren't your kids' thing, there's now also this gym version.
(1 – 10 years)
This deceptively simple toy is so much more than it appears. Parents and teachers rave about the hours and hours their kids spend shooting things through this heavy duty tunnel.
This is a great toy to get kids hypothesizing about, "what will happen when I… (put something heavier in, tilt it higher, put more than one thing in it, etc…)
When my friend first introduced me to the Tot Tube, I really liked the idea but wondered if it was worth the money- couldn't we essentially do the same thing with a cardboard wrapping paper tube?).
What I like about this, though, is that it's a lot more durable than a cardboard tube, it's wider shape accommodates bigger sized cars and balls, it can break apart for easy storage or you can attach more than one for a super long tunnel, and the kids can see through it- making it so much more engaging. Read the reviews on this one and I think you'll be sold.
Read the reviews on this one and I think you'll be sold.
(ages 2-12)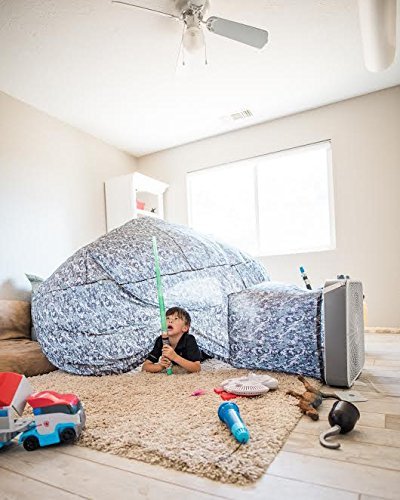 This is AMAZING for rainy day play.
Such an easy way for kids to set up a fort- set up (and clean up!) is so simple… like 30 seconds easy. Check out this video to see it in action.
My friend got one of these for her kids last year and she reports that they spend hours inside playing together and on their own. This one is going under our tree this year for sure!
 (18 months – 3 years)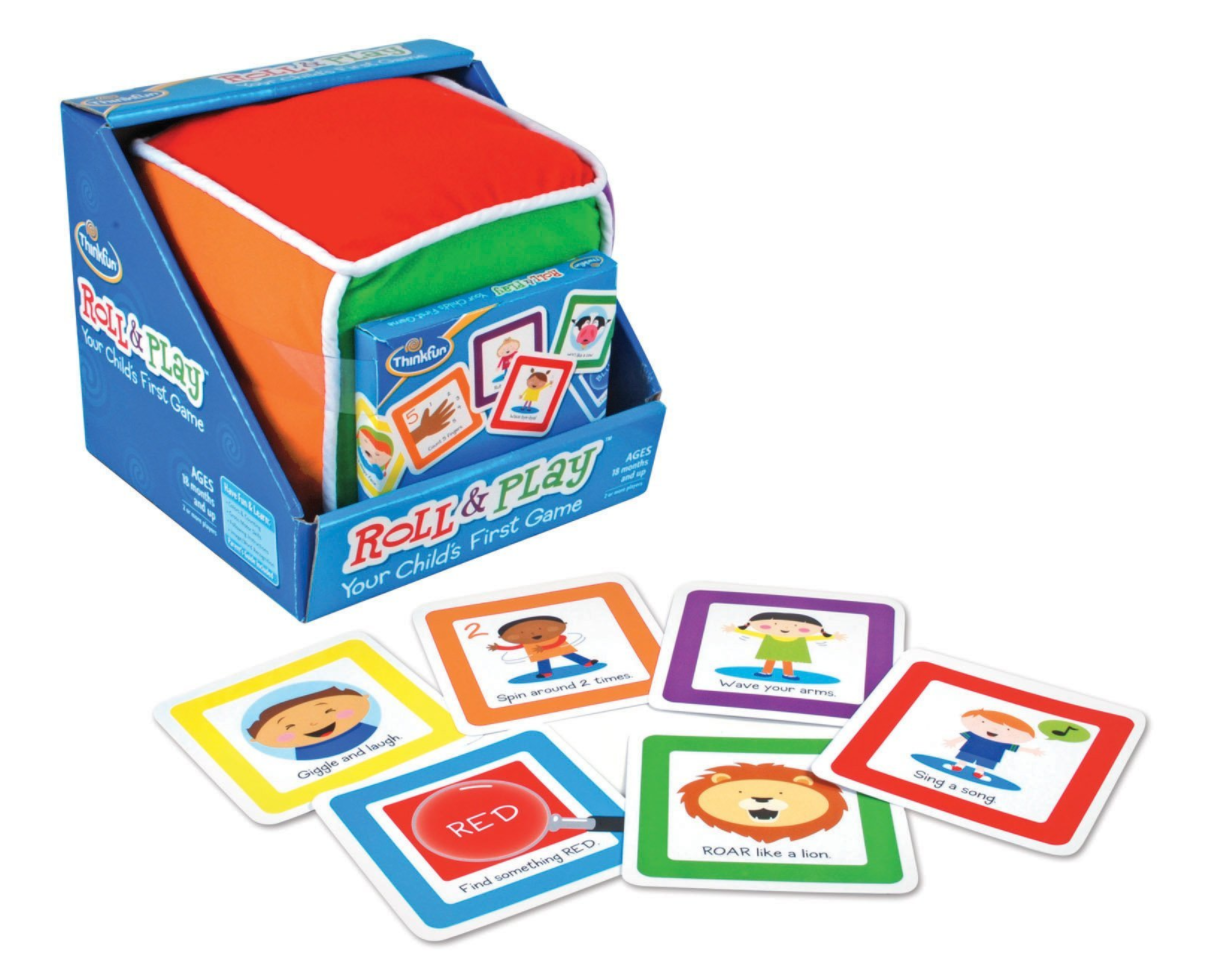 This is the first board game ever made specifically with young toddlers in mind. Toss the big plush cube and identify which colored side faces up. Choose a matching color card and perform the simple activity shown, such as "Make a happy face", "Moo like a cow" or "Find something blue".
Designed for parent and child to play together, Roll & Play strengthens bonds and builds confidence while encouraging creativity, active play and gross motor skills.
This seems like a good solution if you're looking for a family game night selection that can incorporate even your youngest kiddos.
(1 – 10 years)
I've been talking about the social and emotional learning benefits of dolls for boys for years in our Best Gifts for Dramatic Play Gift Guide, so I was super pumped about the release of this line of dolls designed specifically to meet those needs while staying in-tuned with boy culture!
Created by a therapist and mom, after her son came home from preschool one day and announced that 'boys aren't supposed to cry'. Frustrated by many of the messages boys were (and weren't) receiving and inspired by the way play influences child development, Wider created Wonder Crew to promote social and emotional learning, build confidence and imagination, and empower boys to see themselves as caring, creative and strong people. 
I'm totally on board and will definitely be getting both the superhero doll and the extra construction outfit for my son! I also love how each set comes with props for the child to wear too, so fun!
(non-mouthing kids – 5 years)
The first thing to say about this toy is, of course, not to leave a child alone with it if they still put things in their mouth. Once you're out of that stage, though, this is a truly AWESOME way to keep young kids occupied for a really long time. (One of the few so well suited to the preschool set.)
Moms figured out long ago that letting kids sort things in a muffin tin is a great quiet time activity. This play set expands on that idea by adding in multicolored mini muffins, dice, and cards that can be placed inside the muffin tin for sorting and math purposes.
There are also some interestingly shaped tweezers for fine motor work. All in all this one has A LOT of play-ability.
(3 – 8 years)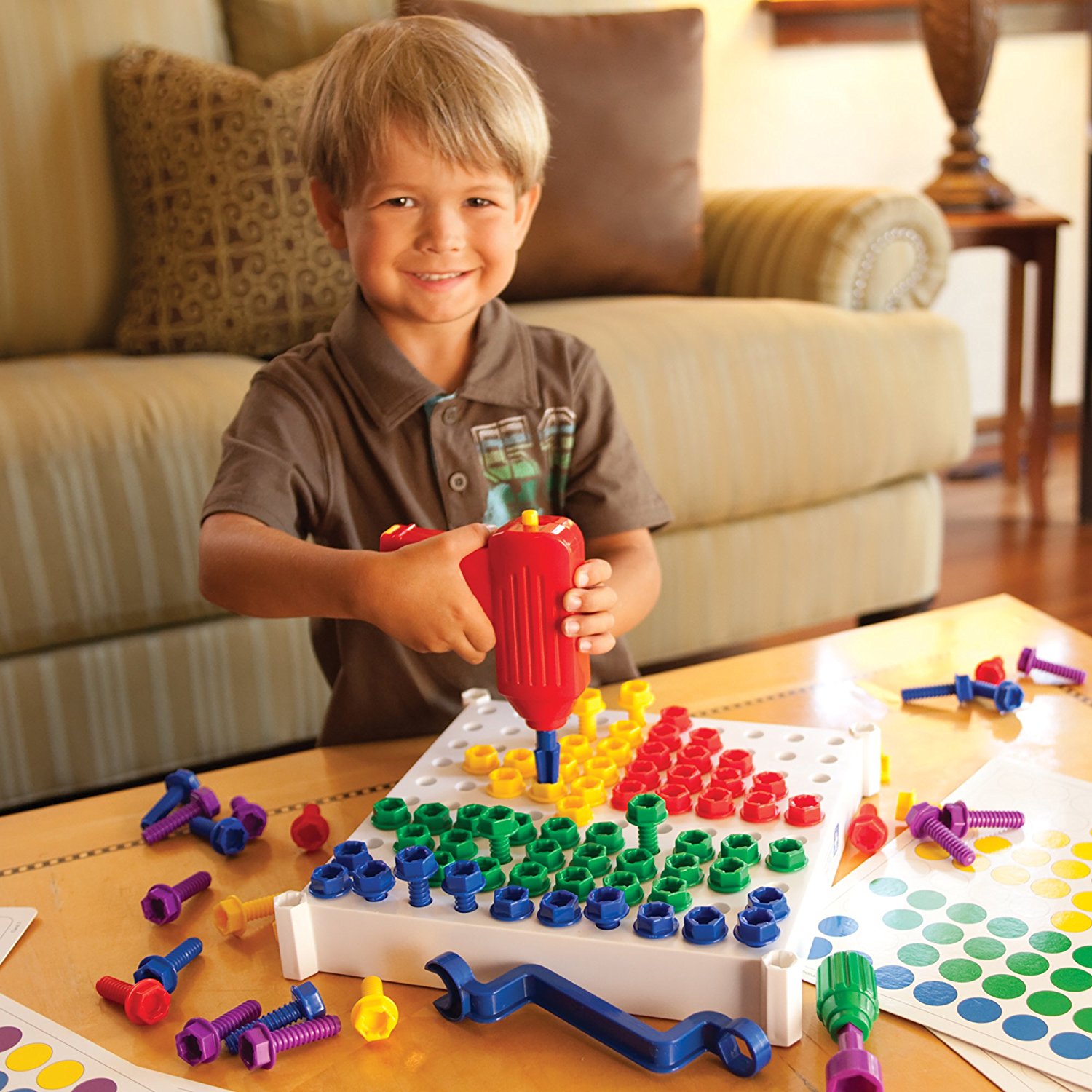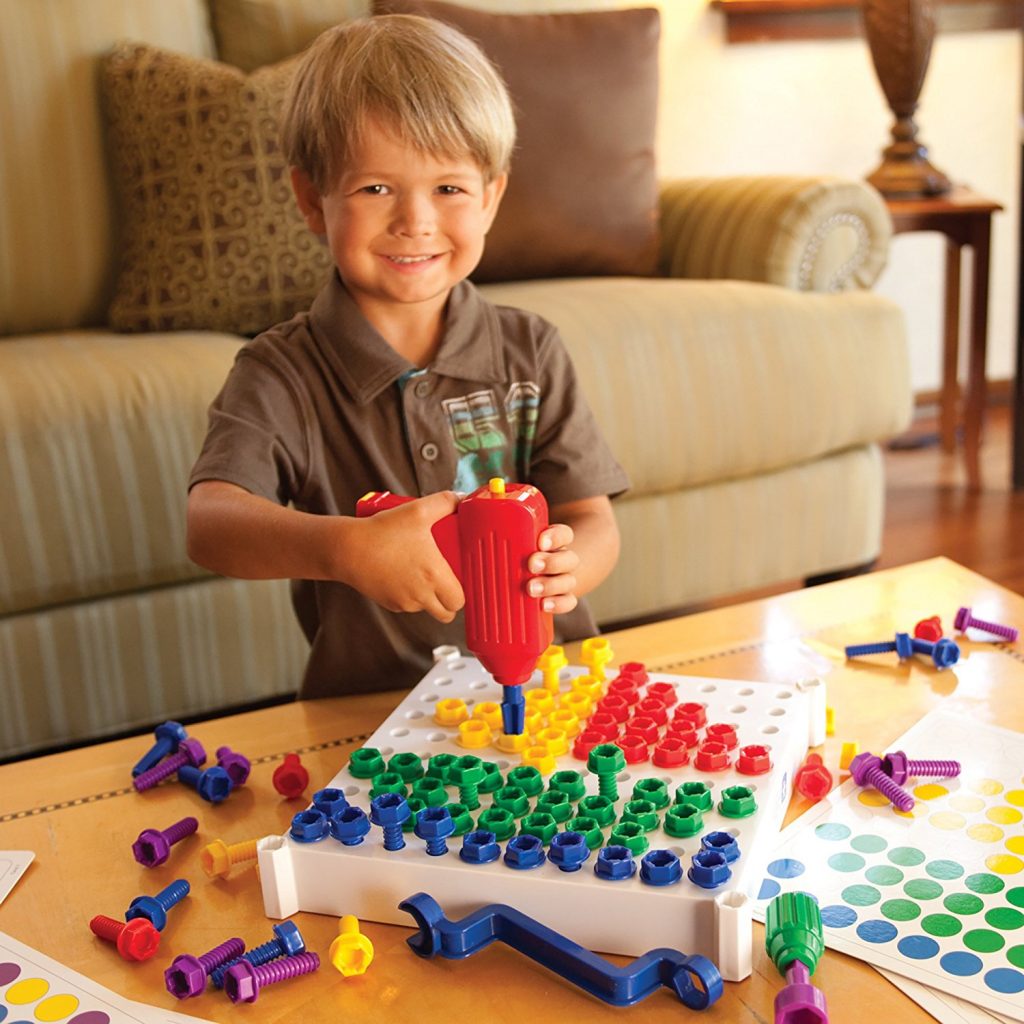 I particularly like how this particular toy combines fine motor skills with pattern recognition AND adds a great dramatic play element. We got it for our son when he was 4 and he played with it quite a bit until his little old sister took it over.
Our 1 1/2-year-old is started to getting in on the fun sorting and manipulating the pieces with his hands and was off and drilling around the time he turned 2. Now this is one of the first toys he goes to, again and again, when given a choice.
The popularity of this toy has also led to some cool variations, including the Design & Drill Flower Power Station, the Design & Drill Power Play Race Car and, my favorite, the Design & Drill BrightWorks– which is like if the Design & Drill had a baby with the classic Lite Brite from my childhood (in other words, the pieces light up and it's totally awesome).
(2 – 10 years)
I discovered Magna-tiles when my oldest son was 3-years-old via his preschool and they were the big present under the tree for the kids that Christmas. They're definitely more of an investment but have been COMPLETELY WORTH IT.
Teachers absolutely rave about these blocks and the play possibilities are endless. Because they join together using magnets, kids can create elaborate structures (often taller than they are) without becoming frustrated by crashes.
They're also great for use with other toys. They can be used along with blocks and LEGOs to make elaborate structures, with marbles and cars to make tunnels, bridges, and marble runs, or even with dolls to create dollhouses.
All of my kids, ages 2 to 8, still play with them multiple days a week. Currently, my 6-year-old loves making elaborate pet stores with ramps and rooms for each of her Disney Princess Palace Pets while my 2-year-old always asks for these first to take to build in his room during "Quiet Time"
We splurged for the 100 piece set and got hours of rainy day fun with these- the higher price was completely worth it.
Note: For an extra $10, these magnetic train bases take the play possibilities to a whole new level and make a great stocking stuffer.
(walking – 6 years)
One of the most surprising things about having toddlers and preschoolers is seeing how much they absolutely LOVE to clean! We've had
We've had a broom and dust pan set for years and it's always been super popular. The kids really enjoy breaking it out to help with clean up when the opportunity arises or just using it to play pretend. Every toddler we know has this set and totally adores it and around 18-months-old our son started completely freaking out if he can't find it.
This year, though, I'm thinking of upgrading and totally eyeing this Melissa & Doug Cleaning Bundle- it comes with so much amazing stuff!!
You can also buy The Spray, Squirt, and Squeegee Set at a very reasonable price.
Not only will my toddler be able to sweep, mop, and dust to his heart's content- he will also get to spray, wipe, scrub, and even squeegee. Do you KNOW how much toddlers love, love, love to spray and wipe down windows, cabinets and anything else they can get their hands on?

THE BIGGEST "WOW!" TOYS FOR BABIES & YOUNG TODDLERS
$99.99 (6+ years)
There are so many STEM toys on the market now that they can all kind of blend together. This Harry Potter Coding Kit from Kano, though, is a definite stand-out.
I love how it uses the magic of Harry Potter and the step-by-step building of a physical wand to encourage kids to learn coding.
This super innovative kit allows kids to build a wand that responds to their movements and then learn to code with 70+ step-by-step creative challenges. They can make feathers fly, goblets multiply, fire flow, pumpkins grow, and more.
My daughter is a huge HP fan and I could see her absolutely eating this toy up. And, of course, any toy that sneakily teaches coding skills while the kids are having fun is a big, big plus for me.
The tagline for this unique set says it all; Build a Wand. Learn to Code. Make Magic.
$119.99 (ages 6 – 14 years)
Yep- that's right- the 2017 version.
While this isn't the newest Kano "make your own computer" kit, it's still a REALLY good one and, bonus, now you can get it at a pretty great price!
There are lots of toys out there to help kids learn the basics of coding- but this isn't a toy, it's an honest-to-God actual computer that kids can not only build themselves but also learn to teach themselves to code! The creator of the Kano says the kit was inspired by his 6-year-old cousin who wanted to build his own computer, but didn't want "anyone to teach him." It also had to be as simple and fun "as Lego"… so that's exactly what he made.
Kids open the box and pull out the bits, button and board. They follow the story page-by-page, just like Lego, all the while looking inside to see how it all works.According to the manufacturer, "Simple, fun and for everyone. No technical wizardry required."
But that's just the beginning. What I'm most excited about isn't the building, it's the coding.
Again, the kids are 100% in the driver seat. They learn on their own through play (the BEST way to learn).  Through step-by-step challenges, kids can learn to code art, games, music, and even hack Minecraft.
Kano introduces kids to basic programming languages. Through fun challenges that use simple code blocks, typed code and Linux commands. Other programs include Python, great for web development, Javascript for creating websites, games and apps and Terminal commands to control computers faster.
One reviewer wrote:
I am a systems engineer by trade and have been building computers/servers for 20 years…. The whole idea behind Kano is for your child to be a part of the process, and feel like they can do it all. The packaging is very well laid out, and they have a great little book that tells you how to put it all together, while explaining in terms that a young child can understand, what all this stuff does.

Once it's built and powered up, it doesn't just dump you into a dashboard and expect you to read and figure things out. It comes up with a Matrix inspired shell and asks you a few questions. This is how it starts. Without even knowing that they are doing it, your kids are telling the computer what to do.

The apps are very well written. Lot's of helpers along the way so that your child doesn't get frustrated and lose interest. My son loved the code quest app, and is more proficient on the shell than a lot of sysadmins I know! They regularly update the apps, and there's always new stuff in Kano World.
If you're serious about giving your kiddo a leg up in our Tech-obsessed world, check out the video and you'll be as sold as I am.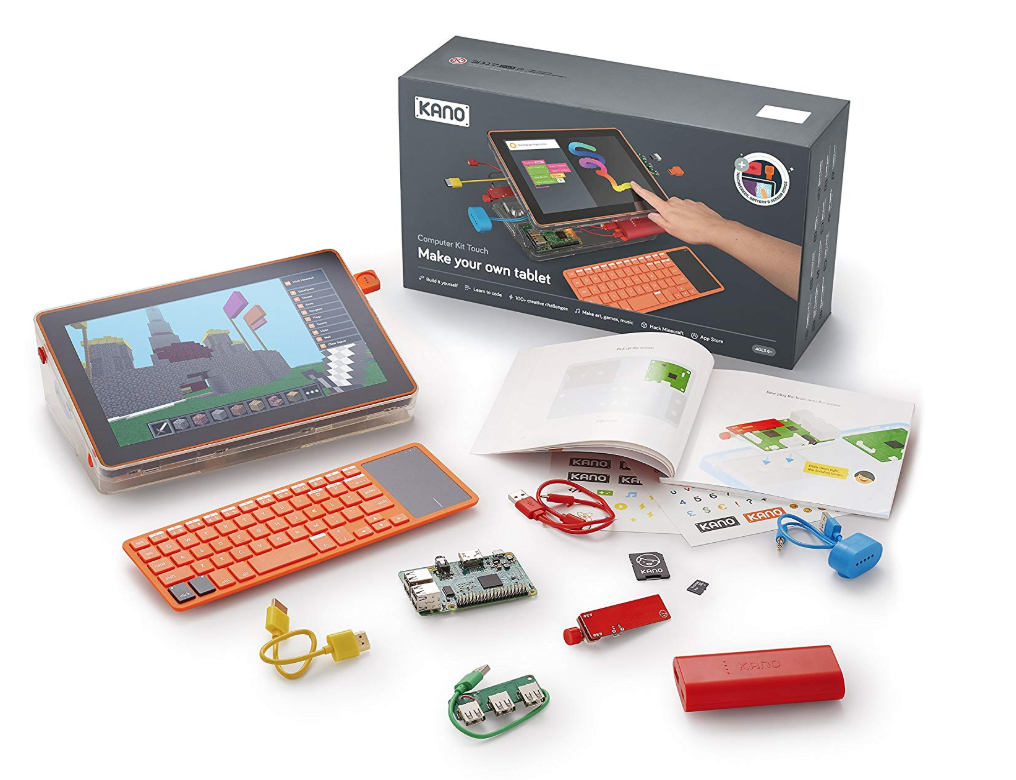 And if you're ready to go all in on Kano, you'll definitely want to check out their kit for making your own touchscreen computer– brand new this Christmas!
$20.99 (5+ years)
$45.99 (8 – 15 years)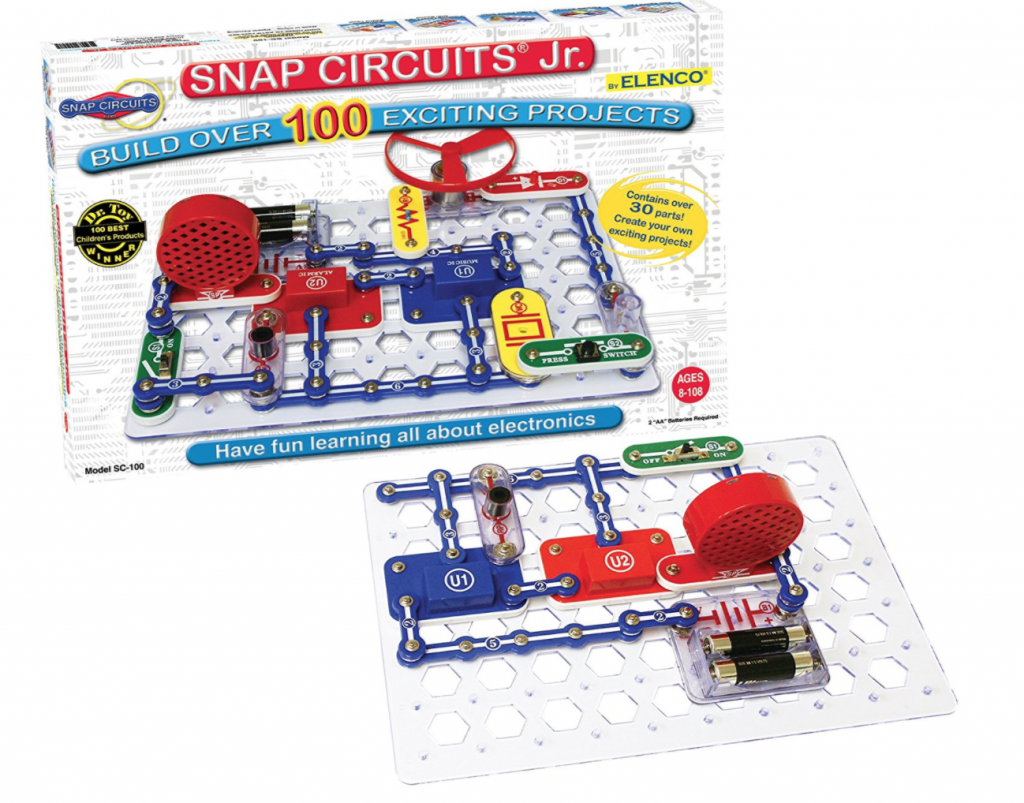 This clever kit is the all-time-best-seller on our gift guides and another multi-award-winner that takes advantage of kids' natural interest in building toys (like LEGOs) to teach the principles of electricity.
The components aren't intimidating, snap together simply, and can be used to create a bunch of cool projects. The standard set comes with 60+ pieces to create over 300 different electronic projects. The pieces include snap wires, slide switches, an alarm circuit, a music integrated circuit, and a speaker and are numbered and color-coded to make identifying them easy.
The latest and hottest iterations include:
Snap Circuits Lights – This colorful lights edition puts on quite a show and is another favorite around our house.Just connect any MP3 player and be amazed as your music creates a mesmerizing light display.No two songs will ever produce the same light show. Includes prepunched patterns for motor, strobe light, and color-changing LED, lighted and glow-in-the-dark fans, strobe integrated circuit, color organ controlled by MP3 player, voice, or finger. Builds over 175 experiments.
Snap Circuits 3D Illumination – Allows kids to go beyond the flat surface to build circuits horizontally, vertically and even upside down. The 3D setup means you can actually build a house and there's even a projector that projects things onto the wall.
Snap Circuits Arcade – Lets kids actually build – and play! – mini arcade games. There's also an incredibly cool fan that can be programmed to project any word or phrase onto it with lights.
The components in Snap Circuits combine to create working circuit boards just like the ones found inside televisions, radios, and other electronic devices. (Note: there is a conversion set that turns Snap Circuits Jr into this bigger set when your kids are ready to move up.)
The HUGE popularity of these sets means there are now lots of options to choose from, check out this video for the run down:
For bigger kids, you'll definitely want to check out the reduced priced Snap Circuits Student Electronics Training Program down this year from $199.99 to $127.45 as well as the Alternative Green Energy Kit.
$14.99 (5+ years)
When my kindergartner came home from school one day asking me to teach him to play chess, I had mixed feelings. On the one hand, I was excited because, despite spending a lot of our time together on sports-related activities, I have great memories of playing chess with my dad growing up.
On the other hand, I was afraid he was a little young for it and might get frustrated and give up on the game altogether. Enter "No Stress Chess".
This genius game uses cards to teach young kids how to play in stages. The cards tell you which piece to move, so even children (and adults) who have never played the game can jump right in. The moves for each piece are on the cards as well as on the game board and the first stage makes the game about chance, not skill – you simply draw a card and do what it says, perfect for learning how the pieces work.
Once that is mastered, you can draw 3 cards at a time and decide which one you want to go with to introduce some strategy to the game. Finally, when you're ready to play chess for real, just get rid of the cards and flip the board over to a traditional chess board.
$15.98 (ages 2 – 12 years)
LEGO tape is one of the coolest things to happen to LEGO in a long time. This bendy, adhesive stuff allows kids to expand their LEGO universes onto the walls and ceilings and opens up endless possibilities for play. The tape is repositionable, washable, extremely flexible and easy for little fingers to cut and arrange.
I love this particular pack because it comes with 4 rolls in different colors. Perfect for a present for one child or break it up and put a roll in each kid's stocking. And I really appreciate that the rolls are eco-friendly and made from CE and FDA certified Food-Grade silicone.
I just gifted a roll to my son for his 9th birthday and he has had so much fun coming up with new ways to use it. This one gets two big thumbs up from our family.
$12.88 (4 – 7 years)
When my son was in kindergarten, he really started getting into math and began asking for story problems at night before bed, so imagine my excitement when I saw this book, which contains just that! From the publisher, "Inside this book, families will find fun, mischief-making math problems to tackle—math that isn't just kid-friendly, but actually kid-appealing.
With over 100 math riddles on topics from jalapeños and submarines to roller coasters and flamingos, this book bursts with math that looks nothing like school. And with three different levels of challenge (wee ones, little kids, and big kids), there's something for everyone."
This is a great way to change up story time at night and encourage math skills in kids that are excited about the subject as well as those who need some help getting excited.
Psst – We're now on the second and third books in the series.
$24.50 (3 – 8 years)
The entire line of single player puzzle games from SmartGames gets such stellar reviews that it was hard not to recommend all of them!
The bold colors of these two 3-D wooden castle puzzles especially caught my eye. I bought it for my daughter a couple of years ago and it was an absolute winner.
Assemble the wooden blocks and towers to match the challenges included in the booklet. With simple challenges for inexperienced builders to complex puzzles that will challenge skilled architects, these puzzles serve to develop logical thinking skills and spatial reasoning abilities.
$18.65 (7 – 15 years)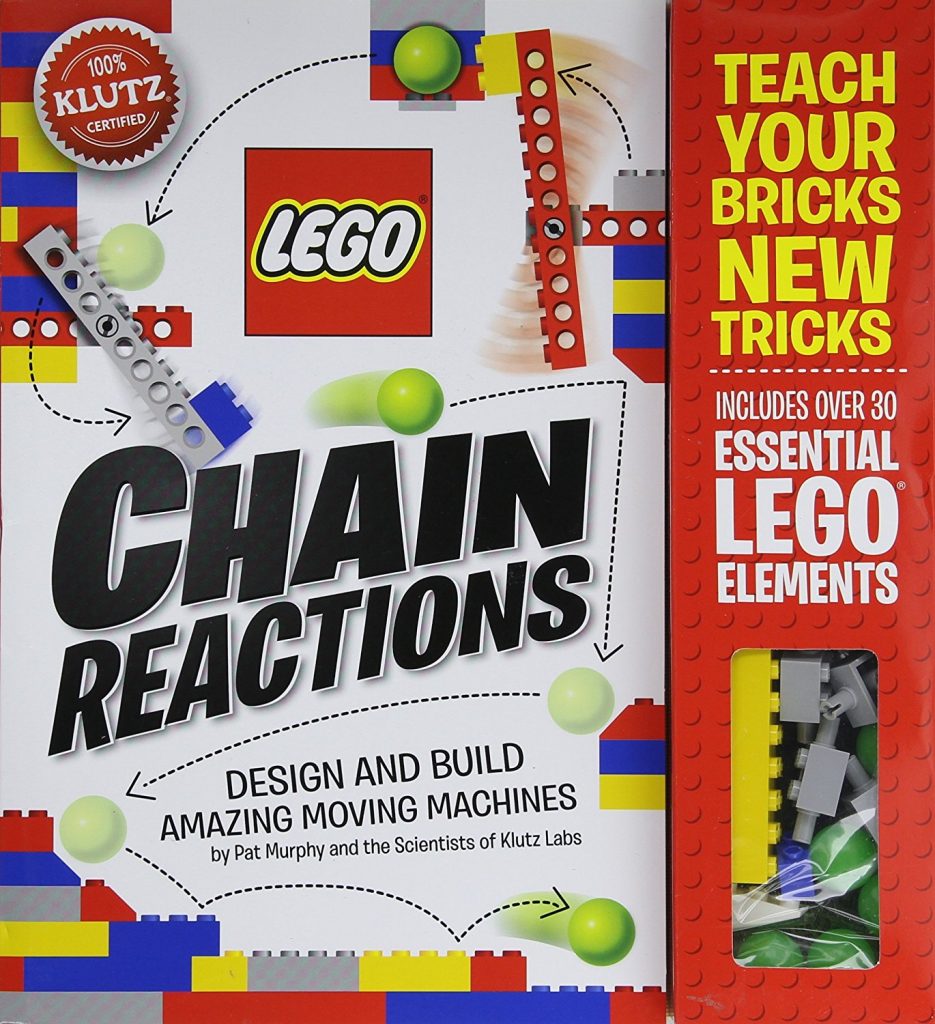 The first thing I thought when I saw this book was that it was a combo of two of my son's favorite things: LEGOs and the game Mouse Trap.
I talk a lot in this gift guide about the value of open-ended toys and I think this book could really get a kid's mind spinning in regards to what new contraptions they can invent…
From the manufacturer, "LEGO Chain Reactions is packed full of ideas, instructions, and inspiration for 10 LEGO machines that spin, swing, pivot, roll, lift, and drop.
Each machine alone is awesome, but put them together and you get incredible chain reactions. Then, combine the machines in any order you like to create your own chain reactions. Our team of experts worked with educators and 11-year-olds to invent the machines, then wrote a book that teaches the skills (and some of the physics behind the fun) kids need to create their own amazing chain reaction machines."
The kit comes with 78 page book, 33 LEGO elements, 6 LEGO balls, 6 feet of string, 8 paper ramps, 2 paper pop-up signs, 1 paper funnel ramp, 1 paper flag, 1 paper bucket, 1 platform and the makers assure that you don't need to worry that you won't have the right bricks as they made sure you'll need only the most common bricks, and that there are plenty of substitutes.
And while we're on the topic of LEGO build books, The LEGO Ideas Book and LEGO Play Book are also well worth looking into.
$119.99 (2 – 10 years)
I discovered Magna-tiles when my oldest son was 3-years-old via his preschool and they were the big present under the tree for the kids that Christmas. They're definitely more of an investment but have been COMPLETELY WORTH IT.
Teachers absolutely rave about these blocks and the play possibilities are endless. Because they join together using magnets, kids can create elaborate structures (often taller than they are) without becoming frustrated by crashes.
They're also great for use with other toys. They can be used along with blocks and LEGOs to make elaborate structures, with marbles and cars to make tunnels, bridges, and marble runs, or even with dolls to create dollhouses.
All of my kids, ages 2 to 8, still play with them multiple days a week. Currently, my 6-year-old loves making elaborate pet stores with ramps and rooms for each of her Disney Princess Palace Pets while my 2-year-old always asks for these first to take to build in his room during "Quiet Time"
We splurged for the 100 piece set and got hours of rainy day fun with these- the higher price was completely worth it.
Note: For an extra $10, these magnetic train bases take the play possibilities to a whole new level and make a great stocking stuffer.
This is the toy that we've all been waiting for LEGO to make! Robotics and coding have become so incredibly huge in toys, in fact, that I'm really surprised it took this long.
I can (and will) tell you a lot more about this astounding kit but I HIGHLY RECOMMEND you watch the short video below on this 837 piece set – you will be sold!
It demonstrates a lot of what your kids can build and do, including a super cool robot, a working LEGO 3D printer, a very cool working electric guitar and more!
Until now, if you wanted to parlay your kids' love of all things LEGO into an interest in programming, your only real option was the very expensive LEGO Mindstorm kits, which are geared more towards older LEGO builders and come with a hefty price tag.
At a cost of $200 less than the Mindstorm kits, the new LEGO Boost still has everything you need to get your kids building, programming and coding and – frankly – I think the builds are more fun and approachable, especially to kids who aren't hardcore coders.
Like all building and programming toys, this one works with a free app that you download on your tablet or phone and what I really love is that the kit builds not one, but five different models.
This toy does SO MUCH, I predict hours and hours of educational play with this one!
$20.18 (ages 3 – 12)
A few years ago tutorials for making your own electric play dough were popping up all over Pinterest. I would excitedly click on them with the intention of whipping up a batch for my kiddos, quickly get defeated by ingredients I didn't know how to get, and give up.
This kit is the answer to my prayers. I'm so excited about the possibilities for teaching the kids about circuits in such a fun new way!
It's got so much that kids love, i.e. play dough and and things that light up, and the vibrant instruction booklet includes step-by-step instructions for 15 clay circuit building projects.
This one is a multi-award winner and sure to be a big crowd pleaser!
$39.99 (ages 8+)
Plenty of Thinkfun games have been huge hits both on these gift guides and in my own house, including both No Stress Chess and Laser Maze.
So this new game, which is essentially a combo of the two, was kinda a no-brainer and it was no big surprise to see how much my kids loved it.
A strategy game (chess) using lasers? Yeah, they can't get enough.
Kids LOVE making forts and, I gotta say, I'm a big fan of anything that will buy me a solid hour or two of busy time.
What I'm not the biggest fan of? The beating my couch cushions take when my kids get into fort-building mode.
That's reason enough to love the Fortboard kits but there are quite a few other reasons too.
First is all the super cool kinds of forts you can build. After Fortboard sent us two boxes to review, my kids started with the instructions for making a house on their website company's website. Next up was the submarine.
After a little trial and error, they pretty quickly got the hang of it and, let me tell you, they were pleased as punch about their new fort- which they insisted stay up for a week.
That was fine by me as it resulted in TONS of cooperative dramatic play.
Next up were the submarine and the castle, both of which were equally successful. By then, even my 3-year-old was able to build stuff with these on his own. His current favorite is to make cubes, which he calls "bombs" and use them to knock down stacks of even more cubes Angry Birds style.
Fast forward a few months and they're now building their own master creations like that 6-wheeler semi-truck pictured up top. It's become a thrilling game to challenge each other to see what they can build next.
The second thing to really love is the ingenious ways these boards can connect in different ways to create all sorts of angles, and even curves.
The secret is the connector arm that can be moved to join the boards in different ways (and teach your kids about angles in the process).
It's so innovative, in fact, that it's won multiple awards and even a Microsoft Small Business Contest.
The final thing I love about Fortboards is how compact they are when it's time to put them away. Unlike with their competitors' sets, there are no awkward polls to store (and no polls for kids to hit their siblings with). Everything tucks into a box and neatly stores under a bed or in a closet when playtime is done.
Like other fort sets, this one is spendy but if your kid is a builder it's worth the investment, especially if you're looking for something great for play dates or for siblings to play with together.
$34.99 (5 – 10 years)
When I first saw this guy, I thought he was just another robot/coding toy. But, upon further inspection, I realized he's actually a very kid-friendly remote control toy that will entertain them in all sorts of cool ways. (And hey, if it makes them interest in learning about coding down the rode- then all the better!)
MiBRO can dance by himself, make sound effects, allow kids to talk in funny voices or become a listening device. That part is key… kids love playing spy with MiBro by sending him to another room and eavesdropping with him.
But this can go both ways, kids can also send him to the kitchen and talk through him to mom or dad while they're making dinner (they can also change their voice and make themselves sound hilarious while doing so.)
Also, there's an explanatory picture on each action button (rather than words) to help identify what they do—for instance, a musical note is on the dance button- which makes this toy easy for younger kids to have fun with too.
There's also a tray that slides on the top if you want him to carry/deliver a small item or you can take the tray off and use it for a soccer goal. And last, but not least, there's a foam hand and a blaster (gun) accessory.
One reviewer wrote:
"The remote control is where all the action is at. My kids love talking to me (kind of like a walkie-talkie) from the remote by planting the robot next to me in the other room."

Another said, "The robot also has three modes – sports (I'm number one!), Blaster (shooting noises), and Gross Mode (Yes, it burps and farts). Again, my kiddos think this is HILARIOUS. He's a sassy robot that was designed to entertain little ones for sure and appeal to their funny bone."

That's it for our glimpse, but this is only the tip of the iceburg! For the complete list, be sure to check out…

*Post contains affiliate links
✕
Get Your Free Printable
Subscribe to our newsletter today and get our free printable... No More, "Mom, I'm Bored!"