Valentine's Day is just a couple weeks away and it can be hard to think of an engaging way to celebrate with young toddlers.
I told you I was going to help you grow better eaters and the holiday is the perfect time to try something new! So today I've got a fun activity your kiddo will enjoy- and will produce lots of cute pictures too 😉
When introducing new foods to new eaters, it's important to go slow.
Just like adults, young toddlers eat with all their senses. Which means colorful packaging, yummy smells and smooth textures make a new food experience that much better.
For this Valentine's Day food activity, we started out with some heart shaped pancakes. But you can also do this all year round with regular mini-pancakes.
Here's the recipe…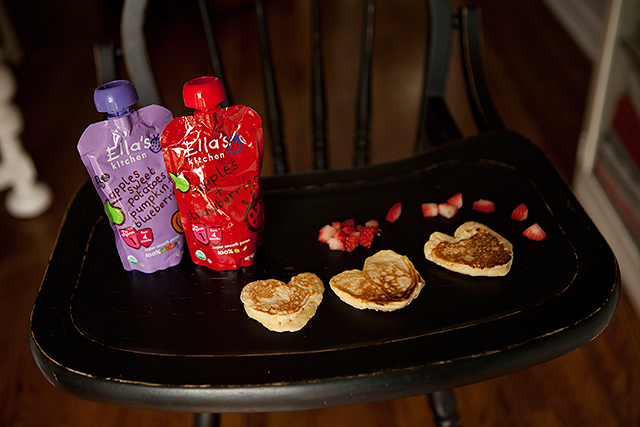 Holey Moley Pancakes
1 cup all purpose flour
1/2 teaspoon baking soda
1/2 teaspoon cream of tartar
1 egg
1 tablespoon sugar
2 tablespoons unsalted butter, melted, plus extra for frying
2/3 cup whole milk
fresh fruit, to serve (optional)
Mix the flour with the baking soda and cream of tartar.
In a separate bowl, cream the egg and sugar, then stir in the melted butter. Then alternatively add small amounts of the flour mixture and the milk to the egg mixture until everything is combined into a thick batter.
Wipe the bottom of a large heavy skillet with a little butter and heat. Spoon in individual tablespoons of the batter to form small pancakes.
Hint: For Valentine's Day use these heart shaped molds to make heart pancakes
Cook for about one minute until the bubbles have burst, then flip the pancakes over using a spatula and cook for another 30 seconds until golden brown on both sides.
Remove the pancakes from the skillet and keep them warm.
Once the pancakes are made comes the fun part!
Serve the pancakes spread over your child's highchair tray or plate with finely chopped fruit and a food pouch of your choice (bonus points for pouches that mix in some veggies with fruit. Here's a favorite).

The beauty of this is that it really encourages your child to play with their food! (If they can't squeeze the food pouch on their own, you can always spoon some out for them.)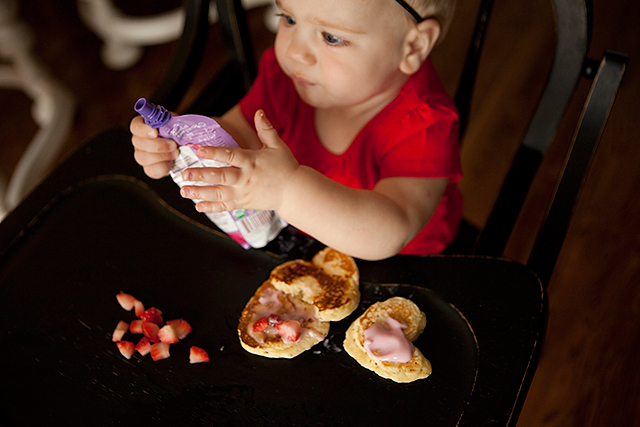 Sensory interaction like this- touching the food and even smelling it on their hands– is very important in exposing kids to new foods- even if they don't eat it!
I hope you'll try this activity out and I'll be back with more helpful ideas soon!
*post contains affiliate links
More From MPMK
30 Meal Ideas for a 1-year-old
Get Your Free Printable
Subscribe to our newsletter today and get our free printable... No More, "Mom, I'm Bored!"