Whether you're just starting your holiday shopping or have already finished up for the year, you might want to make room on your list for one or two things in today's glimpse!
This time of year, a few toys the kids can safely use inside to burn off some steam can be an absolute sanity-saver!
For those of you not exactly sure what I'm talking about when I say "glimpse", this is a day when we highlight one of our favorite sections of the:
Why?
Because I realize that our MEGA gift guides are a lot to take in- detailed descriptions and age recommendations of over 400 toys, books, games, and more divided into 15 themed guides takes some concentration to get through.
I've heard from several moms in fact, both via email and in real life, who have already spent a good hour or two immersed in them.
So this year, I'm trying to help you navigate the guides by highlighting some of my favorite parts.
Note: this is not even a full guide, but simply a sub-section of one of the 15 guides. My hope is that it will help you find the perfect gift for under the tree!
As I said above, today we're talking keeping kids active while stuck inside!
This is just one half of one of our most beloved gift guides:
Second only to our famous Top S.T.E.M. Toys Gift Guide
Ready? Here's the list…
Burning Off Steam Indoors
This section was born purely out of necessity.  With two rambunctious kiddos bouncing off the walls around here, I'm asking everyone in the family to think about gifting active toys this year!  
Below is a carefully curated collection of my favorite picks for expelling energy when stuck indoors.
Educational Insights Magic Moves Talking Electronic Wand $15.99 (18 months – 9 years) 
Normally I'm not big on electronic toys with lots of sounds and lights, but when said toy can help my kids get rid of all their pent up energy inside on a stormy day, it becomes my new best friend.
This inexpensive magical wand uses 90 silly commands (sway, creep, stomp like a dinosaur, leap) and 26 songs, along with a light show to get kids moving.
This is one of those rare toys that's great for siblings of different ages to play together (my 7-year-old, 5-year-old, and 18 month old all love it).
It will keep the bigger kids interested (who doesn't like having the mic and being the star of the show?) while developing listening skills in the younger set along with enriching their vocabulary and ability to follow directions.
Kidoozie Foam Pogo Jumper $14.95 (3 – 10 years)
The key to a good indoor toy is it's ability to wear a child out without requiring a lot of space to do so.
This soft pogo jumper is an Amazon #1 Best Seller because it does just that. It will keep the kids happy (and get them good and tired) and you won't have to worry too much about them knocking over your stuff (or each other).
Folding Gymnastics/Martial Arts Mat $33.90 (walking – 10 years)
I have to start by telling you that I got this idea from Olympic Skier John Mosley. We were doing a sponsored facebook chat together and a parent asked him what he does to keep his kids active. He said that he bought one of these basic gym mats, set it up in his playroom, and let his kids loose on it… So that year I tried it.
I bought this simple folding mat for Christmas for my then 3 and 5 year olds and it was one of the best purchases I ever made. It's such an awesome way for them to burn off steam inside and they keep finding new ways to use it. At first it was used for things obvious things like yoga and somersaults, but also as a ramp for cars and balls. Then my daughter started gymnastics and started using it for handstands, cartwheels, etc.
The kids have also found the can use it to make some really sturdy forts when they add a couple of blankets… One of the things that surprised me most was how much my youngest son loves this mat. Since he started moving, hehas absolutely loved crawling, rolling and eventually walking and jumping all over it.
Simply doubling up one side so that it's just an inch or two taller than the other has led to hours and hours of safe balancing fun for him and has been excellent in helping him to build gross motor skills. When we're done playing with it, we simple fold it up and slide it into a closet or under a bed.Best thing ever.
Step2 Thomas the Tank Engine Up & Down Coaster $114.09 (2 – 5 years)
Several indoor play centers and community centers around our town have these Step2 rollercoasters and my kids always flipped when they saw them.
Easy for younger kids to get on and off on their own, I have seen first hand how they will get on it over and over and over. A friend of mine bought one for her kids a few years ago and said it was an excellent toy in the driveway on sunny days and in the playroom on rainy days.
And, of course, the Thomas the Tank Engine version only makes it that much cooler! One reviewer wrote,
"The Thomas Roller Coaster Ride is absolutely amazing! I have two younger kids, a boy and girl who are two and three, and they can't get enough of it. They have been playing with it for hours at a time. All they have to do is climb up the small steps and take turns going for a downhill ride. Not only does it keep them entertained, it also teaches them about sharing and taking turns."
Bamboo Kendama Game $15.99 (6 – 15 years)
Kendama is an extremely addictive wooden skill toy that comes from Japan. It strengthens hand eye coordination, balance, and reflexes and can (and will!) be played by young and old alike.
There are endless trick possibilities for both the beginner and the seasoned master. The Kendama is made up of the "Ken" (handle) and the "Tama" (ball), which is connected by a string.  The Kendama tricks are done by variations of juggling the ball in the 3 cups, spiking the ball with the Ken spike, and balancing both in new creative ways.
Mastering the Kendama takes practice, focus, patience, and creativity- all great skills for kids to have. The price and size make it a great stocking stuffer too.
Monster Feet Stilts $7.99 (3 – 5 years)
I used to play on stilts like these in elementary school gym class and I remember fighting my friends over them. The price is inexpensive enough that you can get a pair for everyone.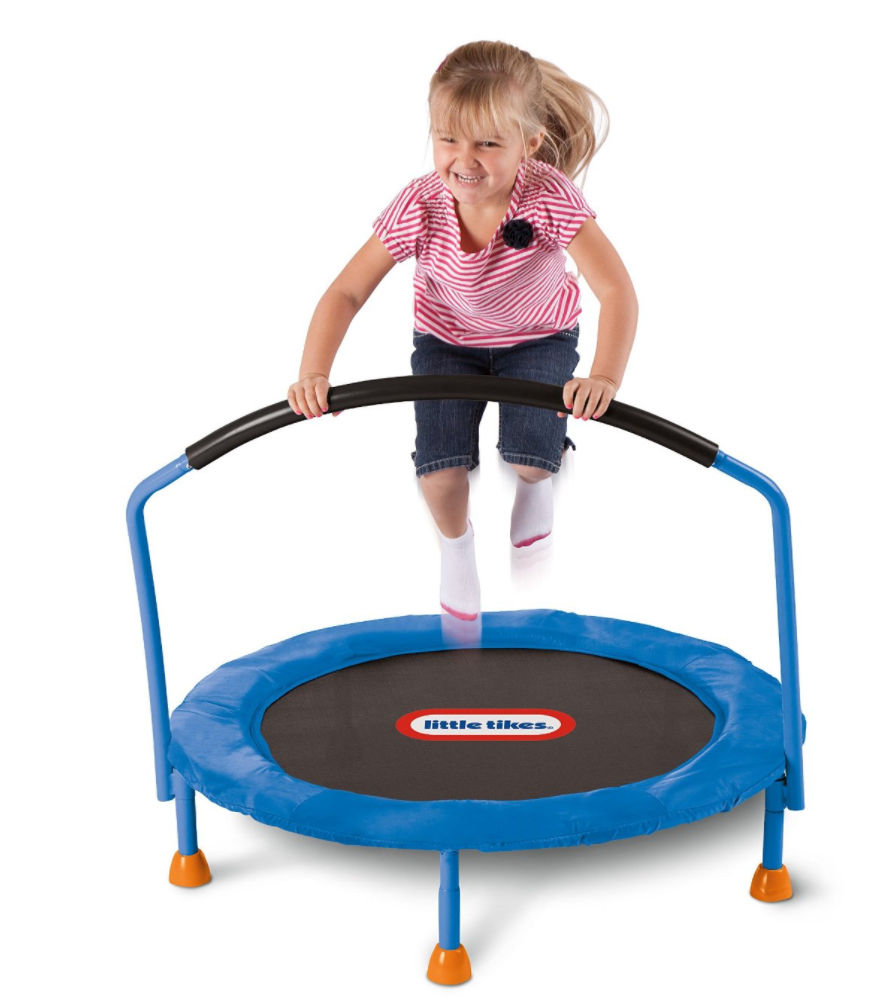 Little Tikes 3′ Trampoline $59.99 (ages 2 – 7)
My first time became a toddler mom, every day around 4:30 PM (when things get real) I used to wonder why we hadn't bought one of these yet. Such a great tool for getting kids' energy out!
Two of my kids' buddies had one and they each love to jump and jump and jump on it.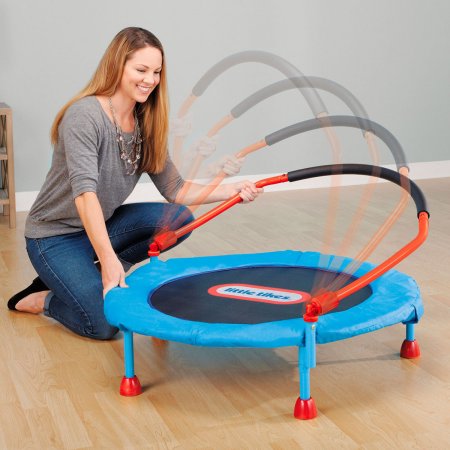 One year I finally request my parents get our toddler an indoor trampoline and recommended this one due to the great reviews… It did not disappoint! It has really been invaluable for getting out pent up energy on cold and rainy days.
And now it's even better because this version has a handle that folds down!! That means the entire thing can be tucked away WAY more easily. If you've been on the fence about one of these, now is the time to finally get one!
Alex Toys Monkey Balance Board $19.99 (3 – 7 years)
This is the stripped down version of the above balance board.  It appeals to my purist heart (and my disdain for having to listen to noisy toys all day).  Plus I think the happy monkey will make kids smile.
National Geographic Balance Stepping Stones $49.99 (3+ years) 
I came across them at one of my favorite sites for educational toys while looking for balance toys.  I like how they can be used to set up different obstacle courses each time they're brought out and there friends eyes always light up when they see them for the first time.
Also, the kids are getting better at them as they get older. They're also far easier to store than most bulky, hard plastic models. So important!
Playhuts starts at $15.95 (crawling – 8 years)
This is a new addition to this list this year (and somewhat of a "doh" moment for me). We've had several playhuts throughout the years – some cheap, some expensive but more durable – all extremely successful in keeping my kiddos of varying ages happy and busy.
Nevertheless, I still forgot them for this list until I polled my mom friends and they ALL brought up the power of the playhut. Because these guys can be so inexpensive, they're kind of a no-brainer for me if you have the space.
Currently my favorite are thisThomas version, this Beauty Boutique, and this Princess Castle with Glow-in-the-Dark Stars version. Also, I LOVE playhuts with tunnels like this one (more than doubles the fun). In fact, if you don't have the space to have a play hut setup all the time, I would definitely recommend a tunnel that you can tuck away when not in use.
Little Tikes First Slide $29.97 (18 months – 4 years)
A few years ago when we had a 20 month old and a brand new baby, we bought an indoor slide and put it in the upstairs landing between the kids' bedrooms. It was one of the smartest things we've ever done! A sturdy plastic slide used inside can be a life-saver when the weather is bad and the kiddos are restless. This particular slide – highly rated for durability and usability for kiddos young and old – also serves double duty outside as an excellent safe place for toddlers to play while their big siblings scale taller play equipment. This is exactly the setup we currently have for our young toddler while his older brother and sister play on our Rainbow play system.
This light weight, foldable, and sit-on version of the scooter lets even new walkers in on the fun. Young kids get to start out sitting on this scooter that can be used both indoors and outdoors.
The biggest pro to me, beside the good price, is how incredibly easy this thing is to transport to the park, a friend's house for a playdate, or anywhere else.
Rody Horse $47.95 (2 – 4 years)
We have a family membership to our local kids museum and hit it up on a regular basis.  Every time we did, our daughter beelines for Rody until we finally got here one of her own.
This is another excellent toy for burning energy and kids often like to use him for elaborate dramatic play scenarios as well. Best of all, his durability is legendary.
Kid-O Bilibo $29.99 (2 – 7 years) 
This thing looks kind of silly looking but my daughter loves it.  There were a couple at her toddler group and she always spent a considerable amount of time bopping happily away on one.  
It's like a one person teeter-totter, so I can see why a kid would think that was fun. I think the bright colors, small footprint, and reasonable price are quite fun myself and I'm not alone, this one gets tons of rave reviews.
*Post contains affiliate links.
A fan of our guides? Share the lists with your mom friends (they'll thank you!) and don't forget – you can also check out all 18 of this year's Gift Guides here or check out the one that you can use the most below:
All of these MPMK Gift Guides, organized by your child's interest, including:
Plus, our five guides organized by age: