With two toddlers running around the house, I'm all for the trend of ditching the candy and filling the Advent calendars with Christmas activities instead.  I'm a little scared, however, of actually committing myself to a project or outing each day before I get a chance to see how it's shaking out.  After all, I
do
have a very young toddler who's nap schedule is still a bit of a moving target as well as an older toddler who inspired the recent "
How to Maintain Your Zen When the Kids Have Lost Their Ever-Loving Minds
" post.
So instead of making morning promises we may not be able to keep that afternoon, I opted for a more flexible "reading and art" Advent calendar.  I think our family will still make lots of holiday memories with it.  Plus, I love that the kids will get a double dose of art in both the making and using of our calendar.
To start, we dug up lots of white butcher paper and all the green and red art supplies we could find: paint, markers, crayons, colored pencils and glitter.
Then I told the littles to choice their weapon of choice and get creating.
Paint was the preferred medium of the day and we eventually ended up with rolls and rolls of hand-crafted wrapping paper. (You can probably tell by the low light quality of these photos that it was pouring outside and, thus, the perfect day for this activity.)
All that creativity tired out the tots, who slept it off while I headed to the library to hoard some Christmas reads.
When I returned the kids were still sleeping so I used my time to wrap the dozen or so books I found in our pretty new paper.  Then I added some gold number stickers to mark which day in December to open each package.
I also picked up a special coloring book for C while I was out.
Generally I try to limit the use of coloring books and lean more towards plain paper to stimulate lots of creativity. This, of course, makes coloring books all the more exciting when they do make an appearance.  I cut this one up and slid the individual pages into large white envelopes that also had gold number stickers on top.
I could have done only books but I decided to mix it up for a few reasons:
The checkout period for library books is only 28 days and I didn't want to get stuck with a bunch of yet-to-be-opened books that were overdue and racking up the fines.
I didn't want to use sub-par books just to make sure I had enough.
Even if I could get my hands on 24 high quality books that I was allowed to keep 'till Christmas, I wasn't sure we had enough paper to wrap them all.
I liked the idea of mixing it up a bit.  C seems to get a little more excited when he's not exactly sure what to expect.
Finally, I lined everything up on the mantle and – viola! – an Advent calendar was born.
I mixed up the order of everything to keep C wondering what would be coming each morning: a story or some art.
P.S. If you're really looking to have the holidays in the bag this year, we've got two ways to help. First get the holiday shopping out of the way with all 10 of our 2013 Gift Guides here…
Second, check out our new eBook, Hands-On Holidays, packed with low-prep and low-stress ideas for make memories crafting, cooking, reading and adventuring with the kids!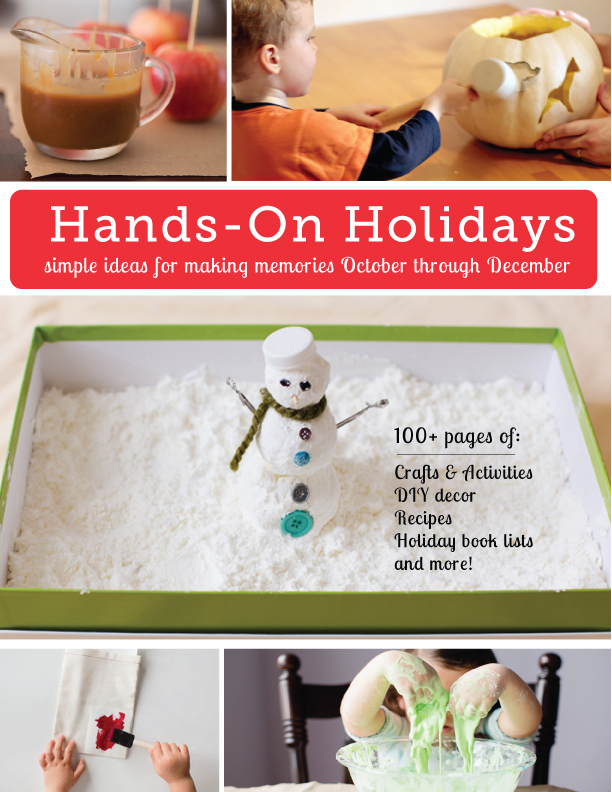 Need help feeding your toddler?
Sign up for our newsletter to get a handy stick-it-your-fridge list of our favorite meals for toddlers and a link to all of the recipes!