I'm thrilled to introduce you guys to our newest MPMK contributor, Alli. She's an amazing mama, photographer and kiddo activity planner!  I think you're going to love her and her first tutorial as much as I do.
Decorating the family tree has to be the most exciting part about Christmas for a kiddo, right? Okay, maybe Santa wins out. But still, Christmas trees hold a very special place not just in our little ones' hearts, but our hearts as well.
Having a small toddler, I am one of the brave/lucky ones that faces the "toddler vs. tree" conundrum. I'll be honest, last year didn't go so hot. We'd decorate. He'd undecorate. We'd put the priceless ornaments out of his reach, he'd find a way to reach them. Leave it to a toddler. They're ninjas like that.
This year we decided to give our little one his very own tree to decorate: a Washi tape tree.  It was a huge hit, and probably a family tradition from here on out.
To start, you'll need some basic scrapbook Washi tape. It's easy to use and light on the sticky side, so it won't ruin your walls. You'll want one shade of green for the tree, and the rest of the colors are up to you. We went with traditional Christmas colors and patterns.
The next step is to pick a spot for your tree. I let my son choose, and he aimed for right above his bed. Hopefully, this doesn't mean he'll stay up to all hours of the night singing "Oh Christmas Tree."
Then it's time to grab your scissors and green tape. If your child is young like mine, it might be best for Mom to tape the main shape of the tree. I even added a little garland before I let him loose.
And the final step? Well… let 'em loose. I was on standby to cut pieces when asked. But if your kiddos are old enough to work with scissors, then they can just go to town.
If you have a toddler you'll probably get a lot of this:
But I was more concerned with giving my guy creative freedom than worrying about tangled tape. For him, the tangling was part of the fun.
And of course, we couldn't forget the star.
True to form, he's been decorating and undecorating his wall tape tree for days. It's the gift that keeps on giving.
P.S. If you're really looking to have the holidays in the bag this year, we've got two ways to help. First get the holiday shopping out of the way with all 10 of our 2013 Gift Guides here…
Second, check out our new eBook, Hands-On Holidays, packed with low-prep and low-stress ideas for make memories crafting, cooking, reading and adventuring with the kids!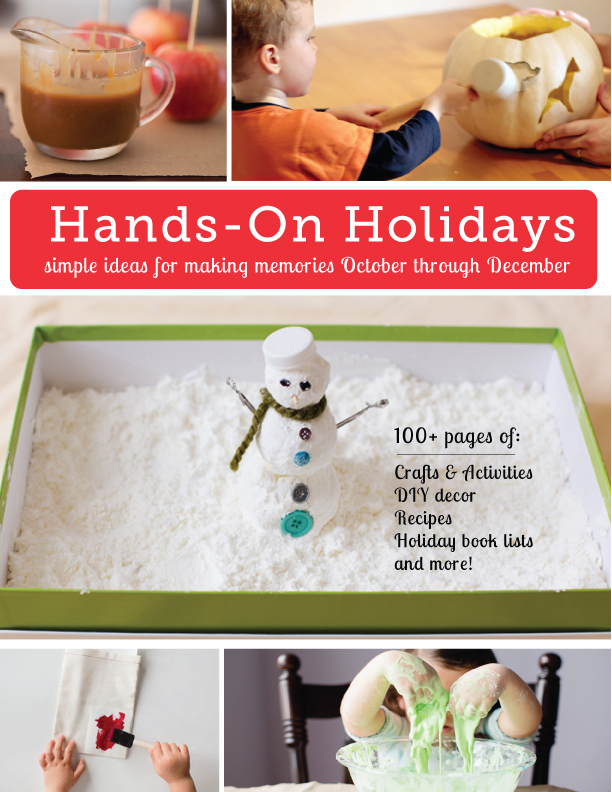 ✕
Get Your Free Printable
Subscribe to our newsletter today and get our free printable... No More, "Mom, I'm Bored!"
The following two tabs change content below.
Alli is wife to Michael, mommy to Isaiah and friend to their furry one, Hershey girl. Her passion lies in being a Mom and finding ways to bring creativity to life with her family. You can visit her blog (You have your blog, we have Aars) for ideas, activities, inspiration and more.