Janssen's with us today sharing one of her favorite Christmas crafts from her childhood.  I love the idea of using these around candles on a table or as an extra-special gift topper. And don't worry, she's got tips on how to avoid a sticky mess.
I remember making these as a child, but we used tiny tart pans, so I never made them myself until last year (because I didn't OWN tart pans, tiny or otherwise). Then I thought, "I wonder if you could do these without a tart pan."
And, in fact, you can. These were one of our favorite activities from our advent activity calendar this year. Cute and inexpensive wreaths, no specialty equipment required. I love these for easy ornaments, cute decorations, or simple gift toppers.
Also, children are great for unwrapping peppermints (although they may eat some along the way).
You'll need:
Peppermints
Silicone pan liner or parchment paper
A small round jar or bottle
Twine or ribbon
ModPodge or other sealer (optional)
Instructions:
Preheat your oven to 300 degrees. Line a baking sheet with a silicone liner or parchment paper.
Using a small jar or bottle as a guide, arrange your peppermints in a circle. Remove your guide bottle.
Bake for 8-10 minutes, until the mints are melted together. Remove from oven and let cool completely.
(optional) Seal with ModPodge to keep them from getting sticky or attracting bugs.
Attach to twine if you wish to hang them or use them as ornaments, or glue to ribbon and use them as gift toppers.
P.S. If you're really looking to have the holidays in the bag this year, we've got two ways to help. First get the holiday shopping out of the way with all 10 of our 2013 Gift Guides here…
Second, check out our new eBook, Hands-On Holidays, packed with low-prep and low-stress ideas for make memories crafting, cooking, reading and adventuring with the kids!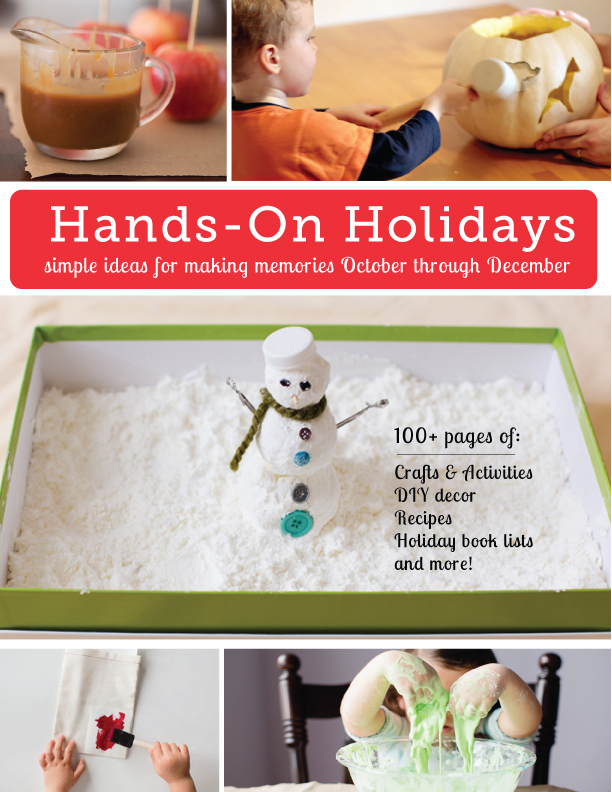 Get Your Free Printable
Subscribe to our newsletter today and get our free printable... No More, "Mom, I'm Bored!"
The following two tabs change content below.
Janssen is a former librarian and avid reader who is always maxing out her library card. She now stays at home with her three young daughters (with another girl on the way) and blogs about books for readers of all ages, her favorite recipes, and parenting adventures at Everyday Reading.