I always try to make an extra effort to do some special activities with the littles this time of year. Lately, I find sitting around the art table with the kids is just about all I want to do. So here's a glimpse of a few simple crafts the kiddos and I have made together this past week.  I hope you can find the time to share one or two of them with your little ones.
Cinnamon-Applesauce Ornaments – These are an annual tradition around here ever since the kids started making them in toddler group.  The original recipe couldn't be easier: mix equal parts cinnamon and applesauce (usually a couple of cups each), flatten and shape with a cookie cutter, then adorn with sprinkles. (Don't forget to make a hole to string the ornament – we use a straw.) Let the ornament air out for a few days and enjoy the yummy smell.
Cardboard Tube Snowman – Dip your tube in white paint to make the snowmen's circles. Personalize with a marker and glue on some fake snow for a 3D effect.  We did this one this morning and it was hit with both the 2 and 4 year old.
Tape Resist Candy Canes – I wish I could remember where I saw this first so I could give due credit. I didn't read the directions for this one when I came across it but it wasn't hard to figure out.  Start by drawing a candy cane outline.  Apply diagonal stripes with tape and let the kids go at it with some red paint.  Once the paint dries, remove the tape and cut out – viola! – instant candy cane.  My 4 year old thought this was SO cool.
P.S. If you're really looking to have the holidays in the bag this year, check out our eBook, Hands-On Holidays, packed with low-prep and low-stress ideas for make memories crafting, cooking, reading and adventuring with the kids!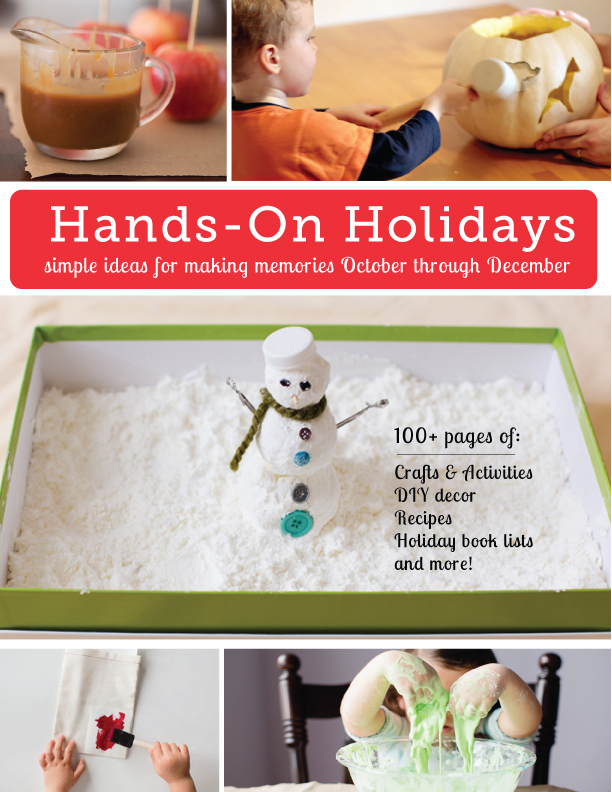 Get Your Free Printable
Subscribe to our newsletter today and get our free printable... No More, "Mom, I'm Bored!"