I'm a bit of a hoarder when it comes to paint chips (see exhibit A below).  They all look so lovely in the hardware store that I have a hard time sticking to my intended color scheme.  As a result, I have quite a collection.
Lately I've been eyeing my stack and formulating a few simple projects in my head.  The first of which I present to you today – a DIY Easter egg garland.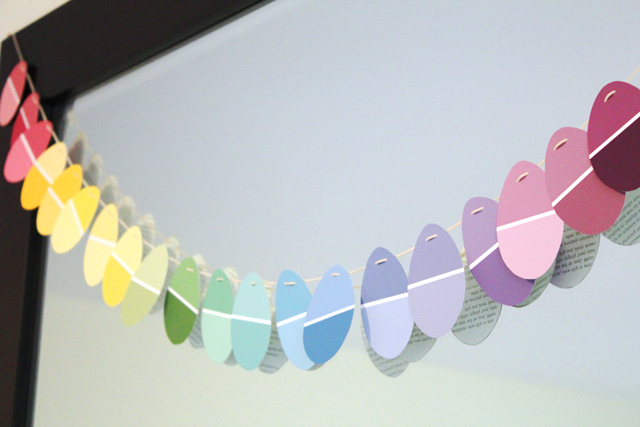 This was super easy and turned out even better than I'd hoped.  I love how the white line in the middle mimics the look of a plastic egg.  I even enjoy the slight reflection of words from the back of the paint chips when it's strung in front of a mirror.
You can use this to print and cut out an egg template.  I used Home Depot's Behr paint chips, which have 4 colors per card, and cut them in half eliminating all white except for the line between the two color shades.
I traced the egg on the back of the card (so there wouldn't be any residual pencil marks on the front) and then cut them out.
Lastly, I punched two small holes in the top of each egg with an extra small hole punch and threaded them onto a piece of waxed cotton.  The cotton did a great job of preventing slippage.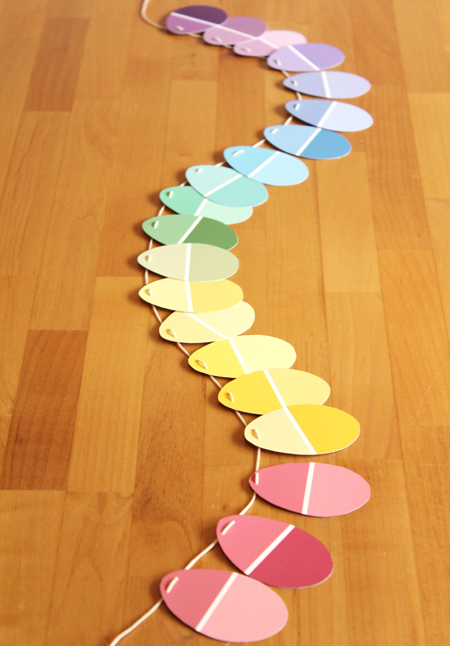 Once all your eggs are strung up you just have to find the perfect spot for them.  Mine has already changed locations a few times and it's not even April yet… I may have to make a few more.
For more candy-free Easter ideas, check out:
Easter basket ideas
Decorating
✕
Get Your Free Printable
Subscribe to our newsletter today and get our free printable... No More, "Mom, I'm Bored!"