Aren't these water bead eggs cool?  They were unbelievably easy and inexpensive to pull together and I think the kids are going to get such a kick out of opening them up and playing with the contents on Easter.
UPDATE
: check out how my kiddos played with these after cracking them open
here
.
If you're not familiar with water beads, they come in little plastic packets that fit in the palm of your hand.  Each "bead" is a teeny tiny ball which, when soaked in water overnight, grows to about the size of a marble.  They have a jelly like consistency and are very cool for sensory play. Of course, it should be noted that due to their size they can be a choking hazard so please never leave them alone in the presence of small children who might be tempted to eat them.  The best part is they're non-toxic and can be used again and again.

If you'd like to get your hands on some, they go by lots of different names (water beads, water gels, jelly ball soil) but are usually available in craft stores.  I think their intended purpose is for use in vases to keep flowers hydrated.
You can
get an 8 pack here
for just over $4.50 including shipping.  I bought two 8 packs and the photo above is only about 40% of the beads I received.  Since half the fun is watching them grow and the other half is playing with them, I plan to put some full size beads as well as some that aren't yet hydrated into the kids' baskets.
For the eggs, I hit up Fred Meyer and found these translucent glittery guys.  They were also pretty cheap at $1.99 a pack.
Then it was just a matter of soaking the beads overnight and color sorting the next morning.
Although that step isn't really necessary, they look pretty cool all mixed together too.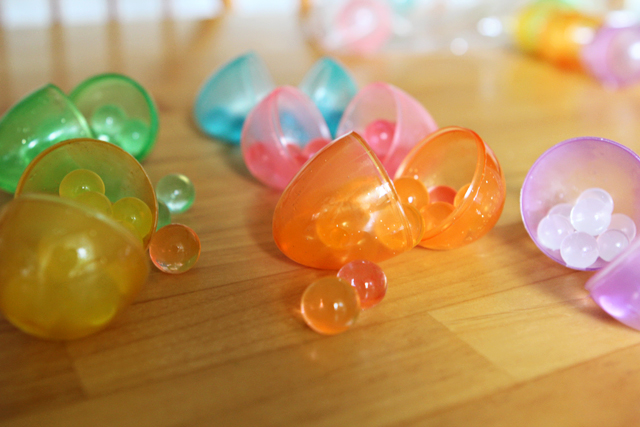 Easter morning we'll crack them open and dump them in a bowl or bin of some sort.
The eggs themselves will be great to use for scooping.
And when we're all done we'll stow them away for another day.  Apparently the beads last for several weeks before needing to be re-soaked.
I'm so excited about these eggs that I'm going to let them be the star of this year's creative play Easter baskets.  The only thing I plan on adding are a few play dough eggs I also picked up at Freddy's.  How about you, up for trying it?
UPDATE: Check out how our eggs went over with the kids here!
For more candy-free Easter ideas, check out:
Easter basket ideas
Decorating
✕
Get Your Free Printable
Subscribe to our newsletter today and get our free printable... No More, "Mom, I'm Bored!"