Allison's here today helping us check off #14 on our family activity Advent list: easy and lovely paper snowflakes that everyone in the family will have fun making.
There seems to be a never ending itch to craft this time of year. Whether it's at home or at school my boys seem to be crafting away! One of their favorite simple crafts is paper snowflakes. No snowflake comes out the same and they love seeing how their creations turn out.
For them the projects that bring instant satisfaction are their favorites and there is just something about unfolding that cut up piece of paper to see what you made. Of course when they are proud of their masterpieces they want them proudly displayed around the house.
Paper snowflakes are one of those crafts I've had a hard time displaying. It's still pretty warm some days here in the desert so blinds cover up the windows a lot of people like to tape them to. A traditional garland is nice but we like something a bit different – falling snowflakes!
Something so easy and simple can sometimes make a fun and magical impact! After the boys and I made paper snowflakes (Dad made a couple too!) I placed a heavy book on them overnight to flatten them out a bit.
Then you simply string a piece of twine through the snowflakes adhering with a small bit of scotch tape either in the middle or top & bottom depending on how your snowflake is formed. The paper is just heavy enough to keep the twine hanging down so no weight is needed.
I attached the string to the ceiling with scotch tape but you could use the removable hooks, a nail, or thumbtack as well. These were hung at varying heights for some visual interest.
I hung these up while the boys were out and they were amazed when they came home to see their creations displayed and set to work on making more! I think the more you add the better the display will look!
You can get the step by step folding instructions we used to make our snowflakes over on All for the Boys. If you're still in the crafting mood after all that you can also make a snow globe, or even a garland out of your kids' artwork! Happy crafting!

P.S. If you're really looking to have the holidays in the bag this year, we've got two ways to help. First get the holiday shopping out of the way with all 10 of our 2013 Gift Guides here…
Second, check out our new eBook, Hands-On Holidays, packed with low-prep and low-stress ideas for make memories crafting, cooking, reading and adventuring with the kids!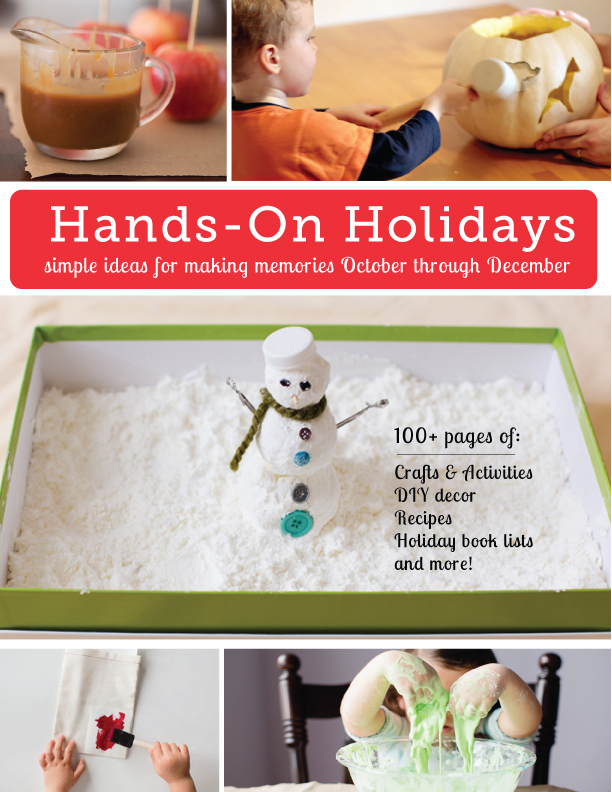 Get Your Free Printable
Subscribe to our newsletter today and get our free printable... No More, "Mom, I'm Bored!"