Happy Turkey Day!  Today Janssen is here with a classic Thanksgiving craft that takes me back to my own days spent at the kids table.  

This one is simple, inexpensive, and can be used both for craft time and dramatic play afterward.

P.S. Speaking of Thanksgiving, did you hear what we're doing to make Black Friday and all your holiday shopping way easier this year?
This craft is so simple, I took all the supplies to grandma's house this year so the kids could make their hats while I'm working on Thanksgiving dinner (and there's still time for you to do the same!).
When I'm making play costumes for holidays, I want them to be inexpensive and easy to make. This project uses one sheet of black poster board to make two pilgrim hats. Considering I bought my poster board at Target for 99 cents, that was a price I could feel pretty comfortable with.
Supplies
Black poster board
Pen
Scissors
Tape
White printer paper
Gold paint
Paintbrush
Instructions
Lay your poster board on the floor and use a dinner plate to trace two circles at the narrow bottom of the poster board.
Cut them out, then cut a circle out of the middle, so you have a two-inch ring (you can make it bigger or smaller depending on your child's head size).
Cut the excess poster board from the circles off so you have a rectangle again, then cut that into two horizontal strips (each piece will make the body of one hat).
Wrap the strip into a cone (wide enough at the bottom to fit the inside of your poster board ring and narrower at the top) and tape shut.
Trim the bottom so it's even, then tape it in place, so the ring is around the bottom edge.
Trim the top so it's straight, too (you'll probably want to cut off about 2-3 inches to keep it from looking like a stovepipe hat, unless it's President's Day, in which case, leave it tall like Lincoln!).
Cut two strips of white printer paper, about 1 1/2 inches wide and tape them around the bottom edge of the hat like a ribbon.
Use the poster board scraps to cut out a square buckle, paint it gold, then tape it in place. You are ready for a Thanksgiving feast!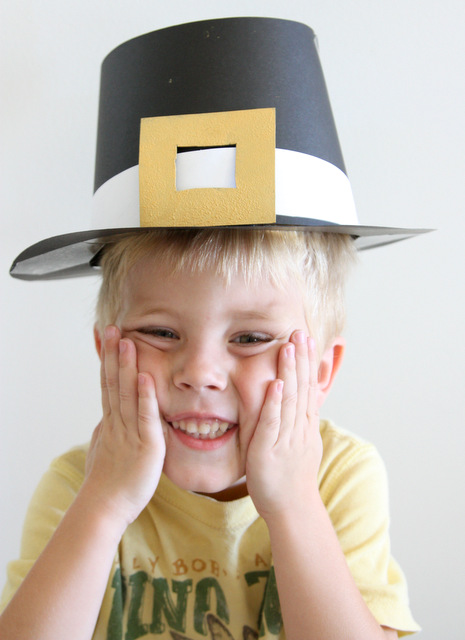 Get Your Free Printable
Subscribe to our newsletter today and get our free printable... No More, "Mom, I'm Bored!"