I've been doing a lot of lamenting about C dropping naps over on
the facebook page
lately (which, by the way, is new and improved!).  Despite all my whining, the situation remains the same – I can no longer count on having a chunk of my day all to myself.
Honestly, it's not as bad as I feared it would be.  C is very good at independent play and he does still nap occasionally.  I've found the key to surviving the no-nap days is to always be prepared with a stimulating activity or two.  Last week over at
momtastic
, I shared our current favorite time-killer, yarn and sandpaper.  When I first put this together I thought it was going to be a definite fail – the yarn didn't stick to the sandpaper nearly as much as I'd envisioned.  Turns out it doesn't really have to for the kids to have a blast with it.  See
all the details for this project here
.
Despite C's enthusiasm for the activity, I knew it would only be a matter of time before the novelty wore off (as is the case with everything).  I wasn't quite ready to throw in the towel on this one, though, so I decided to take a stab at extending it a bit.  Click through for the details on how I transformed this from one activity into three.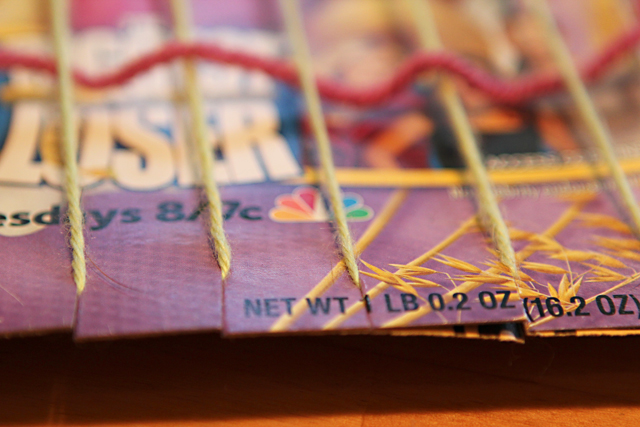 Step one was to use some scissors to cut evenly spaced notches into each of the shorter sides.
Step two was to weave a long piece of yarn into these notches so it traveled horizontally along the sandpaper side and vertically along the cereal box side.
This effectively created a loom on the back side of the sandpaper.  So now when C tires using the yarn to make art on the sticky sandpaper, he can flip the whole thing over and get in some fine-motor work via a little weaving.
Step three was to once again cut some pieces of yarn – much longer though than the strands used for the original project.  Now that there are notches present in the sandpaper, the long pieces of yarn can be threaded in and out of them to produce yet another type of creation.
I have to say I'm pretty pleased with how much independent playtime we've managed to squeeze out of some pretty basic materials.  And I love that everything's reusable.  Once the novelty really wears thin, we'll store it away for a few weeks and then re-introduce it.  That always seems to work like a charm.
Will you try this one at home?  Any other favorite quiet time activities you'd like to share?
Similar Stuff: