Whether your family routinely does a ten hour trip to grandma's every Thanksgiving, or you just find yourself in the car shuttling kids around A LOT now that school's back in session – a well organized and entertaining car environment can be a parent's best friend!

Today Alli is teaming up with MPMK's newest sponsor, Munchkin, to share her favorite tips and products for keeping the mood happy in the car so you can be one zen Mama, wherever the road may take you.

They're all great, but my favorites are definitely the DIY car activity kit and that genius iPad holder/organizer for only $25!
This past Summer, we took our family on a fourteen hour road trip. You heard me, FOURTEEN hours.
I'm not even going to mention the fact that it turned into eighteen hours with pit stops and bathroom breaks. (It's hard for me to talk about.)
I'm a serious organizer, so I did my best to get our car organized for our road trip. But to be totally honest, I had no idea what I was doing. It was our first road trip with the kids in tow, and as hard as you may try, you just can't plan for these things unless you've been through it already.
Now that I'm on the other side of that trip (thank goodness), I'll be much more prepared for the next one. Here's a few tips and tricks to get your car road trip ready:
Everything within Reach
This one may seem like a no brain-er, but I can't stress it enough. Whatever you can put within the kids' reach, the better.
On our last trip, I must have climbed back and forth (while we were moving. – don't tell the cops) more than a hundred times. One hour into the trip, my back was already hurting so bad just from "snaking" into the back seat. And all because the kids couldn't reach this or that.
This time? I'll know better. Back Seat and Stroller Organizers can be a lifesaver.
Here are a few "must haves" to pack in your organizer:
wipes
sunglasses
activity books/board books
bubbles (my kids LOVED blowing bubbles out the window when we got caught in traffic)
travel games
snacks/sippy cups
maps (so they can follow along with your route)
and a doodle/magic erase board.
Always think ahead. Maybe even ask your kids what they'd like to have close to them. Trust me, you'll be glad you did.
Bring an Activity Tray
Now this was one thing I got right on our trip. While I was in our local dollar store, I spotted a junior size party tray and snatched two of them.
It was crucial for activities, coloring, and even snacks on the road.
It also contained messes, stopped spills, and stored away perfectly in the Back Seat and Stroller Organizers.
Get Creative with Storage (for food and toys)
The Click Lock Bento Mealtime Set work great for mess-free snacks in the car, but they're even better for organizing on-the-go activities.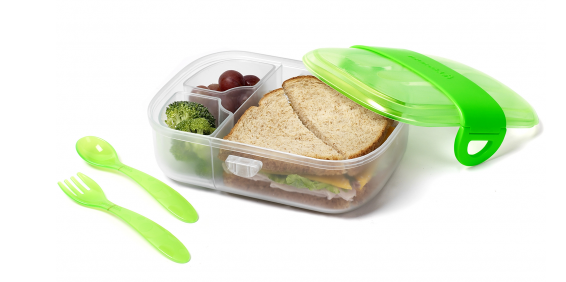 The compartments are perfect for keeping things neat and easy to access. Be sure to think outside the box (see what I did there?) when it comes to how you use them.
Here's a few ideas to get you started:

Make a crayon/notepad holder. The top of the bento box even doubles as a hard surface to color on if you don't have an activity tray on hand.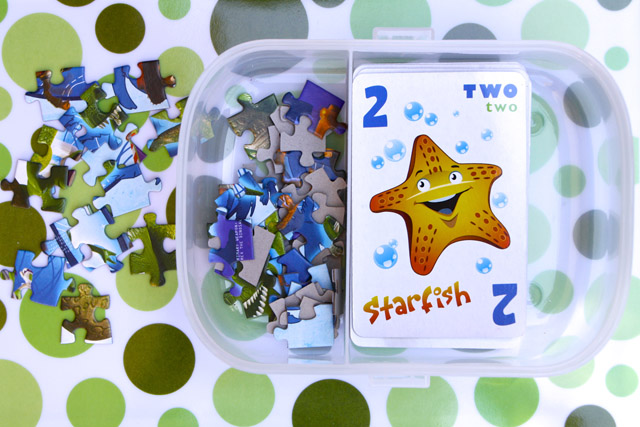 Use it to organize games and small puzzles. We love playing "Go Fish" on the road, and having compartments to keep the cards and game pieces separate makes life A LOT easier.
Create a "car activity kit." Use the box to store cars and Washi tape, and let your little ones create their own city/parking lot.
All Hail the Tablet
I know, I know. We try to avoid too much screen time, too. But on a road trip? A tablet can change your life.
We brought our iPad with us last time, but made the mistake of not having a place to secure it. So, it kept falling off our littlest's lap.
If you don't have a car with a built-in media player, and don't want to pay hundreds to thousands of dollars to install one, get an i-Hide Car Seat Organizer with Tablet Viewer that hooks onto the back of the seat for only $25.
It makes viewing easier (both our kids could watch this way) and also stops little fingers from hitting "pause" every five minutes. The iPad holder also tucks away when it's not in use–which creates extra storage space for more organizing.
The moral to this story? Organization is everything.
Take the time to plan ahead. Invest in a few organizing essentials, then sit in the back seat and think like a kid and organize accordingly. Your family with thank you!
Do you have any car hacks for traveling with kids? We'd love to hear them in the comments!
The following two tabs change content below.
Alli is wife to Michael, mommy to Isaiah and friend to their furry one, Hershey girl. Her passion lies in being a Mom and finding ways to bring creativity to life with her family. You can visit her blog (You have your blog, we have Aars) for ideas, activities, inspiration and more.