It's fall! My absolute favorite season. So, of course, I had to make it into a Play Theme Cheat Sheet. And really – cool weather, gorgeous leaves, pumpkins galore – what's not to love?
I have always wanted to take my little family apple picking in the fall. (I've never actually been. Sad, right?) But since apple farms are few and far between where I live, I decided to bring apple picking to us–with a little educational value built in.
We've been working on our numbers at home, so I thought why not make a number apple picking game?
I went straight to the craft store to pick up a few sheets of felt. I chose gray for my tree and red for the apples. Then I chose a few scrap fabric pieces for the stems and the leaves. I also picked up a bottle of black fabric paint.
Then, after the kids went to bed, I started cutting. I used a cookie cutter to trace the shape of my apples. Then, I attached the stems and leaves with a dot of Fabri-tac (a simple stitch would do just as well.) The last step was to add my numbers with the fabric paint (0-9).
I let them dry overnight and in the morning it was time to play!
We played three ways:
1. We "picked the apples" by number (number recognition).
2. We "picked" a certain number of apples at a time (counting).
3. We "picked" some apples, and added others (addition and subtraction).
Isaiah loved it so much, we played all day. The fact that it was educational was my little secret. It was a great lesson, and a perfect way to celebrate fall.
Here are 25 other ways to play with the fall theme all month long:
Simple Recipes
Playtime Activities
Kid-Friendly DIY Decor
Toys and Books to Help:
*Post contains affiliate links
P.S. If you're really looking to have the holidays in the bag this year, we've got two ways to help. First get the holiday shopping out of the way with all 10 of our 2013 Gift Guides here…
Second, check out our new eBook, Hands-On Holidays, packed with low-prep and low-stress ideas for make memories crafting, cooking, reading and adventuring with the kids!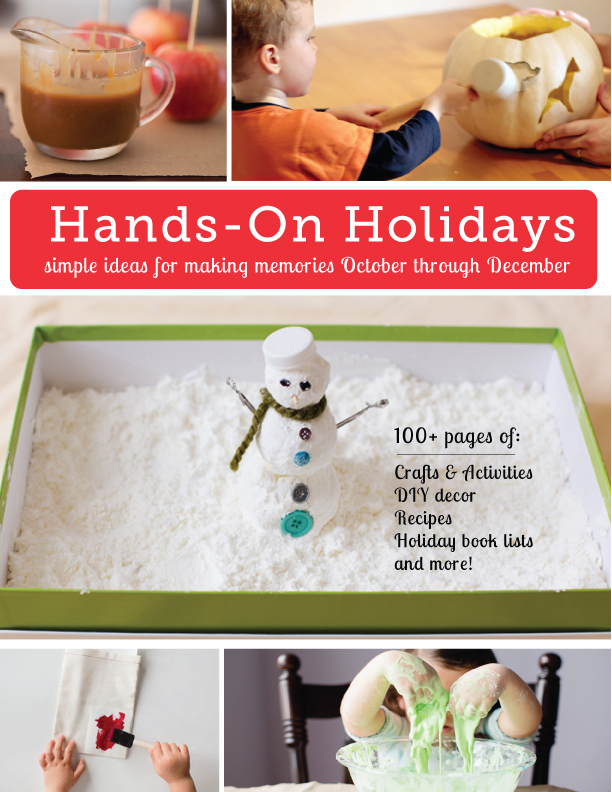 Get Your Free Printable
Subscribe to our newsletter today and get our free printable... No More, "Mom, I'm Bored!"
The following two tabs change content below.
Alli is wife to Michael, mommy to Isaiah and friend to their furry one, Hershey girl. Her passion lies in being a Mom and finding ways to bring creativity to life with her family. You can visit her blog (You have your blog, we have Aars) for ideas, activities, inspiration and more.