Looking for a quick and easy Earth Day project to do with the kids? Our contributor Janssen teamed up with our newest sponsor, Juicy Juice, for the perfect Earth Day kid craft- upcycled juice box seed starters!

It's spring break this week around here and I can't wait to make a whole batch with the kids this week. I also love Janssen's idea of making them now and using them as gifts for Teacher Appreciation Day later.

spring break activity and teacher appreciation gift- who doesn't love a two-in-one? Here's all the details…
One of my favorite parts of spring is starting a garden.
When I was growing up, my family always had garden beds, and we grew everything from peas to strawberries to edelweiss.
Since I've been married, I've almost always had a garden, whether it's a tiny windowsill herb garden or a backyard garden box.
And now my little girls have caught the gardening bug too. They love watching their various herbs, flowers, and vegetables pop up, and every morning, as soon as breakfast is over, they beg to go check on their plants and water them (my job is to prevent these poor plants from getting watered seven times a day).
I love this clever way to give my children's favorite juice boxes a second life as seed start planters.
You can be endlessly creative in how you decorate them, and then watch new life appear right in your own kitchen or patio.
This is the perfect craft for celebrating Earth Day or, if you start them in the next month, your seeds will have time to sprout and they make a cute teacher gift at the end of the year, paired with a gift card, book, or other small item.
Supplies
To make your own seed starter box, you'll need:
Empty Juicy Juice boxes
Craft knife or scissors
Paint
Paint brush
Small paper plate or palatte for paints
Decorative tape
Rhinestones
Soil
Seeds
Instructions
With the knife or scissors, carefully cut off the top of the box and discard.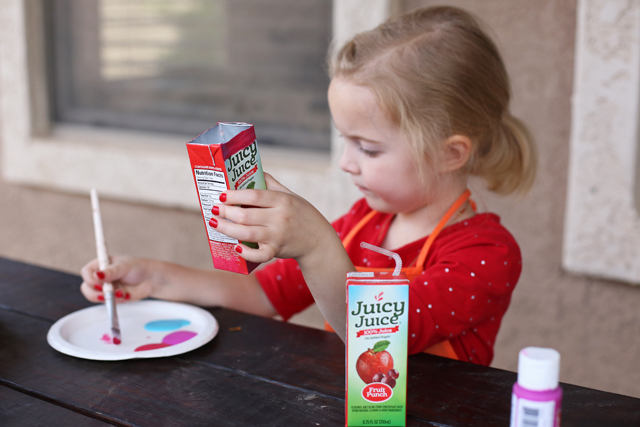 Paint the box. You may need a few coats, depending on the shade and opacity of your paint.
Let the box dry completely, then decorate with washi tape, rhinestones and gems.
Fill your seed box with dirt, plant your seeds according the package directions and water as directed.
Then all that's left to do is to watch your seeds sprout.
It also can't hurt to keep a few full Juicy Juice boxes on hand in case your children, like mine, need something to sustain them while they paint and plant. (Hint: There's a coupon in the link.) And you can feel good doing so knowing they're drinking 100% juice with no sugar added.
*This post was sponsored by Juicy Juice, all opinions are 100% our own.
Get Your Free Printable
Subscribe to our newsletter today and get our free printable... No More, "Mom, I'm Bored!"
The following two tabs change content below.
Janssen is a former librarian and avid reader who is always maxing out her library card. She now stays at home with her three young daughters (with another girl on the way) and blogs about books for readers of all ages, her favorite recipes, and parenting adventures at Everyday Reading.