When buying kids' gifts for birthday parties or other celebrations we can be easily enticed by toys that aren't necessarily what you would want in your home for your child. I try to keep in mind that no kid really benefits from a ton of toys and that every parent will appreciate a quality gift in the long run. Here are some ideas to keep the fun in that special present, with a forward-thinking, minimalist spin.
Breathe new life into those great toys that your gift-receiver probably already enjoys.
You know those tried and true toys? The baby doll, stuffed animal, dollhouse, farm set, kitchen set, tent or playhouse, art easel, or bin of dress-up clothes all make my favorites list. We often avoid these as gifts for other children, because we assume they already have these gems or their price may be outside of our gifting budget. We can still add to these favorites by giving add-on items that make an old toy new again. Try…
Fresh art supplies for an easel
Snazzy props to liven up that dress-up bin
Overstuffed pillows in fun fabrics to soften up the floor of a favorite tent or playhouse
Care items for dolls or stuffed animals, like a diaper changing set or a homemade vet kit, like this one.
Create a literature lover.
Although I absolutely love children's books, I still try to choose them thoughtfully and to create special book sets from two books or a book and a related toy. For a recent gift, we gave a set of books including the classic "The Princess and the Pea" and the modern version "The Princess and The Packet of Frozen Peas." For a little unicorn lover, we gave a whimsical unicorn tale with a plush unicorn castle. For ideas of where to start for your next gift, go with…
The classics
The theme of the birthday party
Kid favorites (like rocket ships, fairies, trains, and animals)
A known area of interest. (This is great for the kid known for that shark-obsession!)
Think outside the toy box.
For children you may not know that well it may be safer to steer clear of toys.
For younger kids, think about some of the great independence builders, like…
For older kids, think experiences, like trips to…
Favorite arcades or local indoor play areas
Museums
Shows
Pottery painting shops
Local kid hotspots
Tell us what you think.  What are your favorite kid gifts that you've given? What about the best gift your child has received?
Thanks to Kim for all of these great tips – I'll definitely be using the book + theme toy trick soon! Kim is leaving us for a bit in preparation for welcoming a new baby soon.  We wish her family all the best and truly thank her for all the wonderful info. she's shared here on MPMK!
*Post contains affiliate links
Still Christmas shopping? Don't forget to check out all of MPMK's 2012 Christmas Gift Guides (for builders/innovators, dramatic play, kids on the go, little explorers, the creative & crafty, and etc).  Just click below: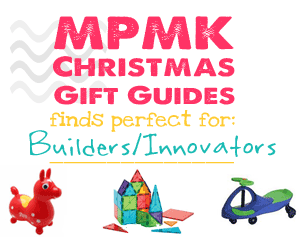 Get Your Free Printable
Subscribe to our newsletter today and get our free printable... No More, "Mom, I'm Bored!"