Gift guide #5 is all about things that go Vroom!  If I let C see it, I'm sure he'd want every single item on this list (which is exactly why I'm not showing it to him).
Don't forget you can see all of MPMK's 2012 Christmas Gift Guides here.  As with all the guides this year, we're starting with our top 3 for those of you who don't have time to peruse the whole thing:
Battat Take Apart Sets $ 18.15 and up
Bruder CATERPILLAR Construction Vehicles $16 and up
Click through for my reasons as well as my other 16 picks!
1) KidKraft Limited Edition Waterfall Mountain Train Table $141.95 – We bought C a train table for his 2nd birthday and we always say it's one of the best purchases we've ever made.  Over two years later he still plays with it almost daily and his sister gets quite a bit of use out of it as well.  At 4 he's now able to completely construct the track by himself using the map and that's added a whole new level of building play to this fantastic toy.
2) Automoblox Mini, Set of 3 $24.22 – These piece together toys are really great for building, creativity, and car play.  The parts are a big small though, so they're probably not suited to kids still mouthing toys.  We got C the set of 3 mini cars for Christmas last year and he really enjoys mixing and matching all the different components.
3 – 6) Bruder CATERPILLAR Construction Vehicles $16 and up – If you've got a true vehicle lover at home then you know they can NEVER get enough construction vehicles to push around the floor (or around the sandbox).  The Brudler versions are each realistic, high quality options that won't disappoint.
7) Goodnight, Goodnight Construction Site $9.25 – This is a really sweet bedtime book, perfect for your little builder.  We've checked it out so many times from the library it really is time we just bought it already!
8) Mighty Machine Videos – I did an entire review of Might Machine Videos here.  They consist of nothing more than footage of real life "mighty machines" (i.e. bulldozers, excavators, airplanes, trains, ships, firetrucks, buses, etc.) at work.  There are no contrived characters or drama.  The machines narrate their actions and talk directly to your child to explain what they're doing.  Kids learn about how all kind of things work ("All About Recycling" is C's current favorite) and they LOVE it.  Each video contains several episodes so it's easy to control how long your child watches.  Some of them, like the one about trains
, even have a collection of 5 minute "bonus videos".
9) Mike Mulligan and his Steam Shovel w/ Read Along CD $8.79 – We love this book because, unlike many others, the steam shovel is an actual character (Mary Anne – how sweet is that?). The illustrations are gorgeous and this 1939 classic also has all kinds of interesting throwbacks like the page that starts, "Now the girl who answers the telephone called up the next towns…".
10) Kettler CAT Kid Tractor $169.95 – I already recommended the Kettler Cat ride-on excavator in our "little buidlers/innovators" gift guide.  That's the one we own, and we love it but this one looks awesome too.  I trust the quality of this brand so I think the splurge would be worth it and, with the wagon, this is one two kids can easily play with together.
11) Little Blue Truck $17.81- Our all-time favorite book.  The characters are incredibly endearing, the illustrations are vivd and bold and it has a great message. Enough said.
12) Green Toys Flatbed Truck and Car $23.51 – Every time we have a young toddler's birthday part to attend, I find myself gifting a green toys car.  As I've already said in these gift guides, I really appreciate that their stuff is made in the USA from 100 percent recycled plastic milk containers and contain no BPA, PVC, phthalates, or external coatings.  Beyond that, their vehicles are easy for small hands to grasp and manipulate and I like the 2-for-1 punch packed by this flatbed and car combo.
13) Cars Mack Play Set $29.99 – If you truly have a car lover in the house then it's unlikely you've escaped the gravitational force that is Disney's Cars.  I actually really loved the original Cars movie for it's simple message and lack of bad guys and violence. Until recently it was the only movie we let C watch and he loves it so much that he never complained.  Cars fanatic that he is, C owns several of the die-cast characters and last year we got him this Mack carry case.  He really loved it and I'd buy it again in a flash but I also think this version that unfolds into an entire play set is pretty cool.
14) Battat Take Apart Sets $ 18.15 and up – I'm kind of in awe of these Take-A-Part kits (there's an airplane, crane, 4×4 and roadster available) .  They combine C's two absolute favorite activities: building and playing with things that go zoom.  Plus kids put together their sets using a working power drill with 3 different bits.  The reviews on this one are stellar and I'm totally sold!
15) Melissa & Doug World Airplane and Luggage Carrier Set $21.08 – This simple set is charming.  It's the perfect thing for promoting lots of imaginative play and I'm smitten with the little wooden luggage and luggage cart.
16) Wooden Rocking Scooter Chair $65.07 – If your child is into rockers (C didn't much go for them but S can't get enough), then why not get them one that will look cool in your living room?  This Vespa rocker is the epitome of cool.
17) Diggin Active Box Cars Set $33.19 – This Diggin sets (there's others like this airport) are perfect for on-the-go play.  This would be just the thing to throw in the car for a weekend at the grandparents.
18) Plan Toys City Series Parking Garage $73.05 – C got this garage for Christmas this year.  He and S really like the working elevator and it's a favorite toy for group play during play dates.
19) Kid-O Go Car $10.05 – I gift this car quite a bit to young toddlers.  With it's bright colors and built in handle, it's the perfect first car for any child.
So those are our dramatic play picks – hope you found something to love!  Don't forget, you can click on the graphic below to check out all of our other gift guides (for builders/innovators, kids on the go, little explorers, the creative & crafty, and etc).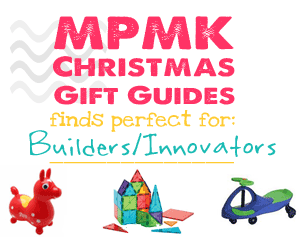 *POST CONTAINS AFFILIATE LINKS