Today's the last of MPMK's 2012 Christmas Gift Guides, and it's a good one – designed to nurture the explorer within.  After all, if your kiddo has an adventurous spirit, I say run with it!  Whether their fascination lies in the stars above or their own backyard, our finds will help you milk their curiosity for all it's worth.
Don't forget you can see all of our 2012 Christmas Gift Guides here.  As with our other 2012 Christmas Gift Guides, here's a sneak peak of my top 3 picks:
IKEA Kids Handheld Crank Flashlight $4.99 (also available through Amazon here).
GeoSafari Jr. Bug Watch Kit $21.99

Read on for my reasons as well as the rest of my picks.
1) The World of Eric Carle Terrarium $10.49 – Such a sweet idea to read Eric Carle's The Very Hungry Caterpillar with your kids and then grow a butterfly bush together using this terrarium.
2) Robot Claw $9.99- I picked this up on impulse while birthday shopping for my son recently.  So glad I did – it was a HUGE hit.  I'm not sure why I included it on this list exactly, except that it seems to entice C to explore all kinds of things around the house in new ways.
3) Constellation Night Light, Sea Turtle $21.87 – This guy literally shoots stars onto the walls and ceilings of your little one's room while she falls asleep (it automatically turns off after 45 minutes). We picked him up for C on his pediatrician's recommendation.  We were having trouble with him night wandering and she suggested setting up a routine where he wakes up, turns this on, and goes back to bed (as opposed to a routine where he wakes up and roams around the house).  It worked instantly and there's something so magical to C about falling asleep under the stars.
4) IKEA Kids Handheld Crank Flashlight $4.99 (also available through Amazon here) – My kids absolutely adore playing with "grown up" flashlights right now.  The problem is they keep leaving them on and draining the batteries.  So we're putting these in their stocking this year.  I just know they're going to think the hand crank power system is super cool.  IKEA only sells them in stores but you can use the link above to get them online through Amazon.
5) Everything Bug Book $7.95 – A great read for any child interested in all those creatures living in their backyard.  This book would be excellent bundled with any of the other outdoor exploration toys listed here.
6) GeoSafari Jr. Bug Watch Kit $21.99 – This is the perfect beginning science kit for any bug lovers in your family.  A lot of parents also report kits like these helping their little ones to overcome their bug phobias.
7 – 8) Backyard Safari Vest $16.50 & Field Toys $12.39 – Props like these are the perfect way to turn playing in the backyard into a full-blow exploration.  I could see C having a blast excavating around the sandbox with the field tools, especially if he had the snazzy vest to hook them to.
9) Live Butterfly Garden $12.99 – Both kids had one of these in their preschool/toddler group classes last year but both missed the butterflies coming out of their cocoons due to not having class that day.  I'd love to have a kit at home for them to check on each day.
10) Backyard Safari Field Scope/Insecto-Scope $11.04 – This scope's large, easy-to-handle design is perfect for little hands.  Kids can trap whatever they want under it, then use the light and knob for 6x magnification.
11) My, Oh My – A Butterfly: All About Butterflies $8.99 – And who better than the cat in the hat to come along with us on our Butterfly exploration?
That's my list for little explorers. Don't forget, you can click on the graphic below to check out all of our other gift guides (for builders/innovators, kids on the go, little explorers, the creative & crafty, and etc).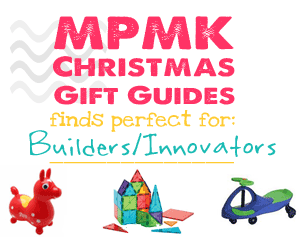 *This post contains affiliate links.
Get Your Free Printable
Subscribe to our newsletter today and get our free printable... No More, "Mom, I'm Bored!"