Are you guys ready for issue two of MPMK's Christmas gift guides?  I hope so because it's one I'm particularly excited to share.  Before I do, though, just a quick reminder that you can peruse all of our gift guides here (or by clicking on the fancy schmancy graphic in our sidebar to the right).
On to our finds for dramatic play, yippee!  Why am I so enthusiastic about this list, and dramatic play in general?  Because I truly believe that this type of play is absolutely VITAL to kids development.  It teaches so many wonderful things – literacy through vocabulary and story-telling practice as well as social skills such as empathy, turn taking, and the identification of emotions.
It can even incorporate lots of practical mathematical problem solving skills, and much, much more. Plus kids absolutely love it, which means carefully selected, engaging toys can leads to hours upon hours of independent and cooperative play.
1) The Land of Nod Debutante Wardrobe $199 – Having dress up items readily available is one of the easiest ways to promote dramatic play at home.  But you need a place to store it all. I gravitate towards system like this dress up caddy from The Land of Nod not only because they look so cool, but also because dress up is so much more enticing when the costumes are out on display. Of course, this one's a bit of a splurge.  Here's another, more economical, option.
2) Educational Insights Grill & Go Camp Stove $26.27 – I've been a bit obsessed with camping since our family had such an awesome go of it last summer.  I really like how real looking this set is and I think it would be great both for kids already excited about the great outdoors and those you'd like to get excited by next summer.
3) Melissa & Doug My Own Mail Box $15.40 – Everyone loves to get mail!  Having a play mailbox like this one is an incredibly cute way to encourage communication between siblings and they'll adore leaving and finding notes in it.  It's also a great excuse to practice writing skills.
4) Kidkraft Red Vintage Kitchen $135 – The play kitchen is another quintessential play toy that I would recommend for every child, girl or boy, if you have the space.  There are so many different ways kids can play with them – cooking at home, setting up a restaurant, having a tea party, going shopping and unloading the groceries, etc.
We bought this one for the kids last year and couldn't be happier with it.  I really like the look of the thing and I think the vibrant red nicely gender neutral.  Despite a small footprint, this kitchen still has all the amenities and both my kids enjoy playing at it simultaneously.  If you're looking for a big wow gift from Santa, this could very well be it!
5) Learning Resources Teaching Cash Register $35.99- An obvious extension of all the play food that comes with a play kitchen, is playing store.  And the biggest prop needed for some good store play is a cash register.  My kids recently hoarded the register at a local drop in play center for over an hour and I knew we had to get one for Christmas this year.  A lot of research pointed to this one as being the best learning register on the market thanks to a working calculator and scale as well as being able to recognize real money and even incorporating some math games.  It's also a great price right now on Amazon!
6) Just Like Home Blue Cash Register $14.99 – Is it weird to have two cash registers on the list? Wait until you find out I'm actually getting both for the kids this year.  What?!  I couldn't resist for a few reasons.  First, this is the actual register my kids fell in love with.  It's pretty inexpensive at Toys R Us, which is great but also has me concerned about how long it will last.  So I figured I'm getting such a good deal on the cash register above, why not use some of those savings and buy this one too?
The kids can each have one, leading to less fighting and more elaborate store play scenes (a mini-mall perhaps?), and if the inexpensive one dies after a while it won't be that big of a deal.  Plus, as much as I love the features of the Learning Resources cash register for when the kids get a little older, I kind of like the simpler features of this one for the kids now, as it requires a little more imagination on their part.
7) Melissa and Doug Shopping Cart $49.95 – A shopping cart isn't totally necessary for shopping play but if you have the space, kids absolutely LOVE it, both for playing store and just for pushing their dolls and other pals around in. (This option bundles the cart with a wooden pantry food set and a fridge food set.)
8) The Land of Nod Stand Up Store $199 – This is a definite splurge but if you know your kiddo will love a store setup, this one is pretty darn cool.  For a more budget-friendly option, this Melissa & Doug version isn't quite as chic but it's reversible awnings allows it to do double duty as both a grocery store and a lemonade stand at less then half the price.
9) Melissa & Doug Cutting Food $16.58 – Regardless of whether you go for a play kitchen, play store, or both – you're gonna need some food.  We got this cutting food from Melissa & Doug before we ever got the kitchen and it was an excellent toy all on it's own, both for dramatic play and for building fine motor skills.  Our kids have been playing with these pieces for years and still find them very enticing.
10) Melissa & Doug Shopping Basket and Play Food $16.30- As much as we love the cutting food, for a store setup it's less frustrating to have some food that doesn't fall apart when being scanned and bagged.  I like the array of items in this set, as well as the realistic shopping basket (a great alternative if you don't want to go for the cart).
11) Fisher-Price Medical Kit $15.99 – A quality doctor kit is another excellent dramatic play toy for both boys and girls.  Kids like being patients but really enjoy the power involved in getting to play care-taker.  These kits are also nice for easing doctor visit anxiety.  Both my kids and I really like how comprehensive this set is.  The easy-to-hold plastic band-aid is a particular favorite.
12-15) Dress up Sets $20 – $27- A big box full of dress up clothes was the kids' other big present last Christmas.  I filled it with lots of random items (shoes, jewelry, masks, hats, boas, etc) as well as a few complete outfits.  For that, Melissa & Doug's selection has always been my favorite (the kids are getting another this year).  Go for their Delux Role Play Costume Bundle or check out their chef, Fire Chief, and pirate outfits as well as this very cool, non-M&D, astronaut getup.
16) Little Adventures Girl Superhero Cape $15.99 – There's something so confidence-inspiring about getting to be a superhero.  Be sure to get a cape for your boy too.
17) Disney Brave Merida Dress $19.99 – I'll admit, I don't love the whole princess thing. Nevertheless, little girls like to be pretty – that I get.  And if there's one princess I can get behind it's Merida from Disney's Brave.
18) 12 Foam Animal Masks $4.83 – These foam masks aren't the highest quality but they're dirt cheap and my kids have been playing with them for nearly a year now.  One of the best $5 I ever spent!
19) Melissa & Doug Construction Worker Role Play Set $23.68- Perfect for any construction vehicle loving kiddo in your life.
20) Dalmatian Vet Kit $34.95- We're getting this for S this year.  She's one of those girls that likes caring for stuffed animals and dolls, but doesn't go nuts about babies like some of her friends.  I think this will be a nice, non-baby dramatic play option for her.
21) Animal Hand Puppets, Set of 12 $39.99 – Playing with puppets is great for storytelling and for learning about emotions.  This is a very high quality set at a reasonable price.
22) Little Helper Broom Set $10.99- This is another item we've had for a few years now.  It's very inexpensive and the kids really enjoy breaking it out to help with clean up when the opportunity arises.
23) The Land of Nod Travel Hanging Puppet Theater $39 – This cool curtain makes puppet play so much more enticing.  Plus, it folds right up when you're done, making storage incredibly easy.
24) The Land of Nod Deluxe Cleaning Cart $149 – I couldn't resist including this cleaning cart. It's just so darn cool.  It's also way out of our budget and we have nowhere to put it but, man, the kids eyeballs would pop out of their skulls if Santa left this behind Christmas morning. (Sidebar: why do they like to pretend to clean up so much?)
So those are our dramatic play picks – hope you found something to love!  Don't forget, you can click on the graphic below to check out all of our other gift guides (for builders/innovators, kids on the go, little explorers, the creative & crafty, and etc).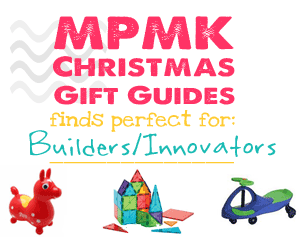 P.S. Wondering where the babies are in this dramatic play round up?  I decided to give dolls and all their accessories their own very own guide.
*Post contains affiliate links
The Toy List Already Trusted by 7,000,000 Parents
Sick of spending your money on toys your kids play with for 5 minutes and then abandon to clutter up your house?
Check out the toy list you won't find anywhere else- full of high-quality, engaging toys worth spending your money on!