I have so many friends with little girls that are absolutely obsessed with dolls right now that I just had to include this guide (they're just too good of a resource not to take advantage of).  Plus doll play is wonderful for dramatic play, teaching emotions, and fostering nurturing and empathetic qualities in children.
As with all of 2012's Gift Guides, here's our cheat sheet to this list's top 3:
1) Corolle Emma Drink-and-Wet Bath Baby Doll $47.44 – My 2 year old daughter S is getting more and more into baby dolls.  She's also getting more and more into the idea of potty training (do you hear the angels singing?).  So I figured, why not combine the two?
A little research revealed several dolls that actually "pee" after drinking water but reviews, and reports from my friends, suggest that this one is the best.  I also really like that the doll can double as a bath toy.  S has been dying to take one of her babies in the tub with her but doesn't have one that would work for that purpose yet.
2) Green Toys Tea Set $20.18 – Whether playing with mommy or a favorite doll, tea time is always a fun way to pass some time.  We've had this set for over a year and it still looks like new (despite lots of use in the playroom, bathtub and even sand box).  Plus I love that Green Toys are 100% recycled, made from milk jugs, are FDA approved to eat and drink from, and do not contain BPA, phthalates, or lead paint.
3) Chico Doll Stroller $39.99 – In my opinion, if you're going to buy one accessory for your child's doll, it should be a stroller.  S likes her dolls, but isn't obsessed, yet she LOVES to pile them into her stroller and take them for a stroll around the house over, and over, and over again.
4) Melissa & Dough Brianna Doll $15.68 – There's a lot to like about this basic doll.  At 12″, she's a good size for hauling around.  Her soft body allows for laying or sitting and her hard arms and legs easily wipe clean.  She has lots of shiny hair to play with and her eyes open and close. Plus, her open mouth allows her to suck on either her thumb or pacifier.  Last but not least, her price can't be beat!
5) Manhattan Toy Baby Stella Doll $26.19 – The problem with a lot of soft dolls is that there isn't a lot the child can do with them.  I love that this one comes with removable clothes and diaper and has a pacifier that attaches via magnet – so smart! There are also tons of cute accessories available for Stella (we're talking clothes, baby carriers, and even a potty).
6) Manhattan Toy Snuggle Pod $15.11 – Looking for baby's first doll?  This ultra soft baby complete with her own snuggle pod is a great choice.  Huggable and washable, it's great for babies and toddlers alike.
7) My Baby Alive $34.59 – Looking to really wow your daughter this year?  This doll is the ultimate in virtual baby care. She comes with more than 30 different phrases to let you know if she's happy, sleepy, or ready for a snack.  Her eyes close when you put her to sleep and open when she wakes up. She even eats actual food your child prepares and really needs to be changed later on. Your little girl will be truly amazed.
8) The Adventures of Zylie the Bear: Zylie the Bear Kit $49.99 – We had the pleasure of reviewing Zylie's male counterpart, Shen the Panda, last year and he's been a treasured part of our family ever since (you can read my full review here).  He belongs to C and I'm now thinking of getting Zylie for S.  Not just your run-of-the-mill teddy bears, these guy are a brand new mixed breed: part stuffed animal and part dress-up doll.
Created by a mom whose kids were becoming frustrated in their attempts to find suitable dress-up clothes for their teddy bears, Shen and Zylie are an award winning duo that come with an array of cool accessories (including a passport and a book about their adventures).  They're soft and cozy like most stuffed animals but their hands, feet, and lower torso are filled with a bean bag material so it's easy to slip them in and out of their large array of dress up options.
9) Blabla Dolls $47 – $52 – These hand-knit 100% cotton dolls are on the expensive side so we don't collect them but we did splurge on one for Christmas for S last year.  Being the second child, she wasn't really in need of anything because she already had all her brother's old toys.  We still wanted to get her something special though.  We considered getting an American Girl Doll but thought she was too young so we got her Prudence the Owl instead..  She's now one of S's best friends and I have no doubt she'll end up being a family heirloom.  (Side note: there's a great selection of characters well-suited to boys as well).
10) Ugly Dolls $4.85 – $19.99 – And speaking of a great gender neutral doll, how rad are ugly dolls? I just love their colorful look and silly, irreverent nature.  Judging by their popularity, kids do too!
Once you've found a doll your child will love, it's time to explore the vast array of incredibly realistic accessories available:
11) Corolle Mon Premier My First Accessories Set $37.99 – This is a really nice all-in-one set.  I like that it covers all your basics from feeding to the potty and includes some fancy extras like the bottle warmer.  Best of all, there's a fun bag to store it all in.
12) Badger Doll Highchair with Plate, Bib and Spoon in White or Pink $28.39 – This is a simple, basic highchair for your child's doll that's received great reviews.  What more could you ask for?  Actually, if you do want more, they also offer a bunk bed, umbrella stroller, highchair bundle for $119.
13) Joovy Doll Booster Seat $29.99 – The photo of a doll loaded up in this car seat in the backseat of a car was just too cute.  S would absolutely love it!
14) Melissa & Doug Doll Play Sets $11 – $13 – If the Corolle all-in-one set is just two many pieces for you, Melissa & Doug also offers a very nice feeding set or changing set that includes a diaper bag.
15) Beco Doll Carrier $31.95 – With baby wearing being so popular these days, this is the perfect gift for any big sister who's witnessed mommy wearing their own younger sibling.  There are tons of options, including miniature ERGOs, Moby Wraps, and slings so your little girl can get suited up just like mommy.
16) Lil' Doll Cradle $37.99 – This is another basic staple that any doll lover will enjoy.  Getting to put baby down for a rest is a nice way to extend the dramatic play (and we find the cradle works well for storing S's doll collection when not in use).
17) Doll Bicycle Seat $16.95 – Being able to strap her baby in and take her for a bike ride, will make your daughter the envy of the neighborhood. Such fun!
18) Joovy Doll Car Seat $49.99 – This is pretty darn cool.  This doll carseat carrier works just like the real thing.  The base stays in the car and the carseat latches in and out of it.  If you want to get really fancy, there's even a tandem stroller for it to snap into as well.
19) Badger Basket Quad Deluxe Doll Stroller $48.62 – At first glance, I thought this was over the top.  But then a good friend told me how much her two girls love their double doll stroller, so I thought "if two's good, maybe four's really good".  And then I thought about how S stuffs no less than 6 baby dolls in her stroller at a time most days, and I realized this might actually be brilliant – if you have the space. (Plus it's really not that much more than a quality single doll stroller.)
So those are my picks for the doll lover – hope you found something to love!  Don't forget, you can click on the graphic below to check out all of our other gift guides (for builders/innovators, kids on the go, little explorers, the creative & crafty, and etc).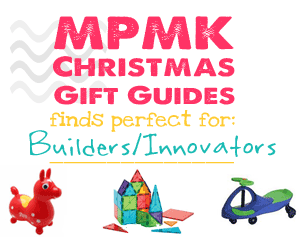 *POST CONTAINS AFFILIATE LINKS