If you've been here since the beginning, then you'll remember the "diggers and dumpers" sensory box I made for C as a Christmas present.  It was a big hit and C still enjoys it but I've been feeling like it's time to change it up.  So a few weeks ago I exchanged the pinto beans for black beans (to imitate soil) and put together this vegetable garden sensory box.
Making the veggie tops is a little more involved but it's a great craft project for the kids.  Start with an empty egg carton.
Cut the section that held the eggs into rows.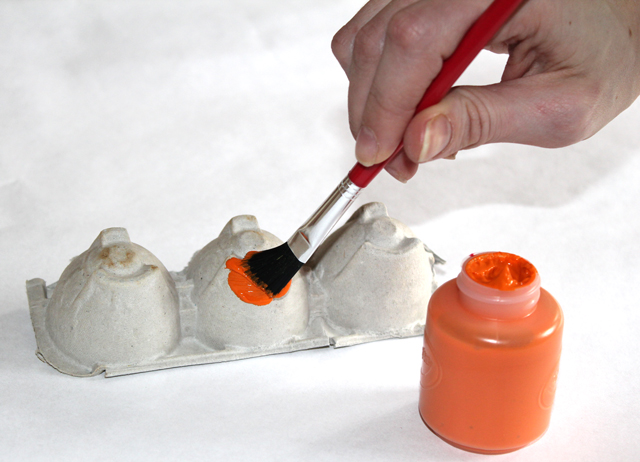 Then paint each row orange, red, and purple (for carrots, radishes, and eggplant – of course).
When you're done, they'll look something like this.
Next cut out each individual egg holder.  Then use something sharp (a meat thermometer was my weapon of choice) to punch a hole through the top and thread in some green pipe cleaners.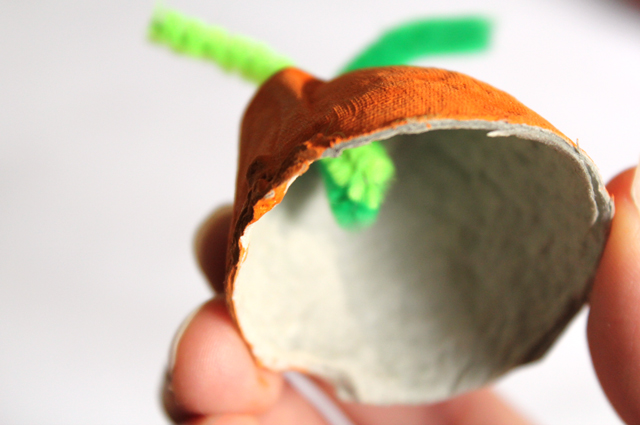 Trim and bend the pipe cleaners on the inside of the veggie tops.
The final step is to place them inside the pots with some "soil".  This box has been a great tool for imaginary play.  C loves to fill the pots with the trowel, pour in some seeds, water, label, make the veggie tops appear, and repeat (and repeat and repeat).  Hope you enjoy this one as much as we do!